Of all the ways to increase traffic to your website, it's not often that you think of the source of new visitors as being from the traffic you're already receiving. There's a hidden trove of visitors you can unlock by using several tactics to reduce your bounce rate.
What is a bounce rate?
The bounce rate on your site is the total percentage of visitors that land on your site and leave without interacting with any other pages or links. This is a metric that's reported in your Analytics and a value that can be crucial in improving the quality of traffic your website receives.
You can find the bounce rate of the pages of your website in Google Analytics by clicking on Behavior,
Used in the right context, this metric can identify problems on your website that may be causing people to leave.
A high bounce rate can potentially indicate a missed opportunity since visitors are already on your page and yet leave without completing a goal such as making a purchase or signing up to an email list.
Related reading: Key Performance Indicators & Data Analysis
What's a good bounce rate?
A good bounce rate can be different on a situational basis. Many site managers would maintain that a bounce rate of over 60% warrants attention. Others are happy if their bounce rates are under 80% and yet this could be a catastrophic number to another website.
The percentage of a good bounce rate depends on the niche in which you're competing and the type of page that's generating your data.
So where is the happy medium for your website?
Your bounce rate should be assessed in light of the goal you have for the user on the page you're analyzing.
You also need to accurately determine the behaviour of your audience to understand the meaning of the data being generated.
Aim to see the bigger picture
The problem with using bounce rate alone is that it doesn't give you the entire story of what's happening on your website. In the words of Dan Shewen,
No metric is an island on its own. Click To Tweet
If a user lands on your page and reads every single drop of a 5000-word article, then leaves, it would technically register as a bounce. If 80% of users did the same thing, the first glance at your analytics might tell you visitors do not like your content-which, in reality, this is not the case.
This brings us to the first point…
#1- Reference the average time spent on page
To accurately determine the true meaning of bounce rate on a specific page, you need to compare it to the average time spent on the page. In the example above, the bounce rate alone is a misleading metric without cross-referencing the average time spent on a page.
Significance of longer averages
By recognizing that each user spends 5-8 minutes on your page before leaving paints a more accurate picture of how users are engaging with your content. You can't be certain that your content is the problem judging from just the bounce rate and not referencing the average time on the page.
If people are spending a long time on your page, it means they're getting through your content. Consider creating a conversion goal, call to action or offer more options for related content to get them clicking through your site (discussed further in this article).
Significance of shorter averages
A short time spent on your page could mean users aren't liking what they or they aren't getting there because your page takes too long to load. If the average time spent on your page is short and you have a high bounce rate, you need to make changes. Users are landing on your page and not even giving it a chance.
Significance of no time on spent on page
If the page in question shows no time spent, the user might have closed the tabs or the browser to end the session on your page. If this happens, there is no time recorded because there is no exit click.
The average time on a page is measured from the entrance click to the exit click. If your users don't click on anything and close the tabs you have some slightly misleading data being generated.
#2- Establish a CTA or conversion goal for your page
Content alone is not enough to keep visitors from leaving your page. Establish a clear and concise call to action for each of your pages to keep your audience engaged and moving through your website.
Ask visitors to share your content
Are you trying to build a stronger social presence? Ask your visitors to share your article with their social networks. Social sharing plugins are effective and offer a simple click to share option, making it easy for readers to click on the icon and share with their audience.
Ask visitors to join your email list
Present your readers with more opportunities to join your email list.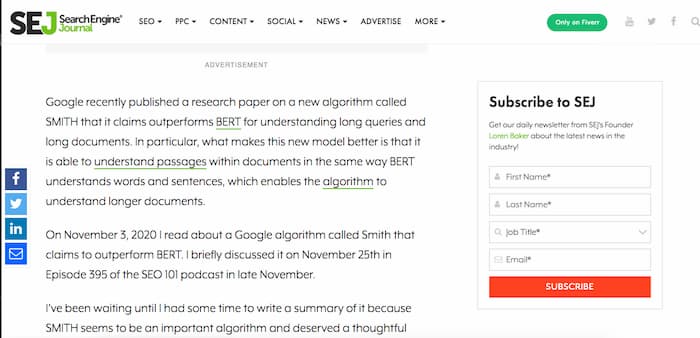 Include a CTA a few times within your post, which can be on the opt-in form itself.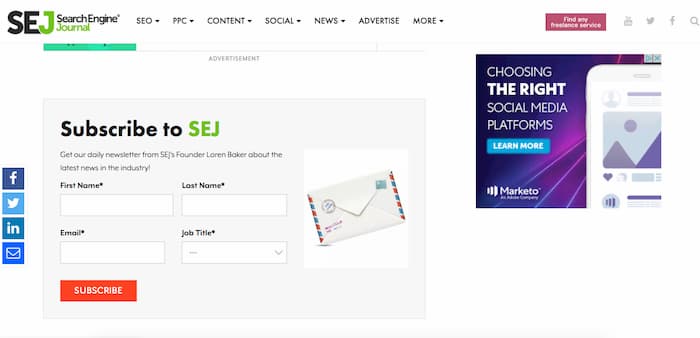 Create conversions on Google Analytics
Ultimately we want our website visitors to purchase a product or service from our business. Creating goal conversions tracks whether your audience is doing what you want them to do on each page.
Whether it's a sale, email sign-up form, or a social share, track your goal conversions. When your visitors start clicking on the links you want them to, it eliminates the session from becoming a bounce.
#3- Use interactive content
In the case where users are landing on your pages and leaving almost immediately, you will need to consider updating the content on the page. Interactive content is a solution to get your audience more engaged with your page and improving the stickiness it has for captivating their interest.
It's a proven fact that people learn more when they are engaged with hands-on learning as opposed to just reading or listening. Interactive content allows your users to elevate the learning curve and retain more information. By getting your visitors to engage with any of several different content assets, you can reduce the bounce rate of your pages.
Interactive infographics
Infographics may have seen their height in popularity, but they are beneficial for both B2B and B2C sales and marketing. Visual content itself is proven to improve retention from 10% with plain text to 65% with an image. Interactive infographics boost information retention to the next level by allowing the user to interact with the graphic.
Here is an example of an interactive infographic that shows you information on the gay rights of each state in the US.
Whichever state you hover over with the mouse will highlight the information from that state on the sidebar.
Surveys
Surveys are proven to be one of the most popular forms of content. Incorporate a survey within your content to get your visitors engaged.
You can choose from some of the most popular survey tools as a starter for testing out your audience's response.
Polls
Inserting polls within your content also gives your audience a fun way to answer questions and compare their answers to past visitors.
Inserting a poll in your content can provide a good break-in text and get your visitor to actively participate and engage with your content.
Pop quizzes
What better way to reinforce the content your visitor has just read than a pop quiz? The response from your audience may vary (some people don't like to be tested!) but again, it's a good way to make an option for a user to step outside of the mundane practice of reading and participate in a potentially enjoyable experience.
You can use sites like quiz maker or better yet, Jotform's Quiz Maker to create and publish pop quizzes in your content. 
Click to tweet
Inserting tweets a click to tweet call to action is a simple way for your audience to tweet a message or something worth sharing on your site. The amount of effort required for a user to click on the link makes sharing super simple.
This type of embed serves as a way to break up the text, get your users interacting with what you're saying and contributes to increasing your audience.
#4- Re-optimize for user intent
When a visitor lands on your page, you have a few seconds before they decide whether your page can satisfy their search intent. Re-optimize your content to enhance your page's ability to satisfy the user's intent.
"Give the people what the people want."
The adage, "SEO is ever-changing" applies here when it comes to updating old content. Search intent is constantly in flux and going over old content can reveal out-dated articles that need to be re-optimized for current keywords as well as new ones.
SEO is not static with regards to the fact that at its core, it is based on user intent. People are always changing the way they search for things as well as the language they use to search. It can pay off in dividends to go over old content to make sure that your content satisfies user intent.
Improving the quality of your content and making sure it's up to speed with the competition improves traffic and will reduce your bounce rate.
#5- Simplify your website navigation and searchability
One of the most common reasons users leave a website is because it's not easy to navigate. When a visitor lands on a site for a specific reason, they need to believe that your website can satisfy their search. It's important to provide easy access to all of your important pages so users can find what they're looking for.
Even if they don't see what they want at first glance, give them your best options to entice them to click further as well as a search box to search the website for something specific.
Avoid confusing menus and heavily cluttered pages. The actions a user takes on your site should be intuitive and laid out for the easiest and simplest understanding.
Use communicative image icons and a simple navigation bar to encourage more clicks. Think of using the signpost analogy to guide users in the right direction. Drivers need to see signs that communicate clearly what direction they want to take.
Simplify everything and when you've got some results and feedback, simplify it again. The easier your site is to navigate the better the UX experience is, which contributes to a reduced bounce rate.
#6- Reduce the time it takes your pages to load
Page speed is talked about repeatedly in almost every SEO article but it's mentioned for good reason. Google reports that for every second it takes your pages to load you risk losing more visitors.
Some websites have more to gain by improving page speed. If your website is experiencing load times over 10 seconds you have a big opportunity to optimize your page speed to 5 seconds and cut your bounce rates in half.
The result would be the same as doubling your traffic when you consider that you're now getting the visitors that choose your site already but would never make it with slow loading pages.
#7- Optimize for mobile screens
If you're not optimized for mobile screens, you risk visitors leaving your site. Reduce your bounce rate by making sure your website is easy to navigate with a layout that's easy to use on all mobile screens.
Have you ever tried to use the desktop version of a website on a smaller screen?
When users are forced to "pinch" the screen to zoom in and out to read text or use buttons it's considered to be a poor user experience. This can cause visitors to flee in search of a website that better accommodates their screen size.
Apart from reducing your bounce rate, you may also get a boost in traffic if you're able to improve your mobile-friendliness. Don't forget that Google indexes the mobile version of websites before the desktop version.
You can test your website's mobile-friendliness on the mobile-friendly test site or directly from the SERP.
#8-Link to related content within your website
Use a topical internal linking strategy to provide links to other content within your site that a user may be interested in reading. Not only does this optimize your pages, but also you can lead users to different areas of your site for continued learning and discovery.
If the page your visitor lands on has zero links on it, where would your users go next? The only way out is backwards which registers as a bounce.
Offer related reading within your content and at the end to encourage a higher click-through rate and reduce your bounce rate.
#9- Write long-form content
The advantage of being an engaging writer is that the more you write, the longer people stay on your page! Long-form content also gives you more opportunity to link to related content and direct traffic to product pages and other important pages on your site.
When compared to short-form content, the long-form gets visitors to stay on your site longer and reduce your bounce rate.
Increase traffic with a reduced bounce rate
Reducing the bounce rate on your site could be the key to unlocking a significant percentage of traffic that you already receive. In many cases, the bounce rate represents users that find your website but never make it to see a single scrap of your content.
Deducing the reason for a high bounce rate on your site is a priority that you can't afford to ignore. Fixing the underlying cause can result in higher user engagement, increased click-through rates and more conversions.
As the competition becomes stiffer and the organic click-through rate dwindles, finding ways to improve the quality of your traffic will be a key element for sustainable growth and increased revenue.
If you have any questions about how to reduce your bounce rate, feel free to contact us for complimentary website analysis and learn how we can help through using custom SEO services.