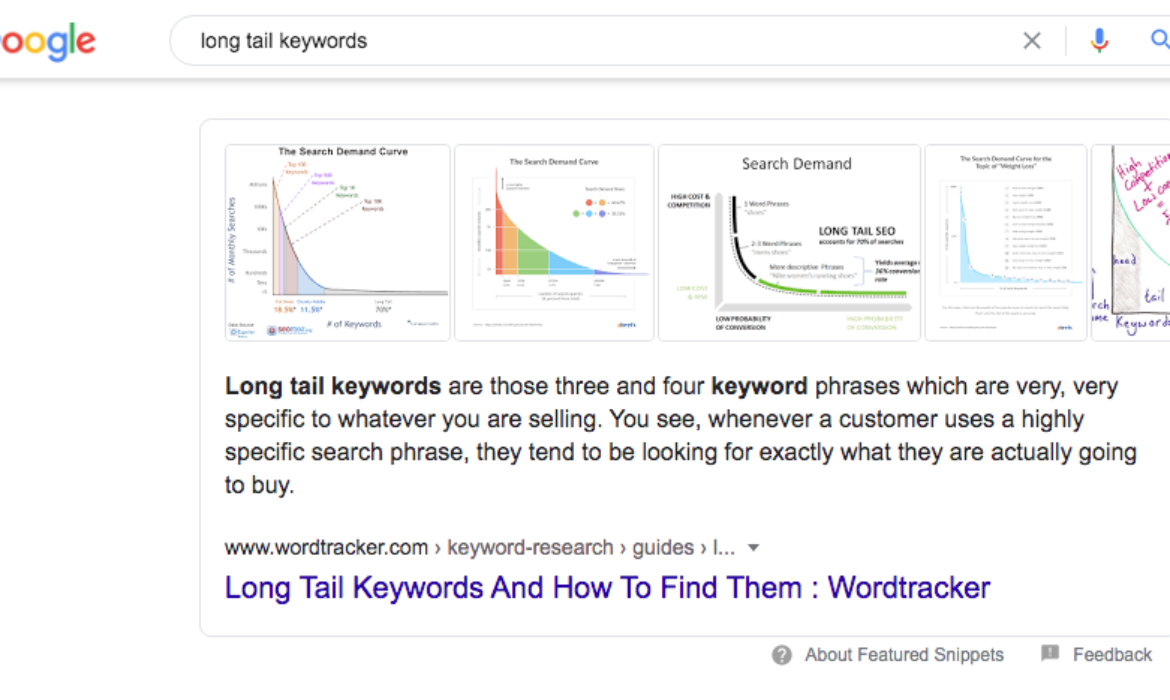 Oct 23, 2023 @ 7:25 am
Learn how to select the best keywords for your website to drive traffic that converts to clients and sales. Qualify keywords through a series of endeavours including but not limited to the following:
Identify your main seed keywords
Develop keyword options
Assess commercial intent
Target long-tail keywords
Perform a SERP Analysis
Assess the competition
The keyword research and strategy you implement can make or break the success you have in converting visitors to clients.
If you want to know how to find the best keywords for your business, this article will walk you through a few of the most common steps in determining a strategy.
Identify your main seed keywords
Make a list of keywords on a spreadsheet describing the major areas of your business. Come up with as many different keywords as if you were a client typing in a search to find information about your product.
Keep in mind that there are different stages of the sales funnel for every keyword you're thinking of optimizing content to rank for. You will need to target both transactional and informational keywords to help move visitors along the buyer journey.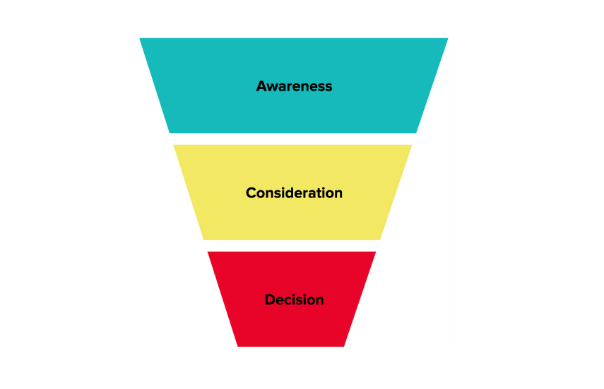 For example, "buy + [your keyword]" is a transactional search term that will trigger a search result that most likely lists ads and product pages.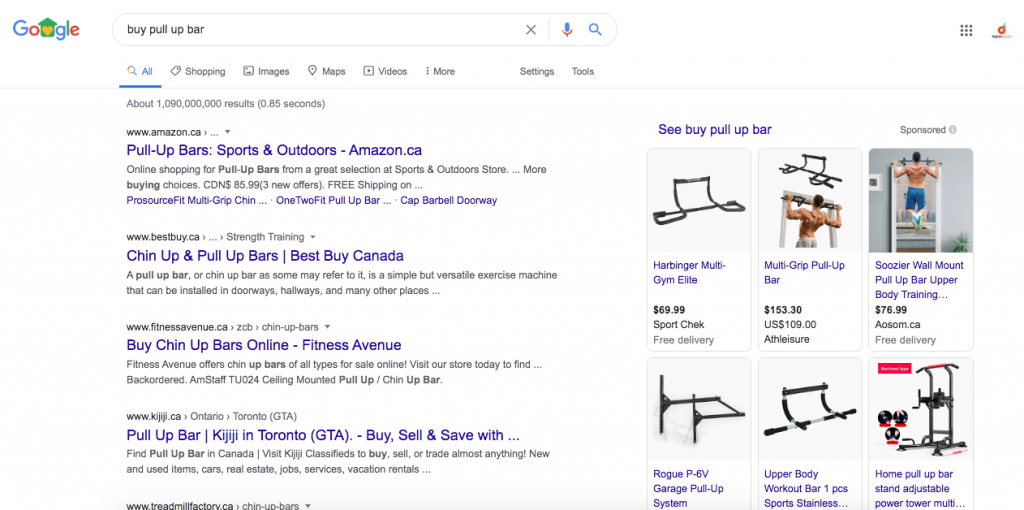 This would be considered at the bottom of the funnel where users have already done their research and are looking to buy a product or service.
Develop keyword options
Some keywords may seem obvious choices, however, you have to consider that not everyone will search like yourself. There are many different ways people search for the same thing. There's also the possibility that the keyword you're thinking of may not drive traffic that's good for your business.
One tool you can use to find popular keywords that convert is the Keyword Planner. This is Google's tool to use when building an Adwords campaign and can be valuable for generating keyword ideas, estimating traffic and providing clues to commercial intent.

The Keyword Planner will generate a list of keyword options along with the volume, competition rating and cost per click. Each value should be considered as an indicator to use in your decision.
Assess volume in relation to conversions
The traffic that is displayed is an approximate value. Keep in mind that volume can sometimes have little bearing on the value of a keyword. It's one piece of the puzzle that can be used as an indicator of whether your keyword is suitable for your business.
The volume a specific keyword generates should be assessed by the type of traffic drives and how well those visitors are a match to your business.
Assess commercial intent through the CPC bidding system
The commercial intent of a keyword can be inferred by the range of bids that exist for placing ads with Google for that specific keyword.
The low and high bid amount shows you what people are paying per visitor for that keyword on both ends of the spectrum.
The higher the top bid amount, the more inferred value you can assume from the traffic a keyword generates.
Target long-tail keywords
Although seed keywords typically have the most search volume they are not always the ideal keywords to pursue. They are often extremely competitive and convert at lower rate.
Targeting transactional keywords are beneficial however you also need to educate your buyers about your company and product to earn their trust.
Enter long tail keywords.
Long-tail keywords are considered to convert higher because they drive traffic that is a better match to the content you're producing.
For example, imagine your company sells silk t-shirts.
If you were to optimize for the search term "t-shirts", it would bring you a lot of irrelevant traffic because of the broad search intent it carries. Your site would be getting visitors looking for cotton, nylon, sports t-shirts, etc.
Many visitors would simply leave your site when they see you only offer silk options. This produces poor metrics (bounce rate, dwell time).
The longer you create a target keyword, the more of a match you can make to the traffic that finds your content.
Optimizing for the term "Silk t-shirts" eliminates a lot of the unwanted traffic your site was generating from the term "t-shirts"
"Silk t-shirts for women" would be an even more specific stream of traffic to target.
Once you've identified your seed keyword it's important to go through the related content that people would be searching. In most cases people are looking to solve a specific problem. Your content should provide as many solutions to problems that people have regarding your keyword topic.
"Silk t-shirts for psoriasis" would target an extremely specific group of people. By publishing a piece of content titled "Why Silk T-shirts Are Good For Psoriasis" you would be driving traffic from a very specific group of people looking exactly for what you're offering.
Although the traffic is likely to be much lower, the competition will also be lower because of how specific this long-tail search term is.
With a high-quality article making a convincing argument, you can easily move your visitors a step closer to buying your product by targeting a problem and providing the solution.
How to find long tail keywords
Apart from good old-fashioned brainstorming, you can use a few tools to help produce a list of the questions that people ask regarding any keyword topic. One of the first places you should look at is Google Search.
You can get a load of ideas for what people are searching for from Google Autosuggest. This is literally Google telling you "Hey! Here are some popular search terms we're suggesting will help you find what you're looking for."

Find related terms in the Searches related to [your keyword] section at the bottom of a search result.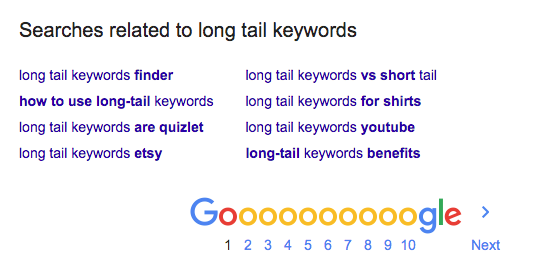 You can get some great long-tail keywords and phrases from Featured Snippets.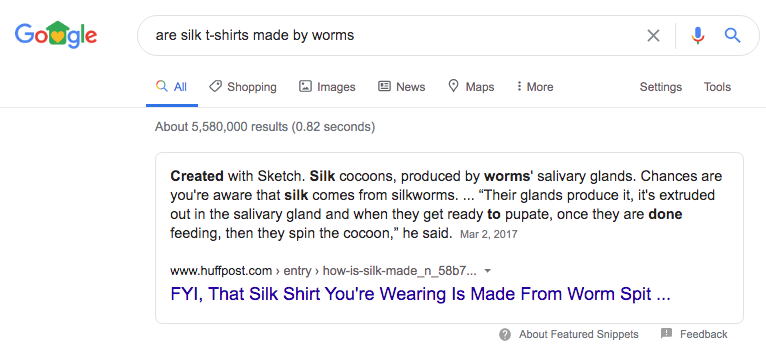 Or PAA Boxes

You can use Answer The Public to get a list of questions and phrase matches.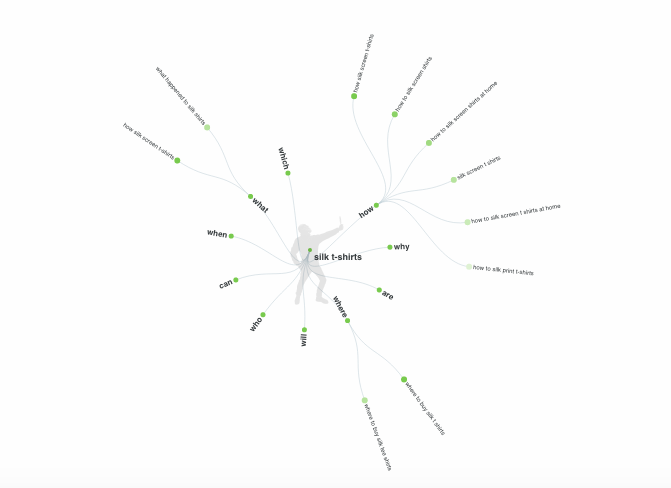 You can use software from the biggest names in the industry such as Ahrefs, SEMRush and Moz. Here is your typical keyword report from Moz.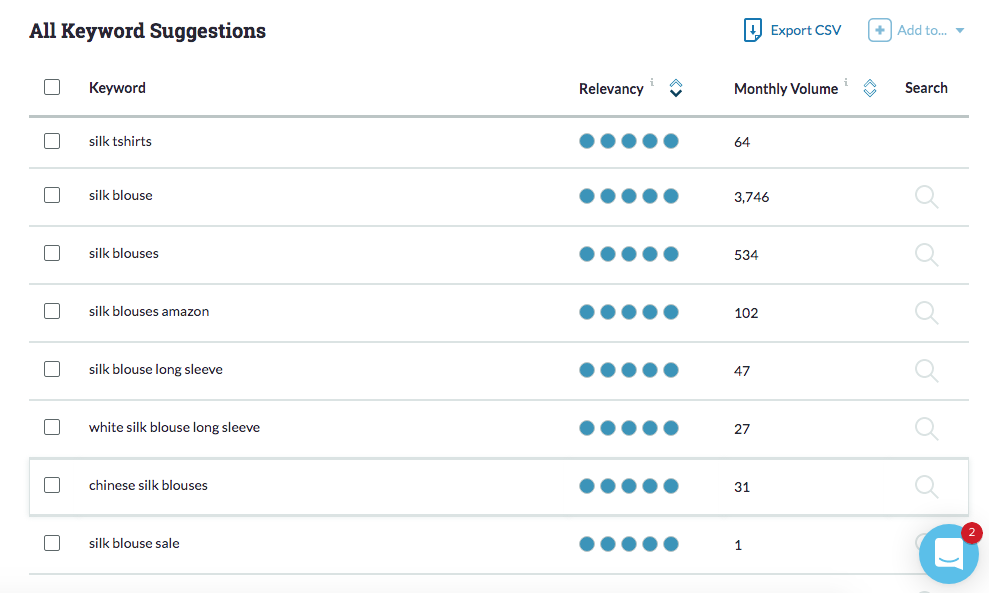 One click on the "questions" tab and your report displays related questions to your keyword.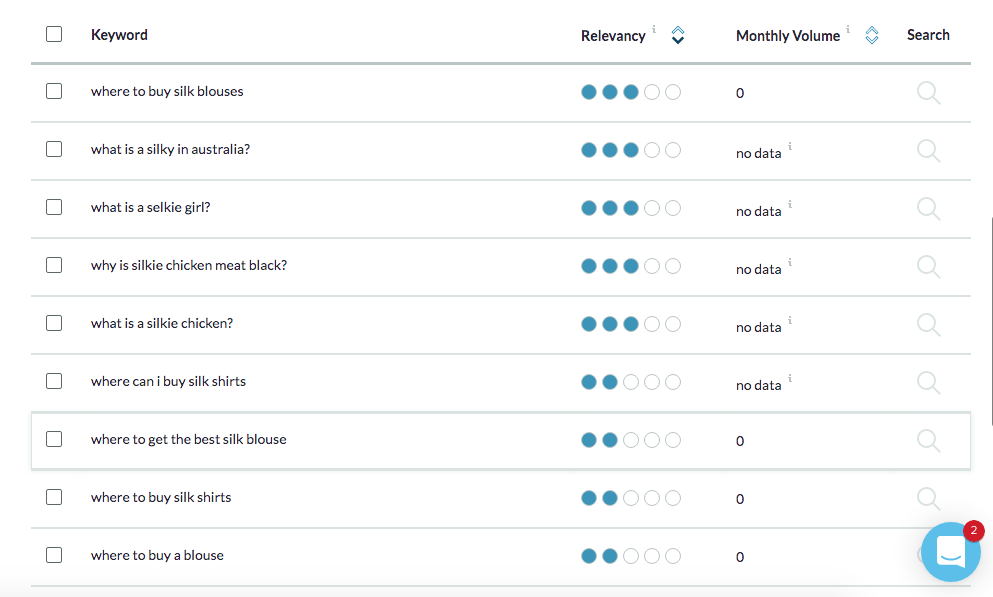 The process for converting visitors to clients often takes more than just one visit to your site.
This is part of the reason for providing informational content on your blog.
According to a survey by Conductor, educational content makes visitors 131% more likely to purchase from your company.
Being in touch with the problems that are most commonly faced by your audience is critical in your content creation. If you can provide solutions to these problems within your content, you will earn the trust of your audience and move them closer to purchasing from your company.
Perform a SERP analysis
Analyze the SERP (search engine results page) to give you a deeper understanding of what type of search result a keyword generates. The factors you will need to consider are the features Google displays and the competition you will be up against.
Assess the competition
To assess one aspect of your competition you can use Mozbar, a free tool available for download in Chrome. This tool allows you to see the Page Authority, Domain Authority, number of backlinks and the spam score. All metrics are summarized for you right from the search result.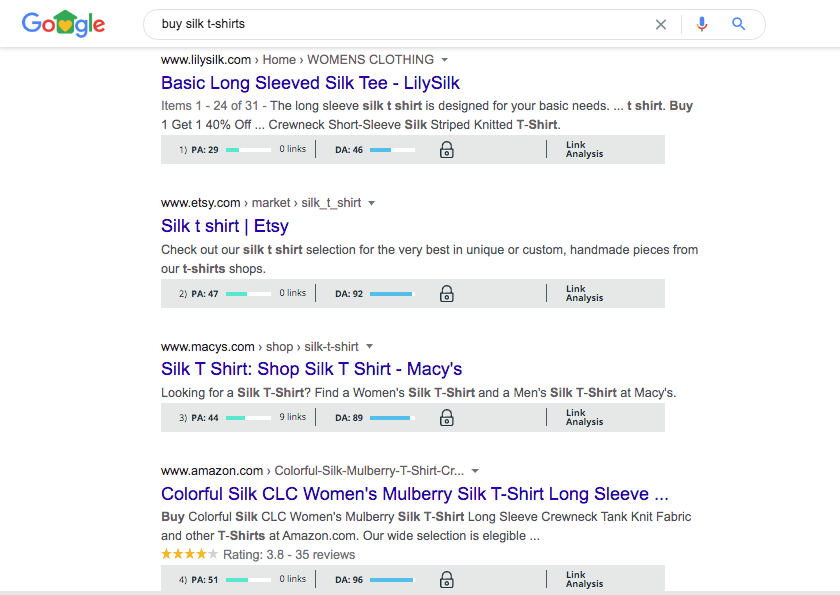 Keep in mind that domain authority is a metric created by Moz and does not reflect the complete picture for how to rank for a keyword. It is merely an indicator to use when determining the strength of your competition. Typically, the higher the DA, the more ranking ability a site possesses.
Account for the SERP features
Take an inventory of the different types of features that are displayed in the SERP. Google has produced over 20 different types of SERP features to better serve the search intent that a user may have for searching a specific query.
For example, if your keyword triggers a carousel of videos at the top of the page, you will need to consider producing a video to compete for the available clicks for that keyword. "How-to" searches are notorious for producing video results.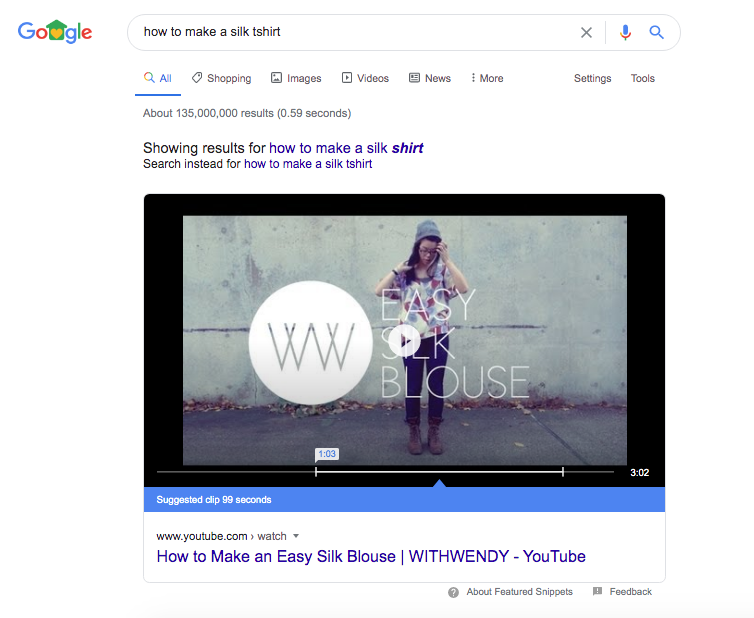 There are many phrases that will trigger a featured snippet. It's important to recognize what terms are triggering the display because it will affect how you optimize your content.
Take note of the different features that are displayed in a search result. Each feature may require a different form of optimization. If you're not optimized to compete for the position, you may be facing a low organic click-through rate.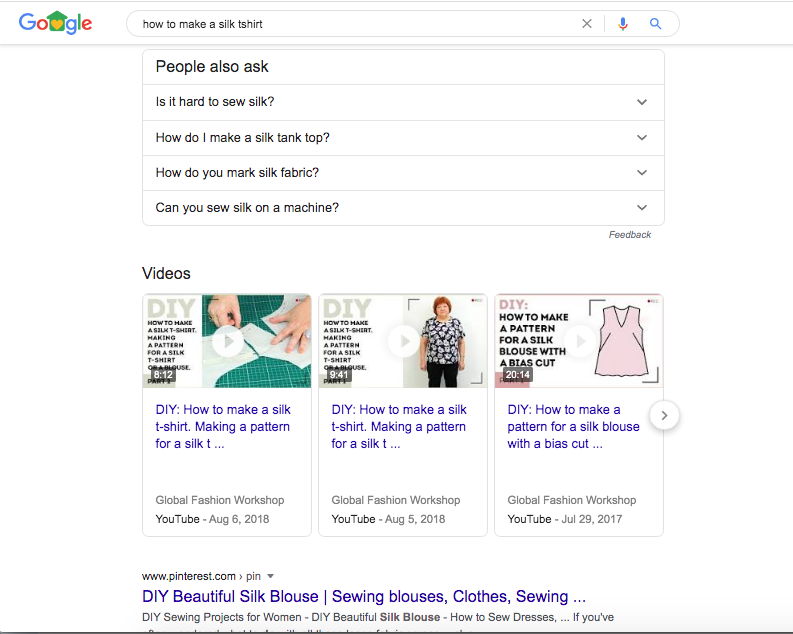 Consider the organic click-through rate
This is a measure of the total clicks that are made to the organic results as a percentage of the total search volume. If your keyword has a low organic CTR, ranking on first page may not be worth the effort to get there.

Many of Google's SERP features have contributed to low CTR for searches that are easily answered by featured snippets and the knowledge graph (calculators, translators, etc.)
Develop an effective keyword strategy
The keywords you choose to pursue will have a direct impact on the relevance of your traffic. Developing a strategy should include keywords that target every aspect of your business and the problems your product or service solves.
A complete and effective keyword strategy is the blueprint for your content creation. By addressing the different stages of the buyer journey and sales funnel, you create content that educates your audience on the benefits you offer.
Each page you publish should serve a purpose within your overall keyword strategy. Keeping users in mind first before search engines will help keep your content focused on providing insight and useful information. Learn how to select the best keywords for your website and you are one step closer to driving traffic that converts.
Keyword research is one of the many SEO services that benefit a company. Contact us today for a consultation so we can select the best keywords that would benefit your business the most.
Related reading: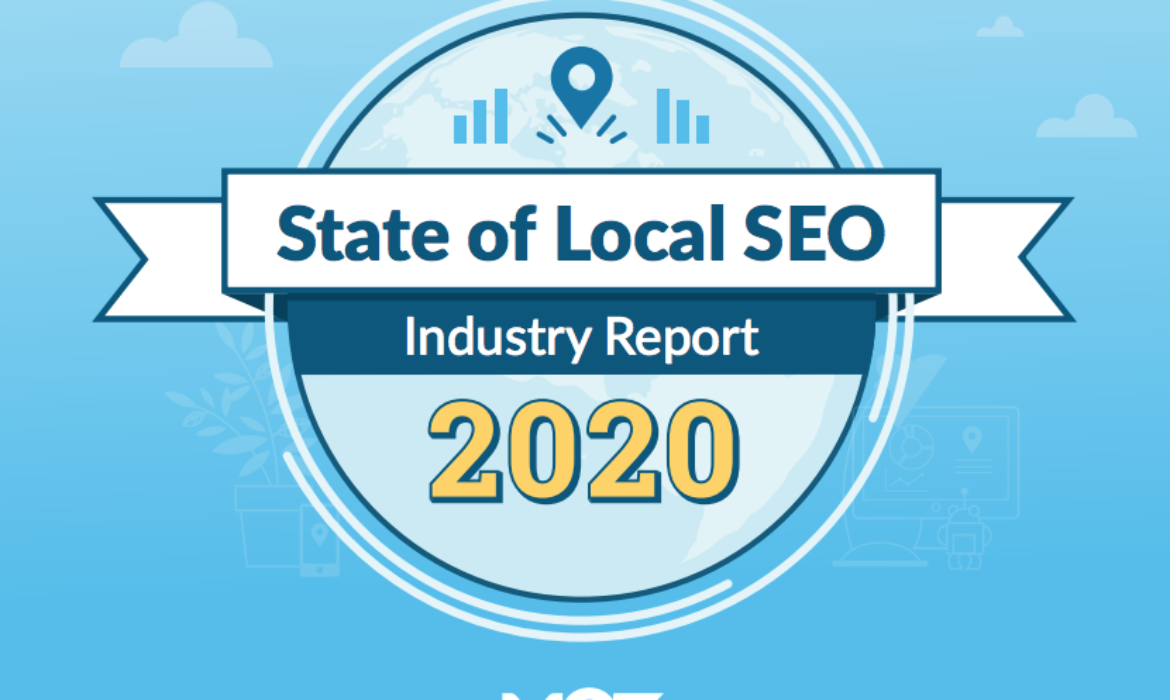 Oct 23, 2023 @ 7:25 am
Online marketing has become the norm when it comes to planning out the growth and development of your business. It's hard to argue against the fact that owning a website gives every company the ability to acquire exponentially more new clients. Implement the top-performing digital strategies that are most suited to your business to see the full benefits of online marketing for small businesses.
The advantages of search engine optimization
As the holy grail of inbound marketing, SEO provides some of the largest sources of targeted traffic to your website. An effective keyword and content strategy allows you to tap into high converting traffic that is actively seeking the solutions your company offers. The technical aspect of SEO maximizes your website's potential to compete and perform in the search results.
SEO targets a specific audience for high conversions
SEO deals with the optimization of both pages and blog posts for specific search terms in order to maximize the traffic each page generates. Each page is optimized to target one or more keywords that are chosen based on the volume of traffic, ranking difficulty but most of all, for the value it represents to the business.
Targeting long-tail keywords creates a narrower focus in your content in order to hone in on the exact solution the user is search Google for in the first place. When your website can be found for search terms your ideal clients are using to find businesses like yours, the organic traffic on your site will flow and convert accordingly.
Creates the ability to drive organic traffic
The SEO content you produce on your website answers the intent of a search and therefore provides value to a user. When your page appears in top-ranked positions for one keyword, it naturally appears for many different variations of that keywords as well.
Google ranks according to keyword topics, so when your content is deemed worthy of a first-page appearance, it drives traffic from multiple search terms.
An SEO content strategy broadens your reach
Developing a keyword and content strategy is a process that breaks down the major topics of your website to identify the most important issues that your ideal client wants to know about. The SEO strategy you implement touches on a number of different stages your prospective buyer is experiencing, otherwise known as the buyer journey.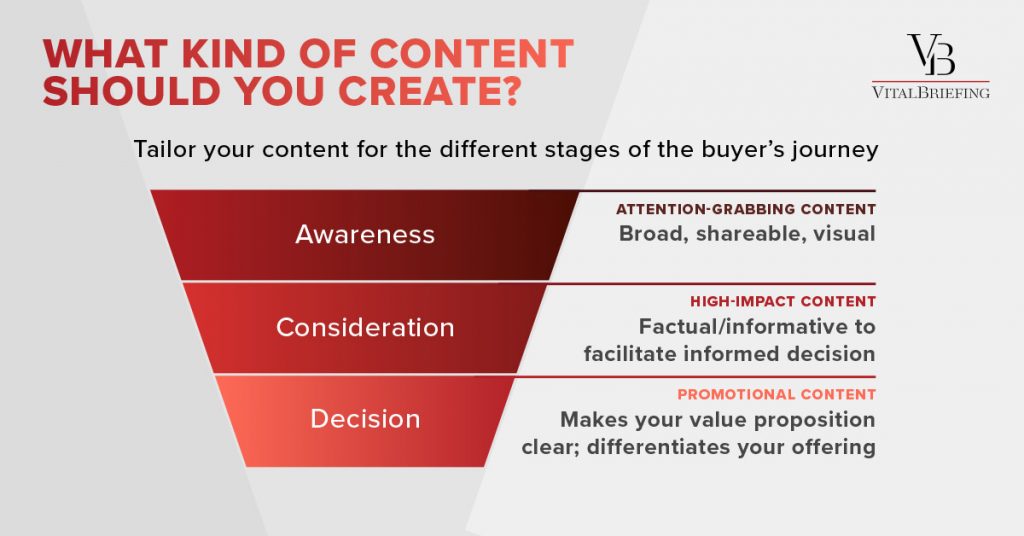 Targeting keywords and publishing content that addresses the various stages allows your website to create an awareness of your product or service to a larger range of users. There are people that are unaware of the solution you offer to the problems they're actively researching. An effective SEO content strategy continuously broadens your reach through educational and informative content.
Sharpens your competitive edge
Much of SEO resembles a race between you and your competition. The goal is to be first on Google for the keywords that will ultimately increase the revenue your company generates. SEO gives your website a competitive edge by producing content that outperforms your competition.
Link building is a common strategy for outranking competing websites. Backlinks power the authority and credibility of your content and contribute to higher rankings. Additionally, link building provides multiple entry points to your website for more traffic.
Allows control over every aspect
A large part of achieving success in marketing your business online is data-driven. You can control every aspect that can be measured to scale up or scale down the results you're experiencing.
The benefits of Pay Per Click campaigns
PPC campaigns can drive high-converting traffic to your site for any keyword you choose to pay for. Create a campaign for the keywords of your choice, set the budget amount you want to spend and how much you're willing to spend for every click to your website.
PPC campaigns get your website premium SERP position
When you pay for ads, your website is placed in the top positions on the SERP. This is extremely valuable for the bottom of the funnel keywords where the user is looking with transactional intent. Users are 65% likely to click on paid ads when they're ready to buy.
This becomes even more pronounced on mobile devices since the ads are among the first features that users see in the search result.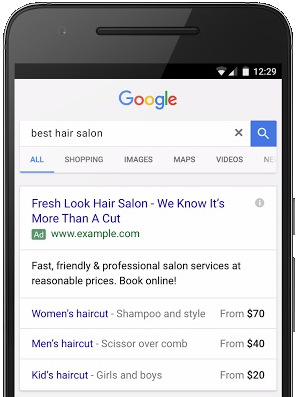 PPC offers control
You determine the amount of money you spend in a PPC campaign for every month. Your budget is determined at the start of the campaign so that when you reach that limit, your ads stop appearing.
You can also choose the details for where you want your ads to appear. For local businesses that only offer services or products to a specific city or service area, this provides unnecessary spending.
Measurable and adaptable
PPC reporting is comprehensive and easy to understand. Reports will show you the volume of impressions and clicks and conversions that your keywords generated in order for you to better understand how your customers are responding to your ads.
Paid ads also give you the ability to run split tests to determine copy that converts the highest.
Fast and immediate traffic solution
PPC campaigns can be implemented immediately for a fast and immediate solution to driving traffic. Rather than go through a much longer development process for your website pages to rank organically, you can put your website at the top of the search results instantly and begin driving traffic to your site.
Multiply customer contact with retargeting
PPC campaigns offer an excellent solution for making your site more familiar with potential clients through retargeting. Whenever a visitor lands on your website this form of advertising will install cookies in their browser. This creates multiple instances of your ad whenever that same visitor visits Google or social media sites and an ad box present.
The benefits of social media marketing
By definition, this is the process of promoting your company, brand, products and services through the use of social media websites. Activities include posting content on your profile, commenting on related posts, sharing relevant posts and interacting with the social community.
Provides a human element to your brand
Social media gives brands the chance to put a more personal touch when engaging with potential and existing clients. This becomes an important aspect of your marketing because it allows people to relate more to your company and feel like they're engaging with a person as opposed to a content-posting robot.
Develops a better understanding of your audience
By engaging with your audience you develop a better understanding of what means the most to your clients (and prospective clients). It's not only the comments and threads that provide this information but by conducting surveys and research.
With a more intimate understanding of what your clients are interested in and what they need, you have more ability to produce content that they will engage with at higher levels.
Ability to get your message in front of a large audience
It's no secret that social media has the ability to make great content viral. Despite the rarity of this happening, social websites provide a substantial audience for your content which is accessible on a regular basis. This makes social media a popular means of content distribution for brands to broadcast their message to as many people as possible.
Drive more traffic to your website
Posting content with a call to action is an excellent way to divert your audience from social media websites to your own. Social sites, for the most part, are structured to be walled gardens to keep users on their sites for as long as possible. Leave a specific CTA with a link to your website so that people have a convenient way of finding and viewing the content on your site.
Develop brand loyalty
A study revealed that 72% of purchases related to fashion were influenced by images seen on Instagram. Acquiring followers and subscribers is an excellent way to create a competitive advantage and be the reason a customer decides to make a purchase with your company. If they follow your brand there is a much higher probability of them choosing your company over another that they aren't as familiar with.
Improved brand recognition
Social media gives you the opportunity to present your brand to a substantially large number of people. Make your brand recognizable by using your logo in images and providing a consistent tone that summarizes what your brand is about.

Implement storytelling to create easy to remember associations with the most important aspects of your brand.
The advantages of content marketing
Promoting your brand, products and services through various forms of content such as articles, white papers, surveys, infographics and video is considered content marketing. This online marketing strategy goes hand in hand with SEO with respect to the fact that you'll want your content to be easily found and discovered by a specific audience.
Develop trust and confidence in your brand
Top-notch content goes a long way when it provides real value. Whenever a potential client considers purchasing from your business, one of the first things they will do is research your company. Providing content that educates, entertains and engages readers and about the inner workings of your business is an excellent way to build trust and confidence in your brand.
Drives interested visitors to your website
A good content marketing strategy will include publishing content on third party sites such as social media or popular websites within your niche. Publishing exceptional content on third-party sites makes your company stand out, generates referral traffic as well as additional organic traffic as it accumulates more backlinks.
Choose the websites or social media network that provides the most targeted audience for your business. Trusted, high-authority websites provide links that have a positive impact on your website ranking and overall search visibility.
Develops brand recognition
Teach people about what your brand stands for through success stories about the development of your company's development or even better, client success stories about achieving a specific goal. When a person can learn about your company from a real-life experience it brings more transparency to your brand and gives people a story to relate to by placing themselves in that situation.
Establishes your company as an industry leader
Great content is often greatly appreciated-which is typically shown by large numbers of social shares and accumulation of backlinks. Creating unique content with original research is a way that many companies are able to establish themselves as industry leaders.
Moz publishes a State Of Local SEO Industry Report every year where they survey 1000 SEO professionals. This report gives people a better understanding of the general sentiment of what's working and what isn't in the world of local SEO.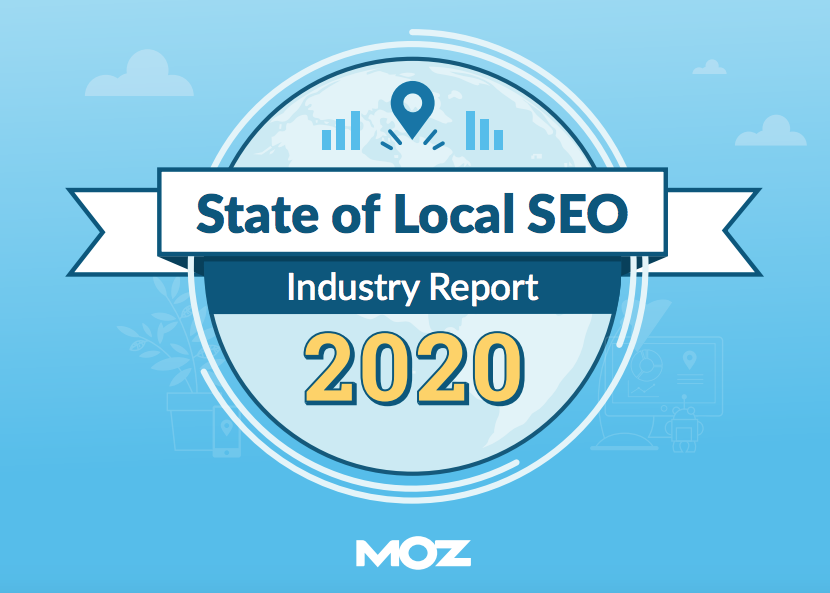 Using industry reports would naturally attract attention from those within your industry and leads to a high number of social shares and backlinks to your website. That improvement in ranking, as well as the reputation gained, brands your business as a top player in the industry in which you compete.
Email marketing and it's many advantages
The process of promoting your brand, content, products and services through email communications is referred to as email marketing. Opt-in boxes serve as a means for collecting the contact information of a website visitor. The visitor is then added to a list to send newsletters, updates, coupons and promotions.
Build and nurture leads and realtionships
Email marketing campaigns allow a company to send relevant information to its subscribers for a variety of purposes. Segmenting your list is crucial to understanding the type of content that your subscriber wants to be sent. This also allows you to drip feed educational emails to their inbox to educate them on aspects of your business that they want to know about.
As they become more familiar with your product through your content, they become more likely to purchase from your company. Maintaining your list with a periodic email ensures that your subscriber keeps your company in mind so that even if they aren't ready to make a purchase immediately, you will still be among the top choices when time comes.
Instant traffic at the push of a button
An email list gives you the option of sending instant traffic to your website at the push of a button. Whenever a new piece of content is published or your company begins a new promotion, let your subscribers know about it.
Increased sales
An email list is also referred to as a "cash list" because of its ability to generate sales for your business. Not every email you send to your list should be a "hard sell" but when you do wnant to increase sales, often all it takes is a good sale, discount or promotion.
Many companies will promote third party products with their list because the third party will cut them a commision on the sales made. If a product will appeal to the demographics of your subscribers you can supplement your revenue by offering them something new.
Provides a source for research and data collection
Your email list is an excellent source to get the opinions and preferences of your target audience. BY sending short surveys you can quickly acquire relevant information that would help your understanding of the needs and interests of an audience that's already interested in your content.
Original data and research are extremely valuable for publishing content that's a closer match to the preferences of your audience. It also tends to attract more social shares and backlinks which in turn results in increased search visibility of your website.
Enjoy the benefits of internet marketing for small businesses
Historically it was only the big brands that have been able to establish notoriety and gain exposure on national and global levels. Of one the benefits of online marketing for small businesses is that it gives all businesses the ability to reach a global market.
The benefits of online marketing for small businesses continue to grow with every passing year for companies with websites positioned to receive targeted traffic. The ability to access a global market and connect with customers has contributed to more sales, leads and new clients.
There are massive opportunities to be gained from online marketing. If you haven't been paying attention, in 2016 digital advertising took the lead in advertising dollars spent vs. TV advertising and is still continuing to create a larger gap in disparity.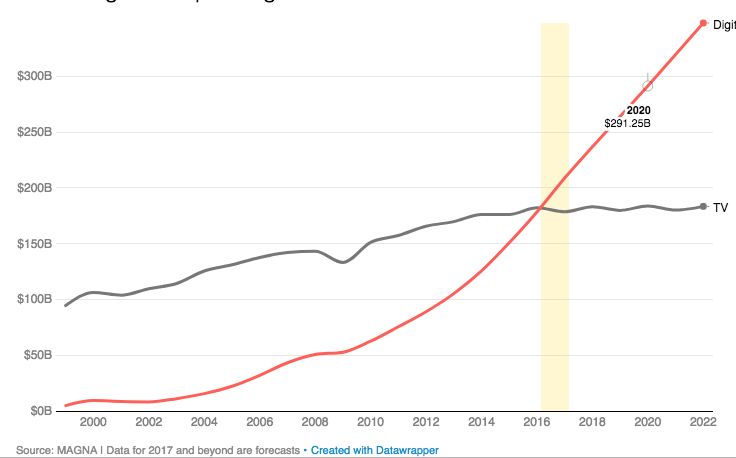 There's no doubt that we have transitioned to a culture that has become highly dependent on Internet access to perform many of our daily activities. The research on companies, brands, products and services starts with Google search 93% of the time. The number of purchases being made directly through smartphones has steadliny increased every year.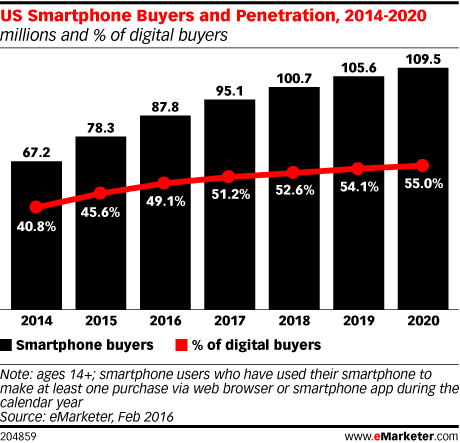 This number is expected to increase according to e-marketer retail analyst Yory Wurmser.
As mobile sites become better optimized and screen sizes grow, it's becoming easier for shoppers to complete the purchase on the smartphone, which will drive m-commerce numbers up for the next several years.

Yory Wurmser ~Emarketer Retail Analyst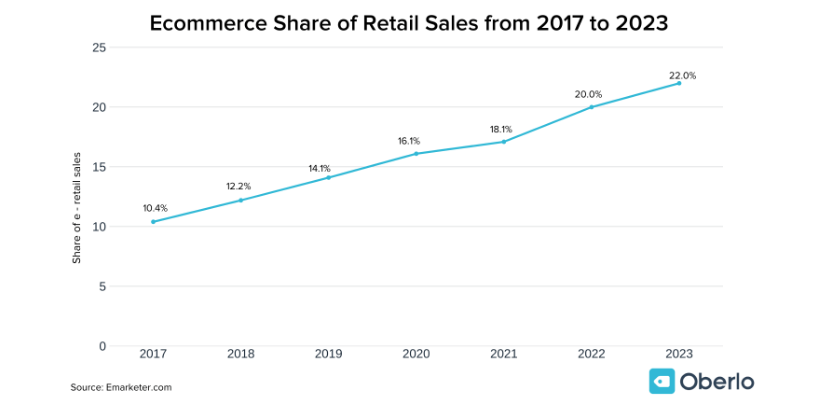 With so much of our attention focused online, the opportunity to successfully achieve steady growth through Internet marketing has never been better.
Choose one or all of the digital marketing strategies mentioned above to achieve levels of revenue that were never possible until now. Enjoy the benefits of online marketing for small businesses for long-lasting success.