Local SEO services are a specific SEO strategy to get your website to appear for searches in specific cities and/or areas. Local SEO involves a specific location tied into your optimization and includes optimizing to rank in Google's Local Finder.
Optimizing for the Local Finder is part of a typical local SEO service. The local finder pulls data from your Google My Business profile and lists your website for appropriate keyword searches based on location, category and keywords.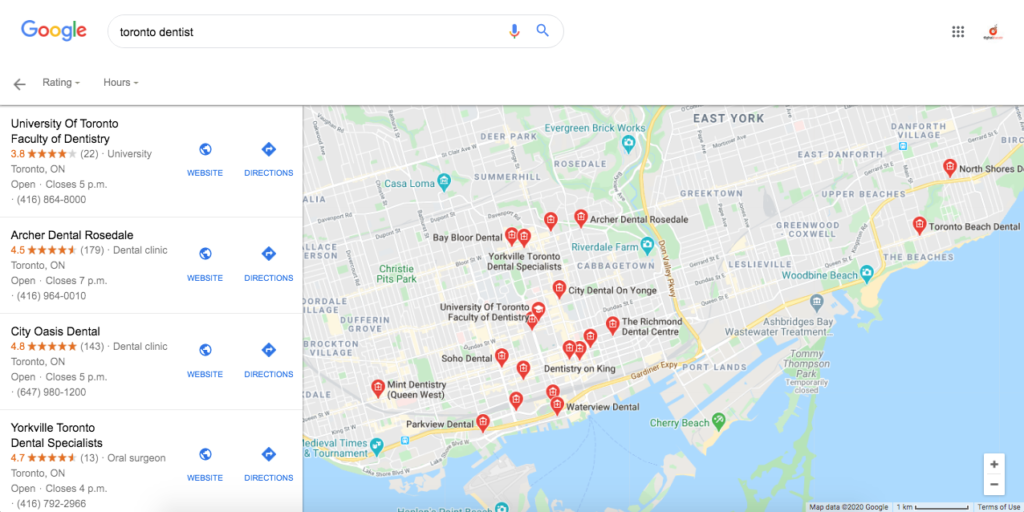 Local SEO for dentists, for example, has become extremely important because of the convenience of how local businesses are now found. Clicking on a listing puts a map, directions and a phone number all in the hands of a user.
When your website is able to rank in the top three positions it appears on the first page in what's called the Local Pack. This feature generates additional traffic to your business because of its prominence on the first page.
For mobile search results, the Local Pack is convenient and more dominant as a featured search result.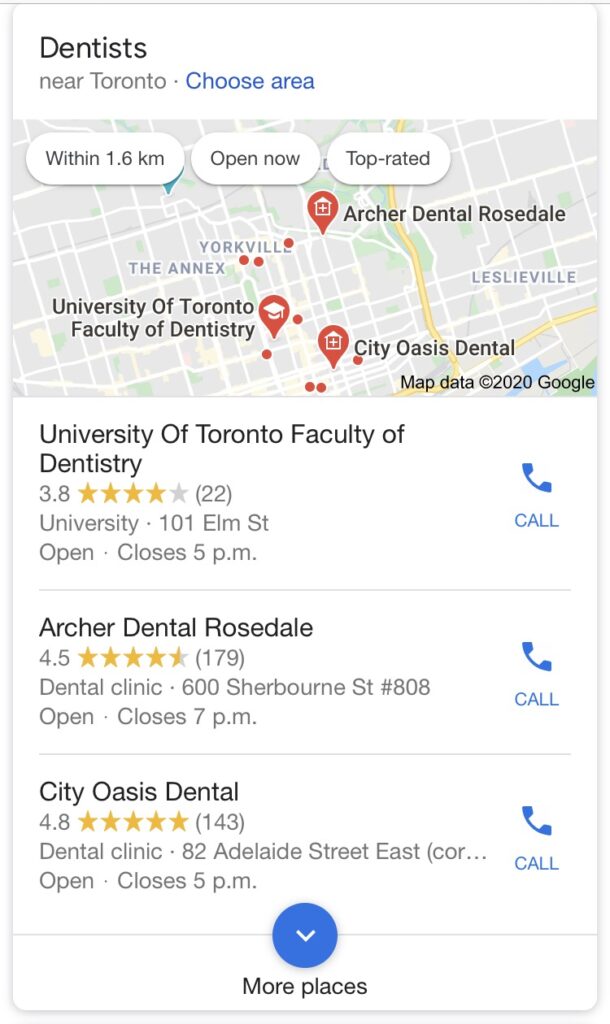 Ranking in the Local Finder as well as in the organic results is a way of having your company appear twice in a search engine result page (SERP).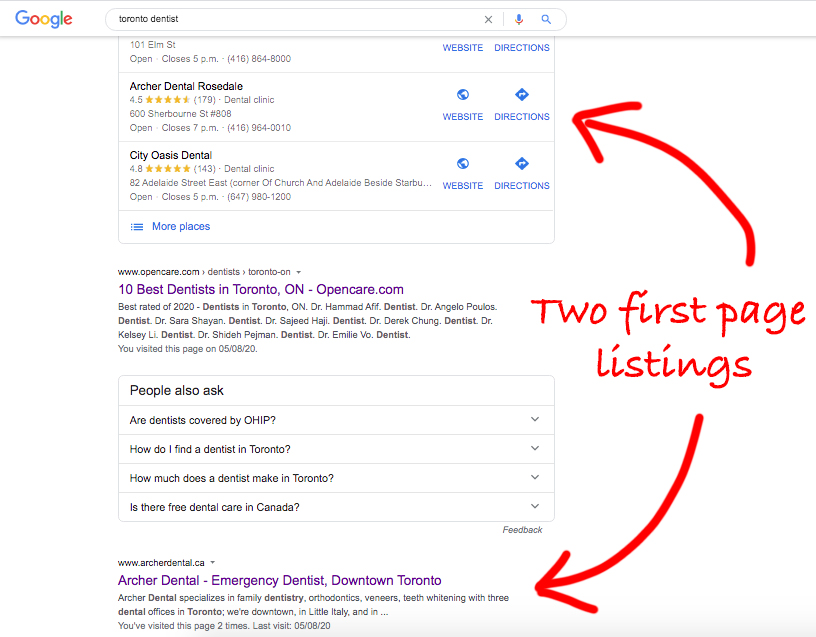 With two spots on the first page of Google, your company is more likely to be found by more users searching for businesses like yours.
How does local SEO work?
When users search for local businesses there is typically a location attached to the source of the search (most devices use location services). Search engines want to display the closest option and will use your location as a part of their assessment in displaying the best option in a search result.
Local SEO incorporates a combination of optimization tactics to make your business a stronger presence for products and services in your city.
Build a local presence in a specific city
Local SEO establishes your local presence and increases the likelihood of your website appearing in city-specific searches. Localized search results are searches that are triggered by devices searching within your city or by searches that use a geo-modifier such as a city or any descriptive location.
For example, if you live in Toronto and you search for coin laundry, the search results on your device will show you coin laundry facilities that are close to your location.
However, if you're in Toronto but you're travelling to Kingston, you would search for coin laundry Kingston or coin laundry in Kingston. The search results would then show you coin laundry facilities located in Kingston.
Local SEO services optimize your site for city-specific keywords as well as searches made within your city.
Create a local presence in multiple cities
Local SEO makes your business known in any specific location(s). There are many businesses that have multiple locations and serve multiple service areas. A local SEO strategy for a company that wants to do business in multiple areas is to use location pages to appear in search results in multiple cities.
Plumbers, for example, don't typically have a location where customers are served because they go to their customers homes.
Their business model is to provide service in multiple areas. Here is an example of a successful plumbing company that has a location in Toronto:

Mississauga:

And a page for Whitby-Oshawa:

These pages target keywords with high search volume, and therefore it makes sense to have a landing page for each location. This makes their company more competitive in city-specific searches and ultimately makes them more money.
How do we do it?
Local SEO involves optimizing your website as well as your GMB profile. Some of the largest ranking factors are on-page optimization, publishing local content, review management, building local backlinks and citations.
Identify opportunities
Our first step in establishing a local SEO strategy for your business is to assess what keywords are generating the most traffic for websites like yours. Keyword research is a necessary step to understanding how your clients are searching and what content will satisfy their intent.
We focus on both transactional terms where users are looking to buy as well as informational and comparative terms where people are still gathering information and comparing options before they purchase.
Map content to keywords
Your content strategy will closely follow your keyword strategy. We map out existing content to target keywords and optimize your pages to appear for those search terms.
New content is published as needed to target new search terms that drive traffic.
Local SEO content is used to build your presence in your target location(s). The use of city-specific events, landmarks, maps and news contributes to an enhanced local presence. Location pages are considered a part of your local SEO content strategy.
Your Google My Business profile accounts for a significant portion of your ranking signals. Posting content and images is another way to generate we generate additional traffic to your site.
Establish a local network
We build the credibility and authority of your website through local link building.
Many local businesses are lacking in this area so it provides an opportunity for a competitive advantage.
Your business is linked from the most relevant local websites and directories to provide additional points of entry to your website.
Citations are built on the most prominent websites for local credibility and authority, which improves your search presence in Google finder as well as localized search results.
Why choose us as your local SEO company?
Our clients are predominantly local businesses in which we've managed hundreds of first-page rankings. We specialize in building businesses from the ground up to dominate the local search market.
Case studies and proven results
Our local SEO clients have all experienced massive gains in traffic and revenue.
Here's a snapshot of one of our client's growth in traffic. Page views grew 89% in 4 months after taking over their SEO: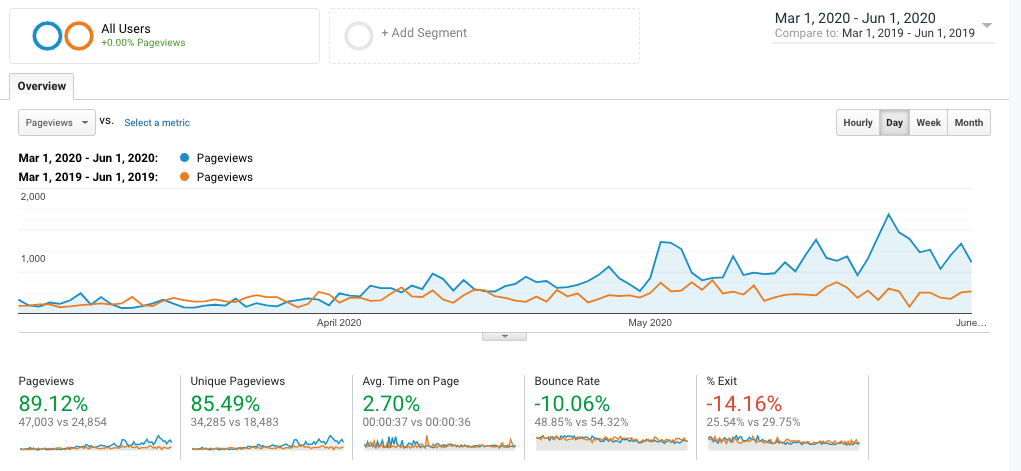 Here's a brand new client whose business experienced 250% more traffic after ONE month of SEO services: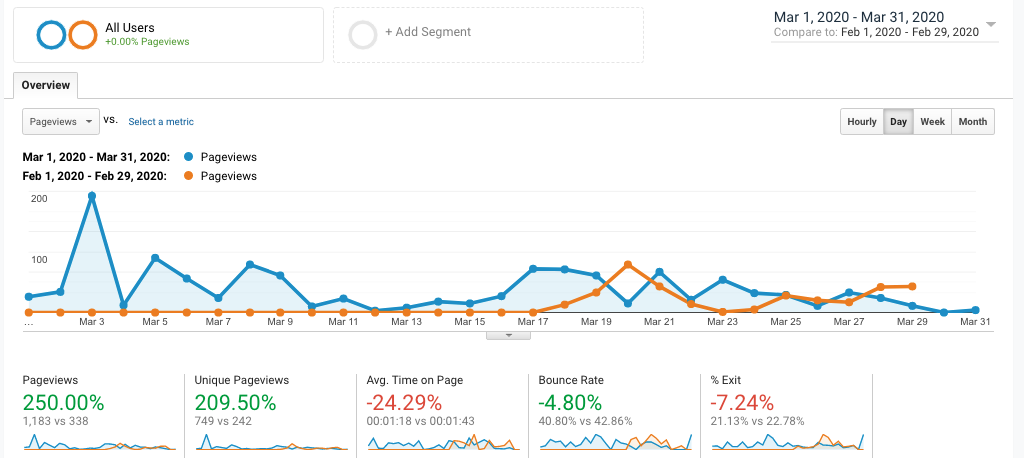 Here's another client site that exploded with traffic ranking on the first page for multiple keywords after a few months of local SEO. Traffic increased 5407.14% in less than two months.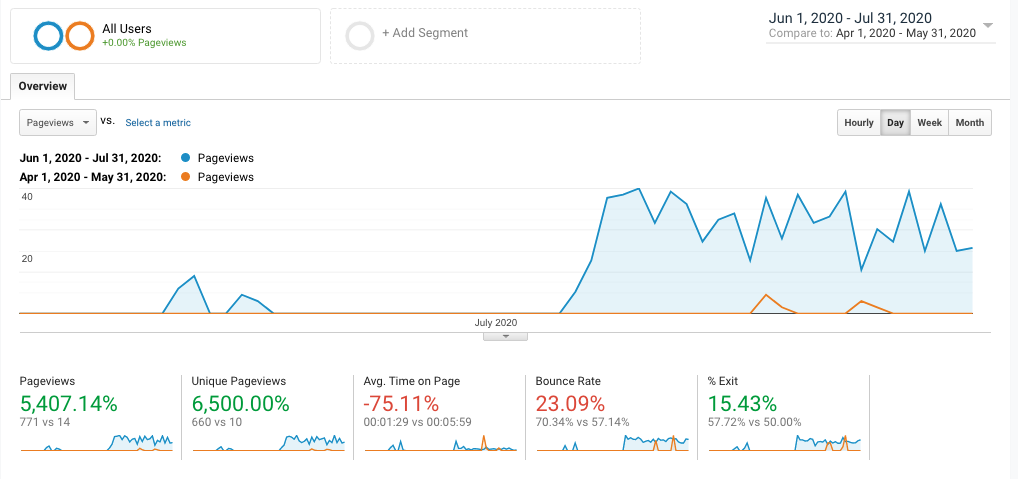 Digital Ducats Inc. specializes traffic generation to improve the revenue your company receives on a regular basis. Our process is tried, tested and proven to work for your website no matter what industry you're in.
We pride ourselves in our work and attention to detail and look forward to helping you take your business to a new level.
What are the benefits of local SEO?
Local SEO produces a high converting source of traffic for businesses by improving your search visibility in the local finder, local pack, Google maps and organic localized searches. Google estimates that approximately 46% of all searches on Google are to obtain information on a local business.
Increased local traffic
Puts your business in front of local customers
Get more customers walking through your door
Generates more phone calls
Creates a local presence
Influences brand recognition
Quicker sales cycle
Generates new clients
Increases the growth of your business
Increase traffic with a local presence
A top-three listing in the local finder will display your site in the local pack. Optimizing for localized search results increases your chances of holding two positions on the first page (organic being the second result).
Improve the local search traffic you receive by optimizing your website to appear for location-based keywords. This means that whenever a search is made with [your keyword] + [your city], your site will appear in the search results.
Get local clients to your website
Optimizing locally puts your business in front of local customers. Improve the quality of traffic your site receives by matching your products and services to people in your city. A better match in the type of traffic your site receives improves the number of sales and leads your site generates.
Strengthen your brand
The local pack not only offers targeted traffic but also serves as an excellent branding opportunity. The appearance of your company as a top-three result will put your website in front of users searching for your keyword related terms.
Whether your site is selected in a search or not, there is the benefit of building recognition as a dominant company in your field. The more times people who your company name in related searches, the more likely they are to feel comfortable doing business with you.
Improve conversion rates
The traffic that flows from a local listing converts at a high rate because users are already at the buying stage of the sales funnel. In addition, they are a match for your location and statistics show they have a high probability of ending up at your location within 72 hours.
Local SEO statistics for 2020
88% of mobile searches result in a purchase within a day (Nectafy)
72% of searches made from a mobile device within 5 miles will visit that location (Wordstream)
82% of people will make a purchase after reading a review (Google)
"Near me" searches have grown over 900% since 2017 (Chat Meter)
70% of mobile searches call result in a phone call to the business (Google)
93% of searches with local intent will trigger the local pack (Go Globe)
82% of smartphone shoppers conduct a "near me" search (Search Engine Land)