Digital Ducats Inc. is an SEO Mississauga company that specializes in moving your website to the top of the search results. We increase the traffic your website generates for search terms future clients are using to find you.
If your company is ready for growth, consider the opportunity that Google's search engine offers. People are searching for products and services like the ones you offer on a daily basis. In fact, approximately 50% of total searches are made to find information about a local business or location.
The benefits of SEO in Mississauga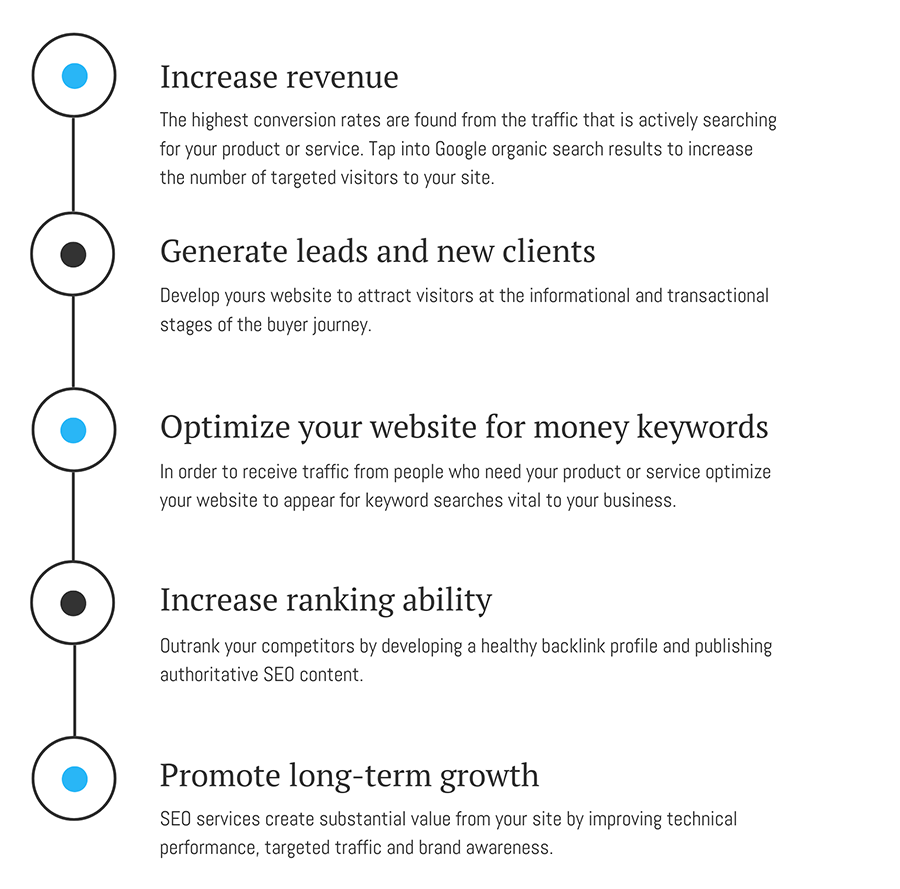 SEO puts your website on the map. Our local SEO services build your local presence so you're easily found on Google maps, local finder and localized organic search results. We optimize your site to be found by those searching your city or in close proximity to your location.
Not every client has the same strategy as business models can vary greatly between industries. Our solutions are custom-designed to fuel the performance of your site in specific searches in your niche.
6 Step process for Mississauga SEO Services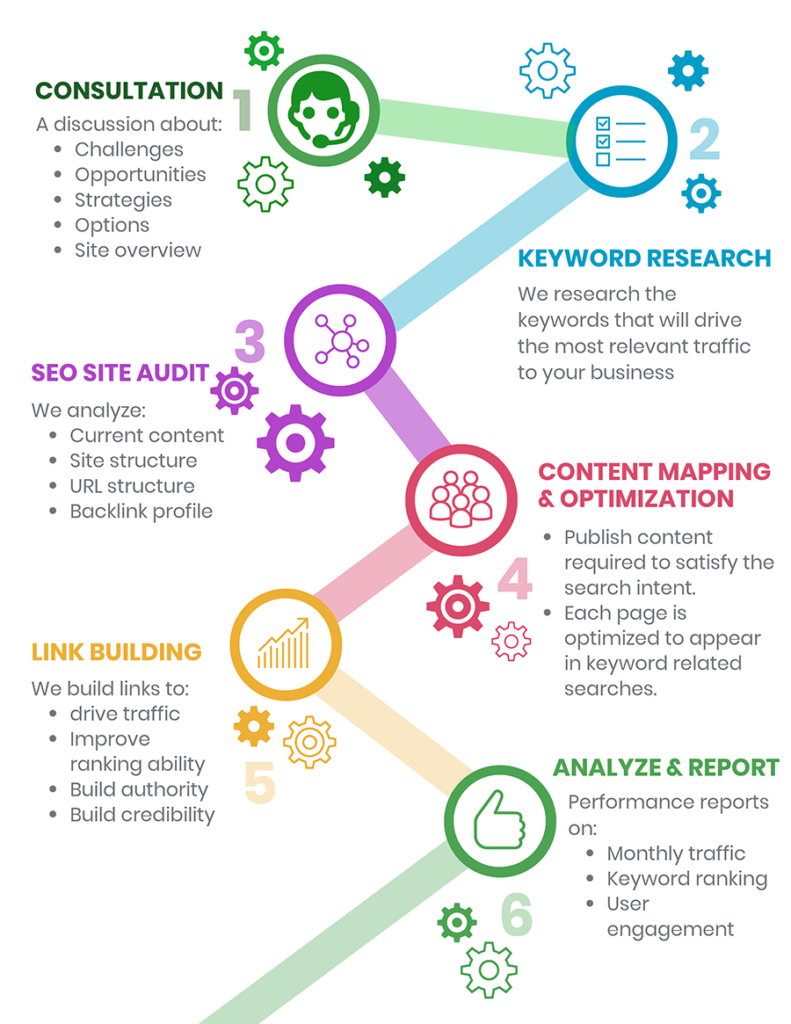 There's no doubt that the competition is getting tougher as more businesses capitalize on the advantages a top ranking on Google offers. Secure the growth of your company by optimizing your website to receive relevant, targeted traffic.
Call for a consultation and see what we can do for your business.
Phone #: (647) 557-5002
Monday 9 am – 8 pm
Tuesday 9 am – 8 pm
Wednesday 9 am – 8 pm
Thursday 9 am – 8 pm
Friday 9 am – 8 pm
Saturday 9 am – 6 pm
Frequently Asked Questions
How do I know if SEO in Mississauga is the right choice for my business?
If you own a website SEO is not just the right thing for your business but a necessary part of making your website successful in generating leads and new clients. If you want your company to grow, SEO is the right choice for your business.
It doesn't matter how you've done business in the past, the truth is that more business is being done online than ever before. When a person needs to find a solution to problem the first place they look for answers is their phone or laptop. If your website isn't in the list of options that they search for, you're losing the opportunity to make more money.
Every business needs SEO and that is becoming a fact in virtually every industry. Optimize your site to be found for what your company offers and capitalize on a growing revenue stream. Make your site an income-producing asset to your business.
What exactly is search engine optimization?
SEO is the process of making your content accessible to search engines. It involves creating a clear message of what your website is about and what your company offers. In order to make your website outrank your competition, SEO connects your site to authority sites and builds the authority of your content to make your pages the best option for users searching keyword related topics.
Search engine optimization increases the value of your website. Through content and link building strategies, your site expands its audience by appearing for more keywords that are relevant to your business. This drives targeted traffic that is interested in what your company offers.
When you site attracts more visitors, your company generates more leads, new clients and increases revenue.
How do I know which is the best SEO company in Mississauga for my business?
It's important to feel comfortable with the strategy your SEO consultant has laid out for your business. A consultation will be the first indication of what to expect from your consultant. Educate yourself about the most important aspects of SEO in order to understand the process and whether your consultant is offering a solution that makes sense.
Be cautious of cheap SEO services that are offering low-quality content and backlinks from irrelevant websites. In order to create a dominant presence in the search results, your site will need links from quality websites and publish content that people will actually want to read. Holding a high standard of quality is what gets long-lasting results that don't diminish after a few months.
How do I know if Mississauga SEO is working?
The most obvious answer to this question is to see whether the traffic to your site is increasing. Look at the pages you're optimized for to see if they are receiving more visitors. You should have access to Google Analytics or receive a report each month from your consultant.
Having said that, you should keep everything in perspective according to how your consultant has laid out your strategy. It's important to understand the different aspects of optimization your site is undergoing each month.
It's also important to have an idea of how competitive your keywords are and where your site is in terms of outranking your competition.
Maintain a good line of communication with your consultant so you understand how to benchmark performance within the timeline of your custom strategy.
How long does SEO last and do I need to keep paying?
Search engine optimization services add value to your site and make it more competitive for specific keywords. The effects of SEO are long lasting however maintaining a top ranking will depend on your competition.
If they are continuing SEO services when you stop, there may be a point where they surpass your site in rank. Sometimes there are keywords in which your site can maintain its rank for a long period of time without any changes. It doesn't mean you can't continue to make increase revenue.
You should invest in SEO services as long as you want to increase the traffic of your site and continue the growth of your company. Even when you reach the number one position for one keyword there are dozens of variations to target to bring you more traffic, more leads and more new clients.
A website is never standing still. Either it's moving forward, or it's moving backwards. Digital Ducats SEO services are month to month, no contract which gives you the freedom to determine when you've experienced enough growth and development within the niche in which you compete.