SEO services rank your website to the first page of search results for keywords and phrases that will make your business the most money.
By positioning your website in keyword-specific searches we connect you with qualified visitors who are searching for your product or service.
Why are SEO services important for my business?
When you invest in search engine optimization services you are increasing the value of your website as an income-producing asset to your company. We improve every aspect of performance that your website needs in order to rank competitively.
The end result is higher rankings, improved search visibility, increased traffic from the organic search results, more leads and new clients.
What's included in SEO services?
The term SEO services is an umbrella term for a number of specific tactics and strategies that improve the search performance of your site. Your SEO strategy is based on which ranking factors your website needs to improve on in order to achieve rank on the first page.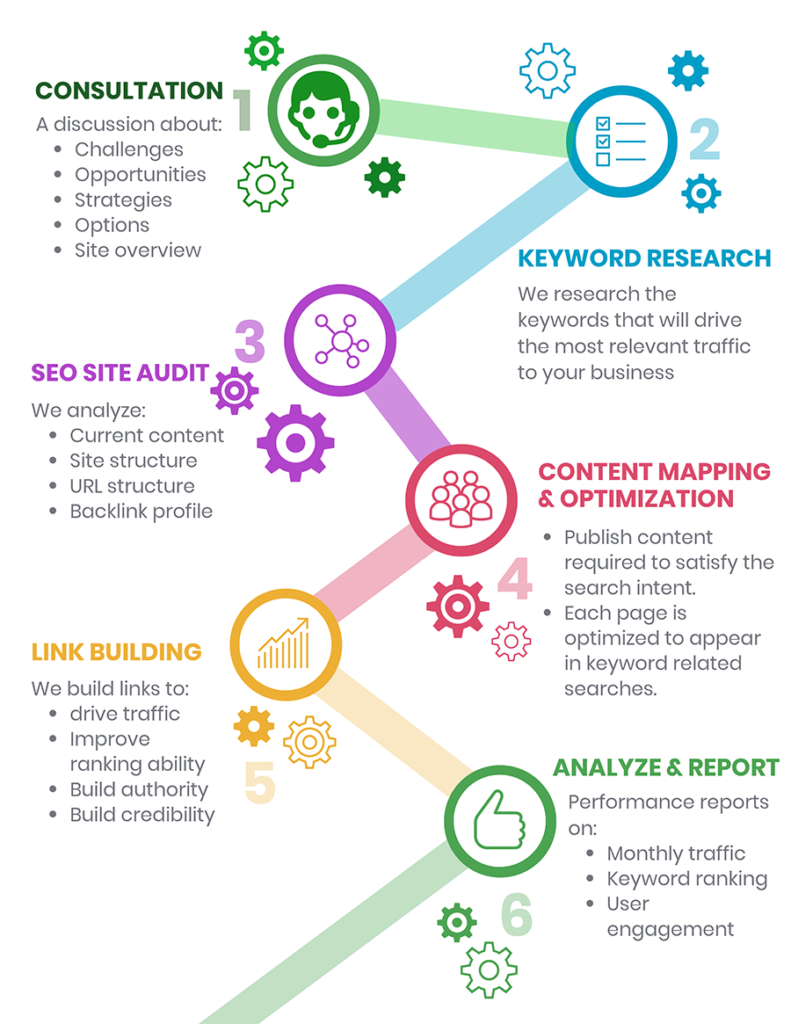 How does an SEO site audit help your company?
To get started with your services we assess the current health and optimization of your website. An SEO audit identifies technical errors that your site is producing that may be limiting how well your website is ranking.
Keyword research is essential in producing relevant content
We generate a list of potential keyword options to find the best possible match for your business. Your company benefits from keywords that best represent your business and have the highest commercial value.
The keywords for your website are chosen as a realistic goal for a first-page result. Keyword research provides multiple options that will drive traffic with buyer intent as well as those who will buy in the near future.
We develop your website with optimized content to become a resource for clients and prospects and to attract visitors at all stages of the buyer journey.
We provide SEO content for your keyword topic
SEO content is not just about on-page SEO (anchor text, keyword ratios and placement, meta tags, etc.) but about how well your content satisfies search intent.
When we assess the content of your website we also research the possible solutions that your future clients could be searching for and how well your content addresses those topics.
Any gaps in the content currently published on your site are scheduled and published in an effort to provide comprehensive coverage of your keyword topic.
Google primarily ranks websites according to search intent. In order to rank on the first page of Google, you need great content that can demonstrate relevance and depth in your keyword topic, credibility, authority and the ability to satisfy search intent.
Our service offers potential solutions through a custom content strategy that will satisfy the intent of users searching with your keywords.
On-page optimization communicates relevance
On-page optimization is one aspect of improving search visibility. Each page of your website is optimized to make it clear to search engines who you are and what your company does to trigger more frequent appearances in keyword-related search results.
The placement of keywords, interlinking strategy and quality of content are key factors of how well your page is optimized.
We improve your authority through white-hat link building
Backlinks are a major ranking factor Google uses to determine the authority and credibility of a website. It's often not enough for your site to be optimized for a specific keyword topic. In most cases, you will need a healthy profile of inbound links that act as "votes" of credibility from other websites.
As we increase the number of referring domains that link to your website it becomes more authoritative in your niche.
Our link building strategies are all white-hat methods that fall under SEO best practices in order to provide long-lasting results in the top-ranked positions. Your site will never be subject to black hat link building methods as they risk serious damage to the search visibility of your website.
As the domain authority of your site increases, so does its ability to outrank other websites for more keywords and phrases.
Enjoy the added benefits of branding through SEO services
Branding takes place by spreading awareness of your business through the content published on and off-site. Brand recognition will contribute to a higher click-through rate, meaning more traffic to your site.
Branding results in what's known as "leapfrogging" or "pogo-sticking" search results. In the current search climate, it's common for users to skip over other sites in search results when they see a recognized brand.
We strategize the appearance of your site on industry sites and searches related to your business to make your brand more commonly recognized in your niche.
Maximize traffic from SERP features
The traffic your site receives can be supplemented by taking advantage of Google SERP features that are present for your target keyword. Your site is optimized to be featured in Google products that may occupy the top positions in the SERPs (search engine result pages).
We enhance your local presence to produce high-converting traffic
We optimize your site to receive local search traffic. Your company profile is optimized in the major local search directories such as Google My Business to take advantage of local search traffic.
Most searches for a local business made from a mobile device result in an offline purchase within 72 hours of the search. When local customers can easily find your business it contributes high converting streams of traffic to your website to generate more sales. Local SEO can be a major asset to generating more revenue.
You generate more leads and new clients consistently
All services and benefits described are included in an SEO strategy custom-tailored for your company. The finished product is improved search engine rankings and improved flow of traffic from high-converting keywords that results in more leads and new clients.