Digital Ducats Inc. offers companies the opportunity to grow. When you're looking to expand your customer base online, SEO in Kitchener will attract more visitors to your site so you can acquire new clients.
Our main focus is on increasing the organic traffic that your site receives. That includes optimizing your website to appear in keyword searches within the top ten results on Google.
Capitalize on every opportunity on the first page of results that will give your business a competitive advantage to get you more new clients and increase your bottom line.
The benefits of SEO In Kitchener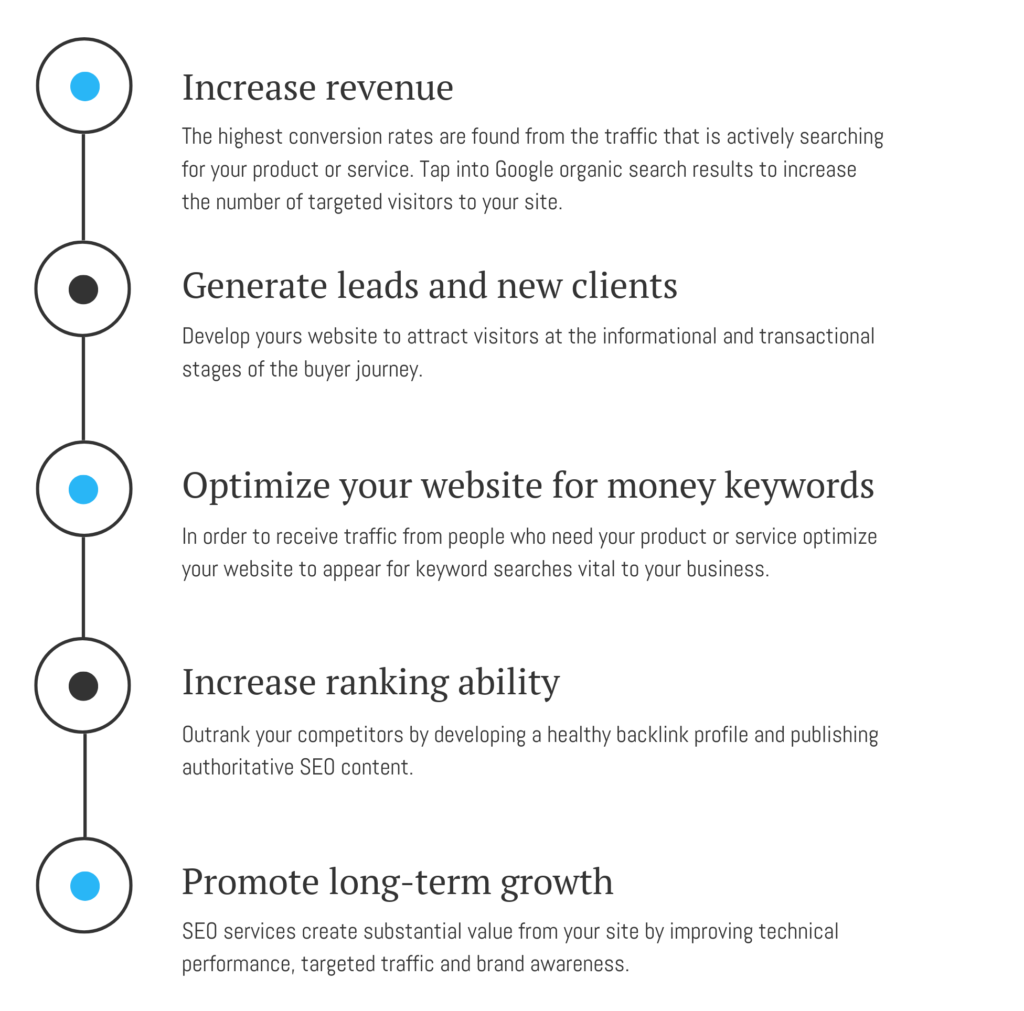 Getting started with Kitchener SEO
There's no doubt that every company can benefit from SEO services. In an increasingly competitive environment, the ability to outrank your competition is necessary to maximize your company's growth.
Whether you own a new website or have a site that's been around for years, we structure and optimize your content based on your company's goals. We improve the traffic your site receives for the keywords that are most important to your business.
Our link building strategies are white hat methods that won't get your site penalized. Every month, you receive a report to track the performance of your website.
Our 6-step process for SEO services in Kitchener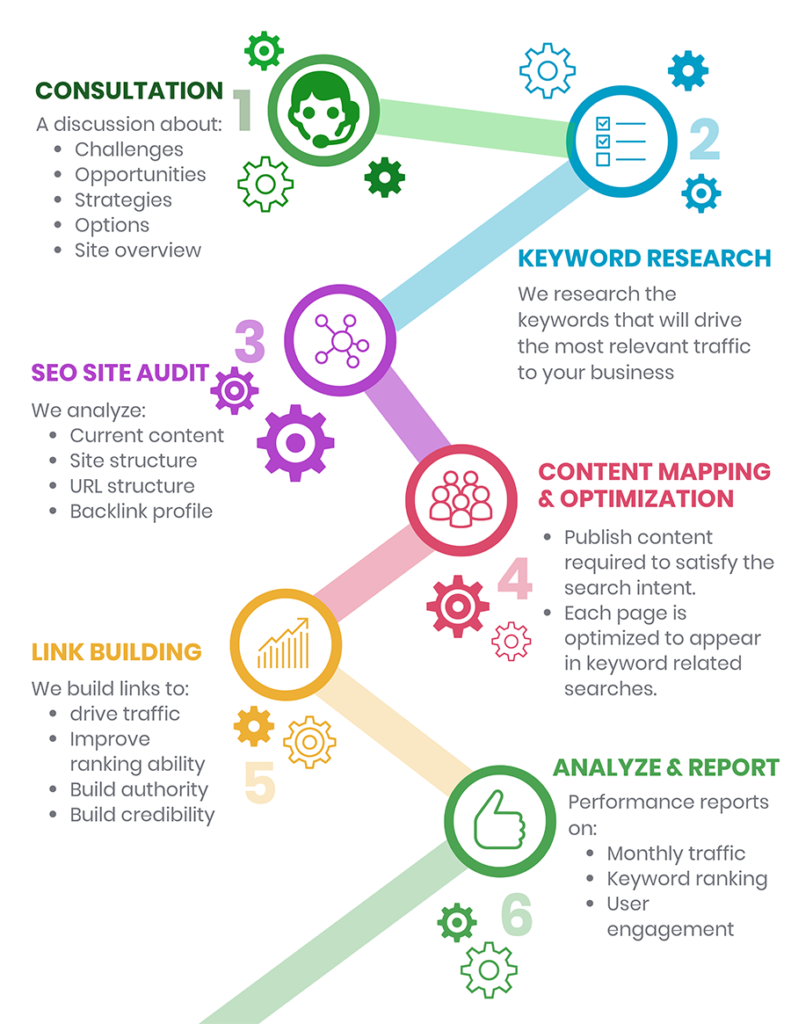 Why should you choose Digital Ducats Inc.?
The answer is plain and simple: we get results. With over ten years of internet marketing experience, the system we use is proven to generate more traffic in the areas your business needs the most.
Your company will experience growth. We know how to bring you the traffic that is looking to purchase the solutions your company offers.
Without the knowledge of how your site performs, it's difficult for what's working and what's not. We provide you with the structure for growth and track the performance of your website.
You will always be up to date on where your website is sourcing traffic, what pages perform the best, how many visitors you're receiving. This gives you the means to gauge your growth and to assign value to the services you're investing in.
Call for a consultation and let's see what we can do for your business.
Phone #: (647) 557-5002
Monday 9 am – 8 pm
Tuesday 9 am – 8 pm
Wednesday 9 am – 8 pm
Thursday 9 am – 8 pm
Friday 9 am – 8 pm
Saturday 9 am – 6 pm
Frequently Asked Questions
What exactly is included in an SEO package?
Every website will have an in-depth keyword strategy put forth as well as a plan for the optimization of those keywords.
Your plan may include using existing content on your site or require more SEO content creation. Every page on your site is optimized to target a specific keyword for a specific purpose.
To improve ranking ability your pages may require a link building strategy. You receive monthly reports on the progress of your site and any relevant changes in ranking and traffic.
Every website requires a custom solution based on their industry, their website's current optimization and what short term and long term goals they are striving to achieve.
What's the average timeline to start seeing results from SEO in Kitchener?
The most accurate answer to this question is that it depends on a number of variables. There are many clients who experience an increase in traffic and phone calls in the same month services begin. Digital Ducats Inc. averages approximately 2-3 months before clients start to see the benefits of the additional traffic that your website receives. To experience the full benefits of SEO it can take up to 6-9 months to get a top ranking.
The truth is that your website increases its value immediately. We complete our research and begin implementing your strategy within the first month. Every month of SEO services improves your website and it becomes a step closer to reaching the top of the search results.
SEO is an investment in the quality of your website. There are so many different variables involved that the process takes time. The amount of time it takes depends on how competitive your industry is, the current optimization of your website and the current technical performance of your site and how authoritative your business is in your industry.
Is local SEO different from regular SEO services?
Local SEO means optimizing for a specific location. If you're a local business that serves your customers from a brick and mortar store in Kitchener, it serves you no purpose to rank for a term in Vancouver. You would target your SEO to people who are searching for a store in Kitchener and the surrounding areas.
Local SEO also refers to appearing in Google's Local Pack. The Local Pack refers to the top three local results that Google displays on the first page of results. If you're not in the top three, users will need to click "More places" to get a list of businesses in the city in which you're searching.
SEO, in general, refers to optimizing your site to appear for a specific keyword. If you own an online business, then optimizing locally may be helpful, however, you would want to show up for that keyword no matter what part of the world is searching since you're not limited to who and where you sell your product.
How much do Kitchener SEO services cost?
The price of SEO services varies among providers. It's expected to pay a starting monthly fee of somewhere between $750 and $1500. The prices depend on your industry and what's involved in ranking your site for a specific keyword. Anything less and you will need to seriously question the experience and quality of the person you're hiring.
Beware of cheap SEO service providers. You will end up paying more in the long run. It's important to speak to a consultant and understand what they are going to do to bring you more clients.
Just as there is a ton of work that goes into developing a website in a specific niche, there are multiple things that go wrong and get your site penalized. If you're not careful with content and linking strategies you can do more harm than good. A good SEO consultant will get you a return on your investment.