When you want your business to grow, SEO in Whitby is a solution that will increase the presence your website has in the search results.
We help you increase revenue by ranking your website on the first page of Google.
93% of people will choose options on the first page of search results, which makes it extremely important that your website appears on the first page for important keywords.
Why should you care about SEO in Whitby?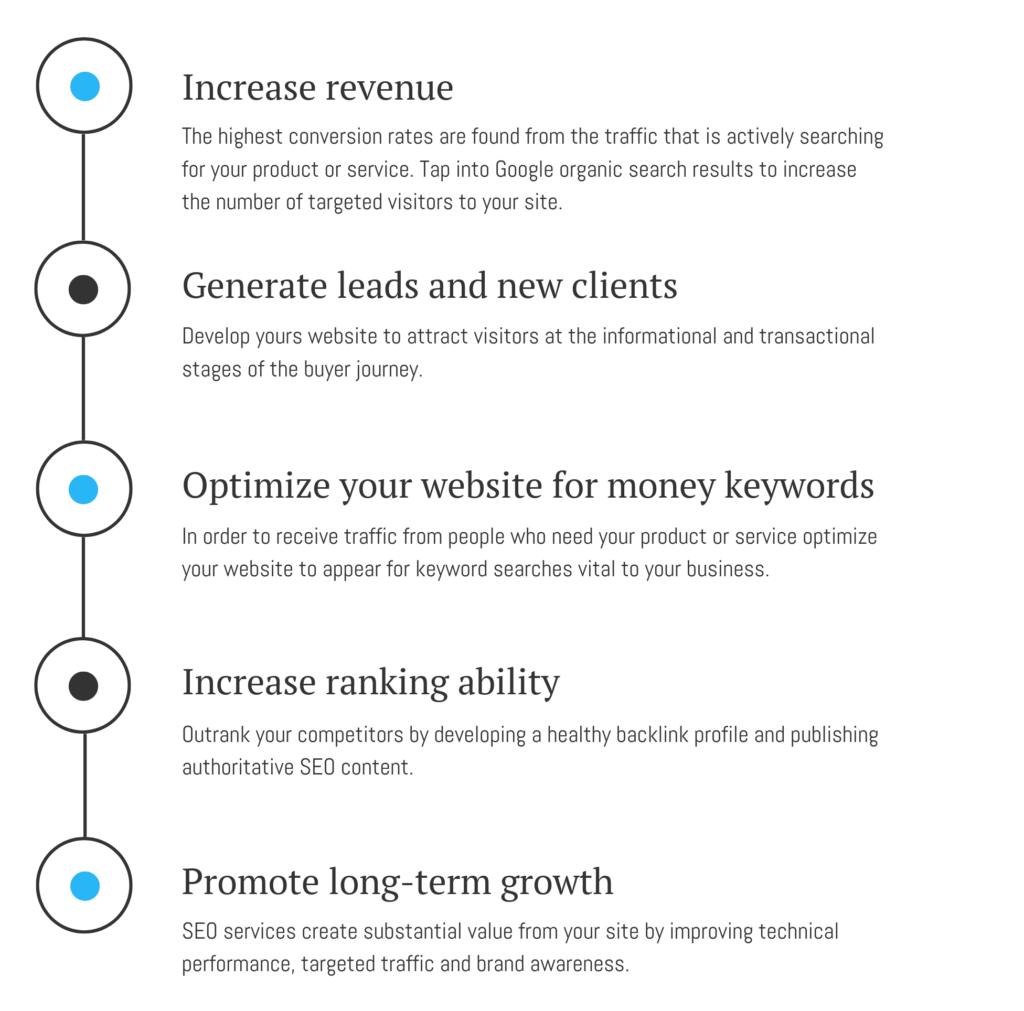 Do you have a long-term strategy that will allow your website to generate new business on a regular basis? If not, you're in the right place to make that happen.
SEO is a process that takes time. Search engines base their rankings on the authority and credibility of your website. This is where our work begins.
A 6-step process for SEO services in Whitby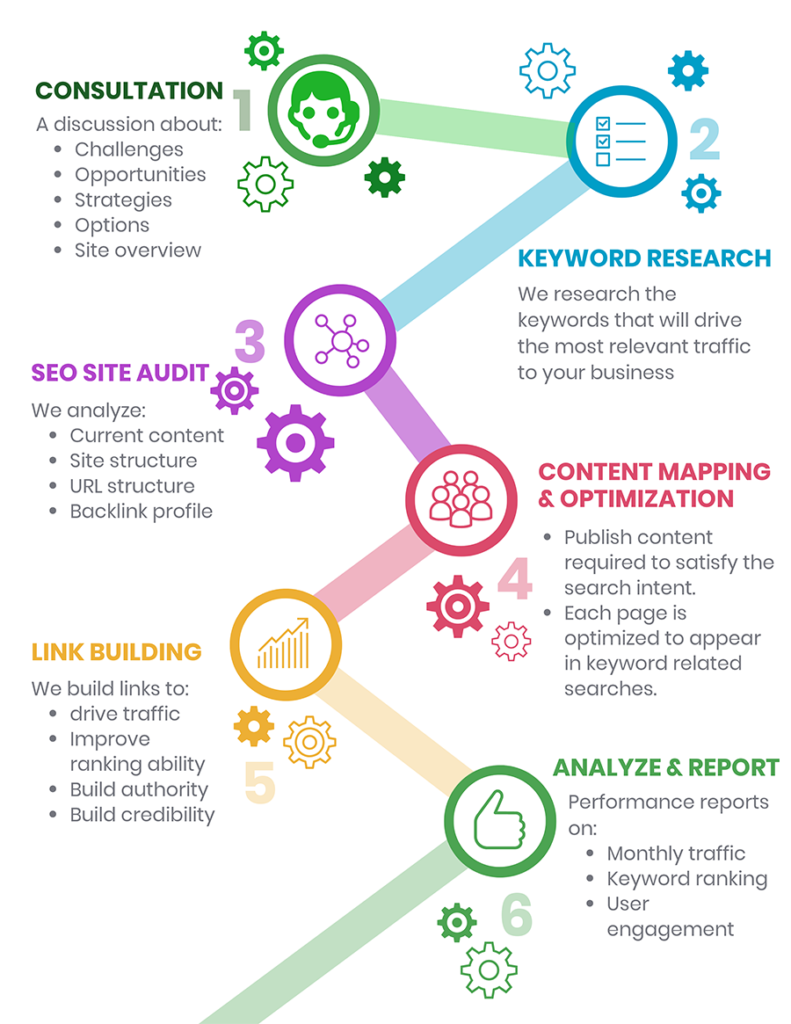 Keyword research and strategy
Every website has unique attributes that need to be addressed in order to excel in the search results. Our task is to find out every strength and weakness of your website to determine the best strategy that will build your credibility and authority in your competitive niche and get you the most clients.
SEO services build the credibility of your website by targeting a specific keyword topic and creating content for visitors on each stage of the buyer journey.
Engage your potential clients
A developed website is able to answer the questions potential clients are asking while in each of the three stages of the buyer journey:
The research phase
The transactional phase
The directional phase
Improve your company's reach by optimizing for keyword-related searches in each phase of the buyer journey.
Outrank your competition
Search engines use hundreds of ranking signals when choosing the top ten websites for a first-page result. Your website is developed to include as many of those signals as it takes to get you to the top of the search results.
Our team specializes in identifying the most important ranking signals in your niche and implementing a strategy to outperform your competition in each of those areas.
The result is the growth of traffic to your site from local and organic search results. Every month of service adds value to your site through on-site and off-site content creation and optimization.
SEO Whitby consulting services
A consultation provides you with a basic overview of the areas that can be improved in order to create a stronger search presence. Whether or not you decide to move forward with a company, a consultation will provide invaluable insight into your business and give you an idea of the work that needs to be done.
Call for a consultation and discussion about what we can do for your business.
Phone #: (647) 557-5002
Monday 9 am – 8 pm
Tuesday 9 am – 8 pm
Wednesday 9 am – 8 pm
Thursday 9 am – 8 pm
Friday 9 am – 8 pm
Saturday 9 am – 6 pm
Frequently Asked Questions
How do I choose the best SEO company for my business?
The best company is one that has the ability to understand your industry and provide a custom solution that gets you results. It's important to work with a company that can identify and implement the best strategy that will get you results.
Avoid SEO companies in Whitby that are implementing old, out-dated practices. To get the most from Google's search engine your strategy should include keyword and content mapping; optimization for organic and local results; and improvement in the technical aspects of your site.
What can I expect from Whitby SEO services?
SEO services improve your search presence which leads to more traffic and ultimately a bigger bottom line. Search engine optimization does not guarantee you sell products, they bring more visitors to your site.
Every reputable internet marketing company will tell you that it will take at least 6 months in order to get the full benefits of SEO. The reason for this is for the natural and organic growth of your content and the backlinks that it acquires over time.
What exactly are SEO services and how do they work?
SEO services is an umbrella term for a number of services that are necessary to fully optimize a website. Services include keyword research; site audits; content creation; content mapping; link building; technical improvements.
There are over 200 ranking signals that Google uses to rank websites. An SEO consultant will improve those signals to get your website in the top ten results for a keyword. Apart from content and backlinks (the largest ranking factors), there are dozens of optimization tactics that can be used to enhance your search presence.
What's the difference between organic search results and PPC?
The organic search results are the list of websites that appear as Google's best response to a search query. The organic results account for the largest percentage of clicks.
PPC (Pay Per Click ) refers to a program offered by search engines (Google, Bing, Facebook, etc) in which you pay for every click made to your site.
PPC ads are much more expensive in the long run. organic search results provide more traffic and unlike PPC ads, the traffic doesn't stop when you stop paying.