The significance of local SEO for dentists has continued to grow in the dental industry ever since Google became the new Yellow Pages. Google processes more than 3.5 billion searches each day and approximately 46% of all searches are made with the intent of obtaining local information.
When people want to find a local dentist, 87% of people will search on Google. Local searches are one of the highest converting sources of traffic. According to Google itself, 72% of people will reach out to a local business within 5 miles of their location after finding them in a search.
Whether you're starting your first practice or you want to accelerate the number of clients that find you on Google, defining a local SEO strategy for your dental practice will increase the volume of traffic through improved search visibility.
Drive traffic with Google My Business
One of the first areas that should be addressed is your Google My Business profile. Consider this an extension of your website that is eligible for a top position in Google's Local Finder.
Only the top three businesses will be listed on the first page, however, getting your practice on the map and in front of an audience will start to get your website noticed. In order to move your listing to the first page into what's called the "Local Pack", you'll need to follow a series of steps to make your profile more competitive.
How to optimize your GMB profile
Go to Google My Business to set up an account. You may be asked to enter your company name to make sure a listing doesn't already exist.
The next step is to choose the primary category to enlist your practice. This is an extremely important step for driving traffic that best fits your business so read all of your options.
You can always change your primary category so don't feel like it's a final decision. One way to confirm you've chosen the right category is to search for one of your keywords and see what category your competition is using.
The next steps should be self-explanatory. If you don't have a website you can choose to "create a free website" for the time being and add the URL of your website at a later time.
List every service your practice offers. Include every procedure and everything you charge your clients to make your page eligible to show up in keyword searches.
Publish a professional and keyword-rich business description
Create a keyword-rich description that your prospective clients will read when they view your business. This is your message to people who are looking for your services so make sure you're thorough, warm and welcoming and have described the range of services available.
Add interior, exterior and relevant images
Upload as many images of your practice as possible. You can do this anytime but keep in mind you're much more likely to convert visitors when they get a sense of who you are and the environment you're working in.
GMB photos get a lot of views-especially the interior of dental offices. People want to see where they're going. Use high-quality images that show the best aspects of your office.
There is a separate field to upload your logo.
Go to the info tab and add to every field that you're able to provide information. A complete listing has much more information to connect you to potential searches from users.
You will need to verify your listing before any of your information becomes available to the public. Your listing will only be visible to you until you enter the verification code received on the Google postcard (sent within 12 days).
Building structured citations
In order to confirm the validity of your business information, you use citations on a variety of different websites. Structured Citations are considered review websites and directory listings because they offer a specific place to enter your business information.
Listing accurate NAP details are vital in establishing the credibility of your businesses' local presence. Your name, address and phone number need to be consistent in every instance it appears online.
List your business on alternative search engines
Create profiles on the major search engines that offer local business listings. Duplicate your GMB profile information exactly as it is displayed on Bing Places for Business and Yahoo! Small Business (in the US).
You can import the information from your GMB directly into your Bing account. This can save you loads of time and will eliminate the possibility of typos. Learn how to claim and optimize your Bing places for business profile.
List your business on keyword related directories
You can search for directories that are directly related to your niche by using your keyword in a search. Check the first five pages of search results to see which directories appear.
Directories that appear in a keyword search are potential sources of traffic since users may be clicking on them to find more options for dentists. Here the first and second results for the term dentist in Toronto happens to be directories.
Apart from adding an additional position in which your website can be found, a directory that appears in a keyword search is also an indication of the relevance the directory has in the niche.
Not only will appearing in the directory provide additional traffic, but acquiring a backlink the directory will improve the local authority your website has in localized search results.
List your business on local directories
Search for local directories by searching [your city] business directories. Google will display a list of city-specific directories that are unique to your location.
List your business on major directories
Yellow pages are one of the top directories that feed into many smaller directories in Canada and in the US. Listing your business here is automatic because of the volume of traffic it receives as well as the fact it gets your info into multiple directories.
Every country has a different set of directories that will play a larger role in your optimization. Identify the top tier of directories to build profiles of your practice.
Choose three websites from each type of directory to give your company a diverse profile. Many of these directories will link back to your site to give it a good start in building a local backlink profile.
Be extremely cautious listing your website on directories you haven't heard of that look spammy (filled with ads). If you list your website on directories with low authority and low traffic, you will end up hurting your site more than helping it.
You can check the quality of a website by using SEMRush (no account needed). Simply enter the URL in question and look at the traffic the site receives. Low traffic will indicate that the site will not help you receive any benefits from being listed on it.
Review management
Part of managing a local SEO strategy for dentists is creating a review strategy. Reviews are believed to contribute to your local business ranking. In fact, in the State Of Local SEO Industry Report 2020, 90% of marketers believed reviews impact your website's presence in the local pack.
In a poll that surveyed 1000 marketing professionals, Google reviews scored a second place in most important ranking factors for localized search results.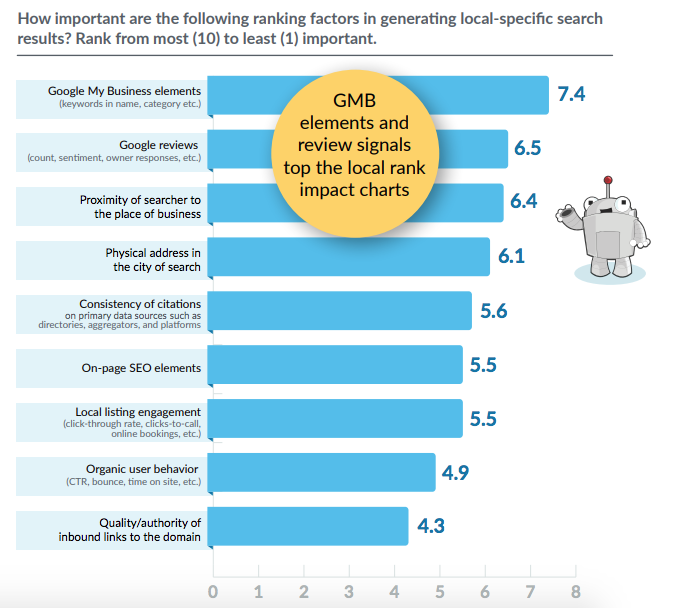 Put a review strategy in place so that you can keep reviews continuously coming in on a steady basis. It should be obvious that you need to acquire Google reviews, however, a good cross-section from other relevant review sites can also have a big impact on your local presence.
How to encourage more reviews
In order to encourage receiving the highest reviews, make sure you only ask people that are extremely satisfied with your work. A personal request goes a long way, however, people don't always remember when they get home, so you may need a backup plan.
Include the request for a review on the receipt or in a thank you email after you've completed any particular service. Embed a link in your email with written instructions to simplify the process and serve as a reminder to your clients.
Respond to positive and negative reviews
If you've asked for a review and received one, thank your client. There is a way to do this on every platform and a simple expression of gratitude will go a long way. When other clients see your responses, it can be more encouraging for them to leave a review as well.
Negative reviews are bound to happen. Be sure to respond in a timely manner in order to show your best customer service. Publicly offering to correct a mistake or misunderstanding shows people you're willing to go the extra mile to make your clients happy.
It also puts another spin on the situation apart from the disgruntled clients. Train your receptionists to include asking clients if they're happy with the service. Having a system where reviews continually roll in is a great way to strengthen your local presence.
How to choose the best keywords for your practice
In order to drive the highest converting traffic, you'll need to identify the keywords that suit your practice best. List the main services that you want your practice to be known for to create the major pillars of your site.
Using a keyword tool you can confirm the number of searches and the level of competition that each keyword possesses in order to finalize your decision. Here you can see the keyword root canal is a level 57 difficulty.

If your city us super competitive you may need to add a geo modifier in your title and URL to make your page hyper-local. By adding Toronto as the geo-modifier, this reduces the competition considerably.
Keyword tools can also give you insight into different ways to target the service that you're offering. There is a list of options that are generated as suggestions to your keyword that you can use as alternatives or incorporate into your content to enhance the optimization of the page.
Choose the keywords that offer the highest volume of traffic with the lowest competition. Whenever you consider pursuing a target phrase always use it a Google search yourself to see what results are displayed. You want to confirm that you've assumed the correct search intent that the keyword suggests.
For example, you should expect to see other dentist websites appear in a keyword search you're considering to target. Anything other than your competition may suggest that the users are not looking to hire a dentist, but gather information or satisfy a different form of search intent.
Implement a content strategy that builds awareness and educates
A major part of driving traffic to your website is publishing content that is popularly being searched. SEO for dentists is not just about being found for one keyword, but also involves creating awareness and nurturing leads to build trust and confidence in your practice.
For example, someone who is nervous about getting a cavity filled may be searching Google for answers to questions they have about the experience. Creating a blog that answers these questions increases the number of visitors on your site.
This approach to answering commonly asked questions not only goes a long way with potential clients but is also rewarded by search engines. Using a topical content structure to build on the depth of your services is a powerful way to drive more traffic from Google.
For every service you have, there are different stages people go through before committing to a dentist. These stages can be categorized as awareness, consideration and decision.
Some people may not know why they're feeling pain when they bite into a pineapple. Your blog can address the potential causes of tooth sensitivity, cavities and provide the options for a solution.
For many new patients, the information provided on your blog is the help they needed to overcome something minor. When something becomes more serious, they are now thinking of your website as a source for dental services from the awareness previously built.
Educating your clients is a crucial part of the SEO cycle that drives more traffic by creating awareness, educating and building trust in your dental practice.
Publish location pages to expand your business
Location pages create a local presence in neighbouring towns and cities. For instance, if you're in Toronto but would like your practice to appear in Mississauga, a Mississauga location page would be a solution to appear in search results specifically for that city.
Location pages allow your business to expand beyond the limits of your own city. Localized search results are largely influenced by on-page optimization and a local backlink profile.
Although you may not show up in the local pack without a physical address, an optimized location page can get your website to appear in the organic results in any city you target.
Publish local content
Use your blog to publish city-specific content as it relates to your business. Creating content about your city creates strong ties to your locality and will contribute to local rankings.
An example could be keeping updates on the various stages of recovery your city is experiencing that has resulted from COVID-19. Relating this to your business operations and how it affects the residents of your city contributes to positive local optimization signals.
On-page optimization
Every page on your website should target a specific keyword. In order to give your page the best chance at appearing for your keyword, you should ensure it is placed in all the right places. Use a plugin such as Yoast to make things easier by alerting you if any of the major on-page optimization attributes are missing.
Here are a few of the main aspects of on-page optimization:
Use a keyword-optimized title with H1 tags
Your H1 tag should contain your keyword because it describes to search engines the most important content on the page. Most content management systems will tag the title of your page with h1 tags automatically.
Your title is one of the most important parts of your page because it's what appears in search results. Be sure to include your keyword in the front end of your title to ensure it's not cut off or truncated on smaller sized screens.
Write a compelling meta description
Your meta description is another crucial part of advertising your page in the search results. The description you use should create an interest in clicking through to your page.
Write your meta descriptions using keyword-rich descriptions. The use of keywords communicates to the user that they have found what they're looking for and promotes a higher click-through rate.
Again, keep your target keyword near the front end of your description.
Use your keyword a few times within your content
In order to show that your page is highly related to your target keyword, it should appear in your copy at least a few times. There's no need to repeat your keyword more times than that since it won't make your page any more optimized. In fact, unnatural use of your keyword or excessive repetition may result in adverse results to your search visibility.
Use your keyword in the first 100 words or first paragraph whenever possible.
Optimize your images
Save your images using your keyword in the filename. If you have multiple images, don't overdo it, simply use keyword synonyms.
The alternative description (or alt tags) tell search engines and the visually impaired what your image is about. Use your keyword and keyword variations with the alt tags of images you post. In this example of an image in WordPress, you can see the keyword improve on-page SEO highlighted in the area assigned for the alt tag.
Use the correct dimensions for the images you post. If you have images that are 2000+ pixels, the chances are you won't need an image that large. Reduce the file size to exactly what is required on your site will increase your page speed from reduced server requests and a smaller file.
If you're using WordPress, install a plugin called Smush to compress your images. You can also implement "lazy loading" which delays images beneath the fold from loading until you scroll down towards them resulting in faster page speed.
Interlink your content
Using internal links can enhance the optimization of every page on your site. When you have a page that references the content on another page, you can use an anchor text link to connect the pages.
The text you use to link the pages should be descriptive in order to increase a search engine's understanding of the content on your page. Use both optimized and un-optimized anchor text to interlink content on your website.
Building authority, credibility and ultimately ranking ability
If you're no stranger to SEO for dentists, you might already understand the significance of building backlinks to your website. In order to build authority and credibility, your website needs "referrals" or "votes of confidence" from other websites. These come in the form of backlinks.
The main concept that ties ranking in with a strong backlink profile is that other websites find your content so valuable that it's worth sharing with a link.
In order to get the most from your backlinks, you need to focus on getting links that improve your credibility in your expertise, and in your locality. Acquiring backlinks from local sites in or related to your industry are considered the most powerful types of links.
Leverage the power of unstructured citations
An unstructured citation is an instance of your name, address or phone number being posted to another website-even though there is no set place for it to be listed.
For example, a directory listing is a structured citation because there are specific places to enter your information. A blog post that mentions the name of your practice is unstructured because the name of your company is used contextually within the content of a page.
List your professional resources for unstructured citations
Write a list of twenty people that you know have websites and are related to the dental industry. Ask the following questions:
Who do you order supplies from?
What companies do you work with?
What other dentists may support you with a link from their website?
Exhaust your network for likely candidates because the people who already know you are most likely to link to your site.
Search Google or link opportunities
Another method of identifying links is to search Google using specific command operatives such as inurl.
You can look for sites that offer resource links and guest posting opportunities by telling Google to search for websites with a keyword in their URL.
For example, the command teeth whitening + inurl:links displays the following websites with pages that link out to other websites:
Join a professional association
You can also become a member of professional associations. These sites will often link back to your site with a highly relevant backlink. Here's an example of a profile from the Dental Industry Association Of Canada:
One practice that requires a bit of caution but is highly effective, is spying on your competitor's backlink profiles. Enter the URL of a top-ranking website into an analytic tool like Moz to get a glimpse at the websites that are linking to the top websites ranking for your keywords.
Keep in mind that although you may find a lot of backlinks that point to a top URL, not all of them will be good for your site. In fact, some of those links may not be good for your competition either.
Make your decision based on relevance to your niche, city and whether the site gets a decent volume of traffic. You don't want to go through the effort of getting a link on a graveyard site because Google won't give you too much credit for those anyway.
Tracking and monitoring your progress
In order to adapt and grow, create measurable goals for your website. This cannot be achieved without tracking the performance of your website on a monthly basis. Two of the most powerful tools you'll need also happen to be free of cost.
Make use of webmaster tools using Google search console
Just as you would open the hood of your car to see the engine, you open Google search console to see what's going on with your website. Search console tracks the performance of your site as well as alerts you to any problems that it may be experiencing.
Familiarize yourself with the performance tab functions to see what pages are ranking. You can see your top-performing pages, how many times they appeared in searches and how many clicks they received.
You can also monitor any errors that are being generated from your site that might affect page ranking.
Google analytics
Although Google search console can show you a lot of information, you need Google Analytics for more specific details in reporting. Here you can customize reports, set goals and monitor goal conversions.
An example of a goal conversion could be to get visitors to make a call or book an appointment. You can set this up in Analytics by going to Admin, Goals, New Goal.
You can also see how your users are navigating your site.
There are also comparative reports you can run to see whether your website is generating more traffic at any given block of time. You can compare previous years, previous months or any specific periods of time.
Tracking results is your only way of knowing whether your SEO efforts are paying off. Despite the advanced capabilities of Search Console and Analytics, if you're interested in tracking your website's rankings, you'll need a separate rank tracking software such as Moz, Ahrefs, SEMRush, Rank Tracker, etc.
Capitalize on Local SEO for dentists and increase your revenue
Defining a local SEO strategy for your dental practice is one of the wisest decisions you can make for our business. SEO is one of the few marketing strategies that is growing in popularity and will only get more competitive as time passes.
Take control of your companies growth by implementing the practices outlined in our guide. Build a local presence for your dental practice to guarantee the long-lasting success and growth of your business.