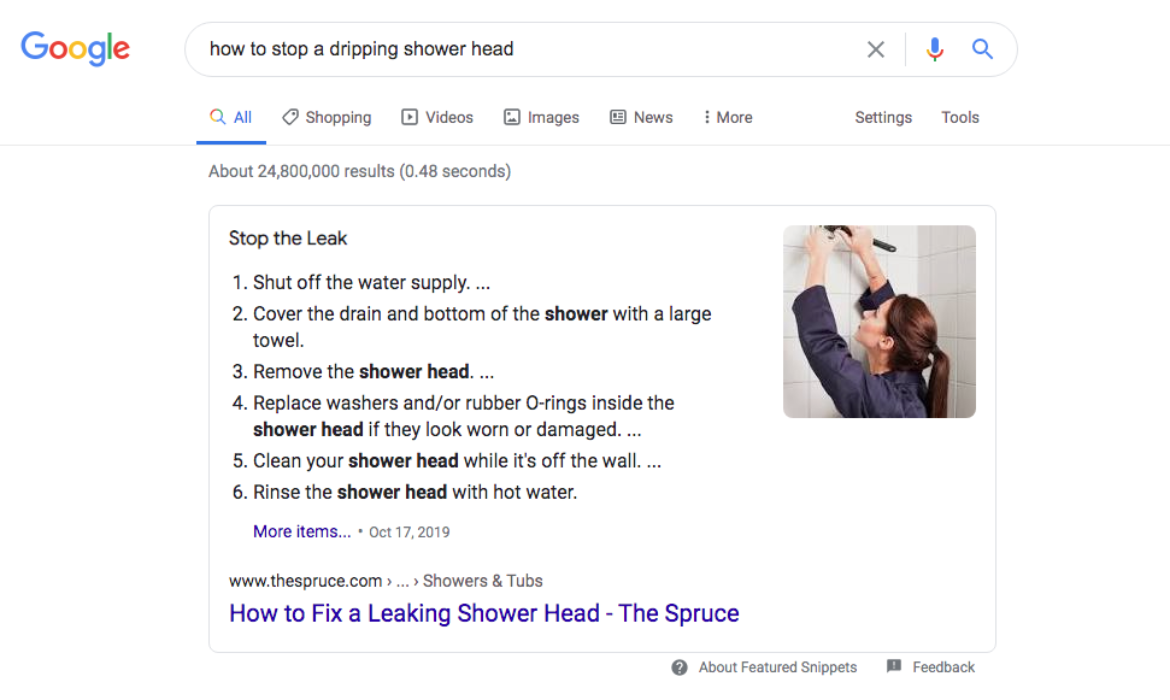 Every small business needs SEO as part of its growth strategy. The search results are much too competitive to avoid search engine optimization completely and there's way too much money to be made from an optimized website for SEO to be ignored. The truth is small business SEO is a complete game-changer if your website hasn't been optimized to appear for important keywords to your business.
The opportunity exists in many industries where many small businesses haven't taken the time or spent any resources on improving the optimization of their website. If your business is in one of these niches, a little goes a long way. Capitalize on the traffic opportunities Google provides where other businesses have not yet taken the initiative.
The reason these opportunities exist is that many small business owners either don't have the time to optimize their site themselves or they don't have the resources (not in the budget). What many small business owners don't understand (or don't believe) is that small business SEO leads to massive gains in your yearly income.
How can you afford NOT to optimize your website?!
This guide covers the basics of small business SEO. If you're competing locally or target keywords in a moderately competitive search environment, this guide will teach you how to improve the search visibility of your website. The improved rankings, enhanced optimization ultimately generates more leads and traffic on a regular basis.
Are your pages indexed?
One of the first things you're going to check is whether the pages on your website are indexed. You'd be surprised at the number of things that could happen that lead to a company's website being removed from Google's index. You'll want to eliminate that possibility before doing any work on your site.
If your pages aren't indexed, you won't show up anywhere on Google. Use the site search operator to tell Google to list the pages of your website by entering the following in the search box:
Site:[your domain.com]
This command will look for and list every page on your domain that Google has indexed.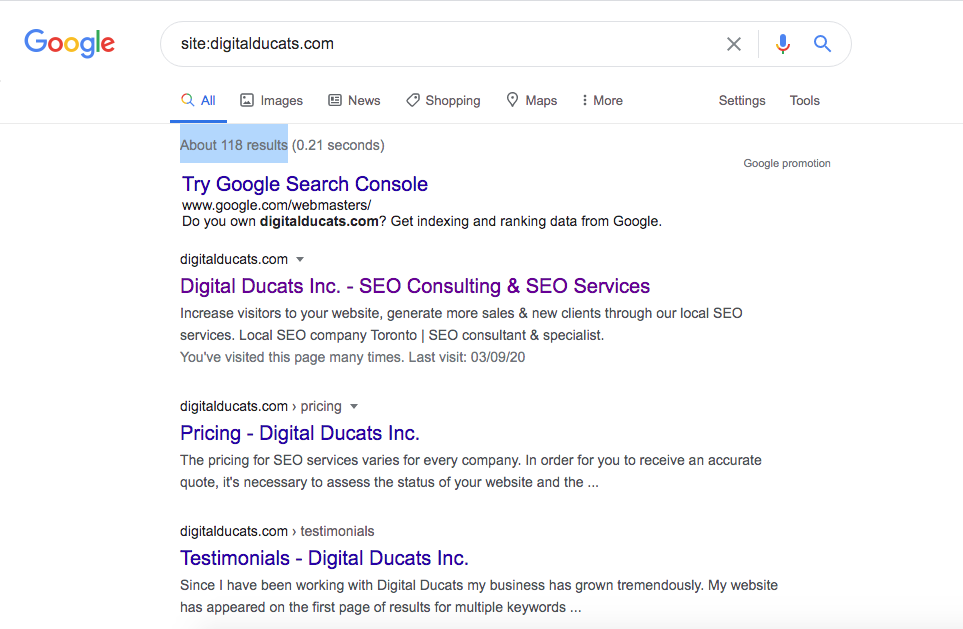 It's a bad sign if your homepage doesn't appear at the top of the search results.
It's even worse if none of your pages show up!
In the event your pages aren't being listed, you'll need to dig further to find out what exactly is happening with your website.
Google's Search Console
If you haven't signed up for the search console, you should do that immediately by clicking here. The search console is your way of looking into most of the issues that go wrong with your website. The search console can provide you with unique insights regarding the inner workings of your site.
There is a tab on the left menu that specifically shows you how many pages your website has on Google's index. This tab also shows you how many pages have errors that need attention.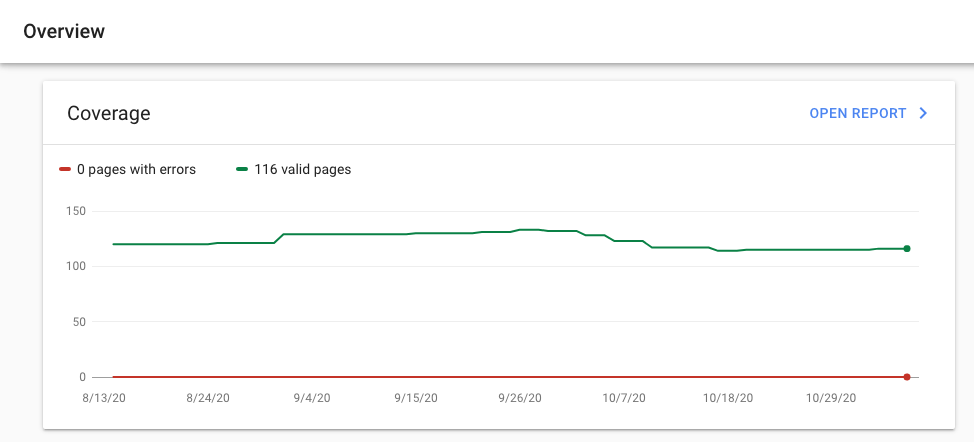 Check for manual actions
If your pages are not indexed one of the first areas you should check is the manual actions tab. This is probably the worst thing that could happen to your website since it means Google has issued a penalty for violating its Webmaster guidelines.
Most penalties are based on exposing specific types of ranking manipulation. If your website has accumulated too many unnatural links it's cause for google to cite you with a manual action penalty. Manual actions will in almost every case result in the removal of your website from Google's index.

If you don't have any manual actions, you're going to need to check your website for any mistakes that could have been made.
Check your general settings from WordPress
WordPress has a setting you can find under Settings, Reading, where there's a radial button you can select that tells search engines to ignore your website. If it has been selected, none of your pages will be indexed. Make sure the setting is unchecked.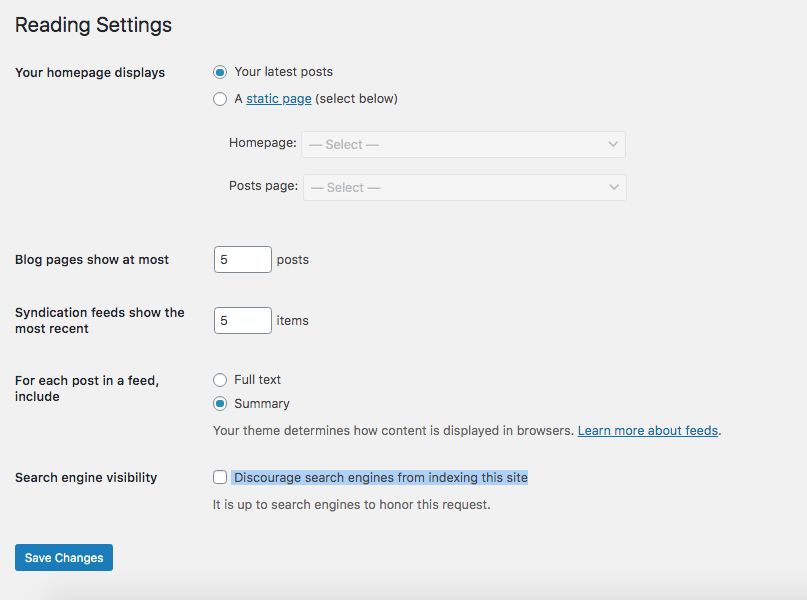 The last place you'll need to check is your robot.txt file. This is a file on your site that instructs search engines which pages to ignore. If there is a command on this file that shouldn't be there, your pages may not be indexed.
If your pages are indexed, let's move on to the next part of optimizing your website.
Technical performance
It's important to get an overview of the technical performance of your website. Use SEMRush, Ahrefs or Moz to scan your site for any issues that could be affecting your overall ranking such as page speed and missing pages.
Missing pages (404 errors codes)
Too many errors on your website is never a good thing. Missing pages contribute to a poor user experience. When a user clicks on a link and is taken to missing pages it can be frustrating and lead to them completely abandon your site altogether.
You can discover the missing pages on your site that are generating a 404 code by running a site audit using a number of different tools. Here's an example of a SEMRush report on the overall site health of a website.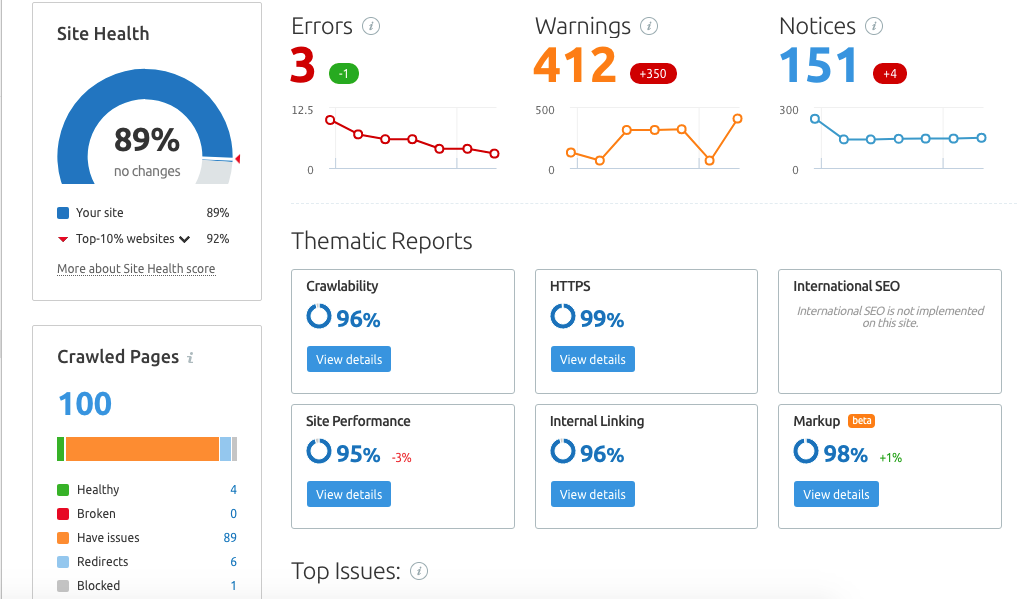 You can discover the missing pages on your site that are generating a 404 code by running a site audit using a number of different tools. Here's an example of a SEMRush report on the overall site health of a website.
The report will list the missing pages on your site so you can correct the problem. The options you have for fixing the issue is to either:
A) Redirect the old URL to another page with similar content
B) Republish a page with the same URL.
C) Change the links that are pointing to the deleted page (could be internal or external)
Check for slow page speed
Slow page speed is bad for business. It was declared an official ranking factor by Google itself back in 2013 and apart from that can repel visitors from your site if your page takes too long to load (known as the bounce rate).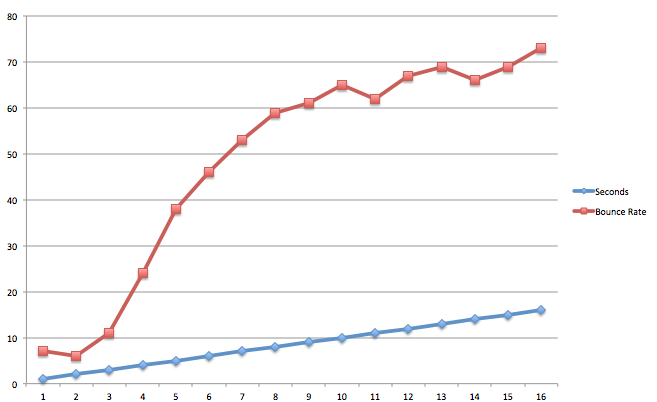 Slow page speed is bad for business. It was declared an official ranking factor by Google itself back in 2013 and apart from that can repel visitors from your site if your page takes too long to load (known as the bounce rate).
You have a variety of tools to choose from to test your page speed such as Google PageSpeed Insights, Pingdom, GT Metrix.
Enter your URL in any one of these tools and get a page speed score. Each one of these tools also provides you with a report that will detail the reasons your page is loading in the time that it is.

Enter your URL in any one of these tools and get a page speed score. Each one of these tools also provides you with a report that will detail the reasons your page is loading in the time that it is.
Identify, assess and prioritize keywords
Choosing the keywords your website targets is an important part of strategizing the traffic your website generates. The keywords you select impact the quality of traffic your website receives, so it's important to make sure that you have a good grasp of the terms that represent the most value.
Brainstorm your top search terms
List the major services, products or topics of your website. These will represent the major pillars that are essentially the most important aspects of your business. Break down each topic with a list of keywords that contribute to providing an accurate description of the topic.
There are dozens of tools to use where you can generate relevant search terms. Eventually, you'll need to assess the metrics of each keyword to choose search terms that have an appropriate volume of monthly searches and are not overly competitive.
By establishing your major keywords early on in your website development you can incorporate those terms in the metadata of your pages from the start. Going back to correct these types of issues after publishing your pages can cost you time, resources and search visibility.
Identifying the best keywords for your site in a topical manner establishes a direction for your blog content. Publish related articles that contribute to a better understanding of your major keyword topics, the stronger your website becomes in this area.
Establish search intent
In order to publish content that ranks for a keyword, you need to know exactly what users are looking for when they use that keyword in a search. Enter your keyword in Google and survey the 10 organic results. Make sure they are websites similar to your own and you're offering a better version to what's on the first page of results.
Assign value
Qualify your keyword selection by assigning commercial value to each search term. Use the cost-per-click value as an indication of commercial value. If there are. a lot of publishers bidding on this keyword, it drives the price up. A high CPC value indicates people are making money on the traffic from your keyword.
Check for a minimum volume of monthly searches
If your keyword gets zero searches a month-what's the point of ranking for it?! Choose keywords that have enough volume to drive traffic that converts. Remember that the total search volume doesn't mean your website will receive it all. You may be looking at getting a small percentage of that traffic since it gets divided amongst the SERP features and 9 other websites competing for your keyword.
Filter out high competition keywords
Part of the keyword selection process is to recognize the terms that will take too long to rank for on the first page of results. Highly competitive terms are usually dominated by high authority websites. If you don't own a high authority website, or your domain authority is dwarfed by the competition, avoid that keyword.
Consider keyword variations or long-tail keywords as alternative solutions where you can capitalize on traffic in a shorter and less labour intensive period of time.
Long-tail keywords
Create a short term goal and a long term goal for every page that points to your pillar page by targeting long-tail keywords. Over 50% of all search terms are more than four words. By creating a longer search term you will reduce the competition that's optimized for the key phrase. Adding more descriptive terms to your keyword will drive more targeted traffic to your site.
Create long-tail keywords by forming a question using your seed keyword. This will set the stage to optimize for featured snippets, PAA boxes (People Also Ask) and voice search. Over 80% of Google home results are displayed from featured snippets.
Ask your question in every form of "who, what, where, when, why and how." You can make your own list or seek the assistance of Answer The Public. By typing in your keyword on the dashboard of this site it will return a list of questions using who, what, where, when, why and how.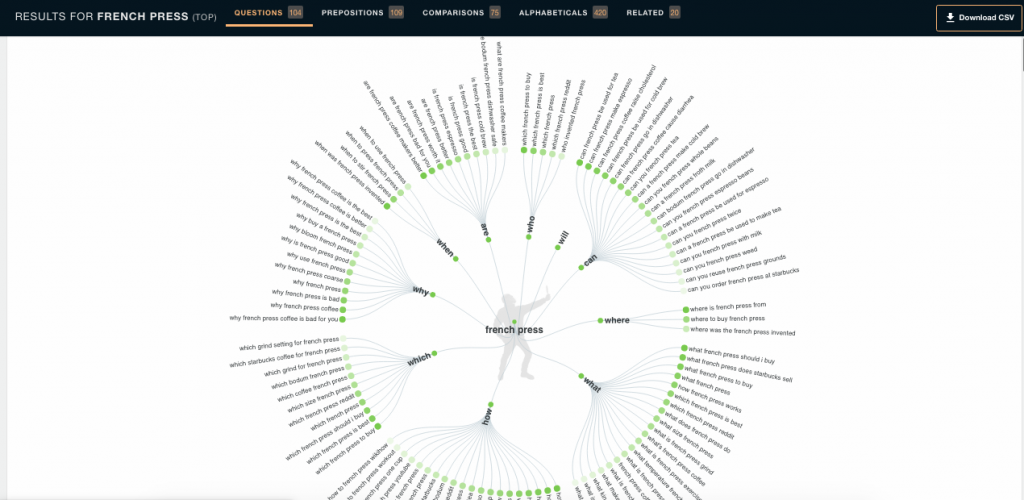 Additionally, Answer The Public will also produce reports on what words are most often combined with your keyword, what phrases are most typed and offers this info in as a visual display or in list format. You can export all of the results generated but keep in mind you have a daily limit for how many reports you can generate.
Local keywords
If you're a local business, choosing your keywords can be fairly simple for appearing in localized searches. Most businesses optimize for their service (or product) + city or vice versa.
If you're a plumber in Toronto your top keywords are going to be plumber Toronto and Toronto plumber.
Where you can accelerate the traffic your website generates is to break down your major keywords into as many subtopics as possible to create more traffic opportunities.
Identify additional search terms that your clients are searching as a way to expand your reach and get more people on your website. Some of the top plumbing terms that plumbers in Toronto would consider are:
Emergency plumber in Toronto
Cheap Toronto plumber
Plumbing company Toronto
Plumbing services Toronto
Map out content that satisfies the search intent for each of your major search terms. Use a combination of blog posts and service pages, to come up with the keyword strategy that drives local traffic at each stage of the buyer journey.
Content creation
Every page you publish on your site should have a specific purpose. As a small business, you should be using content to move your visitors closer to making a purchase. This process is otherwise known as the marketing funnel which lists the stages of the buyer journey.
Marketing funnel/buyer journey
The buyer journey or marketing funnel concept suggests that people go through a series of stages before actually making a purchase. Create content to address each stage of this journey to equip your website with the ability to satisfy multiple search intents.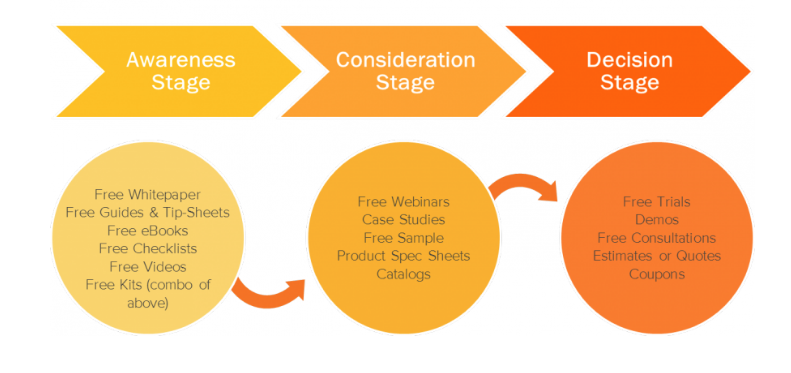 No matter what stage of the journey a visitor is on when they land on your site, you can guide users further along in their journey and get them closer to making a purchase.
The decision stage
Visitors in the decision stage know exactly what they're searching for and are ready to make a purchase. These users are considered to be at the bottom of the funnel and have likely searched Google using brand searches, product descriptions, service searches, etc.
These keywords are transactional in nature and your service pages should target these phrases since users are looking to buy what they need.
The consideration stage
The consideration phase is where users may know what they need, but they're comparing the products and services from different companies. They're exploring their options by researching the advantages and disadvantages offered between competitors.
Content that addresses this stage can be case studies, independent research, reviews and any type of content that convince a user to purchase a product or service.
The awareness stage
At this stage, users are searching for information, however, they may or may not know what the solution is to their problem, or what their problem even is. Content that targets the awareness stage is basic explanations of products and services or solutions to common problems.
For example, someone who has psoriasis may be searching the symptoms they're having, not really knowing how their condition can be solved.
If your website offers skin hydrating solutions, then publishing an article about the symptoms of psoriasis and how it is treated would be ideal for making people aware of your product.
Not only do they become educated about their condition, but they learn how your product is a solution for it as well.
This concept of building awareness is how many websites are able to grow your business. It allows you to target a much broader audience than would never find your website without being made aware of what their problems are and how they are solved.
How to create content that outranks the competition
Search engines aim to display the best answer to search intent. If your page is not one of the 10 best pages to answer the users' intent of the search, you're not going to drive any traffic from that keyword. To create content that outranks the competition, publish versions of content that are superior to anything that ranks on the first page. This is where SEO content writing is extremely advantageous.
Satisfy search intent
Scanning the first page of results is a practice that will reveal similar characteristics in the content that's being published. Check for a dominant type of content that ranks highly to determine what will give you the best chance of ranking on the first page.
Go through each page to assess the topics that are covered. By scanning the headings you should get a good idea of the topics that have been highlighted. It will be important that your page addresses everything the top-ranking pages cover, and more.
You can add more value to your content by extracting clues that hint at search intent from the SERP features that are present. Use questions from the PAA box to expand on your content. If Google has these questions listed in the box, it's a way of suggesting that they are relevant questions related to your keyword.
If specific types of multimedia appear on the SERP, be sure to incorporate these forms of multimedia within your content.
The idea behind answering search intent is that you provide the best response to the keyword search by demonstrating your page has the ability to cover the most important aspects of the keyword topic.
Implement the skyscraper technique with 10X content
The skyscraper technique and 10X content refer to the same concept of publishing a page that is better than what ranks in every way. Aim to be more detailed, cover more topics, add more multimedia and provide a better user experience than the competing pages.
Optimize your pages
At the most fundamental level of on-page optimization, your page needs to be optimized to appear for the keywords you target in the organic search results. You can also optimize your pages to drive more traffic from additional features and positions in the SERP.
Basic on-page optimization
The metadata is the information the search engines will receive first. Place your keyword within the H1 tag on your page to tell search engines it's one of the most important descriptive words for your content.
The title that's framed in H1 tags is what shows up on the search engine result page. If you're using a CMS then it's more than likely your page title is automatically tagged for you. WordPress handles this for you.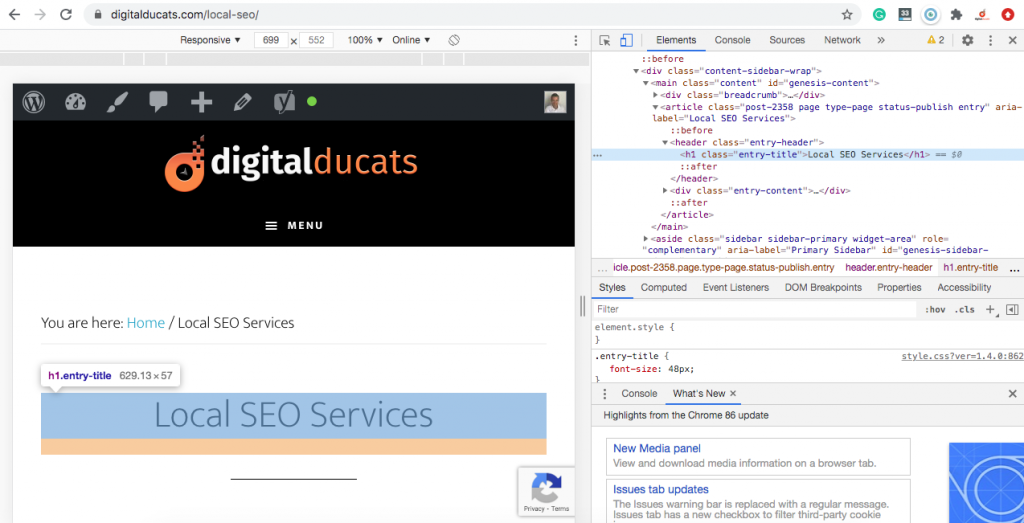 The URL is also a major descriptive element of the content on your page. It's important to keep your URL short and descriptive. Your keyword alone will often be the perfect solution to an optimized URL.
Avoid auto-generated URLs that make no sense to users or search engines. Even using dates and times is problematic if you ever want to update content. Plus they don't help with optimizing your page for your keyword.
Use your keyword in your meta description to attract users. The meta description is not specifically used by search engines for determining optimization, but it can influence whether a user clicks on your page from the SERP.
Incorporate your keyword and its variations within the alt tags of your images. Search engines put the most emphasis on how to categorize your images by what's written in the alt tags.
The filename and captions are also additional hints for optimization so make use of them as well with descriptive keywords and synonyms.
Structured data markup
Implement structured data markup whenever the opportunity presents itself. This form of metadata is invisible to users but is useful for search engines. The added markup makes information more readily available and provides additional context to your page.
A web page that uses structured data markup is more likely to appear in voice search results. In fact, 36.4% of voice results have structured data markup.
Rich results are also attainable with structured data markup. If you can enhance your search result listing with a rich result, you can increase the traffic your site receives from higher click-through rates.
Enhanced search results capture more attention from users who are scanning the results. The increased click-through rates ultimately can lead to an improved position on the SERP since it happens to be a metric measured and monitored by Rankbrain, (Google's AI program for determining website ranking).
Optimize for SERP features
Google will display different SERP features depending on the keyword used in a search. For instance, if you add near me at the end of a search, Google recognizes you're looking for a local business and will display the local finder.
Optimize for the features that appear on the SERP to give your content more ways to drive traffic from keyword related searches.
Featured snippets give your business an advantage over other search results by being the first item at the top of the page as well as the fact that it's an enhanced search result.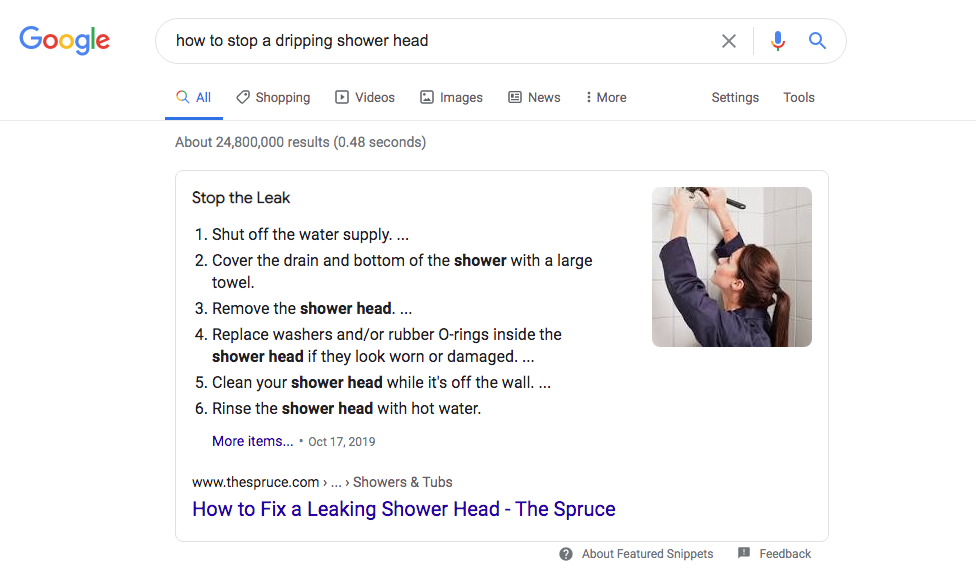 Appearing in a featured snippet contributes to branding your company as an expert in addition to driving the most traffic from the keyword search.
PAA boxes are also another feature in which you can optimize your content and drive additional traffic to your website. Answer the questions you find in the PAA box by keeping your answers short and direct.
Link building for small business owners
It needs to be made very clear that backlinks can and do play a very important role in providing your content with credibility, authority and overall ranking ability. Although it may not be extremely necessary to engage in advanced link building tactics, you can implement basic tactics that can result in some high-quality links to your website.
A quality backlink is one that comes from a website within your niche, industry or a close vertical to it. You want the link to represent a vote of credibility for your content. In other words, it's like getting other companies to vouch for you.
Link relevance is the most important aspect of how much positive impact a link has on your website.
The second aspect of a quality backlink is that the website who links to you also has quality backlinks. Search engines will assess the credibility and authority of every website that links to you-which are done by checking their backlinks.
The higher the authority in your niche, the more impact the link has on your website. Therefore if you want to acquire the best backlinks possible for your website, look for the most trusted names in your niche/industry with the most domain authority.
Find client/vendor links
Considering that relevance is the most relevant factor, one of the first places you should look for a link is from your vendors and clients. Their websites don't get much more relevant than that.
Many companies have published pages in which they link to their clients and vendors and list them as resources or useful links. You can also find these types of pages on your vendors' websites that would be published as stocklists or pages titled "where to buy."
You can search your client websites by using the following search operators on Google:
Site:yourclient.com + inurl:"links"
Site:yourclient.com + intitle:"resources"
Site:yourclient.com + intitle:"links"
Site:yourclient.com + inurl: "resources"
Search your vendors' website by using the following searches:
Site:yourvendor.com + intitle: "stocklists"
Site:yourvendor.com + intitle:"where to buy"
Site:yourvendor.com + inurl:"stocklists"
Site:yourvendor.com + inurl:"where to buy"
You may have noticed that the commands can be mixed to tell Google to look into either the URL or title.
Your first tier of links should always reflect credible sources that have some sort of authority in your niche/industry.
Look on both your clients and vendor's websites to find relevant link opportunities from those who are the most likely to give you the link.
There are a number of other ways to acquire high-quality backlinks for your website. The level of difficulty in executing these strategies can vary depending on your own strengths.
Many business owners need to get familiar with how to build local backlinks. If your audience extends past your locality you may want to consider guest blogging for quality links and referral traffic to your website.
Drive traffic from Google Local Pack/Finder/Maps
Whether your business has a physical location or not, you should definitely be listed in Google's local finder. The local pack is often triggered in searches for products and services if local businesses are optimized for those keywords. Optimize for local SEO to drive high-converting traffic with less competition.
Approximately 45% of searches are made to obtain information on a local business. Capitalize on the traffic this feature can provide by signing up for Google My Business.
Once you've registered, you will need to verify your listing by postcard.
Use your home address if you're a service area business. If you're a partner in a business, use the person address that is closest to the centre of the city you're optimizing for.
You'll get the most impressions when you're business address in the most densely populated areas.
Use every opportunity to enter your information into the fields that Google My Business offers. 
Enter your address (if you service a large area and do not have a brick and mortar address you should leave the address field blank)
Upload images.
Add your logo.
Post content on Google posts.
Answer questions on the knowledge panel.
Include the most appropriate categories.
Google will extract that information when a local search is made in your area. You want to have as many reasons as possible to be listed in the top ranking positions of a keyword related search.
Encourage reviews
Reviews are a ranking factor that will contribute to where your company is displayed in the local finder. The more five star reviews your company receives the more likely you are to appear in the local pack (top three sites listed on the first page of search results).
Detailed, keyword-rich reviews will go a much longer way than short reviews. Encourage your customers to talk about their experience with your company to get the most of reviews as a ranking signal.
Extend your reach through social media
There is no denying the power of networking through social media. The goal of your company is to get as many people on your website as possible. Post your content and be engaged in sharing people's content, and commenting as much as possible to continue building a following.
Choose one or two sites that you will be engaged in making your presence felt. This doesn't mean to limit the number of profiles you create- it helps you to be more consistent in commenting and responding to comments and questions.
Include as much video as possible when posting to your networks. Video gets the most shares and produces the highest levels of engagement. People prefer to watch a video than read a long block of text.
Share other members posts to show support and encourage them to share your content as well. Leave a call to action on all of your posts as well as links to your website.
A large social network can create a surge in the traffic your site receives when you share high-quality content. The more people that are on your site create more opportunities for people to link to your site and improve your ranking. Entire businesses are made from the traffic social media provides so maintain a constant presence a continuous effort to build a network that becomes a valuable asset.
Increase revenue with SEO for small businesses
Search engine optimization is undoubtedly the most powerful inbound marketing strategy you can implement for your business. Google provides the largest source of high converting traffic that you can receive on a regular basis.
Incorporate SEO into your growth strategy. Whether it means making room for it in your own busy schedule or making room for it in your marketing budget, the ROI you receive is well worth the effort.
Our company specializes in small business SEO services and will cover everything mentioned in this guide and more. To get started with a website audit, contact us for a free consultation.