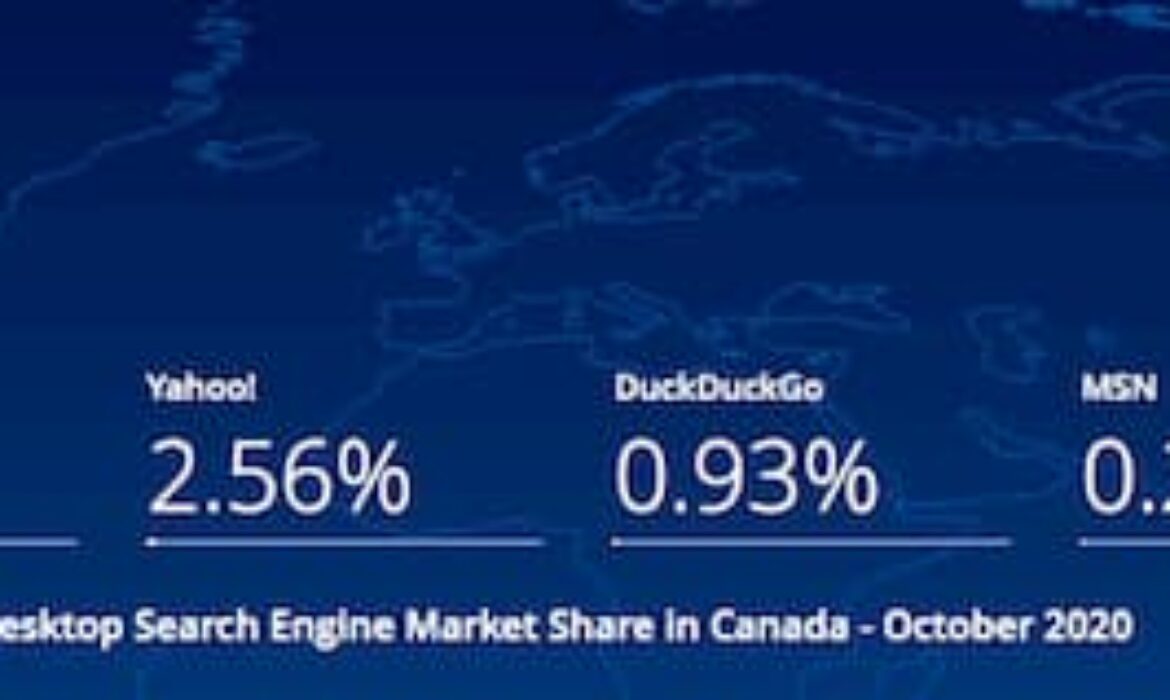 Oct 23, 2023 @ 7:27 am
Imagine you fell from Google's good graces. What then? Would your website be doomed to a life of mediocrity or are there alternative traffic sources you could use to bridge the gap?
Luckily for all of us, Google isn't the only source of traffic for finding streams of interested visitors. It does however account for 86.86% of the global search traffic making it the largest source of traffic available.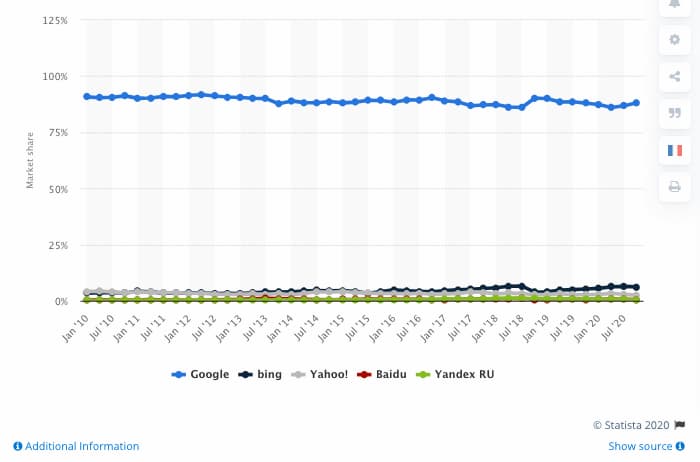 Can a business survive without tapping into Google at all?
When you take into account the options available, you may be surprised at how effective these alternative traffic sources are for driving high-converting visitors to your website.
#1-YouTube
Although it's been a top choice as a marketing tool for many years, the momentum YouTube has gained in the last few years has been formidable. YouTube officially passed Facebook and is now the second most popular website in the world, with approximately 2 billion users.
YouTube is no longer just a way to supplement the traffic to your website, it's now become an entire business model.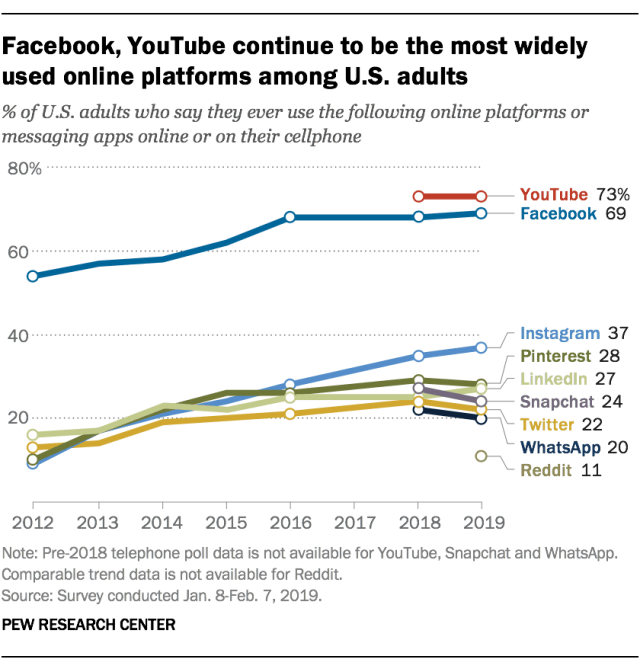 Image source: https://www.businessofapps.com/data/youtube-statistics/
Here are a few stats that prove the value of using YouTube for traffic:
Search engines are listing videos more frequently as the best solution to answering search intent. This presents opportunities in driving traffic from both Google search as well as YouTube.
The fact is that YouTube is being used as a search engine for people looking for "how-to" videos and product reviews. For many businesses, this aligns perfectly with building brand recognition and driving traffic with visitors who are already in the buyer's journey. Tapping into this market to generate more leads is an option that cannot be ignored.
Most shared form of content
As the most shared form of content, videos can generate traffic from YouTube itself as well as be shared on multiple social platforms and websites.
This is a powerful quality for driving traffic and getting your content in front of a larger audience. If someone likes your video and shares it on their Facebook network, you've exponentially increased the reach your video has just from one person.
YouTube is a search engine itself
With over 2 billion users on YouTube, there is already plenty of traffic on-site that you can take advantage of. People go directly to YouTube to learn more about a brand, watch a product review or even just to learn how to do something.
The fact that there are fewer videos than web pages also makes ranking on YouTube considerably easier for a lot of keywords. You can optimize for non-competitive phrases and begin ranking for those terms in less than 24 hours.
How many words is a video worth?
If a picture is worth a thousand words, how many words is a video worth? The truth is many people prefer video to any other content type. There's more descriptive value, brand recognition and users can digest a lot of information with less effort than reading.
Gen X and the Millennial generation have traditionally leaned towards watching videos as a personal preference. This should be enough for publishers to reconsider their marketing strategy when videos will continue to play a larger role in driving traffic and conversions.
#2-Influencer marketing
An influencer is a person who has the power to influence a large audience to make a purchase decision. By simply reviewing a product provides a company with added exposure to drive traffic. A mention on a video or social media post can lead thousands of curious followers to flock to a website. With power like this, influencers have become a viable option as a source of traffic and conversions.
To illustrate the power of influencers the royal family serves as a perfect example. When Prince William and Kate Middleton presented their baby to the public for the first time, the baby was wearing a swaddling blanket from Aden and Anais.
Neither Prince William nor Kate had any monetary motivation and didn't mention the blanket and yet Aden and Annais went from 14k searches to 70k searches within a month. The increase in traffic was so sudden that it crashed their servers on several occasions.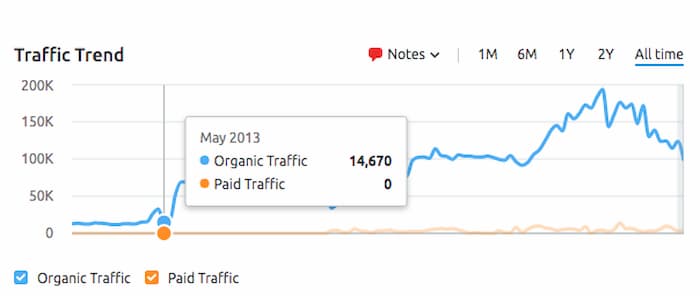 The one event with their product on a major influencer has made millions of dollars for the company Aden and Anais.
How to get mentioned by an influencer
For the most part, influencer marketing requires money in the budget to pay for a post or mention. Generally, the bigger the influencer, the more money they ask for since they have more people in their network.
Take a look at Dwayne "The Rock" Johnson's followers sitting at 204 million. One mention from him could send your sales through the roof, however, it probably costs quite a lot to get your product in his hands and in front of his audience.

Approach micro-influencers
A more cost-effective strategy is to approach micro-influencers in your niche. A micro-influencer has around 10-15K followers and is a lot more accessible than a celebrity or major influencer. They also cost a lot less than those with hundreds of thousands or millions of followers.
Mention influencers in your content
It's not always feasible to pay influencers for a mention but if you're smart about your posts and strategically include them in your content, you're more likely to get mentioned.
For example, Jetish Patil was able to get a mention on Twitter by simply quoting Robbie Richards and then tagging him in the tweet. Robbie happened to notice it and retweet his quote to his audience. Bam! Now he's in front of Robbie Richards massive social network.
Measure the impact influencers have on your traffic
It's important to have a way to measure and track the success of influencer marketing. It's hard to know whether your success is directly coming from the influencer's network without having a system in place for measuring results.
One way where you can save money on the cost and measure direct results is to pay Instagram influencers to publish a story on your company or product. An Instagram story only lasts 24 hours but if people swipe up they are taken directly to your website.
This approach can give you an excellent idea of the success of your campaign since it only runs 24 hours. Any additional traffic and conversions that you receive during that time can largely be accredited to the impact of your influencer.
#3-Guest post with a Personal Influencer Network (P.I.N.)
Guest blogging can land you some high-quality links on high traffic websites. This strategy alone is ideal for generating referral traffic when your content is being featured on websites that generate large volumes of traffic.
Combine guest posting with a team of partners to multiply your guest posting efforts and generate more traffic than if you were doing it all yourself.
The simplest approach is to reach out to the authors that have already been published on top sites in your niche. You want to make sure they're publishing quality work on websites that have a good readership and are writing about topics directly related to your business.
The deal is to provide a mention for a mention. Keep track of the links you're giving and receiving on a shared Google spreadsheet so you can monitor how much weight everyone is pulling in comparison to yourself.
With five people in your network, every article you publish is worth 6 links. The link you include on your guest post and the five links that are coming back to you because you linked to your partners' websites.
Not everyone will hold their weight so when you find partners who are active and do keep up their side of the bargain-take care of them. A good team is hard to find.
#4-Paid ads & retargeting
It's not the cheapest source of traffic, but using paid ads with retargeting can be a powerful way to drive converting visitors to your website. You don't need to use Google Adwords, when you have other options such as Facebook, Instagram, Twitter, YouTube, Pinterest and even other search engines to choose from.
Paid advertising is a way to instantly get your website in front of an audience in a top position. You will pay to get the traffic to your site, but if you've managed your campaigns widely, there is still money to be made from these programs.
Cut costs and increase conversion with retargeting
Use a retargeting pixel to reduce the cost per click and increase your conversions. If you select this strategy in your campaign setup, you can get your ad to appear in front of anyone who visits your site a set number of times.
It takes an average of 7-12 points of contact to get a person comfortable enough to purchase from you without knowing who you are. Retargeting allows you to hit these numbers by uploading a cookie into your visitors' browser whenever they visit your website.
If someone shows interest by clicking on an ad and visiting your site, your ad will continue to appear whenever they search to continue to remind them of your brand.
This form of marketing is proven to reduce the cost per click in your PPC campaigns and increase the number of conversions.
#5-Provide expert solutions on forums and discussion groups
Although Google has become somewhat of a knowledge centre, there are still many forums that attract visitors who are looking for niche-specific answers based on other people's experiences. Be the expert who answers people's questions and drop links to your site strategically to further explain topics that your site already answers.
Quora
Considering that over 300 million people use Quora every month, it stands to be that you can find a considerable number of questions to answer to brand your business and drive referral traffic.
Look for questions that are already followed by at least 15 people so there is an audience for your response.
People who follow questions receive an email whenever a new response comes in. If your answer is upvoted it moves up ahead of other responses.
If it has the most votes, it's featured at the top of the list of responses that have been submitted by other users.
Drop your links strategically, which is whenever it makes sense to link to additional content for reference. Avoid directly promoting a product within your answer. You risk being banned if your responses are overly promotional.
Reddit
At 430 million users a month, Reddit has a lower number of users than Google or YouTube, however, it still represents a large traffic opportunity if you play the game right. Build an audience for your content by joining niche groups and sharing quality information about your expertise.
Take note, that Reddit is known to be stricter than Quora or other sites about self-promotional content. It isn't uncommon to be kicked out of a group or banned for linking to your website to promote products or services.
Be a contributor when you're participating in discussions. Establish yourself as such by commenting and contributing to discussions before posting any links to your site. People will be skeptical if you're new to a group and come in with your guns blazing, posting links to your website left, right and centre.
When you do post links, make sure they're relevant to the discussion and provide value to those involved. As a valued Reddit contributor your input will be granted an audience and you can pick and choose the moments where it's appropriate to post a link to your website.
Facebook groups
This also falls under the same guidelines as posting in forums and discussion groups. Join industry-related groups to discuss niche-specific content and promote your business along with other members' content.
Aim to join smaller groups that don't hit the million mark with the number of members. This way you have an easier time getting noticed. When there are too many members in a niche-group, your posts tend to be drowned out by the millions of other posts, making it hard to build any traction.
#6-Comment on new articles on high-authority websites
Every niche has an established list of top websites that are well known in the industry and drive a lot of traffic. Whenever a new article is published there are thousands of people that read the article within the first few weeks. Be the first person to read and comment on the article to drive referral traffic to your website.
Be the first to comment
If you're among the first to leave a comment, you're in the best position possible to be seen by the most visitors who finish reading the article.
When you comment, make sure you leave a response that is insightful or provokes thought. You want to grab the attention of those reading or at the very least make an impression on their minds so they click-through to your website.
Attach a link to your website from your name
Most websites that have the option to comment on articles will allow you to attach a link to your website to your name. If people like what you've posted they'll end up clicking on your name and landing on your website.
As the first comment on a high traffic website, you divert a small percentage of the thousands of visitors reading the article to your website for the life of the article.
#7-Get listed in relevant, high-quality directories
Every industry operates differently than others and in the same respect, people will search differently. A high-quality niche directory provides users with niche-specific businesses that have been qualified and vetted as legitimate businesses. This gives users more confidence in choosing a business from their directory.
An excellent example of this is Clutch.co that vets companies they list on their directory. Not only do they make sure you're a legitimate business, but they call your clients (with your permission) to obtain an original and legitimate review of your services and products.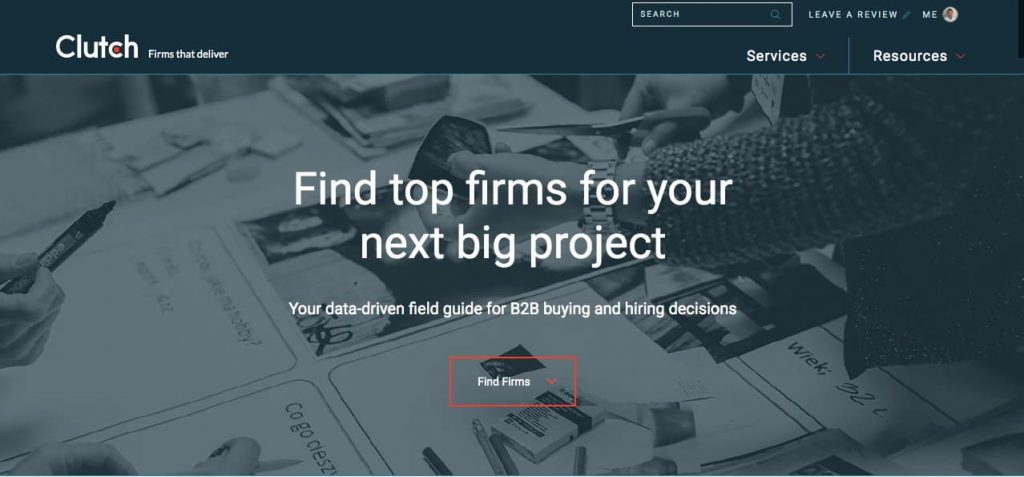 Apart from high-quality directories, there are major directories that people use (even if it's from old habits) like Yellow Pages. It wasn't too long ago that Yellow Pages was handing out those huge yellow books to homes and businesses for people to find each other.
That's ancient history now, but many will automatically search for a local business using yellow pages because they are so well known.
City directories and major directories all represent streams of referral traffic that can be used to direct visitors to your website. The following is a visualized ecosystem of how information was shared across the internet in Canada.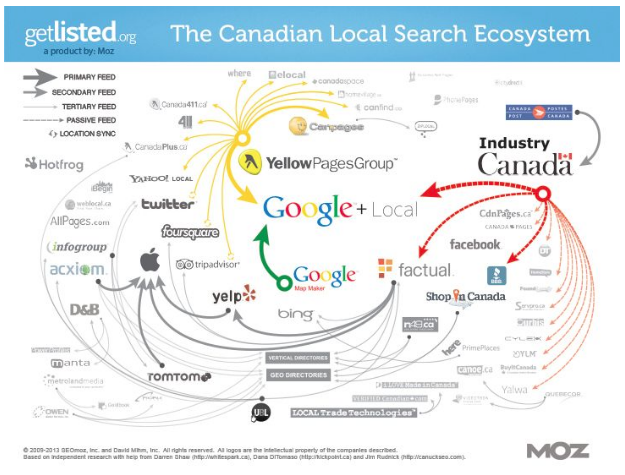 #8 Alternate search engines
With so much emphasis on Google, the other search engines are so easily forgotten. Google dominates the global search engine market, but there are still pockets of opportunities that exist.

Bing, for example, owns more than 10% of the desktop search traffic in the American search engine market and 9% of the Canadian.

Yahoo! Is the third largest search engine but consider that even companies that DuckDuckGo have a very small share in terms of the global market, 1% of billions of searches are still millions of searches being made every day and is worth the attention.
#9-Social media networks
There's already been discussion about YouTube and influencer marketing but we haven't touched on the topic of being your influencer on social media. There are so many social media users that you have several options to choose from that are more appropriately suited to your niche.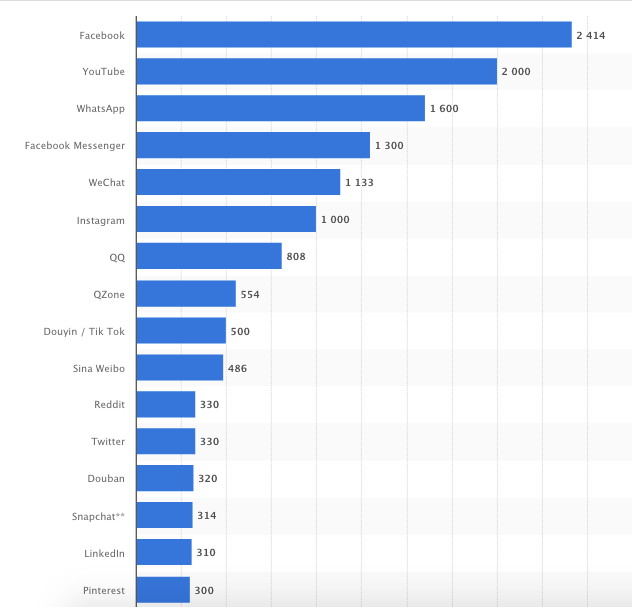 It's obvious that Facebook offers the largest number of users, but there should be more focus on what type of social website your ideal client is using. If you're selling high-ticket items or are a B2B service provider, LinkedIn is a good match for finding an audience that is more suited to what you offer.
Whenever your products are image-based, retail items, Instagram and Pinterest are undoubtedly among the most powerful websites to attract high converting visitors.
People like to interact with their favourite brands. They remain more loyal and are more likely to purchase from your company once they're following you.
Choose 1 to 3 social media websites at most to build a presence where you can interact with users regularly.
Posting content once a week isn't good enough. To successfully build a loyal and interested audience you need to comment, respond and share relevant content with your network.
#10-Email marketing
How could we end a list without including email marketing. This is one of the oldest forms of online marketing and yet it is still among one of the most effective.
Did you know that the average conversion rate from an email list is 3%, while paid ads are somewhere around 0.9%? This means that if you're getting people to opt into your email campaign, you're collecting a group of people with more interest in your content than the average person who clicks on a paid ad.
As an alternate source of traffic, you are in complete control over when you send people to your website. Even if Google blew up, with a big enough list you would still be able to get people reading your content and buying your products.
An email list is the perfect Google-proof solution to maintaining high volumes of traffic as well as increasing the sales and revenue you generate regularly.
There are more sources of traffic than just Google
As you can see, there are a lot of different options when it comes to driving traffic. Google owns the lion's share of searches, but it doesn't mean you can't operate a business with a full-time income through alternate sources of traffic.
The way people search and interact with brands online has evolved dramatically over the years and will continue to do so. Make sure you have your hands in a few different cookie jars to maximize the traffic your website receives regularly.
Although alternative traffic sources exist, it's nice to have the best of all worlds and keep your website in Google's good graces.
Increase the traffic, leads and revenue your website generates with our custom SEO services.
Christian Carere