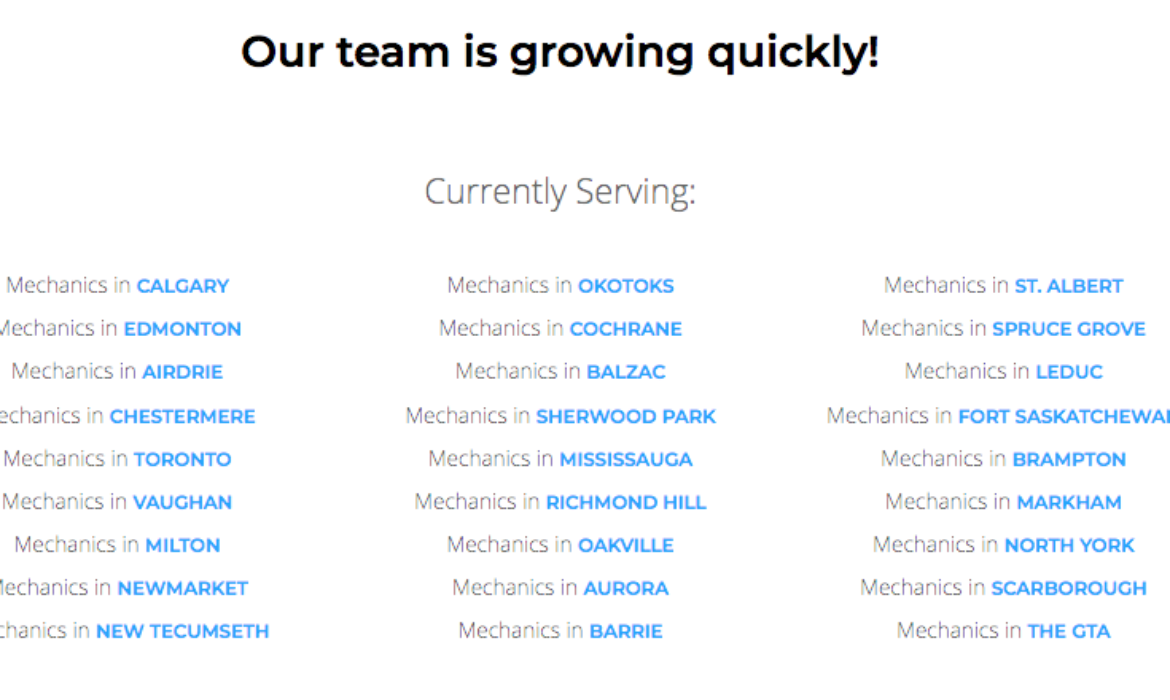 A location page is a location-specific page that ranks in a city, state, province or country that is built specifically for the location you target. Location pages are used to improve your local presence in another location.
If your business is capable of providing service to multiple areas (service area business or multi-location), this is an excellent method of creating a local presence in the city you're targeting.
Let's say, for example, you're a mobile mechanic. You have a garage located in Scarborough ON, however, you're able to service the Greater Toronto Area.
Rather than optimize for searches just within Scarborough, you can build a location page to target searches for Toronto, or any other city surrounding Toronto as well.
Here is an example of a mobile mechanic location page for Toronto.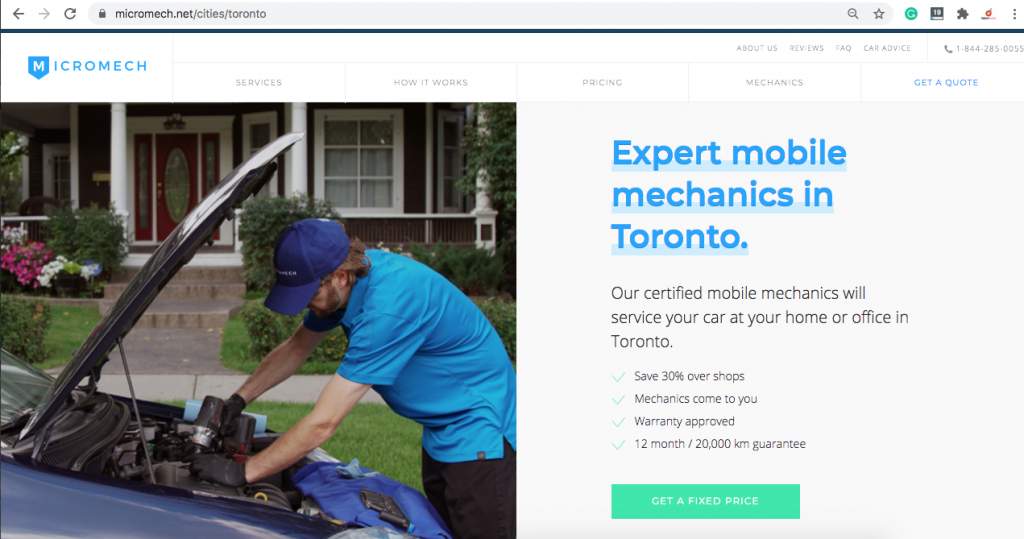 Here is another page on the same site for Calgary.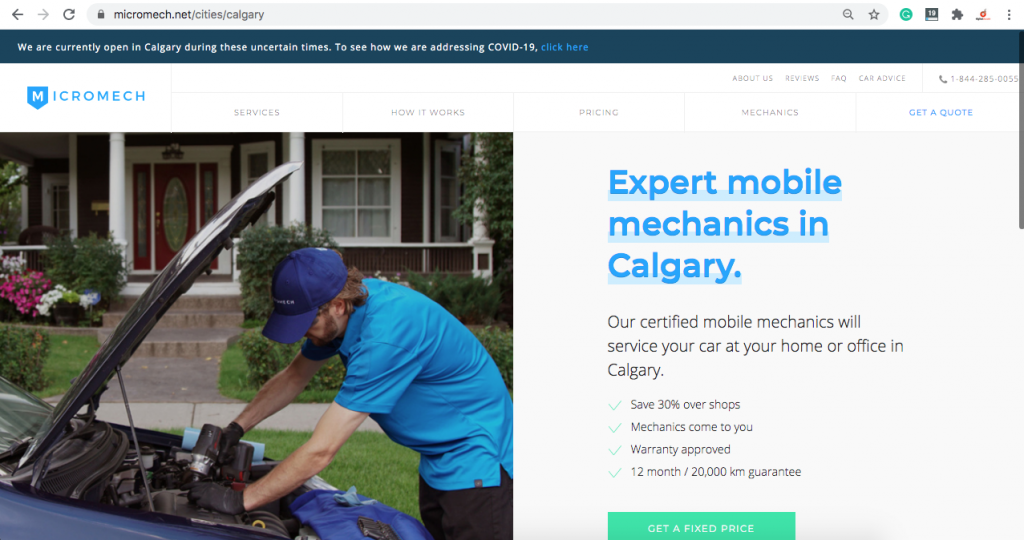 This company is taking advantage of ranking in multiple cities to expand the areas in which they can do business. Here is a look at the service areas this busienss covers: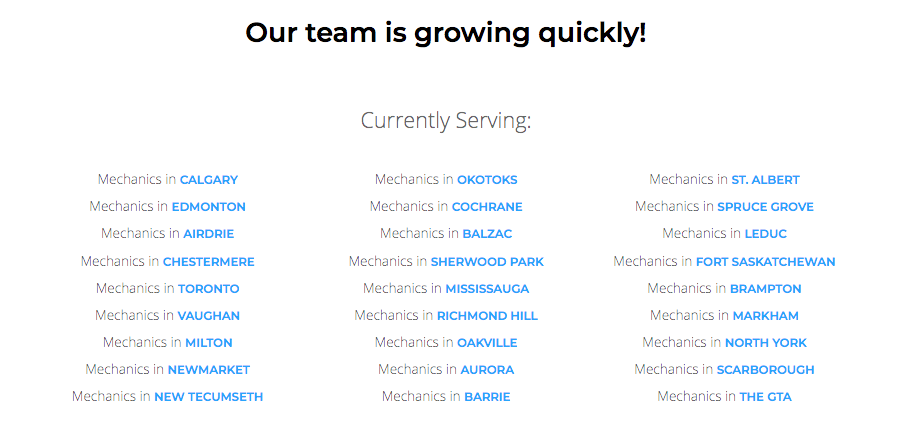 Whenever a user in another city searches for your service, your location page will have a much better chance of ranking on the first page.
Location pages are an aspect of local search engine optimization to expand your company's reach and increase the revenue your business makes.
Why be tied down to one location if your company is capable of doing more business in more cities? It's a similar concept to setting up franchise locations except your using web properties to stake your claim in other cities.
9 tips for publishing location pages
Location pages share similar characteristics that allow them to rank highly. To see your location page rise in the search results, address the following areas:
Target the most effective keyword
It's impossible to optimize a page without doing any research on the keyword you're targeting. Keyword research provides insight into the value of your target phrase and the level of competition you will be facing.
If you're going to go through the trouble of ranking a location page, make sure it's worth it. Your target phrase should drive enough relevant traffic to generate revenue. Choose the best keywords to target by going through the proper steps for keyword selection.
Identify and satisfy the intent of the search
Establish the true intent of the search phrase to understand the type of traffic that is driven to your site. Keyword research helps to establish what visitors are looking for when they type in a particular search phrase. When your page satisfies the intent of the search there's a better chance of ranking highly in the search results.
Are the pages that currently rank for your keyword informational, transactional, navigational or commercial?
The chances are most location pages will need to include a bit of everything. To completely take your prospects from and introduction to conversion, requires careful content planning.
Each competing page that ranks is major clues to how search intent is begin defined by search engines. This typically is a direct correlation to what users are looking for as well.
Optimize your page in all the right places
Optimize your page to target a specific search term that includes the city you're targeting. Include the target keyword in the page title, URL and a few times within the content. Any images should have the keyword and keyword variations in their alt tags.
This is the bare minimum for basic on-page optimization, however, it goes a long way in local SEO. You can enhance your on-page SEO a number of ways but using the basics is a must for every location page.
Make your page hyper-local
Make your page hyper-local to the target city. If you can mention landmarks, or make city-specific references, it will tie your page to the locality. Link out to local sites and resources. Prove to search engines that you're familiar with the area and cater to local residents.
Post name, address and phone number on your page
If your company has a physical location within the city, post the NAP details on the location page.
For service area businesses, a unique phone number with the city area code will help to optimize your page.
Use structured data markup
Use structured data markup wherever possible to help search engines better understand your page. This will also make your page more attractive to users and entice more clicks if you can generate rich results.
FAQ structured data markup is an example of a rich result. This snippet gets users to understand more about your business directly from the SERP. The extra space your search listing takes up attracts more attention and pushes your competition down the page.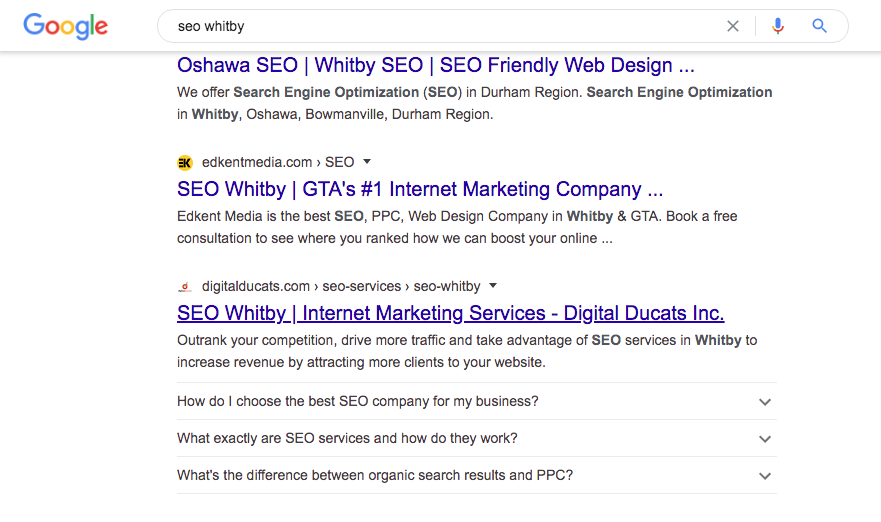 This type of rich results allows you to link to interior pages of your site. Help people to better understand what you can do for them with your product or service.
Reviews are another major type of rich result that is insanely popular.

Structured data markup makes your search listing more attractive with rich snippets. Although Schema.org has over 800 different categories to use, Google only offers about 30 types of rich results.
Implement structured data markup to increase the click-through rate and drive more traffic to your site.
Use an internal linking strategy
The linking strategy you use to build the authority of your page begins internally. Use descriptive anchor text and link from related pages to your location page. This builds the profile and authority of your location page.
In the same respect, link from your location page to relevant pages on your site. The links should help your visitors understand what your business offers.
This linking structure forms a basic topic cluster and highlights your location page as a pillar within your site. This linking structure will contribute to a more authoritative location page.
Build external links carefully
Use extreme caution when building the ranking ability of your location page with external links.
SEO best practices are to build links as natural as possible. Any unnatural link building patterns will be ignored and possibly have adverse results on your location page.
For example, it's common for local businesses to have backlink profiles mainly comprised of directories and review sites. Local links will have the greatest impact on your location page.
You can indirectly link to your location page by linking to blog posts that in turn link to your location page. The link equity is transferred as a second-tier link. This builds more overall authority to your site and helps power the authority of your location page.
Publish local content
The content you publish on your blog has a large impact on how your site is viewed in a specific city. Search engines will take city-specific posts into consideration when they assess your site. Create blog posts that have very location-specific references to create more relevance in the city you're targeting.
Link your city-specific blog posts to your location pages to include them in your topic cluster. This ensures that search engines connect your local SEO content to your location page.
Use location pages to build an empire
The beauty of creating an effective location page is that your business is able to expand the market in which it competes. You're company is essentially setting up a new branch in another city by creating a page that ranks for your keywords.
When growth is your goal, create location pages to increase the traffic your site generates with visitors from different cities and locations.