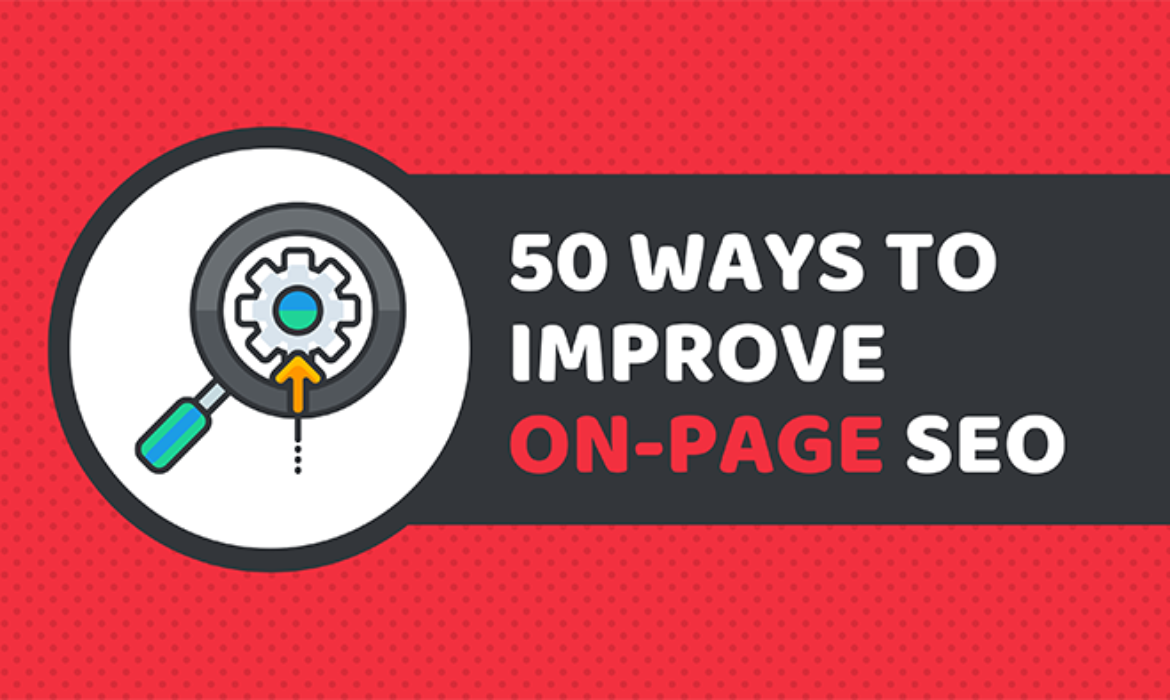 Almost everything we do on a daily basis is somehow integrated with a website, an app or Google search. For most companies, generating leads from Google is a major source for new clients. This article will show you how to improve on-page SEO on any website for any keywords in order to drive more traffic from Google search results.
The biggest ranking factors that dominate the search results are the content you publish and the quality of the backlinks that point to your website. Luckily for website owners, content is one of the things you have direct control over.
On-page optimization ensures your page targets the right keywords to attract the right type of traffic. You can enhance the ranking signals your site demonstrates for a specific keyword to maximize the potential your website has for generating leads.
The following infographic lists 50 different ways that your typical SEO company will improve your on-page SEO.

Title optimization
Your title is the first thing that most people will look at in a search result. Include your keyword near the beginning of your title. Keep the length of your title at 60 characters to avoid it being cut off in the search results.
The title is the most important heading of your page and therefore should be wrapped in h1 tags. Most CMS software will automatically tag the title so you don't need to worry about it if you're using WordPress, Joomla, Wix or Squarespace.
Optimize your URL
The extension you give your page is an important descriptive detail for users and search engines. Use the postname option in your permalink settings and make sure your URL contains your keyword.
Users should get a sense of what your page is about by reading the URL. Limit the URL to five words to maximize the potency of your keyword description. Ideally, your URL should be kept under 90 characters to improve on-page SEO.
Use descriptive subtitles
Use your subtitles to segment your content into the most important parts of your page. Use h2, h3, h4 tags to signal to search engines the level of importance each heading represents.
When users scan through the page they should get an accurate summary of the content contained. What's good for users is good for search engines.
Include your keyword and variations of your keyword at least once or more depending on the length of your article.
Publish keyword-rich content for users
Updates such as Hummingbird and BERT have allowed search engines to accurately extract the meaning from text. There is no substitute for descriptive, high-quality content. Despite this fact, it is still good practice to include your keyword in the first paragraph.
It would make sense that your target keyword would be repeated in a natural, conversational tone throughout your content. Your keyword should appear at least several times throughout the body of content.
Avoid over-optimizing your content by keyword stuffing. Any unnatural and forced use of a target keyword could trigger an adverse effect on the optimization of your page.
Content that satisfies search intent will rank highly. This means that when you target a specific keyword make sure you are covering the most obvious and most searched topics and subtopics that would satisfy the user's query.
The goal is to make your website the last destination of a user's search because you have adequately answered their query.
Images
Despite the giant leaps forward in a search engine's ability to extract meaning, search engines still rely on your input to determine the meaning of an image.
Use keyword-rich descriptions in the image alt tags to give search engines the intended meaning your image represents and improve your on-page SEO.
Include your keyword in the filename.
Fill out captions and give your image an appropriate title to enhance optimization. This gives more information for search engines to properly categorize your image.
Outbound links
There is much evidence to support that linking out to authority sites improves the optimization of your page. Linking to a page that helps to enhance the user's understanding of a particular topic adds credibility and signals relevance to your keyword topic.
Inbound links
The links that point to your page have a major influence on your optimization. Use descriptive anchor text to influence what keywords your page best represents for contextual links.
Guest posting is a popular method for optimizing the external anchor text links that point to your page.
Although keyword anchor text will enhance the optimization of your page, the overuse of keyword-optimized anchor text links will have an adverse effect on your ranking.
Webmasters should implement an internal linking strategy to achieve optimal on-page SEO. Use pillar page best practices for creating clustered content and an effective internal linking strategy.
Page speed
We are well into an era where page speed can mean the difference in making a sale-or even holding a user's attention. Do you remember the last time you waited a minute for a page to load? Neither do I. No one waits for slow websites anymore.
If your page isn't loading in under 3 seconds you are losing a percentage of the traffic that lands on your site.
If your site is super slow, then you're facing a problem that is affecting your ranking because it contributes to poor user experience.
Keep your images compressed, reduce the number of HTML requests, inline JavaScript and CSS, use plugins and CDN's to maintain an acceptable page load time.
Proper use of redirections
Whenever deleting or merging content it is advisable to use a 301 redirect to forward traffic from the old URL to the new. Avoid using 302 redirects as well as using redirect chains. Your redirections should take a user from one URL directly to the new page.
Broken links
When a user clicks a link and is taken to an error message it reduces their user experience. The accumulation of broken links will adversely affect rank. All links should take a user to a destination that enhances their user experience rather than undermines it.
Make site audits a regular routine to identify and repair broken links. Check both inbound and outbound links using software such as Ahrefs and Screaming Frog.
Use 301 redirects for the internal links that are broken. Replace all broken outbound links with new URLs to authority sites.
Accessible to search engines
Every page on your site should be accessed in less than 4 clicks from anywhere on the site. Your page should be able to be indexed by search engines, which can be impeded by the robots.txt file.
Site audits will identify what pages are indexed as well as those that are not indexable. You can also find this information on Google Search Console under the errors tab.
Incorporate schema
Use schema to make your page eligible for rich snippets. Using Schema better describes what your page is about to search engines and allows for a better understanding of the content.
Using JSON-LD is Google's recommended script language and accounts for faster processing.
Responsive & made for mobile
Your pages should be made for mobile users-especially since the mobile version is now the first version that is indexed by Google.
Users should experience the same functionality on different screen sizes Your content should be easy to read and reformat its layout according to screen size.
Check your sites mobile score on Google's Mobile Friendly Test and make any necessary changes listed in the report.
High-quality & shareable content
The term "high-quality" is a term we use a lot to describe how content should be written. The truth is that content should provide unique value and be compelling enough for users to want to share it with others.
We derive value from content that is entertaining, educational and informational. The use of images, video, audio and interactive media all contribute to a high-quality piece of content.
A high-quality web page is easily read by users at an 8th to 9th-grade reading level. The Fleischman scoring system scores content based on how difficult the page is to read.
In order for content to be shared easily, there should be social sharing icons that allow users to post to the appropriate social media platform.
Improve your on-page SEO
There's no doubt that on-page SEO is necessary to rank your website on the first page of Google. As search engines continue to expand their capabilities, every aspect of optimizing your web page becomes less negotiable in order to maintain high rankings.
Incorporate each element of on-page optimization in your content creation. Create highly competitive, targeted pages that are built to last on the first page of search results.
Christian Carere