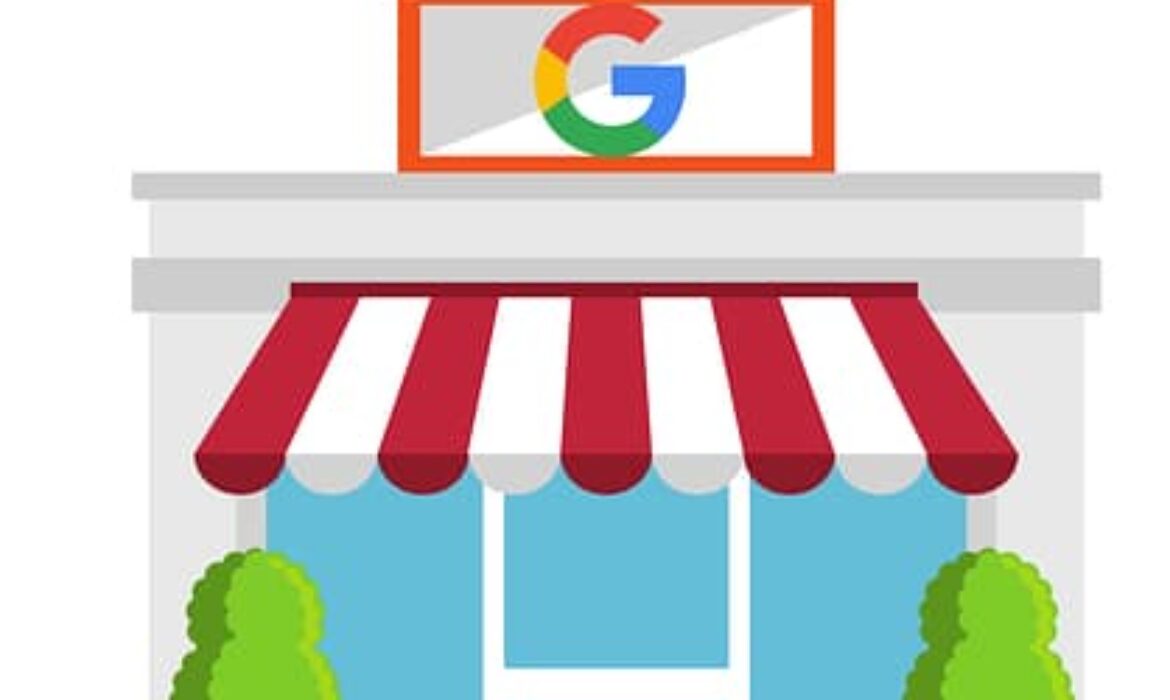 With more than 3 billion searches a day, Google needs to regulate them somehow so all those queries would find the right destination. What helps the search engine with a proper organization is Google's local business categories. They have over 3000 selections to choose from the Google business categories list.
Yes, this is that tiny yet essential detail business owners and SEO specialists often forget when fighting for high ranks in Google.
Back in 2018, when Moz surveyed local search ranking factors, business categories appeared as a core element to have for ranking well in maps and the local pack. By picking up the right local business categories, you allow Google to categorize your business right for potential customers to find you. More than that, the primary category you choose for your business makes a big difference, influencing your online visibility and reputation.
With that said, you understand that Google sets a high value on local business categories. You know they can help a website rank higher in local search. But what is a local business category, exactly? And how to choose it for your business page?
Keep on reading to find this out.
What are Google's local business categories?
"A local business category" is a term describing the type of your business at listing sites like Yelp, Google My Business, social media business pages, etc. It's a classification used to group local businesses with similar characteristics and help search engines define when to show them based on a user's search.
You select local business categories when creating your business page in Google My Business. If you already have the page there, you can easily edit those categories from your dashboard.

Each time you create a local business listing, you'll need to choose how to categorize your business there. Google allows you to choose up to ten categories, but you still have to decide on a primary one. Choosing the wrong local business category can hurt your ranks in Google's local results pack.
That's what your business looks like in Google search when you add it to listings and assign its primary category right:

Local business category associations have been among the top-ranking factors for a long time already. Google's guidelines encourage you to choose them carefully, ranking them as the #3 factor for local packs. When choosing categories, make sure you avoid repetitions and be as accurate as possible: the wrong categorization leads to irrelevant search results and rankings.
The problem with local business categories in Google
First, they are more than 2,000 to choose from.
Second, Google constantly changes, removes, or renames, and adds new entries to the Google business categories list. So it happens that, despite such diversity, it may not be easy for a business to find a category that would represent them best.
The best decision would be to choose as many closest categories as possible, right? Not quite. While Google guidelines allow you to choose up to 10 local business categories, they indicate that the fewer but higher specific, the better. That's what they say:
"To keep your business information accurate and live, make sure that you:
Use as few categories as possible to describe your overall core business from the provided list.
Choose categories that are as specific as possible, but representative of your main business.
Do not use categories solely as keywords or to describe attributes of your business.
Do not use categories that pertain to other businesses that are nearby or related, such as a business physically contained within your business or an entity that contains your business."
But here goes a controversion:
Based on those "as specific as possible" and "as few as possible," you may think that one or two highly specific categories will allow you to rank higher. That's not so.
Also, it seems that you can't choose both general and specific local business categories, to avoid redundancy. For example, the first result in the rankings below didn't use any categories with keywords but still was specific enough to appear in the search:

It seems complicated, no?
What you need to know about local business categories
When working with local business categories for better SEO content and rankings, remember the following:
Google changes the names of categories all the time.
It removes old categories and adds new ones.
Categories have different names for different countries.
The primary category gives you more ranking power.
New categories can improve your ranking.
It's not true that having a few categories on your local business listing weakens your ranking.
With more than 2,000 categories and subcategories available, they may appear differently in Google search results and your Google My Business dashboard.

The image and info are taken from Search Engine Land.
So, how to choose a primary local business category from the Google business category list to rank right and high? How many categories to add to your local business listing besides a primary one, and how to decide if they are specific enough for Google to understand? How to know when Google updates its categories list and when you need to update your categories as well? And what other business listings, besides those from Google, to consider for specifying your local business categories?
Stay with us to learn more.
How to pick a primary business category?
A primary category is vitally important: it influences your visibility in search engines for all related terms. For some, it seems obvious how to choose it: just pick what you are, right? But everything is not that simple.
Google recommends you choose a primary category that would describe your business as a whole. While it's easy to do for businesses with a narrow focus, those with a broad focus or multi-location ones may get misplaced.
So:
If your business is narrow-focused and single-location, just choose your specific category from the list. (Example: "divorce attorney," "boat dealer," "nuclear engineer," etc.)
If your business is single-location but broad-focused (water conditioner installation, plumbing, etc.), you need to decide what part of it to prioritize for search engines. Choose a primary category accordingly: think of where you want to grow, but make sure that your persuasive content, backlinks, and citations align with that business category as well.
If you work with a multi-location business, choose primary categories for each so they wouldn't compete with each other. (For locations that are close to each other, their business listings may compete in Google search if they have the same category.) The more specific category you can get for each location, the better. Also, test different options to find the best category combination that brings both shows in Google and high-quality traffic.
Depending on the business, you may want to edit a primary local business category when seasons change. For example, your coffee shop focuses on hot drinks and bakery in winter but on iced tea and lemonade in summer. Changing a primary category to suit the seasonality will yield some dividends too.
Some other points to consider:
What to do if your business is co-located with another (unrelated) business? Create a unique Google My Business page for each, and categorize them accordingly.
What to do if there's no category for my business in Google's category list? Choose a broader one that describes your business best. With more than 3,000 categories available, finding the right one for your business shouldn't be that difficult.
How many categories a business should have?
First things first:
Google allows you to add up to 10 selections from the Google categories business list, but it doesn't mean you need to use them all in the first flush of enthusiasm to cover as many related terms as possible.
Actually, some experts say that "adding a bunch of unrelated categories to your GMB listing will definitely have a negative impact on your local rankings."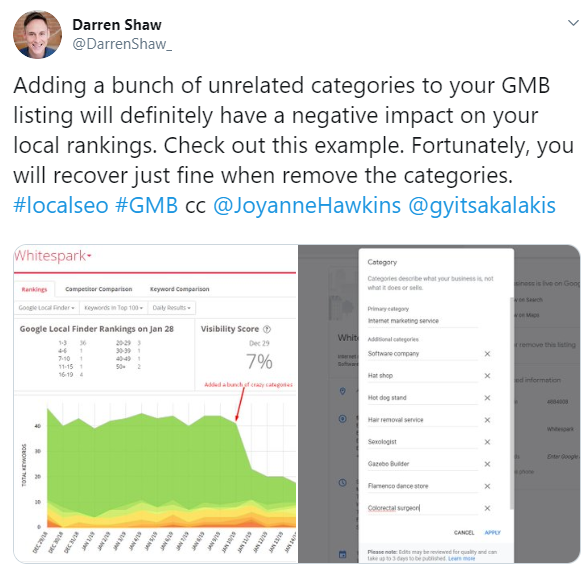 Founder of Whitespark, Darren Shaw specializes in SEO and local search ranking factors. This year, he shared the results of the experiment with Google business categories list in search listings, proving you shouldn't add too many (unrelated!) categories to GMB: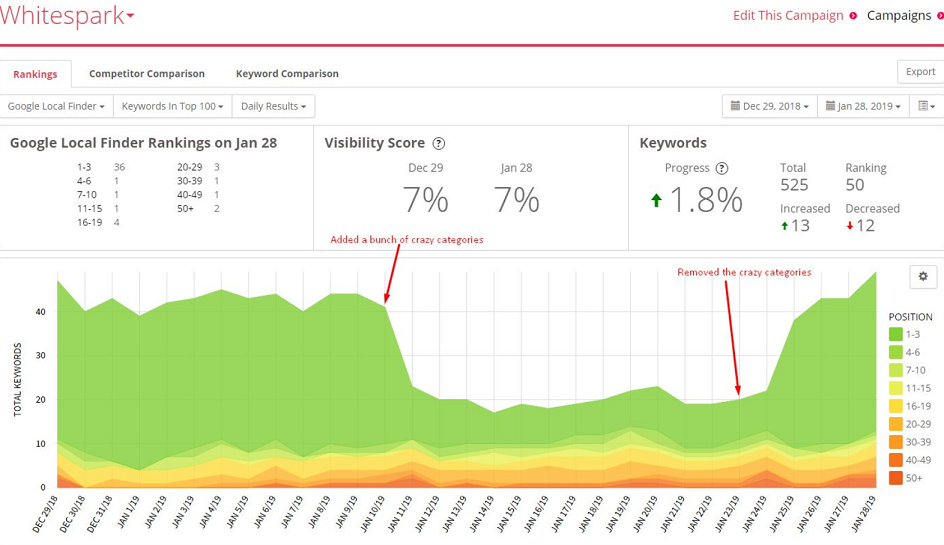 So, as you probably understand, a primary business category matters but secondary ones are still necessary and important to your business relevance and rankings in search engines. That is why don't limit yourself to a primary category: be as specific as possible and add 3-4 secondary categories to your local business listing card.
For example, your primary business category is "Divorce Attorney." Then, your secondary ones may be as follows: "Lawyer," "Law Office," and "Family Law Attorney."
The #1 rules here: the more specific you are, the fewer businesses you'll compete for customers.
The #2 rule here: add the least number of secondary categories possible. The more you have, the weaker each of them gets in a search for businesses.
The #3 rule here: describe a business, not its services. Example: if you have a restaurant with a bar, don't choose "Bar" as your secondary category.
How to choose the right secondary categories
If in doubt about what local business categories to choose, try Mike Blumenthal's Google Places Category Tool. Type your niche in the search box, choose a location, see the list of relevant categories, and pick up to four most specific to your business.

This tool provides you with the Google business categories list and Yelp's, so you can use it when planning to add your business to both listings.
Another option to try for choosing the most appropriate secondary categories is the Google Keyword Planner. Add all the potential business categories into the tool and check those with the most local searches. If they are relevant to what you want to focus on for business promotion, use them.
Looking for your Google My Business category? Click below for the complete list!
Local business listings to try besides Google
Google My Business is not the only option to consider when working on business optimization for better SEO and visibility. With free business listings available, you may want to create a business profile there too.
Online communities, free business listing websites, and directories are many; and the more you choose, the greater your online footprint will be for customers to find you. But keep calm and resist the temptation of listing your business everywhere you can. Choose the most relevant platforms where your target audience "lives," and add as much information about your business as possible to profiles there.
Here's a short list of the most popular listings websites for your local business:
Yelp. This is the third most popular review website on the web, so you might want to consider it for placing your business; especially if you work in the niche of restaurants.
Facebook. With more than 65 million local business pages on Facebook, this social media network is still very popular among entrepreneurs and marketers. So why not consider creating a Facebook business page for better visibility and conversion?
Instagram. Studies have it, 82% of customers search for a brand on social media before they buy. A visual representation of your business on Instagram will help you market to younger demographics too.
Yahoo. With Google as the king of search, Yahoo still can bring you billions of potential customers every month. As well as Google, Yahoo displays local business listings in the search results, so you may want to get there as well.
BBB. The Better Business Bureau is your choice to add a business if you work with local law firms or nonprofit organizations. So, create an account, search for your business, and (1) claim your listing if your business is already there or (2) submit a request to add your business to BBB if it's not there.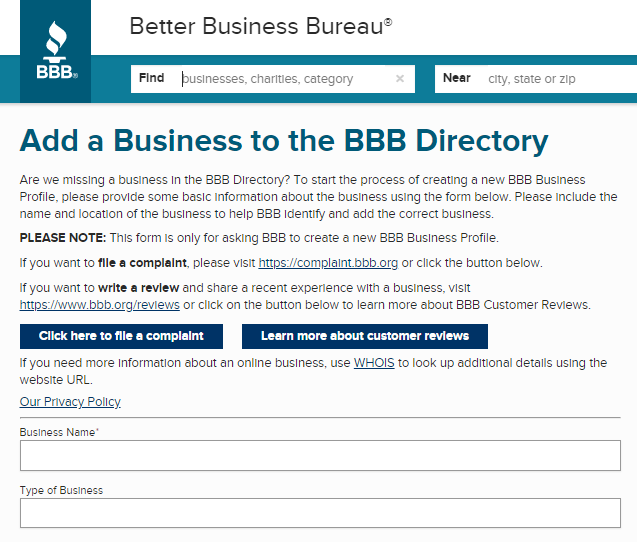 Bing. Bing Places for Business is where you can access your local business listings and categories.
LinkedIn. Use this professional network to present your business as a reputable owner with relevant experience. It works best for finance-related businesses, so create your business profile there if appropriate.
Whitepages. With over 5 billion records, this directory is a must to consider for listing your business. Their lists appear across all of their API customers' websites, which can add tons of visibility to your page.
Yellow Pages. Believe it or not, 60 million people still search for businesses at YP.com. So why not create your local business listing there?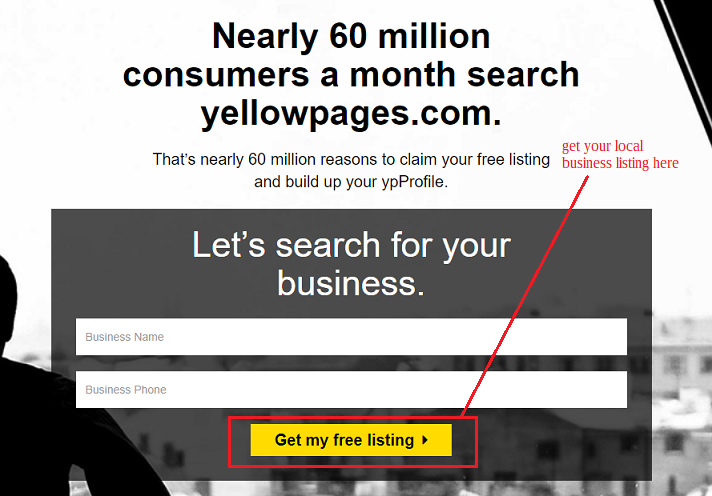 Need more? Check the list of 25 free business listings websites from Womply, with short descriptions and guidelines on how to list your local business there, and choose those most relevant for your business category.
Conclusion
Correct categorization of your local business in Google has always been a top factor for high rankings. It impacts search results and your overall online presence for customers to find you and know about you. So, when building your local business listings, double-check your primary and secondary business categories there.
Business listings such as Google My Business and others have been designed to send you customers. And local business categories are your instrument to help Google classify your business right.
By choosing an accurate category, you'll make it easier for robots to find you and show you in search results for people who need your products or services. You'll show up on Google Maps and in the local pack. People will find you on the top review websites, and follow your business page on social media to build community and trust…
…And you'll definitely see the positive result when checking and analyzing your backlink profile!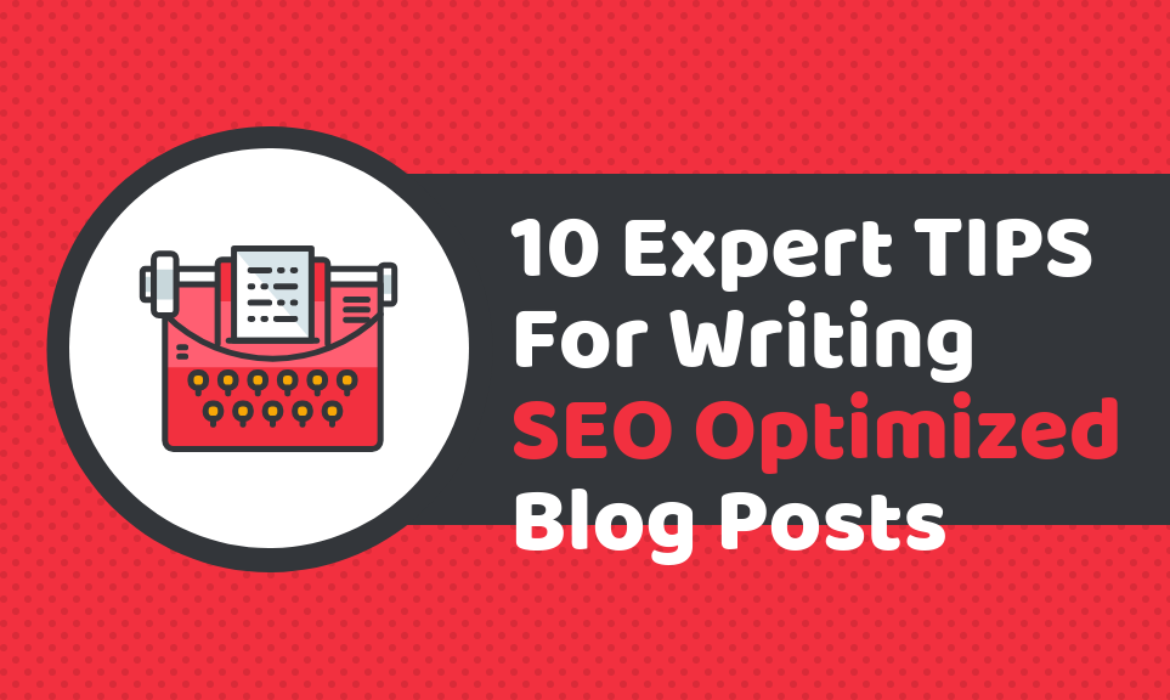 Driving traffic to your site relies heavily on the effectiveness of your content. In order for people to click on your pages in a search result, they have to rank high enough to be seen by users. Learn how to write SEO optimized blog posts to increase the traffic your site generates.
What is SEO content writing?
The difference between publishing SEO content and a typical journalist-styled article is that SEO content is created to rank in the search engines and has a call to action.
SEO content should play a specific role in your sales funnel. There should be a conversion objective for each article you publish that targets a specific keyword. That's one advantage of having an SEO company in Toronto in your corner to help with content creation.
For example, if you're explaining SEO to a beginner, they may not be ready to jump into a regular monthly investment after just learning about what SEO is for the first time.
The call to action from an explainer article would be to ask the visitor to read an article that is positioned deeper in the sales funnel.
For instance, an article on The 10 Greatest Benefits of SEO would bring that reader another step closer to wanting to invest in SEO after reading the positive effect it has on a website and ultimately a business.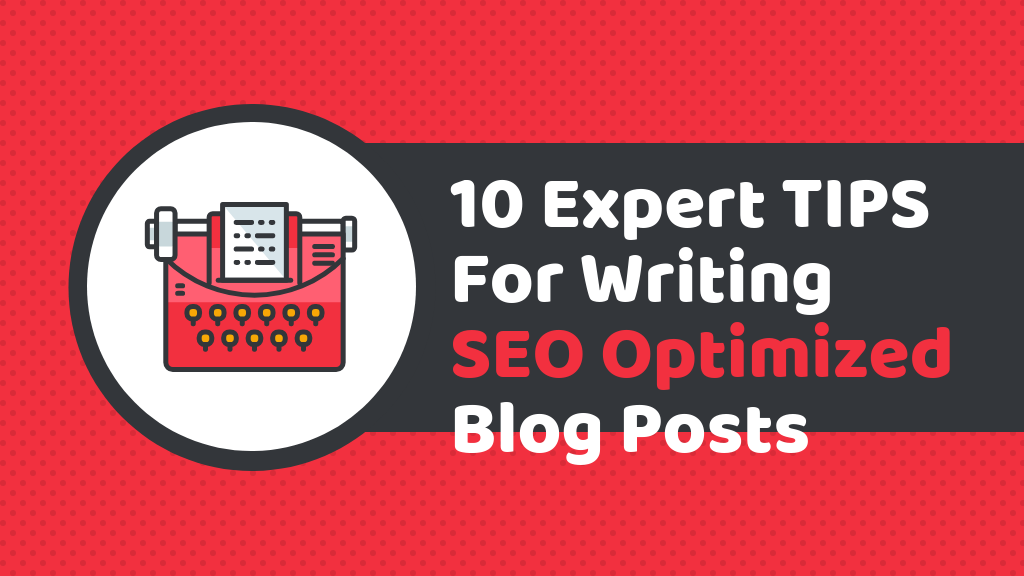 Here are 10 expert tips for writing SEO optimized blog posts that rank well and convert readers with a call to action.
Reverse roles with your audience
Use Google to suggest keywords
Analyze search term metrics
Visit sites where your audience hangs out
Create a scannable outline
Write at a 9th-grade reading level
Use the inverted pyramid style of writing
Optimize blog posts for a target keyword
Leave a call to action
Drive traffic to newly published pages
Reverse roles with your audience
Every great article begins with extensive keyword research. The first step to hashing out an outline is to think of the needs of your audience and what they want to read about.
Brainstorm the search terms that your audience would type into a search.
When you have a few good keywords, you will want to dive deeper into the related topics of that keyword to create depth in your content.
You can use your head for this one as well, but what will help create a more detailed strategy will be the use of a few tools.
Use Google to suggest keywords
Based on the results of your list, type them into Google and take a look at a number of different places on the page such as:
Google autosuggest;

the people also ask box;

the featured snippet;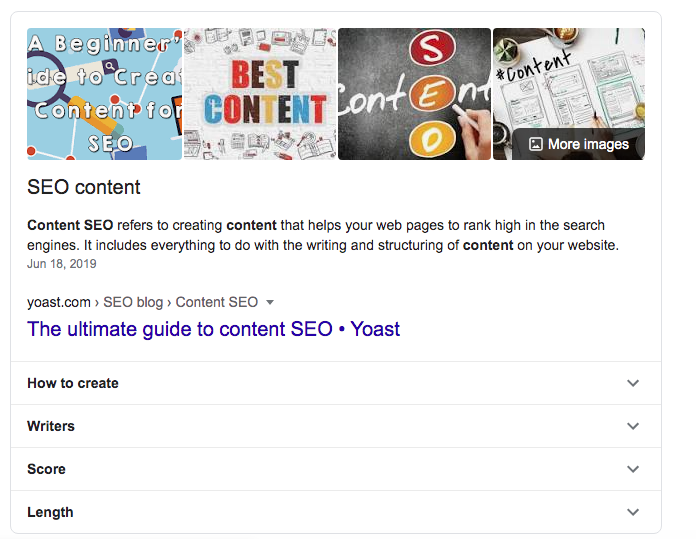 and the related searches box at the bottom of the page.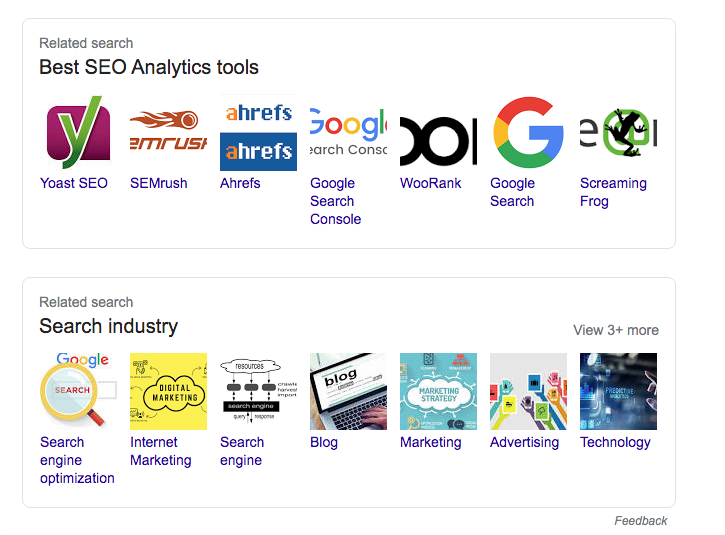 The words and phrases you find in all of these parts of the SERP are popular search terms that are repeatedly searched on Google.
Add the most appropriate results to your list.
If it's necessary you can go a few levels deeper by typing in the new results in a search and see what different terms are generated.
Analyze search term metrics
As a precursor to writing SEO-optimized blog posts, it's worthwhile to run a keyword report to get an idea of the competition, traffic and some keyword suggestions.
There are dozens of keyword tools available to choose from but the most popular publicly available would be Moz or SEMRush.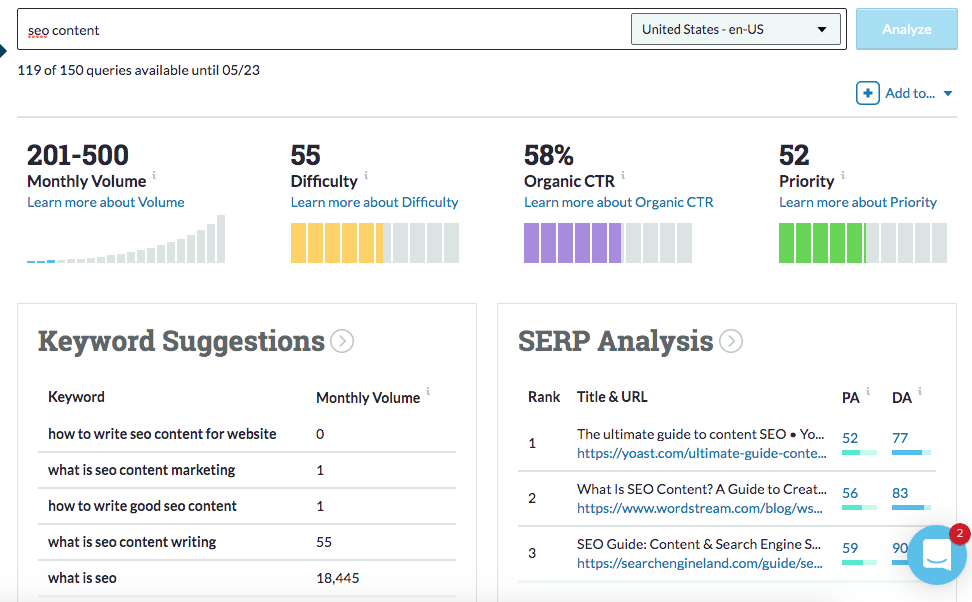 Make sure your keyword has a minimum level of search traffic that matches your overall strategy. You don't want to target a keyword that gets zero searches a month.
Take note of other search terms suggestions that would fit nicely in your article.
Choose a few terms to target that are essentially variations of your target keyword.
Make it a point to use them in your content and subtitles to contribute to optimizing your page.
Visit sites where your audience hangs out
Part of a good research strategy is to find niche forums, social media groups and places your audience hangs out to discuss your keyword topic.
Quora gets a lot of traffic on a monthly basis and by scanning through questions you can get an idea of the most commonly asked questions and the terminology people are using while discussing your topic.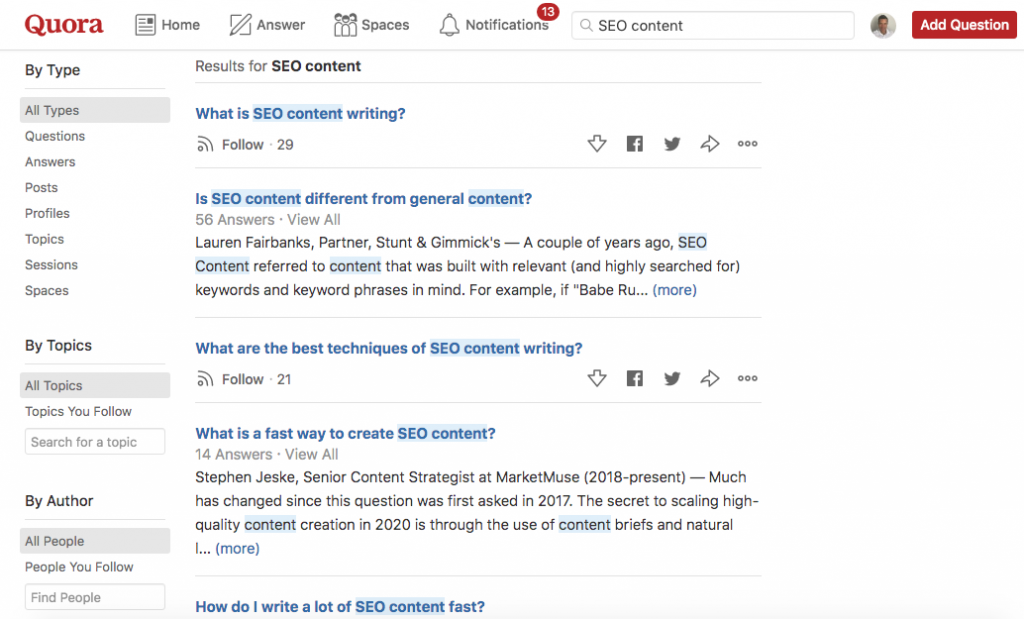 One of the biggest groups for finding a lot of relevant Q & A's is Reddit. Simply type your keyword in Reddit to get a list of the discussion groups you can join.
The culture here typically has a low tolerance for self-promotion so keep that in mind if you're engaging in any discussions.
The goal is to gather as much information about your topic, what's trending and what people are most commonly talking about.
Create a "scannable" outline
Most people who read articles online will scan through the article to see if they are even interested in the content on the page.
Create an outline consisting of subtitles to serve as the skeleton of your article.
The outline should summarize the story of your writing with as much descriptive detail as possible.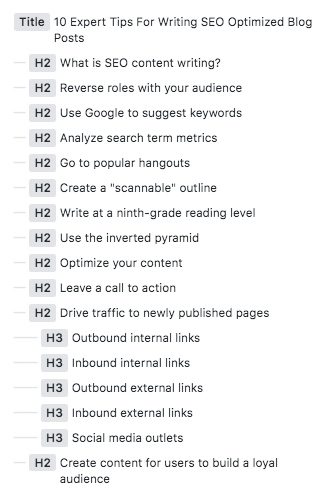 A solid outline creates an easy-to-follow guide for writing your article. Each segment is already laid out so you merely are filling in the blanks between your subtitles.
Write at a 9th-grade reading level
Write in a conversational tone that is easily understood by readers of all ages.
Approximately 50% of the US population reads at a basic or below basic level. Make your content extremely easy to understand by avoiding technical jargon and complicated words.
By making your content more difficult to read you are essentially losing half of your readers.
You can use the Fleishman score to determine how easy to read your article actually is. The Yoast plugin offers this feature.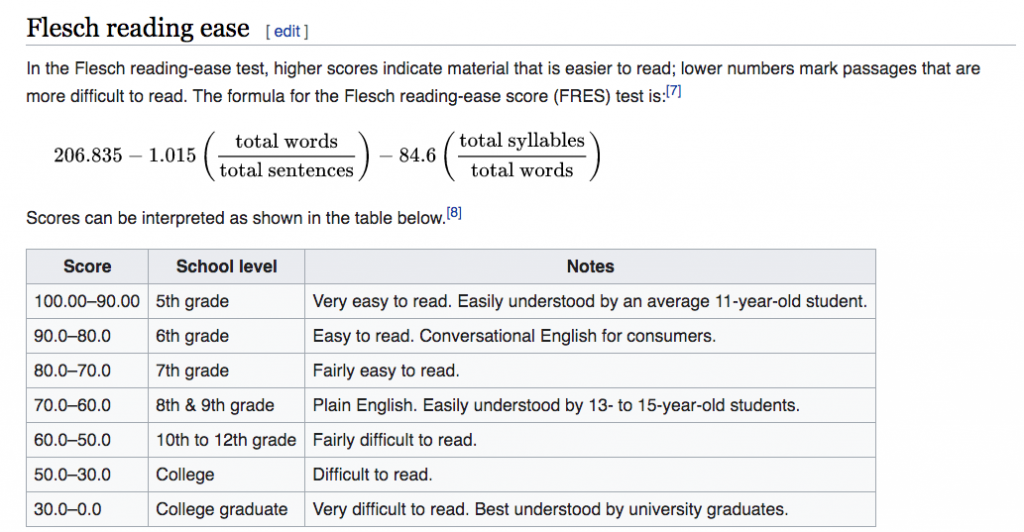 Use the inverted pyramid style of writing
When journalists write they use a style of writing that is known as the inverted pyramid. This style of writing gives readers what they need to know at the beginning of the article and what is nice to know in the latter part of the article. This is a sweet little undervalued pearl of wisdom found within the many online marketing tactics you need to employ.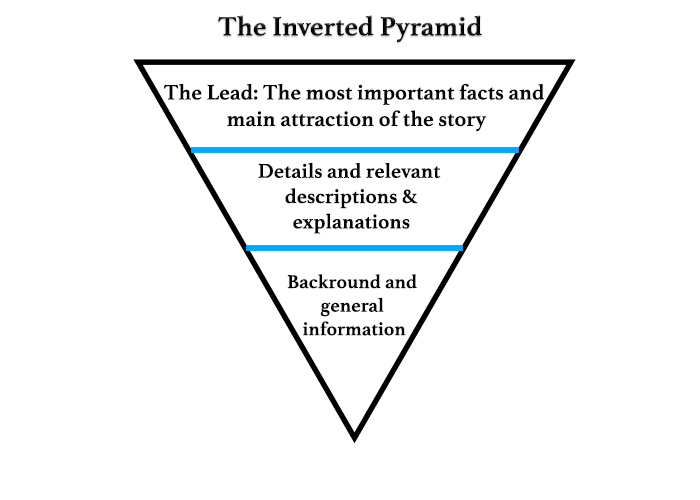 This may sound counterintuitive to those who appreciate a nice build-up. The logic behind it is that people are impatient and if you want to rope them in immediately, give them what they need to know regarding their query.
Be the last destination in their search. If they are interested in secondary details, history and other useful facts you have added, they will read on.
This style of writing insures you don't lose your visitor to another site.
Optimize blog posts for a target keyword
It can be argued that if you've explained your topic extremely well that Google will automatically understand what keywords best represent your article.
However, the strategic placement of keywords will emphasize the target keyword in which your article should rank and improve your on-page SEO.
Make sure you include your keyword in your title, URL and make sure it occurs at least a few times within your content.
Use your keyword within the first paragraph (or 100 words).
Enhance your optimization by adding the keyword to the image alt tags.
Include variations of your keyword in your subtitles and text.
Leave a call to action
Readers need to be told what to do upon completing an article. What may seem obvious to you may not be as obvious to someone who is visiting your site for the first time.
Your call to action should move your reader further along the sales funnel. If it's a new visitors reading a basic introductory article about your business, recommend another article on your site that builds more awareness of the benefits of your product or service.
If it's an advanced article, leave a link to a service page or contact page to set up an appointment or phone call.
Leave a call to action based on what stage of the funnel your article represents.
Drive traffic to newly published pages
Even the best content in the world needs a little help in being found. You can give your pages the help it needs by driving traffic through an internal and external linking strategy as well as all social media outlets available.
Outbound internal links
Good on-page SEO means incorporating a few internal links. Include outbound links to related content. Link to some articles you've previously written to enhance the reader's understanding of your topic.
Inbound internal links
Search engines rely on internal links (and your sitemap) to find new content. To get your page indexed quickly, add a few links from related articles you've previously published. Those inbound links will allow search bots to find your new content.
Internal links also bring readers to your newly published page, which promotes a higher click-through rate within your website.
Outbound external links
It's considered best practice to reference authority sites from within your SEO-optimized blog posts. It adds credibility to your pages and shows Google that your page is truly serving your user's needs.
Although it may be an SEO tactic, choose your outbound links wisely to send visitors to quality sites that will indeed enhance their user experience.
Inbound external links
Backlinks are a major consideration when it comes to ranking. Choose the most appropriate backlinking strategy that suits your goal.
If you're attempting to rank locally you may need to lean heavily on the local link building tactics to create the most relevance for your page.
Social media outlets
Always post your content to every social media profile you've created. Posting over a long period of time builds an audience that provides a quick solution for getting your pages noticed and your content read.
Drive traffic to your page by leaving a call to action on every post that links to your site. Don't forget to ask people to share with their network to get your content in front of as many eyes as possible.
Create content for users to build a loyal audience
Many mistake the purpose of SEO optimized blog posts as content that is created solely for ranking purposes.
This may have been true in a time when Google was less capable of determining the value your content holds for readers.
Create your content for users and not search engines.
The more you hold the attention of a reader and satisfy their search intent, the better your page will perform.
There is a close correlation with the quality of content and a first-page ranking. The biggest ranking factor is typically seen as the ability to satisfy user intent.
Make it your priority to write content that specifically tackles a specific search query from a user.
Combine the technical aspects of writing SEO content with a focused strategy to satisfy search intent and enjoy the fruits of a first-page ranking.
Related reading: