Link building is an essential part of improving the competitiveness of your website. The quality of the links you build will always trump the quantity. By implementing backlinking strategies that produce quality links you can create highly targeted streams of traffic from websites in which your clients visit.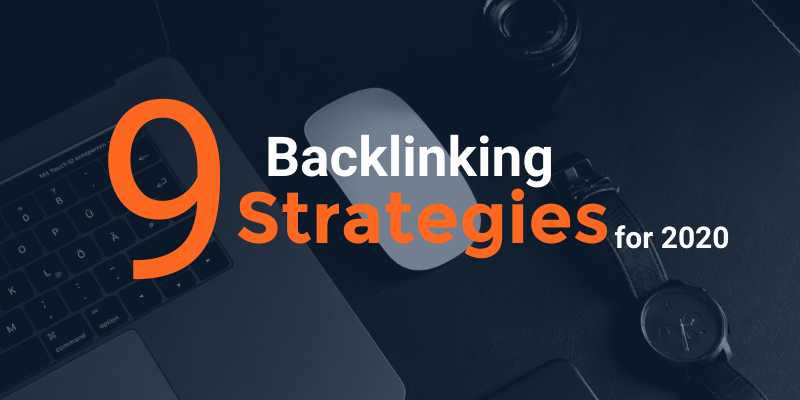 In this article, you will learn the most effective strategies that will not only count the most for your ranking in the search engines but lead to more streams of visitors who become clients.
Embed your link in newsletters
Of all the backlinking strategies in this article, this method is a way to place your backlink in a place that your competition can't find or exploit-a newsletter. Obviously it would make sense to leave links to your website from your own newsletter, but the real money is in the newsletters from other popular blogs.
Consider this strategy as an outreach campaign. Subscribe to every newsletter that publishes content within your niche. Make contact with the site owner and keep the thought of building a relationship a priority. You don't ever want to come right out in asking for a link to your site. You don't need to be an SEO consultant to implement this method effectively. A strong background in search engine optimization may help you connect with the site owner on more common ground.
Even if you're willing to pay for placement in their newsletter, many site owners will be particular about granting access to their email list. Make sure your content is high-quality and that the email list consists of a targeted audience.
One newsletter that goes out to thousands of people can generate a whole lot of traffic, leads and new clients.
Guest posting
Publishing content on a site that accepts guest posts is a form of link building that can effectively improve your ranking. Guest posting provides you with the opportunity to publish related content on an authority site with a healthy flow of traffic. This covers three of your basic requirements for qualifying a quality backlink.
There are pitfalls to this method as well as it can be detrimental to your ranking if done poorly. Avoid publishing articles on unrelated blog sites that don't show a clear relationship to the content you're publishing. Avoid websites that have a poor flow of traffic or carry some sort of penalty as they may have an adverse effect on the credibility of your site.
Recommended reading: How important Is Guest Blogging In 2020?
Choose your prospects for the right reasons and don't just publish your content on-site because they offer you the opportunity. Pick the sites you want to be published on for the right reasons (relevance, health and good metrics) to get the best results.
Invite guest authors
Invite authors, influencers and great writers to publish content on your blog. Provide a good proposal for promoting their article to entice the best writers in your niche. Make sure they understand your offer as an opportunity to access your network, which will provide more traffic to their site.
People will promote themselves so it can be an extremely effective tactic to get quality content and the extra links and traffic from the guest author's network. This method of link building will improve your link profile as well as provide diversity in the content you publish.
Publish linkable assets
When you're creating content for your site, publish content that others will be happy to link to. Publish white papers, statistics or entertaining opinion pieces that provide value to the audience of another site.
Hubspot publishes loads of statistics every year that attracts thousands of backlinks by providing writers proof to prove specific points. They have become a resource for many writers and established themselves as an authority in the marketing niche.
When your content provides value to writers and readers it 's infinitely easier to ask other websites to link to your content.
Contact the linkerati
One of the safest and most effective ways of building backlinks is through an outreach campaign. Rand Fishkin coined the term "linkerati" referring to a group of people that are likely to link to websites when they're publishing content. Build relationships with the linkerati so you can turn to them for links during the course of a relationship as opposed to a one-off link.
The first sites to ask for links is from those within your own network. Think of anyone you know who owns a website to create your first layer of prospects in your outreach campaign. It's easy to ask friends, co-workers and business partners for a link and if your content is good-why wouldn't they give you a link?
Think of the best backlinks that would benefit your business if Google didn't exist. What websites would your future clients be visiting and how can you get those sites to link to yours?
When you have your list of link prospects, make contact with the site owners or editors before asking for links. Never directly come right out the gates and ask for a link before establishing some credibility.
Site owners get requests for links every day and in order to cut through that cloud of spam, you will need to stand out with some insight and interaction.
Reach out through social media by engaging in conversation and directly asking questions or providing insightful comments. Build your credibility and make sure the person can recognize who you are before you come right out with a request for a link.
Unlinked brand mentions
Of all the backlinking strategies that get results, unlinked brand mentions have a very high success rate. The strategy is fairly straightforward and is effective if your company is a semi-well-known brand. The strategy is to find out who and where your company has been mentioned online and to reach out and ask for your name to be turned into a clickable link.
The reason this method has a higher success rate than other backlinking strategies is that if people are already mentioning you in an article, they obviously like your work and don't mind adding the link.
Link reclamation
In this link building method you are reaching out to site owners who have linked to you in the past yet for some reason, you lost the link. This method of link building requires you to have a tool that monitors backlinks or can accurately report your link history.
There are three phases to this backlinking strategy: identifying the lost link, identifying the reason it was lost and then reaching out to the linking website.
Not only do you want to make a list of all the links you've lost, but you want to determine which ones are even worth pursuing to be replaced.
Export the lost links results and eliminate the links that you already know to be spam or poor quality websites. Manually check any links you're not sure of to make sure the website is a good link for your site.
The most recent links that were lost should have a slightly higher priority. Reaching out to webmasters about something that happened a week ago is much easier to resolve than something that happened 6 months ago, so start with the most recent and work your way back.
Once you've finalized your list, you're going to want to make sure you have an idea about why the link was lost to make the best appeal to the site owner. If their page was updated and someone simply forgot to add your link, it can be a simple email asking for your link to be added back into the article.
If the page was updated and there's a different website that is being linked to instead of yours, it may be that the content on your page needs updating.
Before you email the site owner you will want to make sure your content is updated to be a better version than the site that bumped you for the link.
Another scenario is that the page may have been deleted or moved. In this case, you will want to see whether the site owner linked to you from another page. This saves you time and embarrassment from asking to replace a link when they've already linked to you from another page.
If the page was deleted altogether, find another page with content that would be appropriate to link to your own. If they liked your content enough to give you the link in the first place, it may be just a matter of finding the right page, so do the research in order to provide the option.
In any case, finding out why the link was lost will help you to craft a more convincing email to plead your case. You don't want to come across needy or pushy but if you know why you lost the link you can present the site owner with a solution to sway their decision and streamline the process.
Repairing broken links
Create more value in your request to be linked by finding broken backlinks on a site and offering your URL as a replacement. A popular blog will get inundated with requests for backlinks so by adding more value to your offer you can stand out from the crowd.
Broken links are considered to be a source of bad user experience. When a link leads a user to a missing page it can be frustrating and slightly annoying. Too many of those on your site can negatively affect your SEO.
By letting the website owner know about any broken links on their site you're doing them a favour because it's a way of improving the performance of their site.
This aligns perfectly with your link request because the site owner will need another page to link to in order to fix the situation (or remove the link altogether). Have content ready to replace the link, all you need is to mention your URL as a replacement. You can use The Wayback Machine (archive.org) to see what content the link was pointed to in order to make a better, more updated version.
The appreciation for improving their site plus the convenience of having content to immediately replace the broken link contribute to your chances of acquiring the link.
Interested in a crash course in broken link building?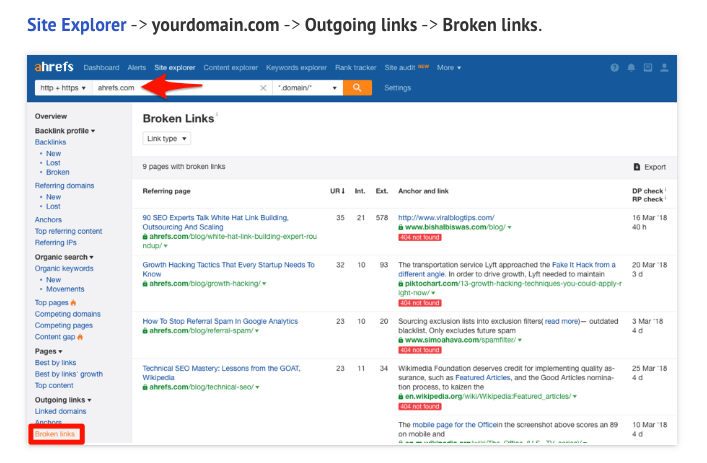 The tool of choice for finding broken links is Ahrefs. Simply generate a backlink report and click on the broken links tab. You can filter out URLs based on your criteria such as the number of outbound links and phrase matches.
Find backlinking opportunities in your competitor's link profile
There are a lot of choices for software to provide you with a detailed backlink report. Use the tool of your choice to generate a report on the top-ranking pages for your keyword.
Keep in mind that no matter what your competition is ranked, you can't be sure that every link they have in their report will positively impact your site. Make sure you vet every link by not only checking domain metrics but by assessing the relevance of the website and whether it gets traffic.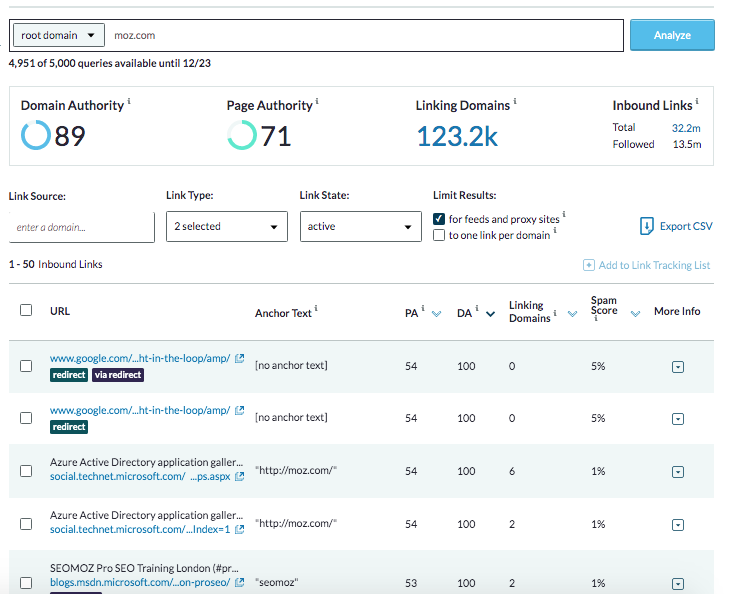 Start with the high DA sites first (if you're using Moz) and work your way down the list. A link from a domain with high authority will provide the most benefit to your site if it is relevant and the site is healthy.
What makes a quality backlink?
Relevance
The relevance linked content has to the linking content is the number one factor for contributing value. When exploring link opportunities, an identifiable relationship between the two pages is required to demonstrate relevance. Does the site offer a quality referral based on the content that would be linking to yours? Is the site in the same industry or an appropriate vertical that has the authority to make a quality referral?
Health
The second factor to establish is whether the site is healthy. There should be a healthy volume of traffic that is flowing through the site to indicate good search visibility.
If the site is ranking for multiple keywords it indicates that it is providing value to its audience. This also indicates a link from that site will send traffic to benefit your site with like-minded visitors who have an interest in the content you're providing.
Authority
Lastly, the metrics the site possesses can impact your site. If it is an established authority in your niche and has a high domain authority (or domain rating or trust flow) there will be authority passed on to your domain. With all other things being equal, a link from a high authority domain will improve your site's ability to rank more than that of a low authority domain.
Links should be viewed as referrals
One of the defining components of Google's algorithm is the strength of a website's backlink profile. A strong analogy to this is that links are supposed to serve as referrals from other websites. The whole concept of a link is to share the content of another website because it will enhance the user's experience, which credits the site being linked.
From this perspective, it's easy to see how the relationship between two pages plays a major role in determining the quality of a link. If a website operates within the same niche to yours they are most likely publishing similar content, which increases the likelihood of a link from this site being relevant.
After the hummingbird update and every update since Google's ability to determine the meaning of content has become incredibly accurate and has changed link building forever. The relationship between the two pages is an extremely important part of establishing what determines a quality link. Without a contextual connection, links are meaningless and can even be harmful.
PageRank vs. authority
PageRank is a value that Google assigns to pages that represent the ability to rank. Since Google stopped publishing PageRank we have relied on third-party tools to help assign values based on the link attributes of the page.
Domain authority is a widely accepted term used by Moz that is used to measure the number of linking domains and their quality. In addition to Moz, Ahrefs and Majestic provide popular ways of measuring the ranking attributes of domains, which we commonly refer to as "authority". It should be noted that all three tools could in any given situation provide very similar values or vastly different ratings of a domain.
This indicates that no one tool can properly assess what Google uses to determine PageRank and should only be used as a clue in determining the value of a link. Although many people heavily rely on these tools to discover link opportunities, none of these tools represent what Google uses as PageRank. Each tool is merely a measure of how each company has defined the ranking ability a domain possesses.
Responsible linking is an asset to your success
Backlinks are a crucial aspect of creating search visibility for every website. Quality trumps quantity every time making link building as much an art as it is a science. Finding ways for websites to link to you with creative, outside the box thinking can lead to acquiring high-quality links.
Always keep in mind that a large part of link building is public relations. Build relationships with those who will help you the most in your efforts and reciprocate where it's needed to maintain a mutually beneficial relationship.
The quality of your links outweighs the quantity so link responsibly to promote long-lasting success and increased search visibility. For the best SEO Toronto offers, call us for a consultation.
Related reading: