Jan 27, 2021 @ 7:02 pm
Link building is an essential part of improving the competitiveness of your website. Build links from the most credible, high-authority websites. The quality of the links you build trumps the quantity. Implement proven backlinking strategies for 2020 to produce quality links that increase your search visibility and create highly targeted streams of traffic from websites your clients visit.
Embed your link in newsletters
Bet you didn't see this one coming! Of all the backlinking strategies in this article, this method is a way to place your backlink in a place that your competition can't find or exploit-a newsletter.
Subscribe to every newsletter that publishes content within your niche. Once you get a feel for the tone and the type of audience it appeals to, you can work on a way to present your link within its content.
Make contact with the site owner and keep the thought of building a relationship a priority, meaning don't come right out in asking for a link to your site.
Keep in mind that the best link building is done without search engines in mind. In other words, effective link building is getting your link in places where there's a good audience for your content.
This method of link building is simple in the sense that it's a two-step process.
The first step is to find a newsletter that is distributed to a large subscribership that would respond well to one of your offerings.
The second step is to convince the owner/editor of the newsletter to include your link within the newsletter.
Kelly Felix claims this tactic launched his career and made his program featuring "The Rich Jerk" an overnight success. The newsletter that carried his link was sent out to hundreds of thousands of people overnight. Following its publication, Kelly was inundated with people excited to hand him money to be a part of his program.
One newsletter to a massive audience was enough to give him his first taste of being a millionaire.
You don't need to be an SEO consultant to implement this method effectively.
Guest posting
As mentioned before, effective backlinking strategies are those that get your link in front of a large audience that will engage with your content. The only thing that makes a link even better is if it's a followed link on a high authority website. Guest posting allows you to acquire links with all three positive attributes.
What is guest posting or guest blogging?
For those of you that have been living in a cave for the last 10 years, guest posting is when you publish an article on a third party website as a guest author. Most websites that offer guest posting will allow you to link to websites within your content, which is where you can link to your site and other relevant resources.
More often than not, you will be afforded an author box where you can tell the audience about yourself in a few sentences and link to your social profiles and company website.
Not all guest posting websites are created equal
The rules and guidelines can vary greatly between websites that offer guest posting. Some websites will only offer nofollow links, some will have a minimum or maximum word count for articles.
Some websites are better for your website than others. It's important to vet the quality of the website before agreeing to be published. There are many websites that have been exposed and penalized for accepting money for links and any links from those websites will do more damage than good.
Integrate guest posting with other methods of link building
Although guest posting is without a doubt a method of link building that will benefit your website, it should be implemented with other forms of link building. If your site has solely acquired links from guest posts, it may be deemed unnatural and the links will be devalued.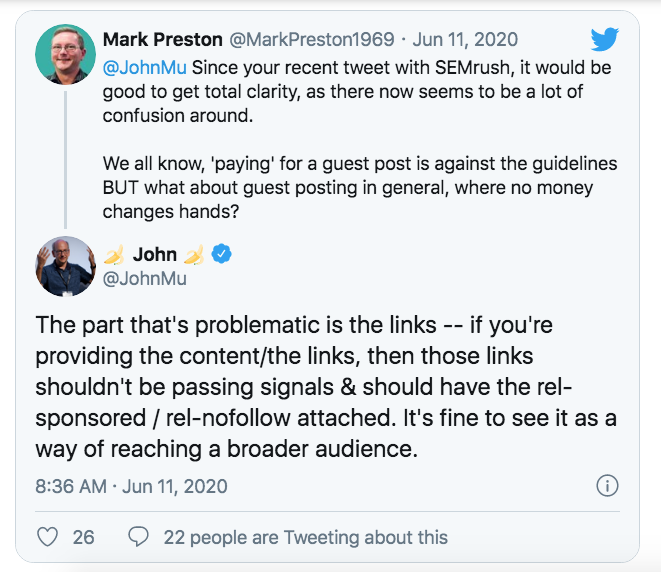 John Mueller has stated that all links in a guest post should be nofollowed-or mark them as sponsored. Keep in mind that Google has also stated that they will be interpreting the nofollow attribute as a recommendation rather than a command. It can only be surmised that Google would like to credit guest post links with authority according to its own interpretation of quality.
Recommended reading: How important Is Guest Blogging In 2020?
Invite guest authors
One of the biggest sources of traffic generation is blogging and publishing content that ranks highly in the search results. The more quality content your website can produce, the more keywords you're able to target. Inviting guest authors to publish content on your website can allow you to publish quality content at a higher frequency than if you were to do it yourself.
One of the benefits of inviting guest authors to publish content on your site is that they are likely to link to their own article, or at the very least, share it on their social media profiles. This additional article promotion can generate new traffic from untapped sources that you otherwise would never have been able to acquire.
Recruit and hand pick your writers
Websites that offer guest posting will typically publish a "write for us" page to attract writers looking for guest posting opportunities. This is effective for having people send you proposals and articles but you will undoubtedly receive more low-quality offers than what you'd like to publish.
A solution is to reach out to authors who are publishing frequently and have a style of writing that matches your brand and quality of writing. This is one way to get good content since these are writers who are actually producing quality articles.
Invite authors, influencers and great writers to publish content on your blog. Provide a good proposal for promoting their article to entice the best writers in your niche. Make sure they understand your offer as an opportunity to access your network, which will provide more traffic to their site.
Publish linkable assets
When you're creating content for your site, publish content that others will be happy to link to. Publish white papers, statistics, infographics or entertaining opinion pieces that provide value to your audience as well as amplifiers in your industry.
If you were going to share an article or use it as a reference in an article you're writing yourself, think of the level of quality, credibility and authority it would need to demonstrate. No one voluntarily links to garbage articles or share's them with their social network. Creating linkable content assets gives people a reason to link to your website.
If you're just starting a business and all you have on your website is the service page, about page and an empty blog there's absolutely no reason your website will acquire backlinks. You need to publish content that serves a purpose and provides value to those reading it. This is where a solid SEO content strategy comes into play.
Create value by solving problems
People search online because they're looking for information on how to solve a problem. If they have a need to purchase a product, that product is to solve a particular problem. You can drive a ton of traffic by publishing content that addresses and solves the problems that people are experiencing.
Strategize on the type of content you can publish that will appeal to your prospective clients. Show them how to do something using your product that solves a problem.
Every article on the Ahrefs blog is focused on solving SEO issues while incorporating their software. There is a ton of value in their articles that teach people about SEO and every article. Take a look at their growth in traffic over the last few years from providing actionable advice.

Create shareable content that offers value so it's shared and used as a resource to attract more visitors and backlinks. Keep in mind that no matter how valuable your content, you'll still need to get it in front of an audience for people to know about it. Once you've started the ball rolling by getting people to read your content, it continues to attract backlinks over time.
Outreach campaigns
An outreach campaign is basically just reaching out to website owners and asking them to link to your content. When your content is absolutely top-notch, this method of link building can be effective in acquiring backlinks.
If you're reaching out to editors to inform them of the most fantastic article they've ever laid their eyes on (and it's true), the average conversion rate is roughly 8%. This means that 8 out of 100 websites you contact about a link will respond favourably.
The success of a cold email outreach campaign depends heavily on the value proposition. That's why it's a huge advantage to publish great content that people are likely to share. With top-notch, unique, evergreen content it makes sense to use this type of backlinking strategy.
If your content isn't that exciting, you'll need to consider mixing up your approach to how you accumulate backlinks in order to offer more value as an incentive for the link. Building relationships before asking site owners to link to your content is highly recommended for optimal results.
Unlinked brand mentions
This method of link building will only be effective if you've established a recognizable brand. The concept is to find where people have mentioned your brand but haven't linked to your website. You would then reach out to them to ask for a link to your website.
This method of outreach gets a slightly higher success rate than a cold email outreach campaign. If a publisher has already mentioned your brand, they are most likely happy with your product or service (or very displeased!) Asking them to add a link to your company name so people can find your site more easily is usually not a far stretch and will often result in you getting the link.
Link reclamation
Link reclamation is reaching out to website owners to replace the links you've already had but for some reason have been deleted and lost. The success of this backlinking campaign strongly depends on the reason your links were lost in the first place.
Scenario 1: Link lost after content update or website redesign
Many companies will drop links because they've redesigned their website and for one reason or another the link was lost in the redesigned page. The same applies to a page that has had its content updated. The editor may have just forgotten to add the link back to your page.
In situations like this, a simple email asking to have your link replaced is enough. If the website was linked to your website before, the editor shouldn't have a problem giving you the link again if it was simply forgotten.
Scenario 2: Link awarded to better content
In this scenario, the website owner has linked to another website because the content outperforms your own. Obviously, before you can ask for the link to be replaced, you'll need to update your content to be a better version of the article that replaced you.
It's also advisable to come up with an alternative page to link to in case the owner doesn't feel your page is better quality. If they linked to your site once, they are likely to link to you again. You just need to give them a reason to give you the link by offering another liankble content asset.
Repairing broken links
Broken link building is a strategy that's become an insanely popular type of outreach campaign. The success rate is higher than just asking people to link to your site for the simple reason it's easier to approach website owners with a value proposition.
Broken links are considered to be a source of bad user experience. When a link leads a user to a missing page it can be frustrating and slightly annoying. Too many of those on your site can negatively affect your SEO.
By letting the website owner know about any broken links on their site you're doing them a favour because it's a way of improving the performance of their site.
This aligns perfectly with your link request because the site owner will need another page to link to in order to fix the situation (or remove the link altogether). Have content ready to replace the link, all you need is to mention your URL as a replacement.
You can use The Wayback Machine (archive.org) to see what content the link was pointed to in order to make a better, more updated version.
The appreciation for improving their site plus the convenience of having content to immediately replace the broken link contributes to raising the likelihood of acquiring the link.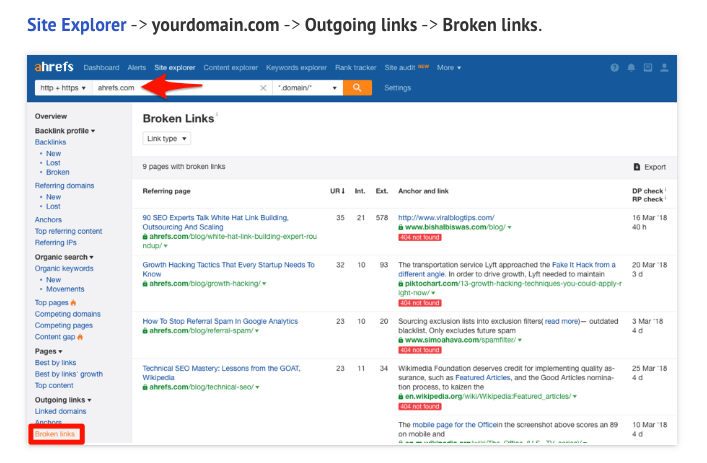 Interested in a crash course in broken link building?
Find backlinking opportunities in your competitor's link profile
Find valuable backlinks by analyzing the top-ranking pages backlink profile. You can run a backlink report using the tool of your choice and get a list of potential link prospects for your own website.
Keep in mind that not every backlink on your competitor's profile will also be good for your website. There may be links that are actually hurting their ranking ability more than helping. This requires careful analysis before blindly linking to every link on your competitor's profile.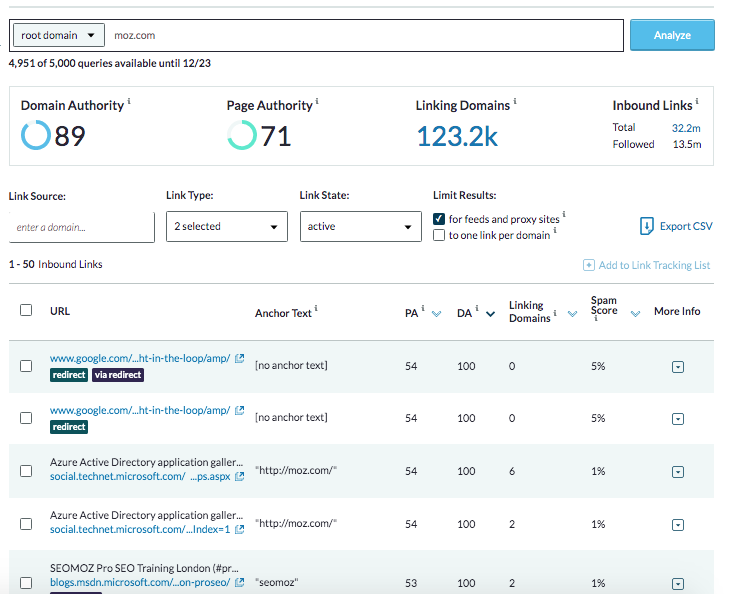 Start with the high DA sites first (if you're using Moz) and work your way down the list. A link from a domain with high authority will provide the most benefit to your site if it is relevant and the site is healthy.
Publish a press release
The linkerati is a term coined by Rand Fishkin for those that are most likely to link to your content. They are essentially the "amplifiers" who will, as the term suggests, amplify your content. You can get your content in front of a large audience of linkerati by issuing a press release.
Your content needs to be news worthy to get enough traction with the linkerati. This means it needs to be worth writing about, not just a boring company update that no one cares about.
Although you don't get any followed links from the press release itself, some journalists and websites will syndicate your story or rewrite it. This will often result in followed links to your website from several high-authority websites for every press release.
Charity link building
Donating to a charity can land you some great links on high authority websites. As a sponsor/donor, your donation gets you on the list of sponsors with a link to your website.
Keep in mind this tactic has been ousted by Google as way to manipulate ranking through link building, and therefore should not be done in excess. In fact, you should limit the links you have from charities to a very select few websites that have high authority in order to make it worth the effort.
Qualify whether the link prospect is a viable candidate by noting the page authority you link would go on as well the number of existing outbound links on the page. If there are too many links to too many low quality websites, the links from the page may be devalued and in an extreme case, cause more harm than good to your ranking. Choose a charity with fewer than 15 outbound links on the page to make sure your links aren't categorized as spam.
Resource page link building
The backlinking tactic involves finding companies and websites that have published a page where they link to recommended resources and websites. As one of the most popular methods of backlinking tactics used by small business owners, you need to tread cautiously when you're prospecting your links.
Beware the ever-popular "link exchange." Many business owners who offer resource pages are also aware of the value of links. As a result, they ask for a link from everyone who gets listed on their resource page. A few exchanges won't hurt your site, but if every link you acquire is a reciprocal link (you link back) those links will be devalued for unnatural link building.
Find link prospects that are using resource pages as a legitimate resource for their visitors. This way you can offer your content asset as a legitimate resource they'll link to.
Avoid pages with too many unrelated outbound links. You won't get any value from a link that originates on a spammy page. Choose resource pages that are groomed, procured and the owner qualifies the resources they link to as bonified resource links.
Scholarship link building
You may have heard that this method of link building died a long time ago. Then again, people say guest posting is dead too and yet, it remains the most popular of all backlinking tactics. If you're offering a legitimate scholarship with a theme that compliments your content, a link from a university could be an excellent addition to boost your authority.
A perfect example of a high-quality scholarship link building campaign would be a law firm that offers to pay for a chunk of tuition for a law school student. The offer gets posted on the law school website and links back to the law firm's website. The links are highly contextual and from a trusted, high authority website.
This type of strategy is perfect to combine with a press release since other local websites would love to pick up the story.
Scholarship link building done in excess no longer works, but when it's done with the right prospects, it results in valuable links that add to the ranking ability of your website.
Citations and directory link building
Local link building plays a vital role in a local SEO strategy for business websites to establish and confirm NAP details, mainly through citations and directory link building. They can also influence more appearances in localized search results. Directory submissions are essential in providing a link foundation necessary to promote higher local rankings and can also act as a substantial source of referral traffic.
For example, in Canada, Yellow Pages plays a vital role in establishing a new local business website. Once your company is listed in Yellow Pages the information is syndicated across many other local websites.
This image was created in 2018, so things have changed a bit, however it gives you an idea of the way information is distributed and syndicated by public information websites in Canada.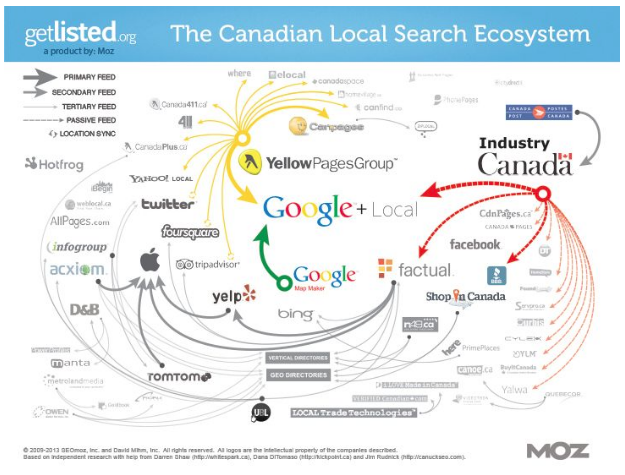 Sponsor or host events
As a sponsor or host of an event, you can acquire some quality backlinks from hosting websites as well as local links from promoting local events.
Websites like Meetup, allow you to create your own group and hold events for anyone interested in attending.
You can also look through existing events and offer to sponsor a meeting in exchange for a link to your website. The details would need to be negotiated with the host, but for the most part, local events incur the cost of the venue and any refreshments that might be offered.
Crowdfunding link building
There are a number of crowdfunding websites that offer link building opportunities. Many of these sites won't have a lot of domain authority, but you can still find some great links on websites that are getting a lot of traffic.
What's more, is that if these websites end up receiving the funding they're looking for they have the potential to explode with authority. Of course, there's a great deal of speculation that goes into choosing the websites that are right for yours, but you can eliminate the risk by choosing sites that match up well with your content.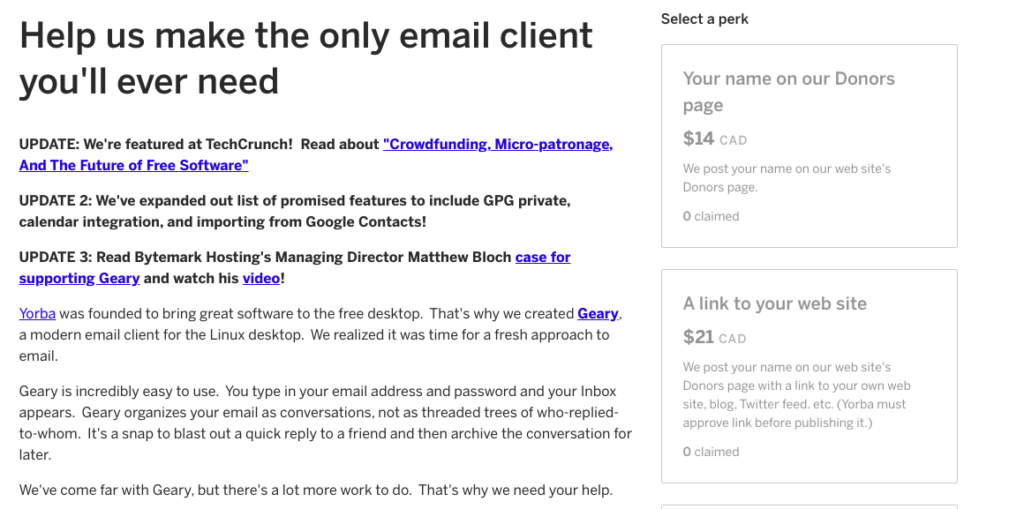 There are offers that will allow you to donate an amount of your choice for a link to your site. Some will require a minimum donation. In either case, make sure you've selected a website that's contextually related and relevant to your own.
Paid links
I know, I know… Tsk, tsk right? Paid links are somewhat painted in a light where they are thought of as bad practice, but the truth is there are links you would absolutely pay to have.
First off, the ONLY reason paid links will sabotage your site is if they're not marked as sponsored or nofollow and the linking site is identified as offering links for money. Apart from the aspect of rank manipulation, there are plenty of websites where you can use paid links to your advantage.
Wouldn't you pay for a nofollow link on a site that sends you an amazing amount of targeted traffic that has a high chance of converting to clients?
If you've found a place where your potential clients are spending time, it doesn't matter whether the link improves your domain authority because it sends you potential clients!
What makes a quality backlink?
Ideally you want to find backlinks that have a high domain authority. Moz uses this metric as way of measuring the quality of the backlinks that at website has acquired. Ahrefs uses domain rating as their metric. This isn't the only thing you need to consider.
Look at the content that's linking to the page. Is there a relationship between the two pieces of content? You'll get the most impact from a backlink when it's an editorial backlink (link within the body of an article) and that link has strong contextual relationship with the content it's linking.
Your next quality assessment is to see the volume of traffic that a website has flowing through it. You want links from websites that have organic traffic from keywords that are related to your business.
The best types of links will send visitors to your site that will engage with your content and be interested in what you have to offer.
Relevance
The relevance linked content has to the linking content is the number one factor for contributing value. When exploring link opportunities, an identifiable relationship between the two pages is required to demonstrate relevance. Does the site offer a quality referral based on the content that would be linking to yours? Is the site in the same industry or an appropriate vertical that has the authority to make a quality referral?
Health
The second factor to establish is whether the site is healthy. There should be a healthy volume of traffic that is flowing through the site to indicate good search visibility.
If the site is ranking for multiple keywords it indicates that it is providing value to its audience. This also indicates a link from that site will send traffic to benefit your site with like-minded visitors who have an interest in the content you're providing.
Authority
Lastly, the metrics the site possesses can impact your site. If it is an established authority in your niche and has a high domain authority (or domain rating or trust flow) there will be authority passed on to your domain. With all other things being equal, a link from a high authority domain will improve your site's ability to rank more than that of a low authority domain.
Links should be viewed as referrals
One of the defining components of Google's algorithm is the strength of a website's backlink profile. A strong analogy to this is that links are supposed to serve as referrals from other websites. The whole concept of a link is to share the content of another website because it will enhance the user's experience, which credits the site being linked.
From this perspective, it's easy to see how the relationship between two pages plays a major role in determining the quality of a link. If a website operates within the same niche to yours they are most likely publishing similar content, which increases the likelihood of a link from this site being relevant.
After the hummingbird update and every update since Google's ability to determine the meaning of content has become incredibly accurate and has changed link building forever. The relationship between the two pages is an extremely important part of establishing what determines a quality link. Without a contextual connection, links are meaningless and can even be harmful.
PageRank vs. authority
PageRank is a value that Google assigns to pages that represent the ability to rank. Since Google stopped publishing PageRank we have relied on third-party tools to help assign values based on the link attributes of the page.
Domain authority is a widely accepted term used by Moz that is used to measure the number of linking domains and their quality. In addition to Moz, Ahrefs and Majestic provide popular ways of measuring the ranking attributes of domains, which we commonly refer to as "authority".
This indicates that no one tool can properly assess what Google uses to determine PageRank and should only be used as a clue in determining the value of a link. Although many people heavily rely on these tools to discover link opportunities, none of these tools represent what Google uses as PageRank. Each tool is merely a measure of how each company has defined the ranking ability a domain possesses.
Responsible linking is an asset to your success
Backlinks are a crucial aspect of creating search visibility for every website. Quality trumps quantity every time making link building as much an art as it is a science. Finding ways for websites to link to you with creative, outside the box thinking can lead to acquiring high-quality links.
Always keep in mind that a large part of link building is public relations. Build relationships with those who will help you the most in your efforts and reciprocate where it's needed to maintain a mutually beneficial relationship.
Choose the link building strategies that best suits your website
At the end of the day, you need to choose the methods of link building that will get the type of links that mirror the backlink profiles of top-ranking websites.
If you're a local business and try to build all of your links with guest posts, you won't rank with the top local business sites. Top local business sites might have a healthy mix of guest posts but the most natural links for a local business will be directory links, review site links and local website links.
Make sure your linking strategy matches the type of website you own.
Keep in mind that every type of link building strategy has the potential to work against you. You'll need to create links that make sense to users, which in turn makes sense for search engines as well. Create a link building strategy that's natural to ensure you won't be penalized for unnatural links.
Although building links has become highly scrutinized it still remains one of the top-ranking factors that search engines use to determine a website's rank. In order to outrank your competition, use a blend of these proven backlinking strategies for 2020 and beyond.
The quality of your links outweighs the quantity so link responsibly to promote long-lasting success and increased search visibility.
For the best SEO Toronto offers, call us for a consultation. Please share this article with your social netowrk!
Related reading: