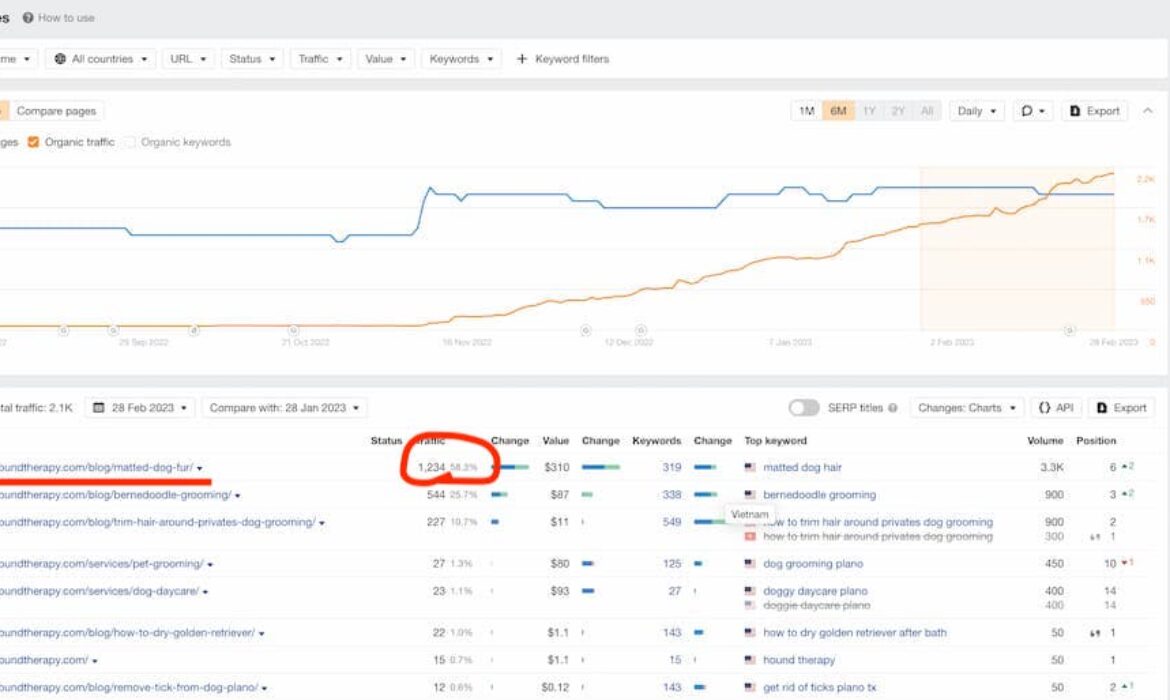 If your focus is on the future growth of your business, you probably want to know how to generate more leads in the shortest period of time. Why not take advantage of one of your most powerful marketing tools-your website?
Most business owners aren't aware of the options that exist for increasing the number of leads your website generates. This article is going to reveal a few of the key tactics you can set into motion in order to capitalize on greater streams of revenue.
Rank higher for keywords that convert
It sounds simple right? If it were that simple, we would all be neighbours on luxury yachts in Monaco at some point. The truth is that the closer your page is to the number one position, the more clicks it regularly receives.
Find the pages that are already driving traffic. You can use a tool like Ahrefs to pull up your best-performing pages and see which terms are driving the most traffic.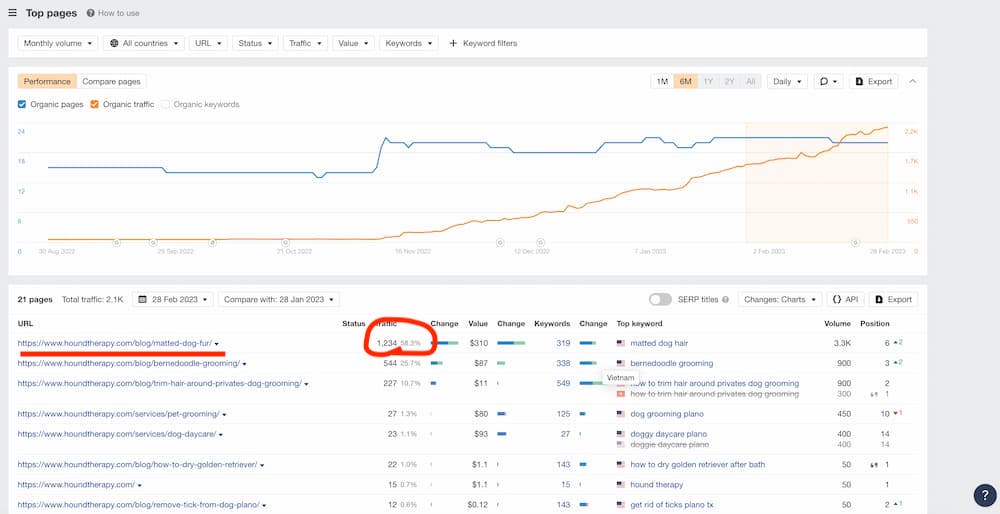 Alternatively, you can also consult one of the most powerful online tools you can get for free. Google Analytics to see the traffic that every page on your site is receiving. Click on Behaviour, Site Content, and All Pages.

Now you have a report on what pages are already performing for your website. The reason this is important is that some of the biggest gains you can make in your traffic generation are moving your website up for a keyword that already ranks on the first page of search results.
That means that the amount of traffic that you receive from moving your page anywhere from #5-10 into the top 5 spots will result in a huge jump in traffic. Here is a study performed on the traffic/click-through rate of the top 10 spots on the first page of search results.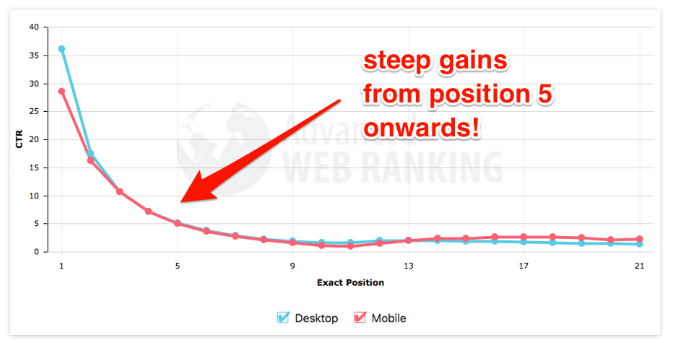 The best part of this strategy is that you may relatively quick results without as much work as ranking a new page to the top of Google.
Like most things in SEO, it depends on many different variables. If the competition is extremely tough it will take more effort to move the needle, but you can look for opportunities where your page could improve its optimization, backlink profile or update its content to break through to a higher ranking.
Pay attention to the pages that are also ranking in positions 11-20. They also are within striking distance and are considered prime traffic opportunities. Generate more traffic and leads with existing content rather than ranking brand new pages to the top of the SERP.
Related reading: How To Grow Your Business & Save Time With Automation
Build an email list
An email list is a valuable asset to have as a website owner. It doesn't matter the type of industry in which you compete, you gain valuable data as well as generate more leads from your website.
A major benefit to owning an email list is that you control a small percentage of traffic that flows to your website.
Drive traffic at the click of a button
Assume you've put in the time to collect a formidable list of email addresses consisting of an engaged audience. One-click of a button can send hundreds, if not thousands, of visitors to your website to check out new content, read about a product promotion or let them know about a sale.
This gives you the power to rely less on Google and other channels for traffic and sales. Even if your rankings went down the tube on Google, you would have a means for driving traffic and generating more leads from your website.
Guide your audience through your marketing funnel
An email list is one of the oldest methods of online marketing and still remains one of the most effective. With a good strategy, you can generate repeat sales and guide new visitors through your marketing funnel.
Generate original data and accurate research
An email list is also an excellent source for generating original data. You can send your list surveys periodically and ask questions that allow you to learn more about what they like and dislike.
With fresh accurate data about your audience, you can send them more content that's built around what they like to read and what will get them to click through to your website.
Keep in mind that the average email survey response rate is 30% when you're calculating the ideal survey sample size.
Highest ROI in online marketing
Throw in the fact that an email list provides one of the highest returns on your investment in the industry. An average email list generates $38 of revenue for every $1 spent. That's an incredible 3800% ROI!
If you want to generate more leads from your website, you need to consider building your email list.
Use lead magnets
One of the most popular ways to get people to join your email list is to use lead magnets. A lead magnet is an opt-in box that offers upgraded content in exchange for the visitor's name and email address.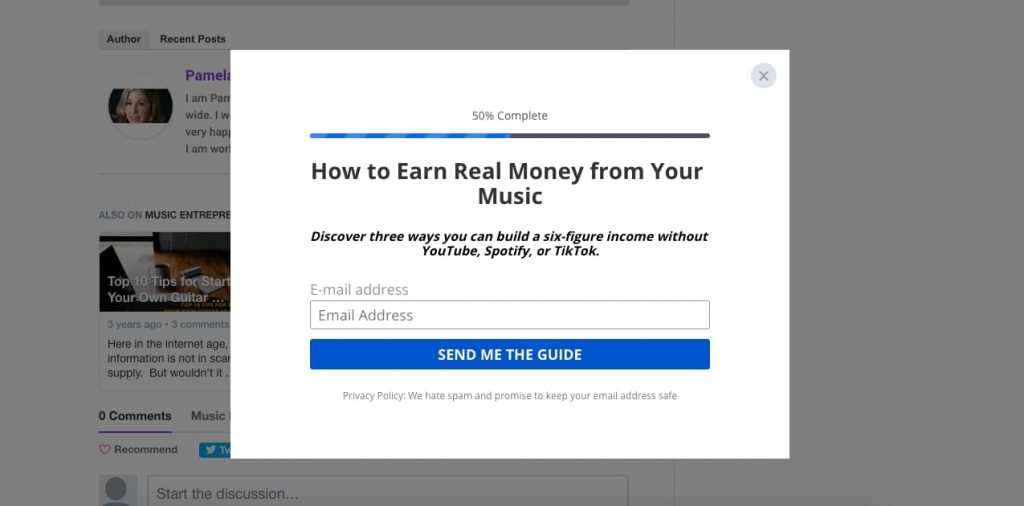 It's important to learn what type of lead magnets work best for the type of audience you have visiting your website. For example, offering a template or an instructional guide will work when visitors are landing on your site for informational content. This is common in the B2B industry.
If you have a retail website that is mostly B2C sales, then offering discounts or coupons may be a more effective barter arrangement for the visitors landing on your site.
It's impossible to know what will work best for your audience without trying different methods. The popover exit box seems to be one of the most effective methods for most websites.
Google warns about using popovers without an exit as they undermine the user experience. Make sure users can easily opt out of the offer being extended to them via popover.
Publish audience-centric content
If you consider what brings people back to websites, it always comes down to having really good content. Even if it's the products or services that are in demand, there's always good content that's published to represent those offerings. Publish audience-centric content for the highest return rates and conversions and generate more leads from your website.
Create your content from a topical perspective to address the most important needs of your audience. The triggers that have the most impact are the pain points that create the need for a solution.
Break down your major keyword topics into smaller, focused articles that address the problems your clients are experiencing and offer a solution to the problem. If you can show someone how to overcome an issue that would make their life better, it builds trust and confidence in your brand.
Storytelling is another way to create content that your audience can relate to and enjoy. Use success stories of current clients where your company's solutions have been able to make a difference. When people can relate and see how your company is able to help, it's much easier to support your brand.
Publish long-form evergreen content assets
Publish in-depth, long-form content on evergreen topics. An evergreen topic is one that stays relevant far into the foreseeable future. By publishing a long-form content asset, you create the opportunity to rank for multiple keywords and drive more traffic which ultimately converts to more leads.

Evergreen topics can consist of a number of different content types such as interviews, question and answers, expert roundups, ultimate guides, case studies, infographics and original research.
When you publish a long-form article on an evergreen topic, it becomes a content asset because it acquires more backlinks and drives more traffic over time than a regular blog post. Evergreen content is topics that stay relevant so if you provide a high-quality resource, people will return to it, share it with others and continue to drive traffic and generate leads on a higher level than your typical blog post.
Include Call-To-Actions on every page
People need to be told what to do. Even though it may seem obvious to you, it's not always obvious to a user on your website what they should do after reading a page. Include a call to action on every page of your site in order to gently urge users closer to making a conversion.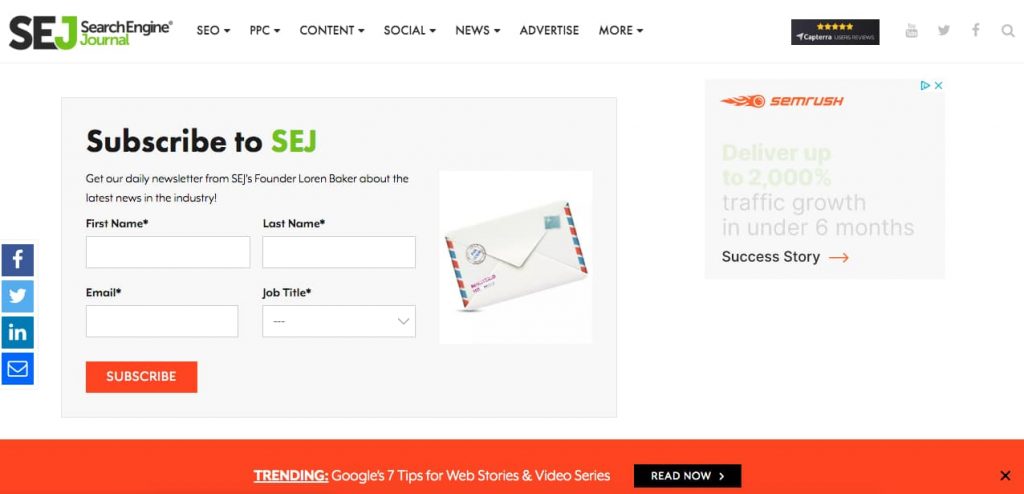 It's a simple addition you can make to every page on your site, but it can make a huge difference in moving visitors further along your marketing funnel.
Whether it's asking for them to share a page on their social network, filling out a form or making a phone call, ask your visitors to do what you want them to do.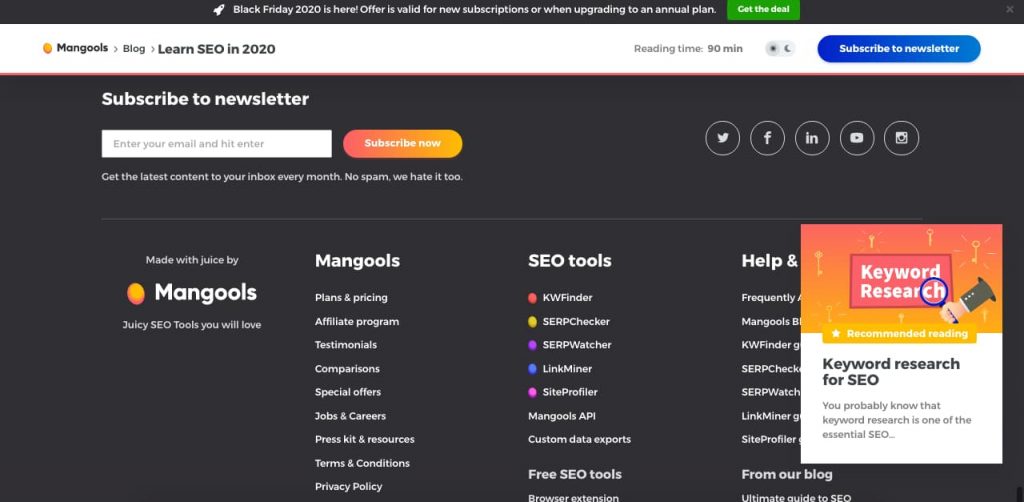 Include a method of contact on every page of your website
Another simple tip to generate more leads to your website and yet many websites fail in this department. Include a contact form or a phone number on every page to get in touch with your company. You don't want there to be any reason a visitor is not able to contact you, and what's more, is that you want to gently urge them to do so by having a method of contact available on every page of your website.
Establish your key performance indicators
It's difficult to have an accurate idea of how your website performs without tracking your performance with a tool. At the very least you need to install Google Analytics to generate reports on how your website is responding to campaigns and changes you're making to improve your lead generation.
Increase in dwell time
Track the pages that are most popular on your site. It's important to know how much time users are spending on each page and whether that time extends after you've made adjustments.
Reduce bounce rates
Track the bounce rate of your pages. If people are backing out quickly, you should try adding different content or more internal links to guide them to more related content.
Track conversions
Create goals to track the number of conversions you make on each page. Your goals can consist of clicking a call button, landing on a contact page, filling out a contact form or making a purchase on your website.
Track every increase or decrease in conversions as direct indications of how well you're adapting to the demand of your audience. When something works well, you can scale up your effort in that department.
When something doesn't work, you can eliminate those tactics from your lead generation strategy.
It's difficult to move forward without knowing exactly where you stand. There are dozens of tools to help guide your website to improved performance. Make sure you've established which KPIs will give you the most clarity for making decisions to improve your leads.
Drive more targeted leads to your business
Learn how to generate more leads from your website by implementing and testing as many tactics that are appropriate for your audience. There is no one way that is guaranteed to lead you to the ultimate conversion rate. However, you can identify what tactics leads to the ultimate conversion rates through split testing, tracking and adapting to what your audience needs and wants.
When something works, scale up your efforts. When it doesn't work, make sure you know why and then eliminate the tactic as part of your strategy.
Be sure to stay consistent with your efforts and track your results. Click here to read how to drive more traffic to your site using 33 different tactics.
If you don't have time to put these practices into effect, get in touch with us and we'll create a lead-generating strategy that makes sense for your business.