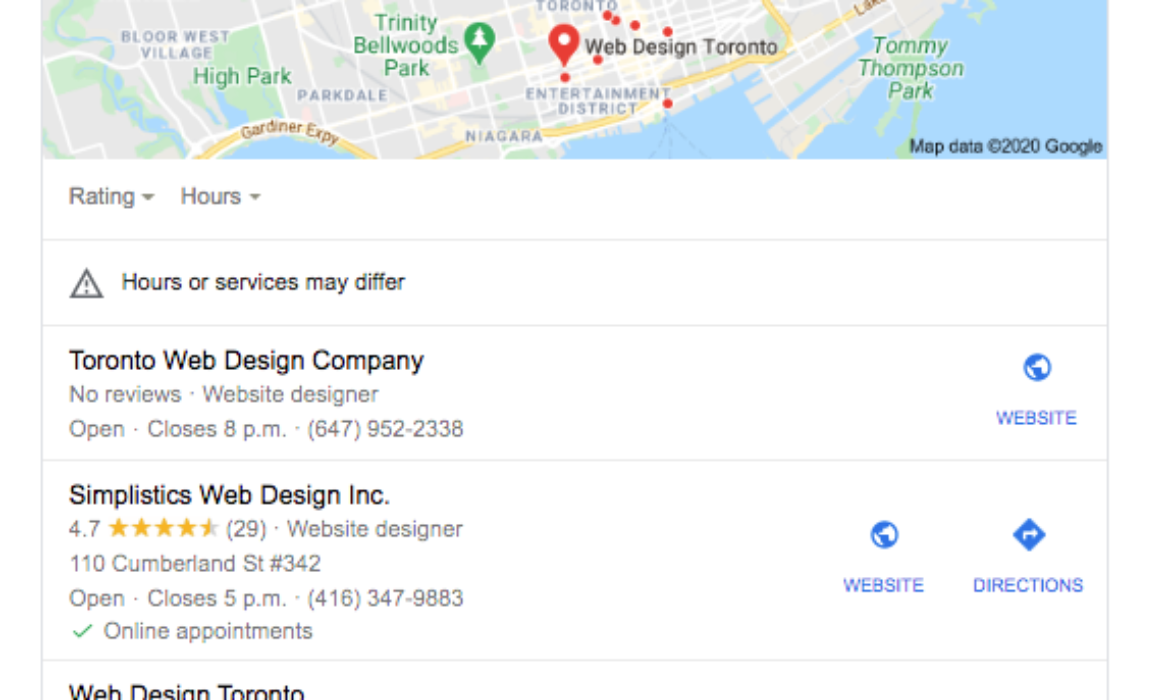 Oct 23, 2023 @ 7:26 am
Want to know how to make your website appear first on Google? It's simple once you understand the basics of SEO and put in the work. With the right SEO strategy, you can get your site to the top of the search engines for multiple keywords that are important for your business.
To go straight to the top of the search results you need to consider what keywords you're targeting and the competition that's pursuing those very same search terms. It's very difficult to take a brand new site straight to the top of the rankings for a highly competitive term.
Choose the right audience
Choosing a keyword is as simple as describing your business. You can get pretty accurate with your keyword selection by simply explaining what your company offers in a way that people type when searching online. To find visitors that are a perfect match for your business, create the perfect buyer persona.
Creating a buyer persona is an exercise that will help you meet the needs of your client on a more personal level. When you go through this exercise the age, occupation, sex, marital status and many personal defining attributes are established. This brings you to a closer understanding of how this person thinks, what's most important to them and how you can relate to them on a much deeper level than simply describing your product. Knowing your audience is one of the first steps in creating great content because the language you use is more focused and appropriate in communicating your message.
By establishing who your audience is, the subtopics you choose will be tailored to the issues unique to their current life situations. This makes the content you create more relevant to your readers and contributes to optimization for your main keyword topic.
Assess the competition
One of the major ranking factors that you need to consider is the backlinks and authority your competition possesses. If you type in an extremely competitive keyword such as, learn SEO, you'll see the first three results are websites that have been around for years and each has thousands of backlinks pointing to its page.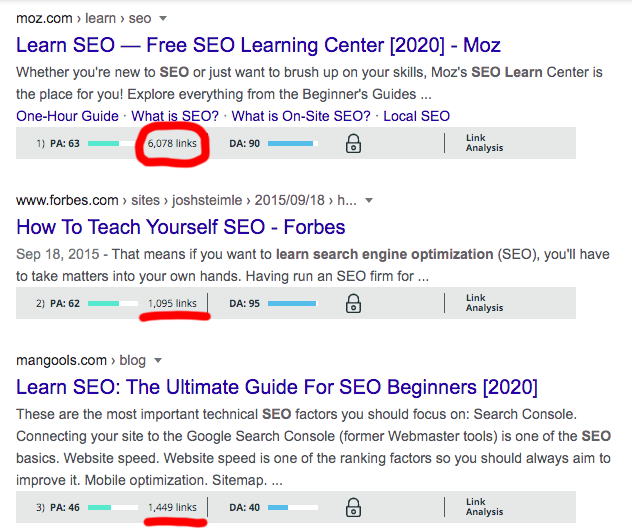 These domains are also considered high-authority domains and major influencers in the SEO industry. It would take quite some time to build up enough authority to be able to beat these websites for a competitive keyword like this. This doesn't mean you abandon this term completely, however, you'll need to be more strategic with how you choose your keywords.
Eliminate tough competition with focused keywords
Reduce the strength of your competition by using long-tail keywords to get more specific with the audience and traffic you're targeting. For example, you can turn the keyword "learn SEO" into a long-tail keyword such as "learn search engine optimization from scratch" to loosen up the competition.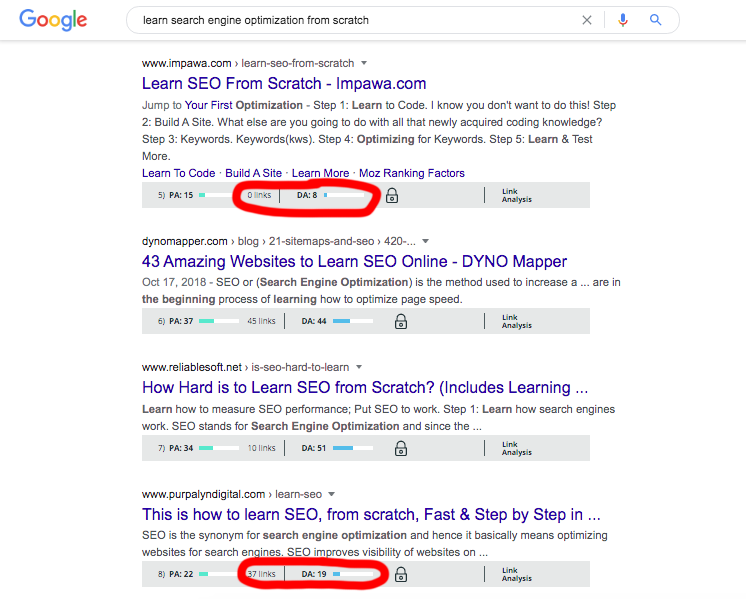 As you can see from the search result in the image above, there are a few positions on the SERP that are held by much lower authority websites. In addition, the average number of backlinks has dropped dramatically.
Long-tail keywords make up about 70% of the total searches made on Google. The advance in Google's ability to understand intent has improved dramatically allowing search phrases to be longer and more conversational. This creates infinite opportunities to optimize for a phrase that will be specific enough to drive traffic that's a match to your business.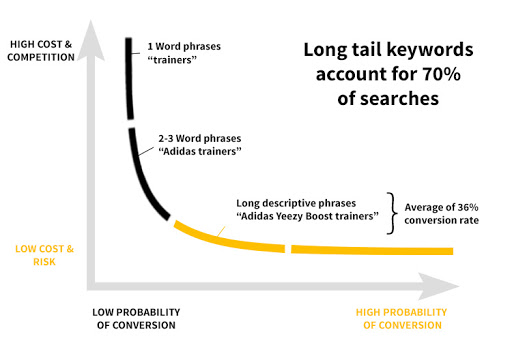 Longer search terms tend to convert at a higher rate because they are a better match to your content. The more specific you are with the phrase you've optimized for, the more specific the intent is of the visitors who land on your site.
A clear example of this is if you sold extreme temperature winter boots for men.
Consider who is searching for term winter boots.
If you optimized for "winter boots" you wouldn't be getting a perfect match for your product because your product would only appeal to a small percentage of the total traffic searching "winter boots."
Women would make up a huge percentage of the traffic and would immediately leave your site since you only sell men's boots.
By using more qualifying terms to describe your product you can make your site more visible to those who are actually looking for what you're selling.
Publish shareable content
When the first page of Google is the goal, shareable content will help propel your site to the top by getting more people on your page and giving your content a higher chance of being linked to by other sites. The number of referring domains linked to your page boosts your ranking and although social shares are not a direct ranking factor they give your page a larger audience and a better chance of being linked to by more websites.
Publishing shareable content means creating pages people enjoy reading as well as find value in what is offered. Great content means it is highly relevant to its audience. If you've done a thorough job on your keyword research, you should have been able to come up with a few issues or problems that are common to your target audience. By offering the solution to these problems the value of your content increases as well as its shareability.
Post your content to your social media networks to get as much traffic as possible on your site. Use a call to action and ask people to share your content. Social sharing plugins will make it easier for people to pass your page along through their network.
Outperform competing pages
To outperform competing pages, you need to look at the top ten results for your specific keyword. Take note of the article length, type of media used, the topics covered and the links they've acquired to beat them in every way imagineable.
Google tends to prefer longer articles
Article length isn't a direct ranking factor but it does affect the length of time a visitor spends on your page. It also is an idication of the depth a specific page offers for a specific search query. I fyou look at the average length of the top 10 results on Google you'll notice that the average length of a top-ranknig page is above 2000 words.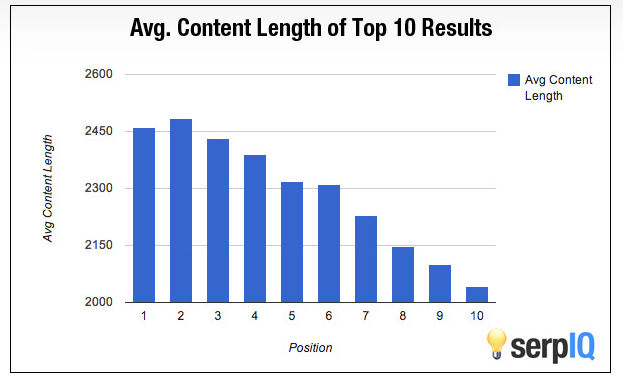 To outperform a page make your article longer by including more details and subtopics that would improve the user experience. Avoid "writing for search engines" as it can be easy to get caught up with ranking and miss the mark entirely in publishing a better performing page.
Use multimedia to enhance user experience
Video improves dwell time and is the preferred choice in learning about a topic by most users. Include a video at the top of your page to immediately engage your visitors. Combine video with other forms of media to create deeper levels of understanding while increasing your reader's level of engagement.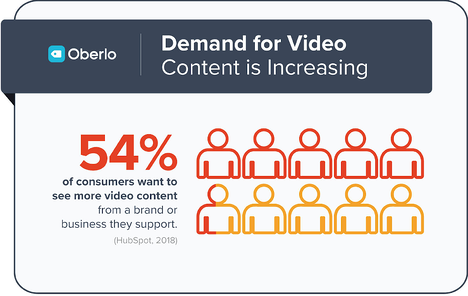 Increase CTR with better headlines and meta descriptions
The click-through rate your page has will affect your first-page ranking. You can improve your click-through rate by creating headlines that grab the attention of your audience. Use established headline strategies to improve the percentage of clicks your page gets in the search results.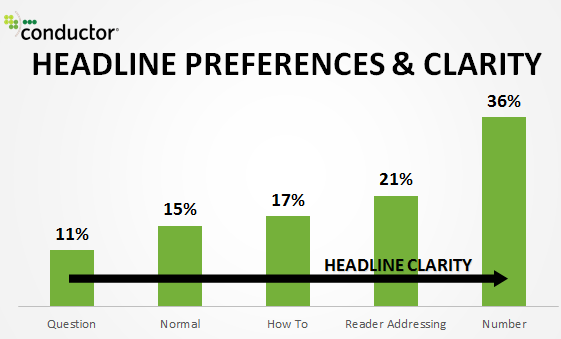 Your meta description also plays a role in determining your click-through rate. Write a convincing description of what's in store for a potential reader should they click on your site. This is the sneak preview so make the 160 characters work to entice your audience.
Here's an example of a very well written meta description that encourages the click with a call-to-action.

Cut the competition using paid ads
You have to consider this option if you're in a position to benefit from the traffic from a high-converting keyword. For the more competitive terms that you can't rank for in the short term, you can get on the first page of Google by using Google Ads.
If you have products that sell and you just need to get it in front of more eyes, a PPC campaign is an option that will make you money by instantly increasing your search visibility for highly competitive terms.
Identify search intent before paying for traffic
When choosing the terms that you're going to pay for the traffic, you need to consider what the true intent is of the keyword. It would be a waste of time to select a keyword that you pay for and yet no one that lands on your site converts into a client.
Confirm intent by checking the organic results
The first indication of search intent is to see what Google has ranked in the organic positions for the search term in question. The search results can give you the best idea of what people are looking for when they type your keyword in a search.
Compare cost-per-click
The CPC of a keyword is also an indication of whether other websites are making money from that keyword. In most cases, the more publishers are willing to pay for one click, the more valuable the keyword.
There are search terms whose CPC can be misleading, so make sure you use this as an indicator and not the sole reason for pursuing a search term.
Optimize for a SERP feature
The search engine result page is a dynamic landscape that is constantly changing according to search intent. You can take advantage of some of the features that appear on the SERP to enhance your search visibility and appear on the first page of Google.
Featured snippet
In order to appear in this feature, your page needs to be the best answer to a query. The featured snippet is where to make your website appear first on Google because it's the first thing a user will see in a search result.
Here are few tips to qualify for this feature:
Your website needs to already be on the first page.
Target long-tail keywords
Use h-tags for all of your headings
To win the position, take note of what the current snippet holder has done to achieve this top position and duplicate the optimization.
For example, in this featured snippet, it was awarded to a site that featured a video. In order to compete for this spot, you would need to match the result with a video.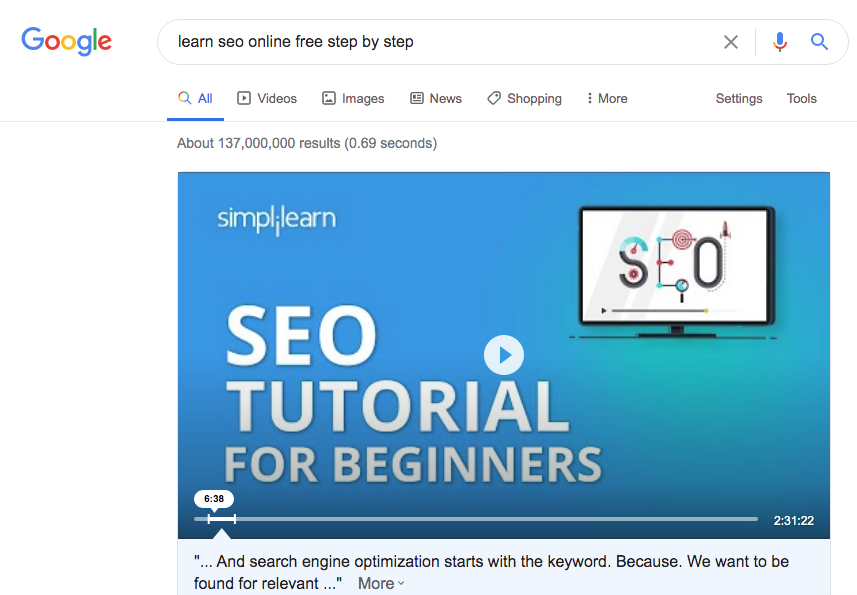 People also ask box
When this feature became more common many SEOs were able to capture this position by creating FAQ pages. Publish a Frequently Asked Questions Page to give your website as many opportunities as possible to win a position in the PAA box.
The winning combination for optimization is to tag your questions and provide short succinct answers that range from 40-60 words immediately after the question.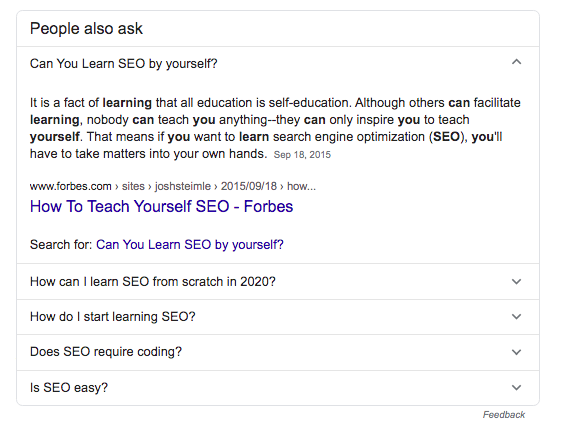 Local Pack
If a local pack is triggered by searching your target keyword, consider optimizing for local searches. Geo modifiers can cut out a large chunk of competition and get your site featured in the local pack.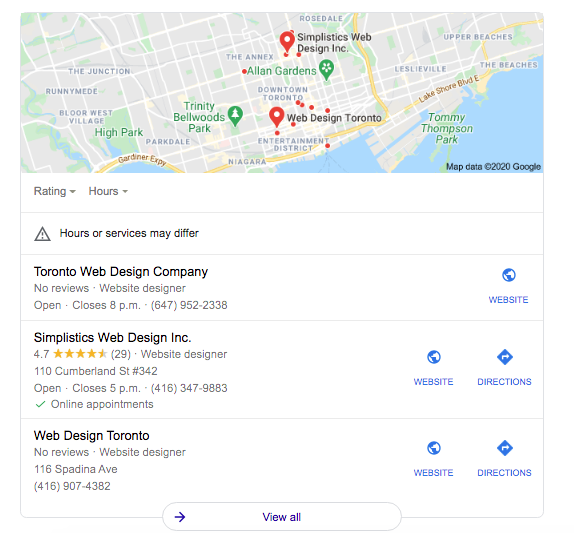 For people who are looking for a business that's close to them, this is the perfect solution for high-converting traffic. Make sure you add as much information as possible to your Google My Business profile and publish local content on your website.
Get your site to the first page of the search results
It's not always the most obvious solution, but there are many different ways you can get your website to the first page of Google. Search engine optimization is simply finding the best way to get your site in front of people looking for what you offer.
Define a keyword strategy that makes sense for your website. If you're a newly developing site, you may need to consider the options that cut the industry influencers and major competitors out of the equation.
Assess the SERP and the options you have available to make your website appear first on Google. There are plenty of ways to get your website in front of an audience that will engage in your content if you're looking in the right places to drive traffic.
The final destination for great content is naturally on the first page of search results. In order to get your website on the map for what your company offers, produce content that helps users find what they need. Know who your ideal audience is and publish hyper-focused content specifically tailored to provide value in their lives to generate traffic that is the best match for your business.