Following a few good headline strategies can completely change the appeal of your content. Your headline is the most important component of your article. The success of your article hinges upon having an interesting headline that makes people want to know more.
Making a headline that captures the attention of readers involves creativity but there's definitely a science behind it that can be used to make winners each and every time. Start with a working title and make a list of at least 10-20 headlines in order to choose the best one from the bunch. Incorporate as many of the strategies below to boost your click-through rate and drive more traffic to your website.
#1-Place point-value at the front
Describe the value your article is offering the reader at the beginning of the headline. In a study conducted by Dr. Flint McGlaughlin, Managing Director, MECLABS studies 10 headlines to prove that adding the value points at the beginning of the headlines doubled the conversions of those that carried the value points towards the end.
#2-Use numbers
Conductor performed a study that proved the use of numbers in your title will increase CTR by 36% as opposed to without. In an article published on Buffer, Courtney Siter explains "Numbers work well in headlines because humans like predictability and dislike uncertainty."
She backs this psychological tendency up with a study from Columbia University on "The psychology of waiting in line" that shows how people deal with expectations. When people know what to expect they are able to manage time differently-such as being in a waiting room waiting for their doctor. If they are told exactly how long the doctor will be they handle their expectations differently.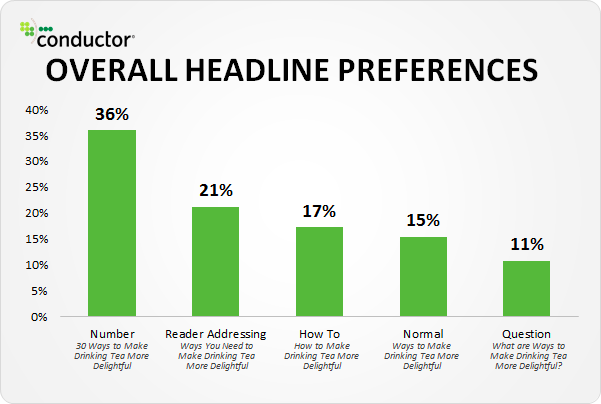 #3-Use the word "who"
The use of the word "who" increases CTR by 22% according to a study done by Hubspot and Outbrain. Rather than focus on the "why" people prefer to focus on the "who."
#4-Use your keyword in your title
Although there was a small relationship proven, it still stands to reason that using a keyword in your title benefits your ranking. Ahrefs concluded that there was a 0.049% correlation between using your title and 26% of websites that included the keyword in the title were also in the first position in a Google search result.
Position your keywords in front of your title to make sure they are the first thing the reader reads. The first three words are the most important in your headline and if your title is cut off in the search results you want to make the highest impact when appealing to the readers' interest.
#5- Use power words
Use power words in your title. According to Optinmonster, the use of power words can increase your conversions by 12.7 % Keep in mind that negative superlatives get 50% more clicks than positive superlatives.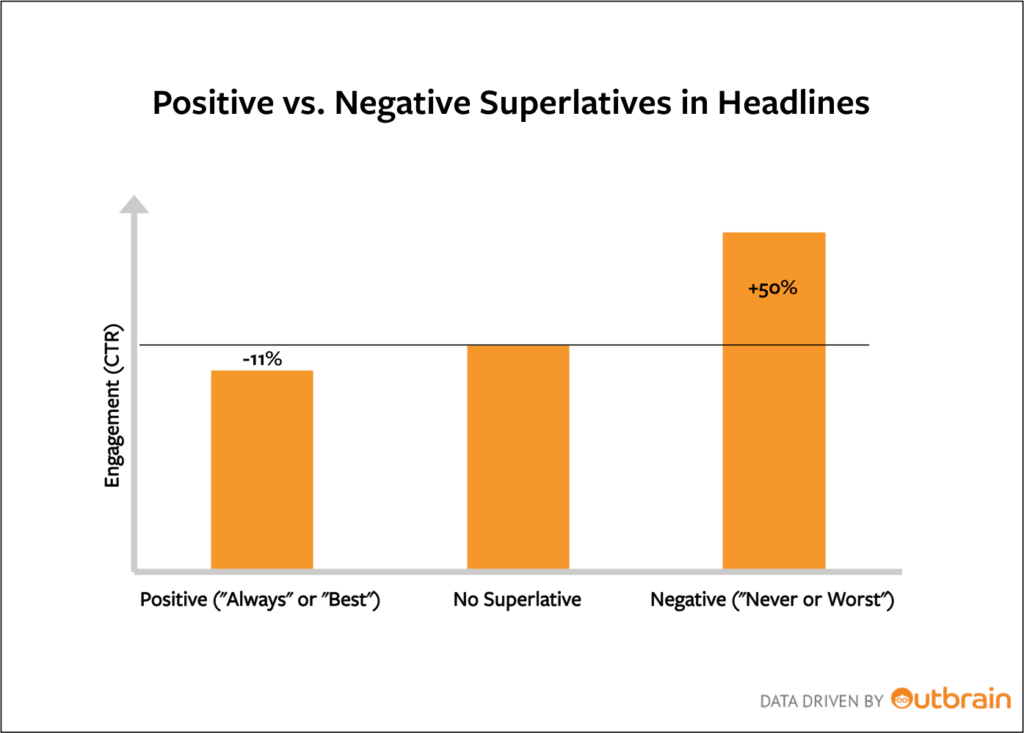 #6-Accurately describe what your readers are getting
Be descriptive with what the reader is getting or in other words provide more clarity to improve CTR. Dan and Chip Heath are two brothers who wrote a book  Made to Stick: Why Some Ideas Survive and Others Die detailing 6 principles of which the third principle named was the idea that when something is concrete, it brings to mind a strong visual.
#7-Use top performing numbers in your listicles
Odd-numbered listicle headlines outperform even ones by 20% (Source: CMI) and yet the number 10 has the most engagement in Facebook headlines. Buzzsumo conducted a study and found that the number 10 in a headline was the most popular number in article engagement.
#8-Use brackets
Brackets add clarity and give the reader a summary of what the article is about. People are drawn to brackets because they represent "reading between the lines" and are perceived to be more straightforward with communicating the contents of an article. Hubspot's study of over 3 million websites concluded that using brackets in your title improve click-through rate by 38%.
#9-Optimize the length of your headline
Headlines with (14-17 words in length) get 76.7% more social shares than short headlines. Use less than 70 characters so your title doesn't get cut off and it can be retweeted.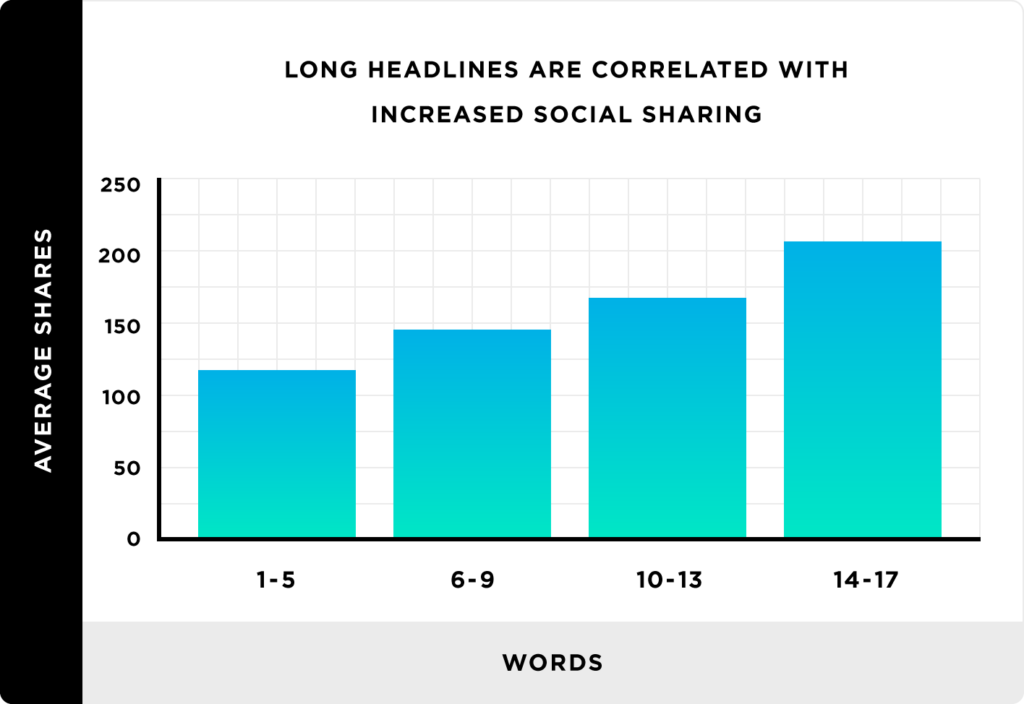 #10-Appeal to an emotion
People are moved by emotions and will respond with more energy when you can trigger an emotional response. The shock and awe effect creates curiosity, amazement, surprise and intrigue. Being original will earn you the extra clicks and increase your click-through rate. When you can surprise a reader your words make a greater impact on their intrigue.
Related reading: What Are The Benefits Of SEO For A Small Business?
Interesting statistics
In June 2019, Digital Ducats conducted a survey consisting of 384 blog posts on 29 top SEO blogs. The following statistics represent blog posts on the first page of the website:
20.37% of the total blog posts used numbers within their title
19.31% of blogs had numbers posted within their first 5 blog posts
13.93% of blog posts used brackets in their headline
Data was pulled from the following sites:
Backlinko
Ahrefs
Moz
Search Engine Watch
Hobo‐web
SEMRush
Matthew Woodward
Search Engine Land
Search Engine Journal
Yoast
Cognitive SEO
GotchSEO
Builtvisible
Lion Zeal
Distilled
SEO by the Sea
SEER Interactive
Search Engine Roundtable
Kaiser the Sage
I'm From The Future
Marie Haynes
Buzzstream
Diggity Marketing
Evolving SEO
Web Marketing School
Dejan SEO
Greenlane Marketing
Robbie Richards
Merj