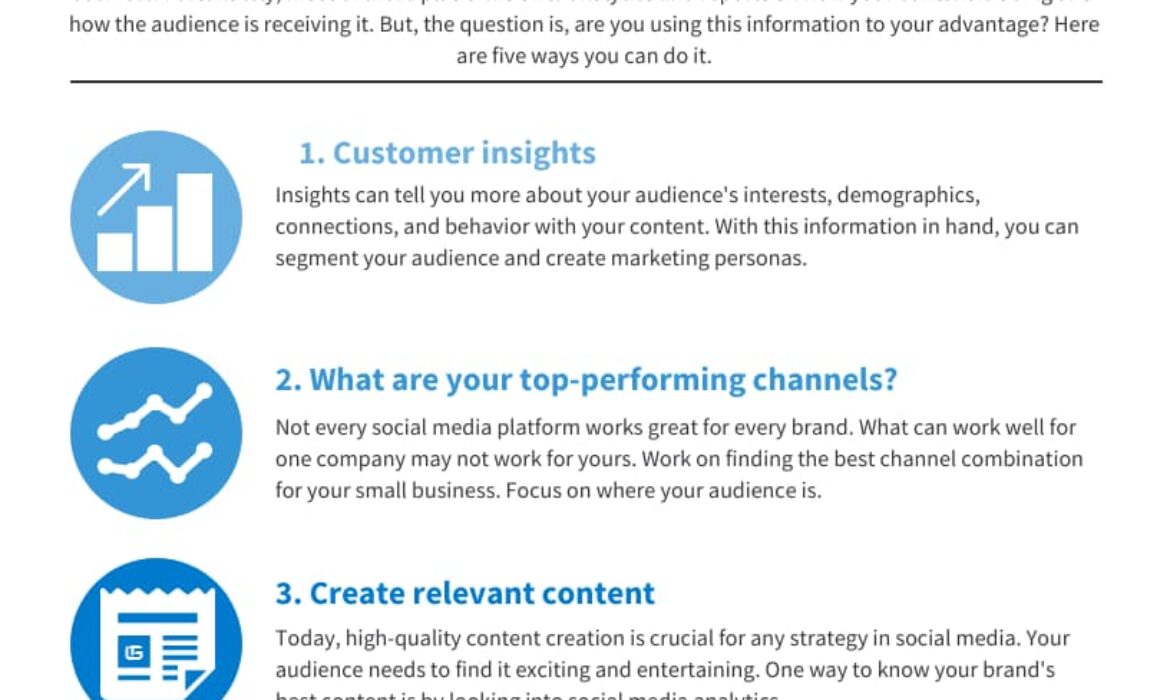 Today, social media has evolved into a powerful tool to help you reach your target audience and grow your small business. For this reason, if you want to take this seriously, you need to make decisions based on the data that social media analytics provides small businesses rather than a gut feeling.
Fortunately, most social media platforms offer analytics and reports on how your content is doing and how the audience is receiving it. But, the question is, are you using this information to your advantage?
Here are five ways you can use social media analytics for your business plan that you can start implementing today!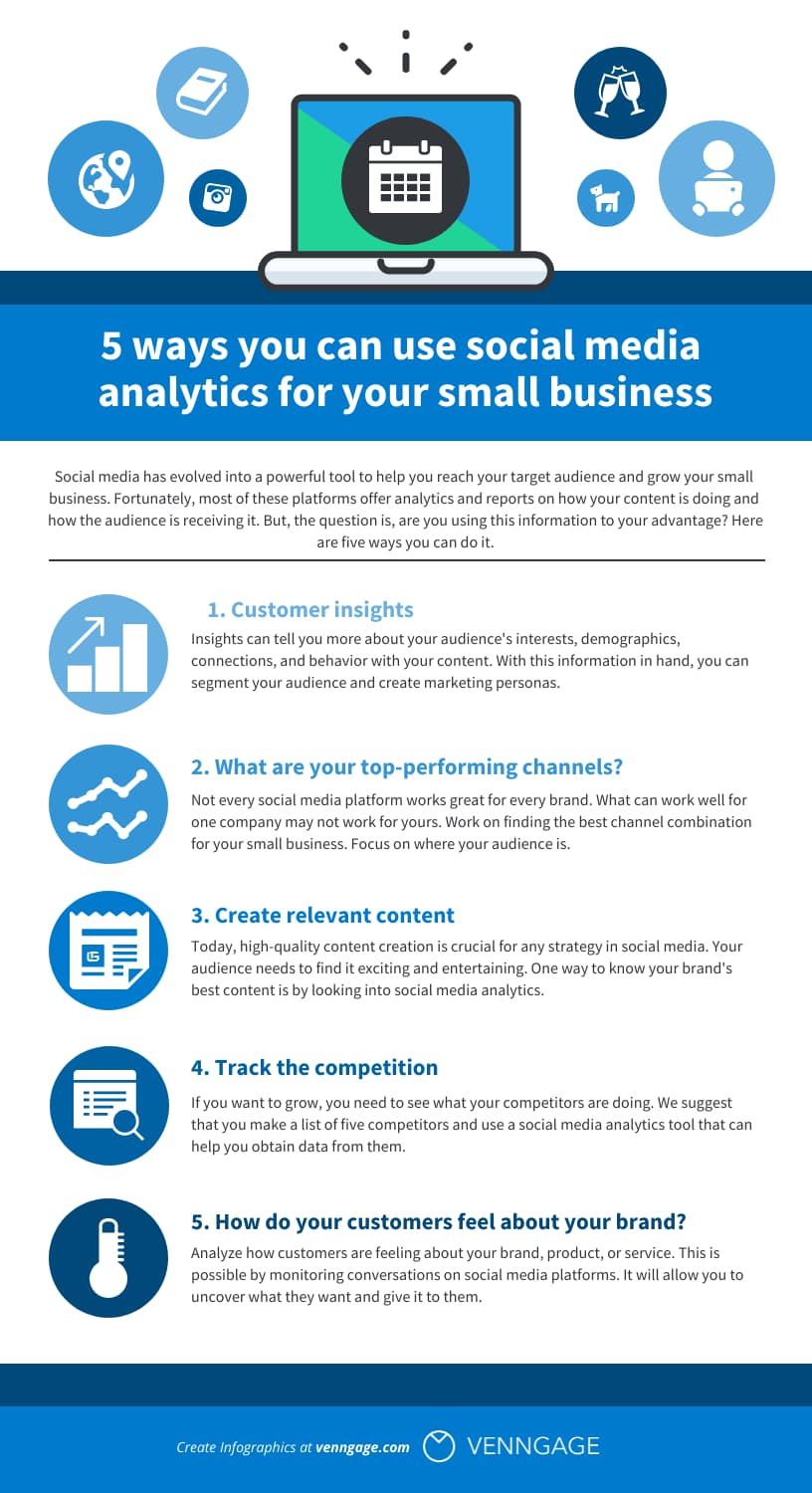 1. Customer insights
Social media is not only about getting likes, people commenting on what you post and share. The key to real success lies in looking at the right metrics and uncovering opportunities.
Insights can tell you more about your audience's interests, demographics, connections, and behaviour with your content. With this information in hand, you can segment your audience and create marketing personas.
You can also understand better what your audience is looking for, what their needs and wants are, and how you can satisfy them with your products or services.
Therefore, when you are writing a business plan, you can use this information to decide what products and services you should continue to offer to the target audience to get the best results possible.
What can be considered an insight?
Insights are not just "data." It needs to be also insightful, and they should meet certain criteria.
First of all, the data should be new. This means that if you already suspected or knew about a piece of information, it is not an insight.
Insights are also unexpected and relevant. If the information does not match your business goals or values, then you cannot use it.
Finally, insights should inspire you to take action.
Where can you traditionally gather insights?
There are many ways you can gather insights for your small business and the marketing strategies you want to develop. One of them is focus groups, but you can also do surveys and questionnaires.
However, as we mentioned above, social media already provides very useful insights that you can take advantage of without having to invest in focus groups, surveys, or more.
2. What are your top-performing channels?
Not every social media platform works great for every brand. What can work well for one company may not work for yours. The good news is that there are many social media channels to choose from: Twitter, Facebook, Instagram, TikTok, and more.
Many people often ask themselves if they should be on every channel. Still, even if you have the opportunity to do so, it may not be the best idea.
Work on finding the best channel combination for your small business. Focus on where your audience is and choose channels to produce great content and engage with potential customers.
The best way to know this is, of course, by looking at the social media analytics of each channel you are using and deciding to keep only those who are performing well.
Which social media channels matter?
As Neil Patel – a digital marketing guru – explains, the first question you should ask yourself about social media is "where is my audience participating in?". Where are they spending their time? Also, just because you have followers does not mean that you have an audience! There are many fake accounts out there and many inactive accounts as well.
Also, you should ask yourself where your audience is active; otherwise, the site may be of no use to you. Finally, ask yourself what your audience is searching for. Remember that people use social media for socializing but also for searching.
How to choose the best social media channels?
If a brand is getting many leads from a specific social media channel, it does not mean that it will also work for yours; therefore, you do not have to be there.
Facebook has more than 2.7 billion monthly active users, which makes it the largest social network today. However, they are browning photos and profiles, not really interested in anything else.
The opportunity for brands on Facebook is to participate in pages, groups, and events to gather a real presence.
Then we have Twitter, where things are constantly happening. It is a place where you can provide customer service and generate leads; however, not as much as you can do on Facebook.
For B2B businesses, LinkedIn is the place to be. Here, you can connect with professionals and decision-makers.
But, don't leave out Instagram, YouTube, and maybe TikTok. Why not? If it makes sense for your brand to be there, then you should try it! Also, consider that today video content is becoming more important than ever. You should analyze if your brand could benefit from them.
3. Create relevant content
Today, high-quality content creation is crucial for any strategy in social media. Your audience needs to find it exciting and entertaining. One way to know your brand's best content is by looking into social media analytics.
This way, you can develop a more ingenious content strategy, focused and targeted to your audience.
You can analyze what content your audience engages with the most and the topics they respond well to are. Then, you can optimize your social media marketing plan and create content that resonates with your followers.
How to make your content more relevant?
There are many ways you can make your content more relevant, and the first step is to create and cater to a buyer persona. No, there is no such thing as content that is relevant to everyone or that you want to sell to reach everybody.
Relevance is audience-dependent, and it has to do with generating a good conversation. The best way to achieve it is by creating one or more buyer personas that will help you understand the characteristics of your target audience, what their needs and wants are, and how you can be relevant to them.
Then, you also need to understand user intent and create a list of keywords. And yes, we are talking about SEO, but the truth is that Search Engine Optimization will help our content reach the audiences we are trying to connect with. Once you have the list of keywords with opportunities, use them in the right places.
Additionally, your content will be relevant if it solves a problem and is timely. Most of the searches people do online are about solving a problem they have, and if you have the answer, then it is your website where they will go to. But, make sure your content is timely and matches current events, whatever those are in your niche.
Finally, make the content as long as it needs to be. You can have great, relevant content that is just a few hundred words long. Longer articles do not mean more relevant and valuable articles.
4. Track the competition
If you want to grow, you need to see what your competitors are doing. We suggest that you make a list of five competitors and use a social media analytics tool that can help you obtain data from them. You can also do a manual evaluation of their profiles and accounts.
Where are they present? What kind of content do they post? How is their engagement, and how do they respond to comments they receive?
All of this information will give you ideas for your brand and perhaps a little inspiration too.
How can you track your competitors?
It does not matter what industry you are in; you will always have competitors seeking your audience's attention, for traffic, for followers, for sale, and so on.
Therefore, competitor analysis is incredibly important, and there are many online tools available and can help you achieve it. Here's a helpful list you can use:
Sprout Social: It helps you understand your competitors' performance on social media from different angles and data points. You can also benchmark your growth against several profiles with a few clicks.
Phlanx: In a few words, it is an Instagram engagement calculator. It gives you clues on how active an account's followers are and therefore has insights about the competition's Instagram presence.
Social Blade: This online tool assesses follower counts on the likes of YouTube, Instagram, and Twitter. It assigns a grade to every social profile you search.
SEMRush: This is another very popular tool today for competition analysis and SEO. You can pull your competitor's backlinks and monitor their ranking and if there have been any changes. Plus, you will be able to know who else is competing for your traffic.
Ahrefs: Check any URL's top organic keywords with this tool, plus also receive an estimate of the traffic a competitor receives on those keywords.
MozBar: This free Google Chrome extension will allow you to check the domain authority, DA, of any website. This way, you can analyze how competing sites are doing in a Google query with just a glance.
Buzzsumo: This tool will allow you to look at the top-performing content for you and your competitors.
Similarweb: Here, you can better understand where the competitors' traffic is coming from and what topics their visitors search for.
These are just a few tools from many more that are available out there. We recommend that you choose one or a combination of several so that your small business can gather the data it needs to grow.
5. How do your customers feel about your brand?
Finally, you can analyze how customers are feeling about your brand, product, or service. This is possible by monitoring conversations on social media platforms. It will allow you to uncover what they want and give it to them.
Also, you can uncover challenges, pain points, and more to take advantage of for your strategy. You can even prepare for a potential crisis or prevent it if you know what people are saying about your brand.
Associate your brand with positive emotions
We can bet that personally, you would prefer to be surrounded by people who are positive rather than negative. In fact, it is likely that you avoid being in a negative environment altogether. The same happens with brands and products.
People love to surround themselves with positivity, which is why you should focus on the emotions your brand conveys through the messages it shares: They should be positive and promote a great experience that creates trust.
Positive emotions help create an atmosphere for customers in which they become more trusting towards your brand.
Also, for customers to associate your brand with positivity and a "nice place to be," you need consistency. However, this consistency needs to occur on an individual level, which is possible by designing diverse and rich marketing communications to transmit their message based on personal experiences.
Storytelling copywriting is very popular today because of this. Everyone likes a good and captivating story, and it will help people feel closer to you and more positive towards you and your brand or company.
Another important action is personalization, which not only makes people feel special but makes them feel they matter to the brand. The customer-brand relationship becomes more genuine and human.
In conclusion
There are many moments in life where trusting your gut is the right way to go. However, social media strategies are not those.
To create engaging content, leveraging your social media presence, and grow your small business, you need to use data as part of the planning process. It can even be useful for newsletter strategies, ads, and more.
It is a constant process of analyzing, publishing, reviewing, and making changes to get the best possible results and to grow your business as much as you can. It is a work that never ends but is in constant transformation. The good news is that there are many tools available today and that some of them offer a free version that can be enough for small businesses.