Search intent (aka user intent) is the underlying motivation a user has when searching a specific query. Satisfying search intent is Google's top priority when it displays the organic results and SERP features. Search intent optimization is the process of identifying what exactly users are looking for and optimizing your page with the ability to satisfy search intent.
Why is search intent important?
The importance of identifying search intent, or user intent, is to be able to provide the content and information required to satisfy the user. In order to be the final destination of a search, your website must satisfy the user's intent. If we miss the mark, visitors will leave your website in search of another that can satisfy search intent.
When you hit the mark on search intent, users spend time on your site. The concept is simple and yet it is of the utmost importance to make sure you understand the intent a keyword implies before creating content to target that word or phrase.
Generally speaking, search intent falls into three broad categories; informational, transactional and navigational.
Informational intent
This type of search is where the user is looking for explanations, answers to problems and is basically researching something specific. Over 80% of searches are informational according to a Penn State research study. The type of content that ranks for informational searches are therefore blog posts, articles, guides, videos, best-of lists, etc.
If you were searching for the phrase develop an SEO content strategy, the search results display websites that teach a template approach on how to develop an seo content strategy.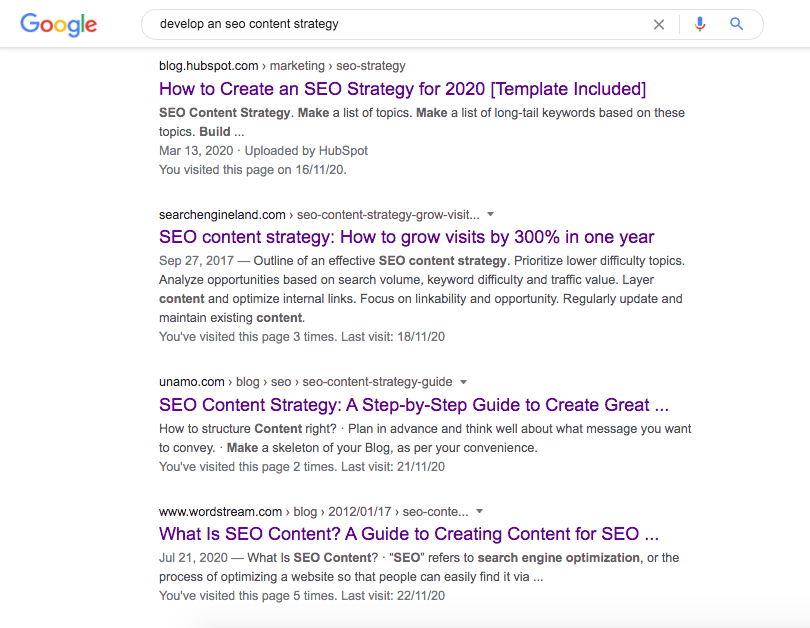 Transactional intent
A user with transactional intent is looking to make a purchase. These types of searches are usually made with buyer keywords such as "where to buy X" or "what stores sell Y"
Transactional searches also include brand names and product names. The first clue to spotting a transactional search is when you see a lot of ads near the top of the page. The websites listed in the organic search results will also have products listed and a means for purchasing them.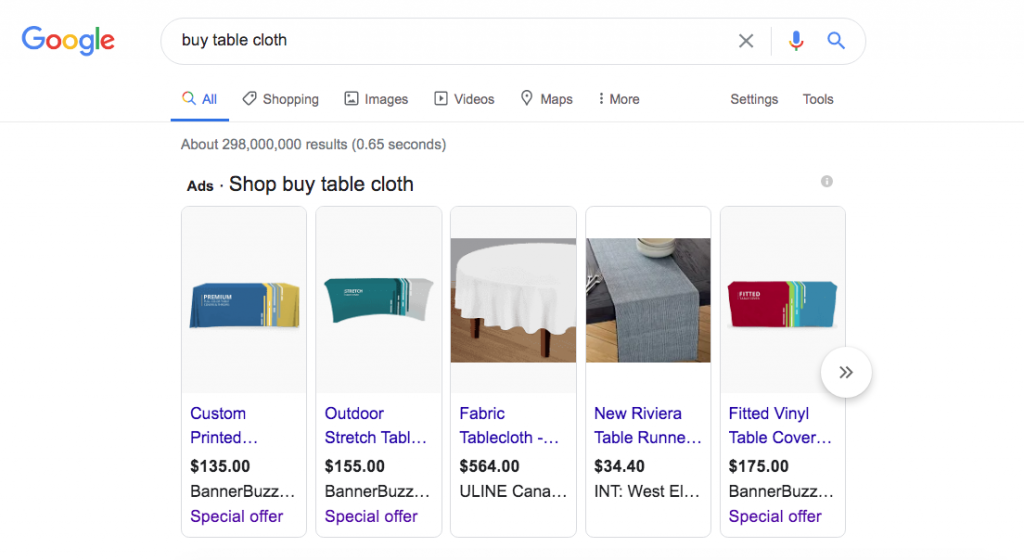 Navigational intent
Many people use search engines to find websites or pages that they want to go to specifically. For instance, millions of users type in Facebook login to get to their Facebook page.
Ranking for terms like this have little to no value because the user already knows where they want to go. In most cases the result they're looking for is within the top one or two results and they'll click without scanning the rest of the page.
For example, if I want to go to Google Analytics a simple search would give me the URL. Despite the millions of searches being made for this keyword, the other sites ranking below, I would most likely have an extremely low click-through because the answer to the user's intent is the first result on the page.
How to discover search intent
When you're attempting to rank for specific keywords, you need to know how to discover search intent. You could say that every search engine's goal is to be as accurate as possible in attempting to satisfy the user's intent. Therefore, to rank at the top, your page needs to match what the search engine is showing you is the most important content to satisfying user intent.
There is no other method better than extracting clues from the search engine result page itself. If you want to isolate the true intent of a search, you need to see what type of content is ranking in the top ten positions.
Categorize the general user intent
Based on the three categories described above, come to a conclusion on what type of content is a match to user intent. Does the user have transactional, informational or navigational intent? Does your page cover the same content and offer similar solutions to the top-ranking pages?
Scan the top pages for topic coverage
Go through the top-ranking pages to see how they've satisfied intent. If you scan the subheadings you can get a general idea of the topics they've covered to ensure that you haven't missed anything.
Compare top-ranking pages using the WordPress HTML summary as a way to highlight important topics that are being covered on a competitor's page.
The keywords that the top 10 pages are ranking for are clues to the content they've included on their pages. Use the keywords that your page is not optimized to rank for as a guide on how to include the same and better content that the top pages have published.
Scan the SERP for additional clues
Do a sweep of the first page of results for the SERP features that are being displayed. You can get a few good clues that hint at the intent of a search by interpreting what Google is displaying.
Position zero
The first result on a page is often a featured snippet. This immediately shows a user the most convenient result with an answer without clicking further. Use this feature to determine what Google is displaying as the most important information associated with the search term.
PAA boxes
For example, the PAA box will often appear with a bunch of related questions. This is Google's way of telling you that these questions are relevant to the keyword research. They are questions that people also ask!
Add the questions you find in the PAA box and publish your own answers to improve your page's ability to answer search intent. It will also make your page eligible to appear in this feature.
Videos
Videos are important to note when they are placed higher up on the page. The higher up on the SERP that results appear, the more relevant they are to the keyword search.
Videos will often appear as an answer to queries for how to do something or for product reviews.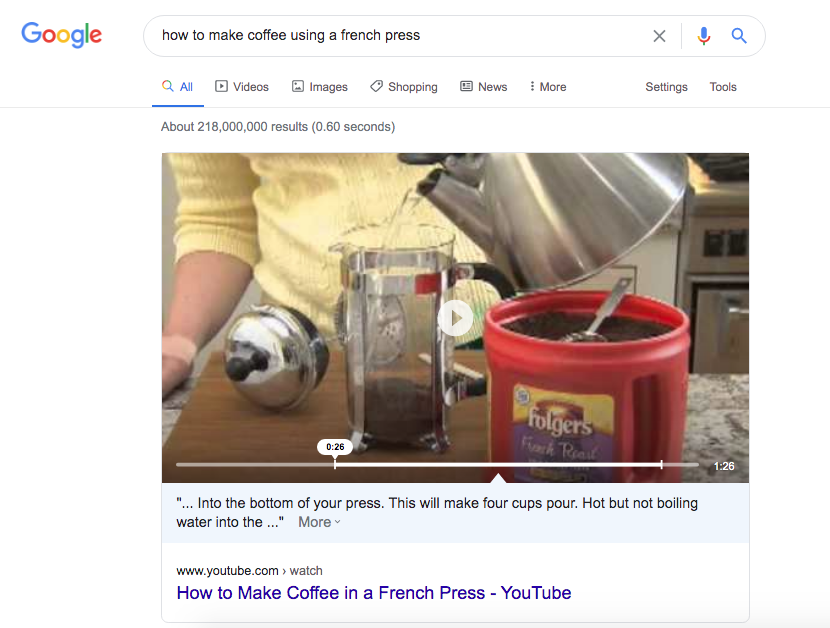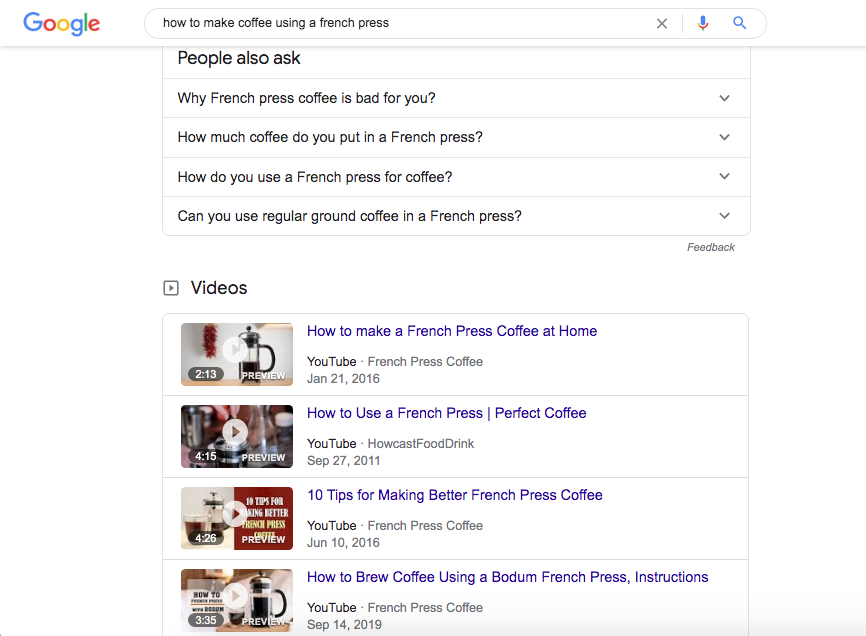 Placing a video on your page can create more relevance to the query. In the above example, a video appears in the featured snippet, followed by the PAA box followed by a stack of video results. It should be obvious Google and users find video the most helpful and the strongest form of content to answer intent.
If you publish a video on YouTube, you may even have a chance of appearing in the video feature as well as strengthen your page to appear in the organic results.
Local pack
When you see the local pack appear, it becomes clear that your keyword indicates local intent. This could change how you optimize your content in order to reflect that your business serves a specific local area.
Google Ads
When you see a lot of Google Ads appear on the SERP, there is a strong transactional intent behind the search query. Users may be looking for a product or service to buy because they're at the decision stage of the buyer journey. In situations like this optimizing a landing page that gives them the option to make a purchase would be a way to satisfy search intent.
Publish high-quality content
The skyscraper method is not a new concept when it comes to outperforming the competition. Humans will always have the need to conquer and outperform the standard-no matter what situation. The same holds true for SEO and website development.
In order to be the best answer to a search query, you need to produce the best content that satisfies the intent of the query. It's been established and a well-known fact that Google is choosing to display websites that are typically more in-depth.
Word count is not a ranking factor, but it is an indication of the level of detail or the breadth of the topic your page needs to cover. The average length of a page that ranks first on Google is over 2000 words.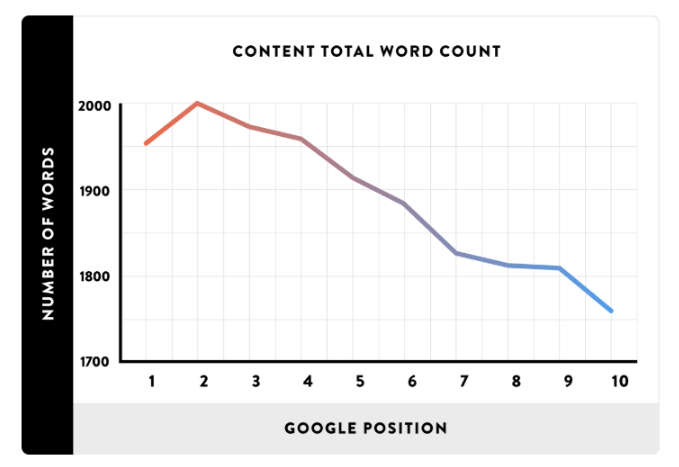 Knowing this, it seems only logical that you would need to plan out a page that exceeds the standard in the level of depth and coverage.
Interested in other ways to drive traffic? Read about the 33 Ways To Drive More Traffic To Your Website
Address user intent for better rankings
Despite the 200 plus ranking factors that search engines use to assess the ranking ability of your website, none are as important as being able to satisfy search intent. The truth is, if your page doesn't have what users want, it will never rank on the first page of Google.
As search engines evolve, so does search engine optimization. The general trend has been in favour of providing more accurate and higher quality search results. This being true, search intent optimization has become the most important aspect of achieving a top ranking.
Related reading: Google's BERT Update: Should You Be Worried?