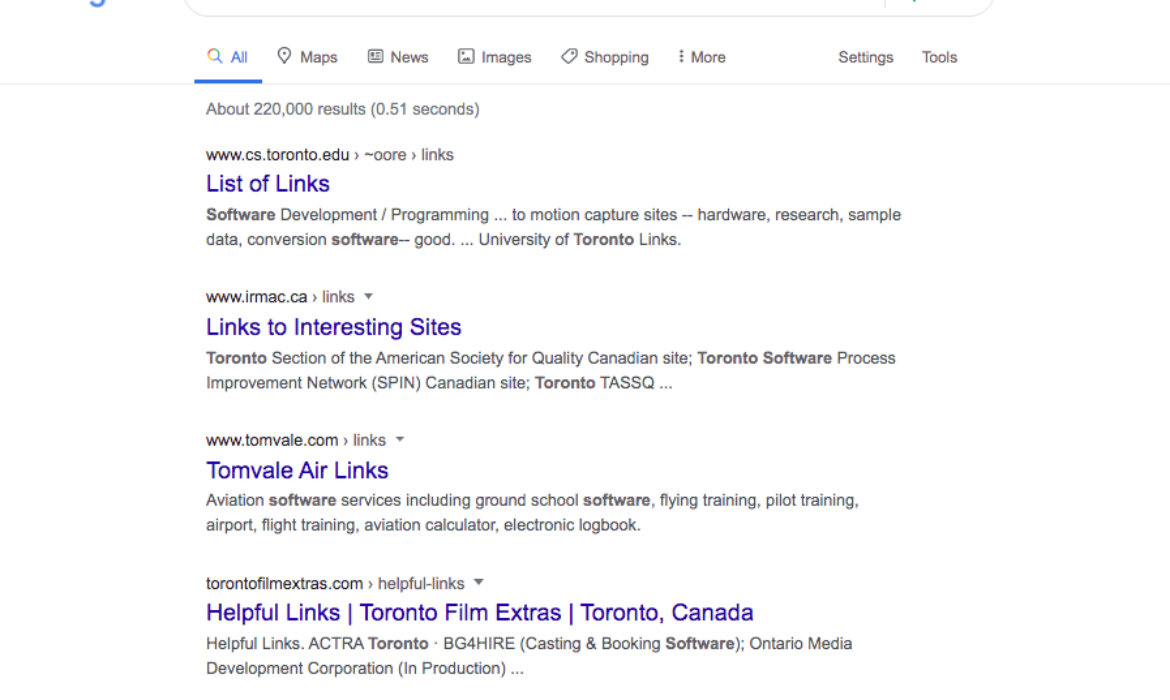 Local SEO is a crucial part of any business whose clients are mainly sourced from a specific location. In order to take advantage of high converting local traffic, it's important to optimize your website for a specific location. Build local links to improve your local search presence and drive more clients to your site from a specific location.
Building citations from directories and encouraging clients to leave a Google review will only get you so far. It's important to acquire as many local links as possible to fuel your site's local ranking ability.
The more ties you have to a locality with quality links, the more you're able to demonstrate authority in your keyword topic and city.
Link building involves acquiring a wide variety of links that aren't necessarily from high domain authority sites. The most important aspect of local link building is that your links come from relevant sites (niche specific) and are related to the area.
Major directory local link building
The best way to pursue link building is to build links in a way that is natural and logical. When a company first opens its doors for business, among the first logical places to get listed is in the city directories that locals are using.
Google Local Finder
One of the major directories that are obvious is Google's local finder. The local pack (the three listings that Google highlights in a local search) is an excellent source of traffic for generating local leads.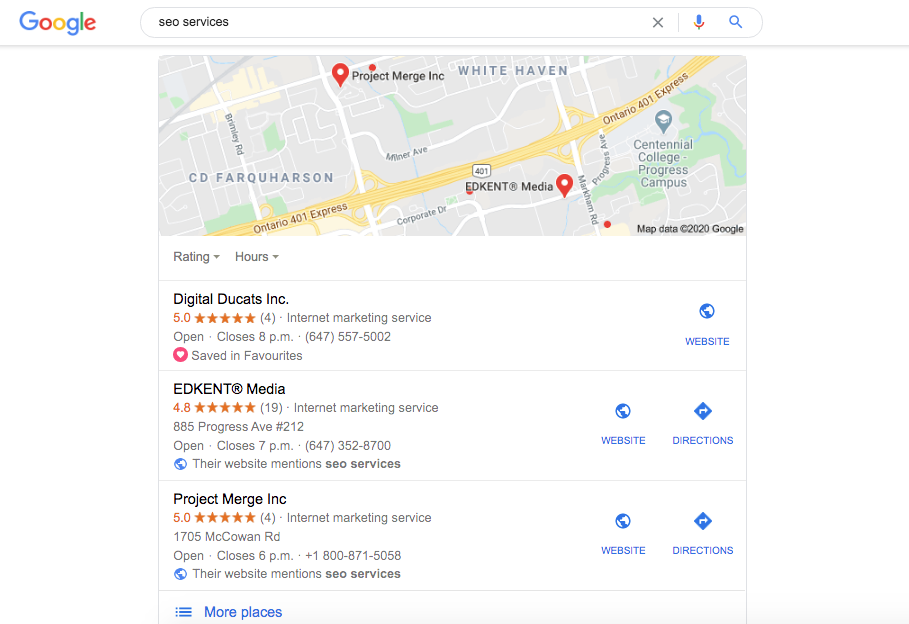 You can sign up to be found in Google's local finder by optimizing a Google My Business profile. Use as much information as possible so that your site will be eligible for as many different types of searches as possible.
Bing local places
Bing has the second-largest share of searches as far search engine market share goes. Listing your business here is not just for that fact, but for the validation that Bing provides to your Google listing.
In order to optimize locally, your site should be sending as many ranking signals as possible. Confirming your name address and phone number across major directories strengthens your local ranking in Google's local finder as well as localized search results.
Use the option to synchronize your Google My Business account information with Bing. Any changes made to your Google account will automatically be updated in Bing. Not only is this advantageous to maintaining your ranking signals through identical NAP details but it saves you time from filling out all the information again.
Yellow pages business | Local business marketing solutions
This is another major directory that your business will benefit from being listed. Yellow Pages has a dozen other affiliate sites that collect your information from their database. If you're listed on Yellow Pages you automatically get listed in other directories that will add to validating your local presence.
City-specific directories
The next tier of directories you should pursue is those unique to the city in which you are ranking your website. Create a listing in directories that receive traffic and which people are actually using to find local places.
You can search for city directories by typing in [your city] + directory. Vary your search by typing [your keyword] + [your city] to see what directories are ranking for that keyword. If a directory shows up in the first few pages of search results, it's a good indication that there's value in listing your business in it.
Niche-specific directories
The same concept should be applied to niche-specific directories. Be more selective about the directories in which you create a profile. Low-quality sites may have an adverse effect on your ranking. Search for niche-specific directories by typing in [your keyword] + directories to get a list of options.
Unstructured citations
These types of links are considered to be the most valuable for building a strong local link profile. An unstructured citation is a mention of your company on a site that doesn't specifically have a place to fill it out.
You receive structured citations on directories, review sites and other sites that provide a specific place for listing your information.
If a company mentions your website on their blog, it's an unstructured citation. It is much more difficult to acquire backlinks such as these which is why they are so valuable. They represent a true vote of confidence in the credibility of your company.
How to get an unstructured citation
It all boils down to outreach. To get another site in your city to mention your business, you need to ask the site owner to link to your site. This is most likely to happen from clients, vendors or businesses in a close vertical to your own.
Obviously a direct competitor isn't going to want to send traffic to your site. Look for companies in the same city that offer related services and products. You can form a coalition of sorts to help promote each other's business with a link arrangement or content collaboration.
For example, if you own a restaurant the bakery in which you get your dinner rolls would have no problem linking to your site. They have a vested interest in your success so they are an excellent link prospect.
In many cases, you may need to be creative with the ways you acquire your backlinks. One option is to create content for another site's blog. Infographics typically have more leverage because of their visual appeal.
Related reading: A Crash Course In Broken Link Building
Resource page link building
Discover local sites that have published resource pages that list links they have found useful to their business. Website owners will often link to their vendors, suppliers and other organizations that are related to their products and services.
You can use the search operator "inurl" when searching Google to display sites with a specific keyword in their URL. Most resource pages are titled "Resources", "Links" or Resources and Useful Links" so the URL will typically reflect those keywords.
To find these pages type into Google searches such as:
[your keyword] inurl:links
or
[your keyword] inurl:resources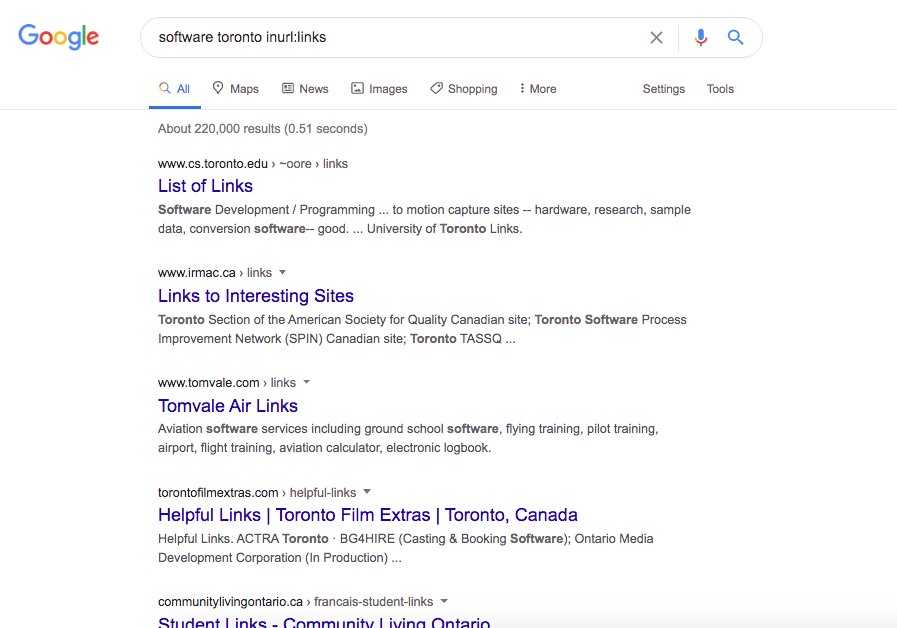 Choose sites that are relevant to your site and would be a good match for the link prospects list of resources. Having a resource page of your own can help leverage your success rate, however, keep in mind that too many link exchanges may trigger an unnatural link pattern.
Related reading: 9 Effective Backlinking Strategies for 2020
Local charities and organizations
There are many organizations that list the names and websites of sponsors who have contributed to their cause. Making a donation to these sites can earn you a spot on their list.
You can also donate products and services to those that will benefit from your offering. For example, if you're a web designer you could offer to revamp a local charity website. The likelihood of the organization allowing you a link from their site goes way up with acts of generosity and kindness.
Job postings
Post a listing for a job offering on local sites. It's an easy way to tie in your business with the city in which you're trying to rank.
Host an event
Use sites like Meetup to host local events. Not only will you build local links from the event your posting on the site, but also it's a way to build new connections with businesses in your area.
Local newspapers
If you have some newsworthy content to promote, local newspapers can be an effective source for local links. Whether it's an event your hosting, or news that the community can benefit from, a link from a local newspaper will get your site in front of a local audience and contribute to your local ranking.
Review sites
Apart from the biggest review sites such as Yelp, every city has websites that are frequently viewed by locals who are researching businesses. Get your site listed here and encourage people to leave reviews about your services. These sites are specific to your city and will anchor your site as a local business in the area.
Build your local presence with local links
Local businesses do not typically have extensive high authority link profiles. It's just not common for local businesses to invest large budgets into SEO content and link building campaigns. Most local businesses acquire natural links through directories and sites that are native to the city in which they do business.
Plan to build local links from a variety of the above-mentioned sources. Local links are the most powerful sources when it comes to appearing in local searches.
Related reading: Claim & Optimize Your Bing Places For Business Listing
Don't overdo any one type of link and maintain a natural acquisition of links throughout your campaign. Building 100 directory links in one day is not a natural link velocity.
As one of the highest converting sources of traffic, the local search results will contribute to the revenue your business generates.
Increase the number of local clients your business acquires with local SEO services in Toronto. Build local links to improve your local ranking for keywords that are vital to your business.