Page speed is a relevant issue to the SEO of a website because it has a direct impact on user experience. Google has stated page speed is an official ranking factor, which has motivated SEO experts to focus on driving down the load time of their pages. Keeping your site load time under three seconds will send positive ranking signals to search engines.
What is page speed?
Page speed is the time it takes for a web page to load. Google measures page speed as the time to the first contextual paint, which is the first appearance of meaningful content.
Page speed has become increasingly important because it has a direct impact on the user experience a website offers. The bounce rate is directly related to the time it takes a page to load.
According to Google, every second in load time represents a percentage of visitors who will back out of the site in search of another that loads faster. This becomes very apparent after three seconds.
Time is money. Walmart and COOK have reported huge percentages of increase in profit by reducing their pages load time. Walmart increased conversions by 2% with every second of increased speed. Cook increased load time by 0.85 seconds and enjoyed a 7% increase in conversions. (~Radware Blog)
In the chart below, mPulse Mobile was tested for its conversion rates vs. load times. The case study was performed by Skilled and here are their findings :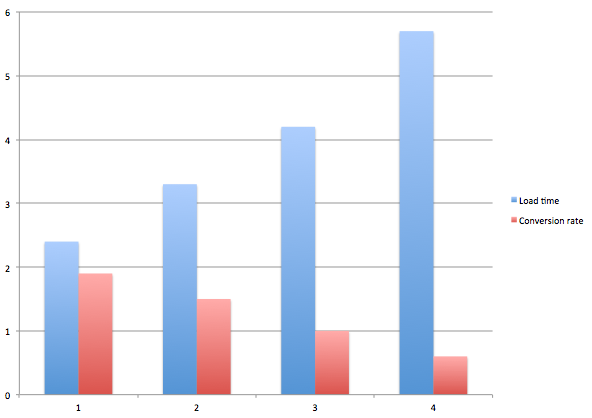 At 2.4 seconds they had a 1.9% conversion rate
At 3.3 seconds conversions were 1.5%
4.2 seconds was less than 1%
5.7 seconds and higher was 0.6%
The general consensus among people is that they tend to distrust websites that take a longer time to load. Long load times equate to poor user experience. If Amazon experienced a loss in potential business and they are one of the most trusted sites in the world, what do you think people will think of your site if it's not loading in a time that's up to the status quo?
So what is the status quo for page speed? Below is a chart of the average load times across different industries.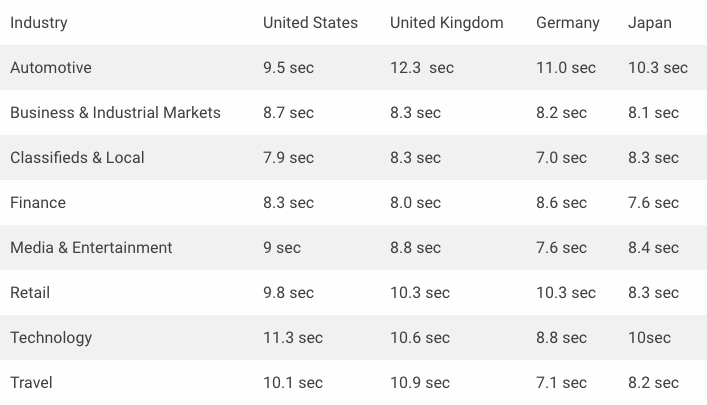 What you can draw from this is that although there is a heavy emphasis on improving your pages load time, there are still a lot of websites that haven't conformed to the recommended standard set by Google of 3 seconds.
This presents an opportunity to get your site faster for a competitive advantage that contributes to ranking and better user experience than what your competition offers.
How do I test my page speed?
There are a variety of free tools you can use but who better than the search engine themselves? Enter your URL on Google's PageSpeed Insights and receive a score for your desktop and mobile page speed. Google will also list the various ways you can improve your page speed in a report at the bottom of the page.
7 tactics to improve page speed
Reduce the size of your images
Use GZIP compression
Minify CSS, HTML & JavaScript
Delete unnecessary plugins
Use a CDN
Leverage browser caching
Choose appropriate hosting
Reduce the size of your images
Your page will load faster by using smaller sized images. Images often put the biggest strain on the time it takes to fully load. Resize your images to be the exact dimensions you need on your site. If you're inserting an image that is only being used at 600 X 400 pixels, don't load an image that's 2400 X 1600 pixels. It takes the server more time to provide the extra request to resize your image.
Instead, use Photoshop or Imageoptimizer.net to make your image smaller and speed up the time it takes to load your page. The fastest file types to load are PNG for images that use less than 7 colours and JPEG for photos.
Use GZIP compression
If you're using WordPress then you are most likely already using this form of compression. GZIP is the fastest way to deliver files from the server because it's the smallest file type available.
Minify CSS, HTML, and JavaScript
When a website loads there are style sheets, HTML and JavaScript that you can reduce to one file. Eliminate the clutter by deleting blank spaces, blank lines and notes. This will speed the process up by making the code easier for search engines to read and display.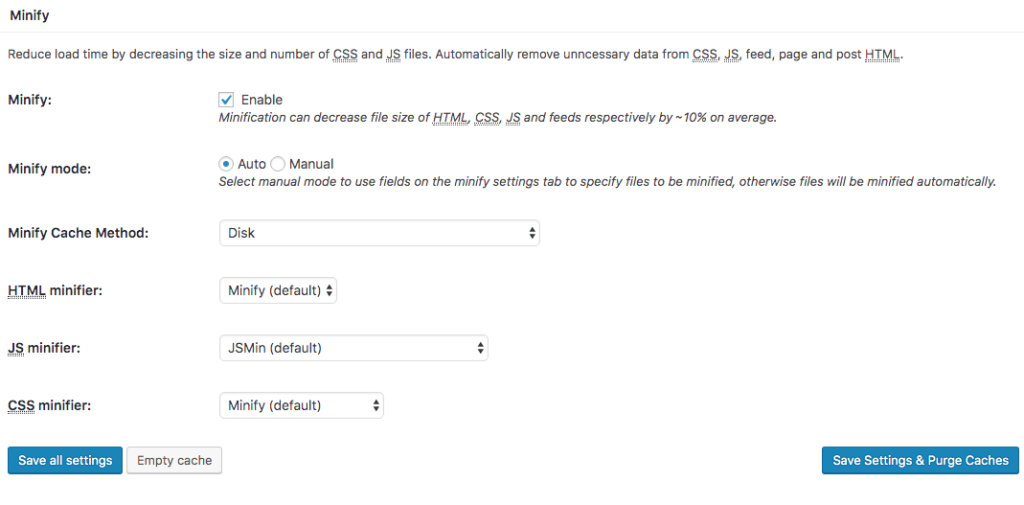 You can also install a plugin to make things easier. Use WP Rocket or W3 Total Cache. The option to minify is available as an option you can choose by selecting it in the checkbox under settings.
Delete unnecessary plugins
Plugins have code and scripts that will interfere with how your fast your page loads. Deleting plugins that are unnecessary will help clear some of the code to speed up your site.
Go through your plugins and delete all plugins that you're not using. Run through the list and make sure the ones that are activated are necessary to make your site perform efficiently.
Use a CDN
A Content Delivery Network will speed up your server response time. Websites use CDN's that are positioned in more locations to provide closer resource than what your typical name server could provide. Activating your CDN with default settings has been stated to improve site speed 10 times faster than without.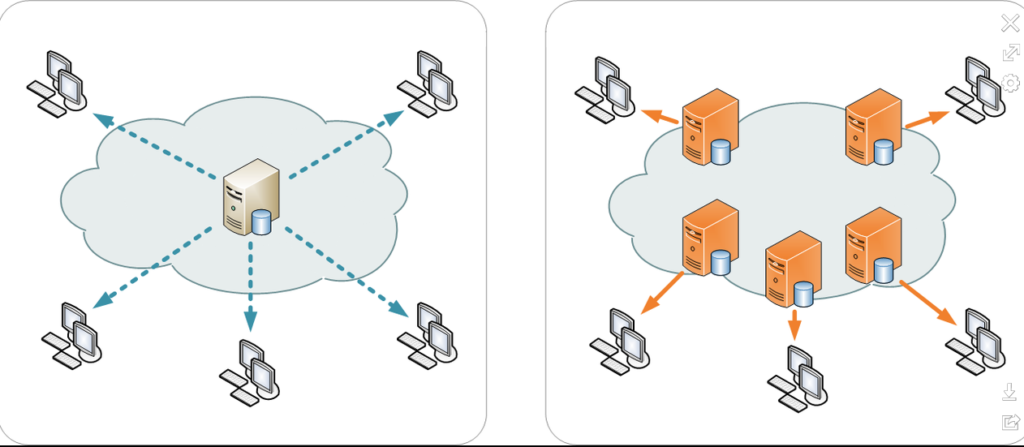 Leverage browser caching
When a browser loads your site for the first time you can store the most important parts of your file in the browser. Whenever a visitor returns to your site the browser will already have files and images in the cache that results in faster load time. If your site doesn't change very frequently, you can choose the maximum time for a browser to store your files, which is up to a year.
Choose the best hosting options
A host offers three options that can affect the time your page loads by allocating different amounts of resources.
A shared plan means other websites will be accessing and requesting files from the same server. This can affect your server response time if traffic on your site or any other site for that matter increases beyond the allocated resources.
A VPS is also a shared server, however, there is a dedicated amount of resources allocated to your domain. This insures your site will maintain a quick response time based on the traffic you expect to receive on a regular basis.
A dedicated server is obviously the fastest of all options because all of the resources are available only to your domain. This, of course, is the most expensive of all options but if your site requires a high level of resources, its probably making up for it with the revenue it generates.
Keep your pages loading quickly
The standard for page speed is steadily becoming faster across all industries. Improving your website's page speed not only improves rankings but helps retain more users on your website. Day to day operations can contribute to many of the causes that slow down site speed but with regular maintenance, your site can maintain a healthy competitive edge in your niche.