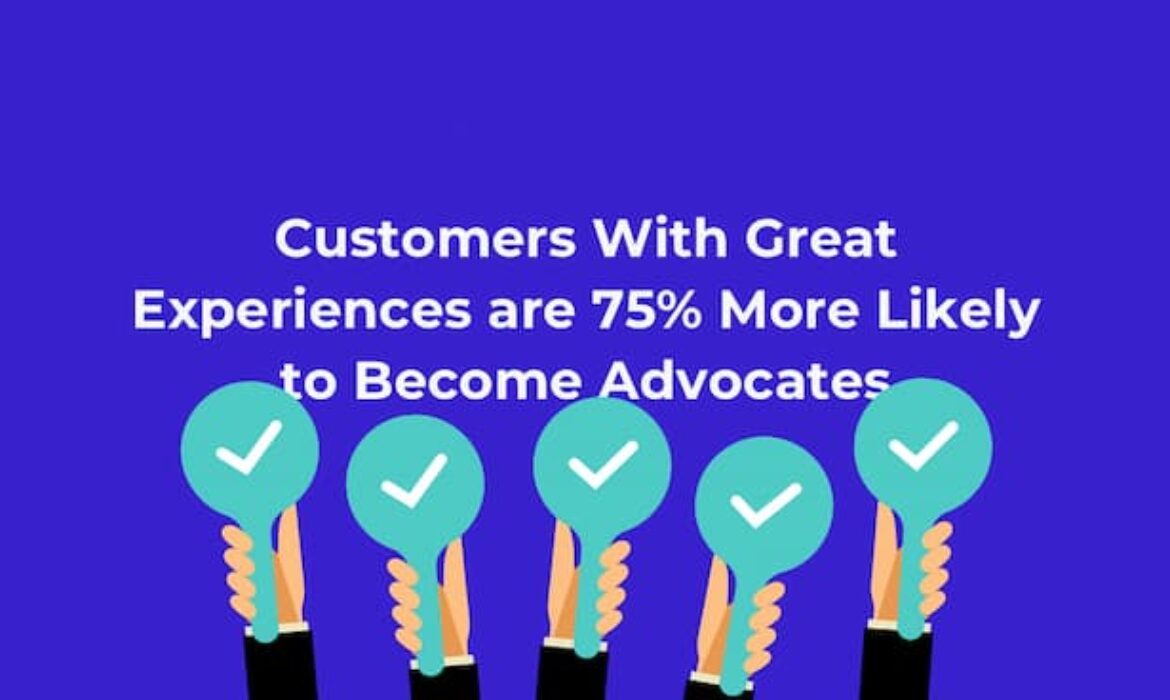 Marketing funnels are a solution to get the most from the volume of traffic that lands on your website. Search engine optimization drives traffic that attracts visitors at various stages in the buyer cycle. Many visitors may not be ready to purchase immediately and therefore require more information and nurturing to convert them into clients. Marketing funnels provide a system for moving your website visitors closer to purchase with your company.
Create content to address The Buyer's Journey
Generally, the buyer's journey is divided into three main categories; Awareness, Consideration, and Decision.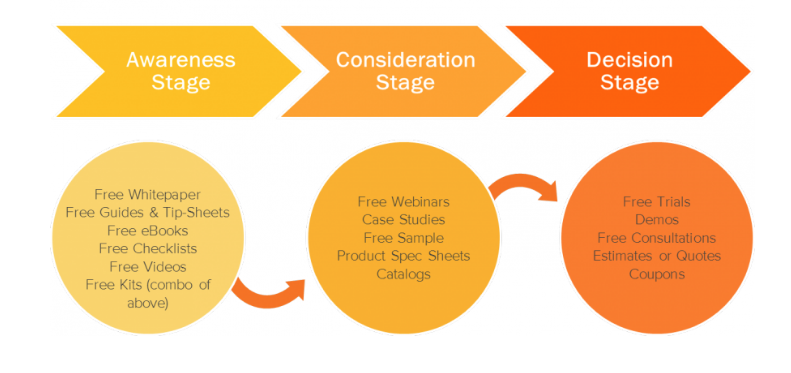 The awareness stage
At the awareness stage, visitors are just learning about the problems they have and what the potential solutions are for solving those problems. This is where they first may encounter your company through a blog post that is aimed at explaining the basics of your niche.
An example of a blog post at the awareness stage of a person searching for SEO would be How do I make my website number one on Google?
The answer to this question is search engine optimization but as far as the user goes, they may not realize what this is until they read the article. Articles such as this would be aimed at expanding the audience in which your content targets.
The content that you publish at this level in your marketing funnels are considered TOFU content (Top Of The Funnel content). Due to the broad nature of the topics, the audience is the largest at this stage of the buyer journey and therefore will also have the greatest drop-off in interest (hence, the funnel concept).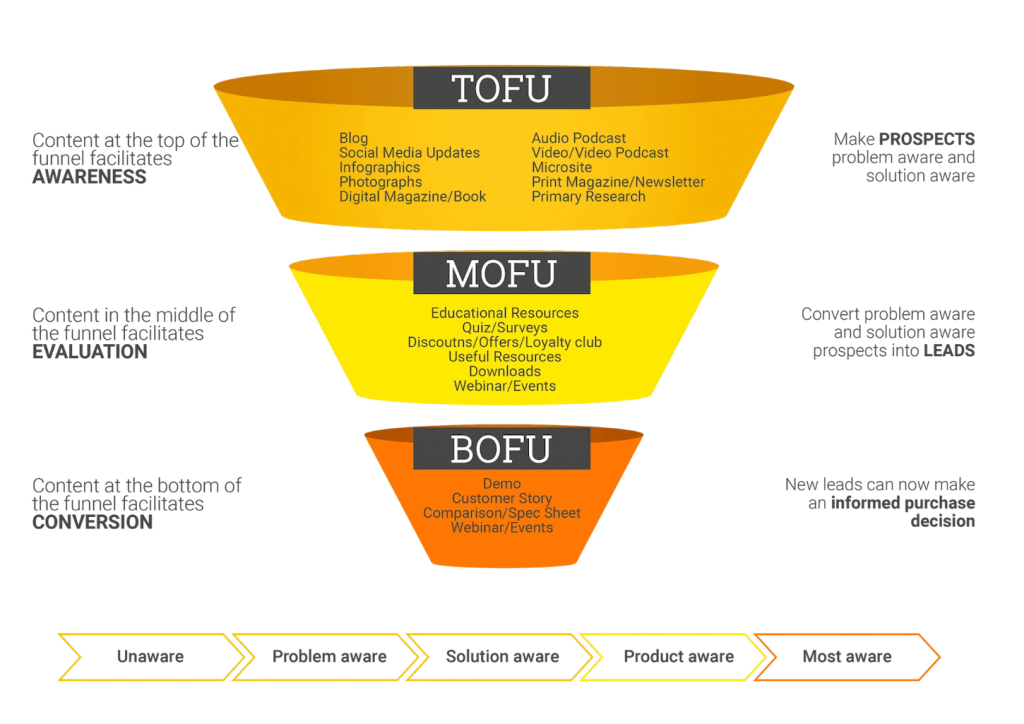 Getting people to your site is only one aspect of your growth efforts. When you've effectively captured the interest of a new website visitor, the next step is to move them to the consideration stage of the buyer's journey.
The consideration stage
When a potential client is in the consideration stage, they already aware of their problem and require more information to guide them to a purchase decision.
For example, if you're searching for an SEO company, you may want to know about the benefits of SEO to consider whether it's a good fit for your business. Reading about what SEO can do for your company would certainly give you more incentive to move forward with your decision.
Content that provides incentives, facts, and social proof can be considered MOFU content (Middle Of The Funnel Content). Essentially this is content that moves a potential buyer to the decision-making stage.
The decision stage
The last segment of the buyer journey is called the decision stage. It's where the buyer is past the research stage and is ready to purchase.  At this point in marketing funnels, the content that is needed is called BOFU content (Bottom Of The Funnel content).

Examples of content that convinces a buyer to purchase from your company can be landing pages, case studies, service pages, product pages, and squeeze pages. Essentially, any page that is geared towards convincing the visitor to make a purchase is bottom-of-the-funnel content.
The ultimate goal for your website is to generate revenue. An effective marketing funnel means all content on your site should in some way be leading your website visitors to a specific action that moves them closer to purchasing. That means moving visitors to content further down the funnel through a specific call to action (read more, download, opt-in, or purchase).
Customize your sales funnels
While the buyer journey is a good concept as a basic model, you can optimize your marketing funnel to be more effective by adding detail to each stage. The level of detail is based on the type of clients you deal with regularly.
In many industries, the process for going from learning about a product (or brand), comparing options, and purchasing a product may be completed in one session. This means that you can create content that addresses each of these stages all on one page. Many landing pages for retail products are published to do exactly that.
In this example, LinkedIn is offering a free credit for advertising as well as a strategy guide in exchange for an email address. This is an excellent example of how to get prospects to move from consideration to decision with an incentive as well as free trial to see how effective the product is firsthand.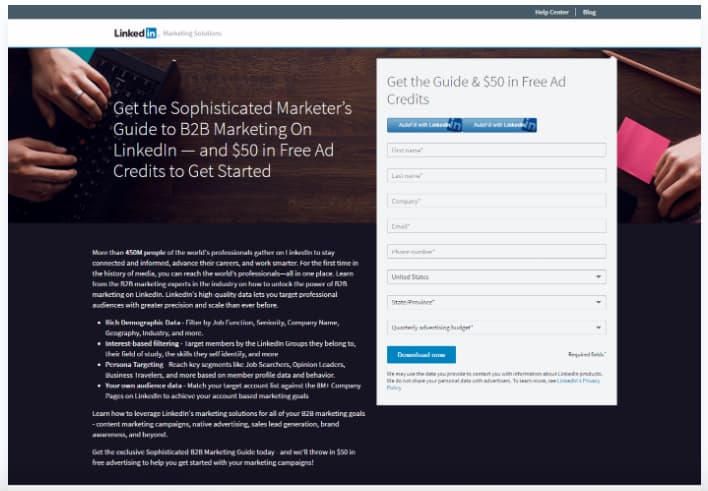 In other industries, the lead-time for selling B2B services or big-ticket items is often much longer and requires more nurturing during the research stage. For these types of clients, your marketing funnel would need to be more detailed and include more micro-stages to move them along.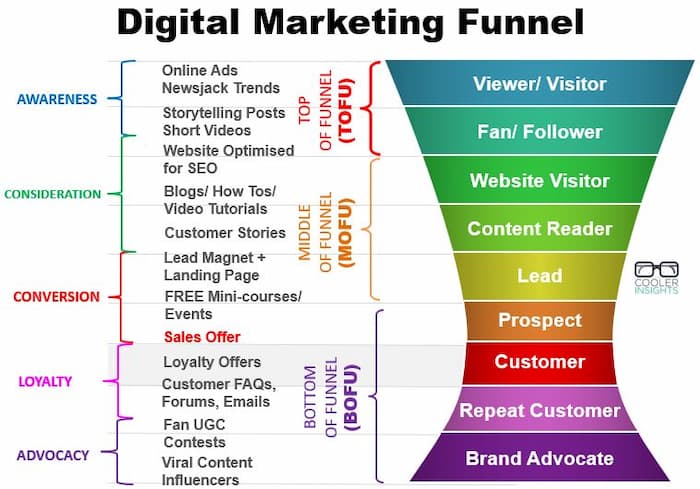 5 reasons to consider email marketing within your sales funnel
As mentioned earlier, SEO brings many different types of visitors to your door. No matter what stage they are at in the buyer journey, it's important to identify what your potential clients need to give them enough confidence to making an informed decision. Email marketing is an effective solution for layering content in your marketing funnels and getting the most out of your website traffic for the following reasons:
Build relationships
When you capture an email address from an interested website visitor, it provides you with a way to maintain contact and to continue to move that visitor further within your marketing funnel. Email marketing allows you to learn more about your audience and respond with more content that they're interested in learning about.
Personalization is high on the list for many companies now and what better way to build a relationship than with content that is specifically tailored to your audience? List segmentation, surveys and questionnaires can help you optimize your campaign and get insights into your audience.
Build confidence in your brand
An email marketing system provides your company with a way to continue to help your potential buyer find more what they're looking for as well as present the reasons why your company is the best option for what they need.
If your product or service requires a longer lead-time before closing a sale because there's more research involved before making a decision, your sales funnel would include sending informational emails before trying to close a prospect. Structure your campaign to teach your prospect more about the inner workings of your niche to build confidence in your brand.
Increase conversions
The ultimate goal of digital marketing is to generate more revenue. When you consistently remind prospects about your company and the products you offer, you increase the likelihood of acquiring them as customers.
An email campaign can increase conversions by getting your product in front of more interested website visitors (subscribers) more times as opposed to losing them forever when they leave your website.
Increase repeat sales revenue
Once you sell to a client, it doesn't mean the end of your relationship. Happy clients will often become repeat customers. Use your email list to notify new and existing clients of promotions and sales. An email list can increase the number of sales you make for seasonal specials as well as the regular flow of prospects that go through your marketing funnel.
Promote brand advocacy
There's no better form of marketing than word-of-mouth marketing. When you have happy customers, they will recommend your services and products and are 75% more likely to become advocates. It's as simple as that. Brand advocacy adds another form of advertising that is achieved by incorporating content creation for existing clients.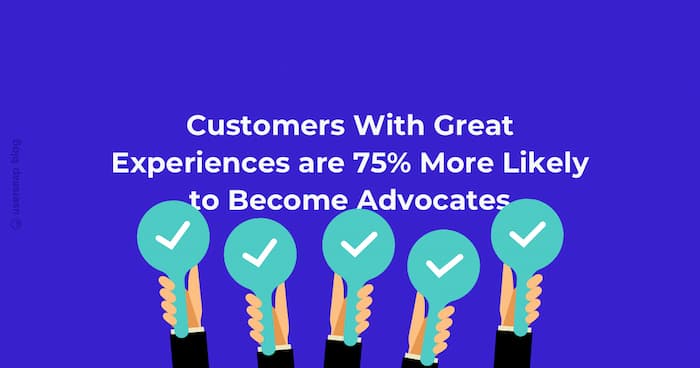 Examples of content that is geared towards brand advocacy can be follow-up emails about the service they received, surveys, giveaways, and contests. Maximize the lifetime value of a client by learning more about their preferences and making changes to accommodate them as best you can.
Optimize your conversions with an effective marketing funnel
The traffic your website generates will always consist of visitors at different stages in the buyer journey. Identify what content they're looking for and what they need to move forward in the buyer cycle to facilitate more conversions.
Develop effective marketing funnels on your website to create the perfect tool for lead generation. Your website should be your number one salesperson and contribute to your revenue, leads and new clients daily.
Need help getting more visitors to your website? Contact us today for a discovery meeting and learn about the best available options to grow your business to the next level. For a free website analysis fill out the form below.