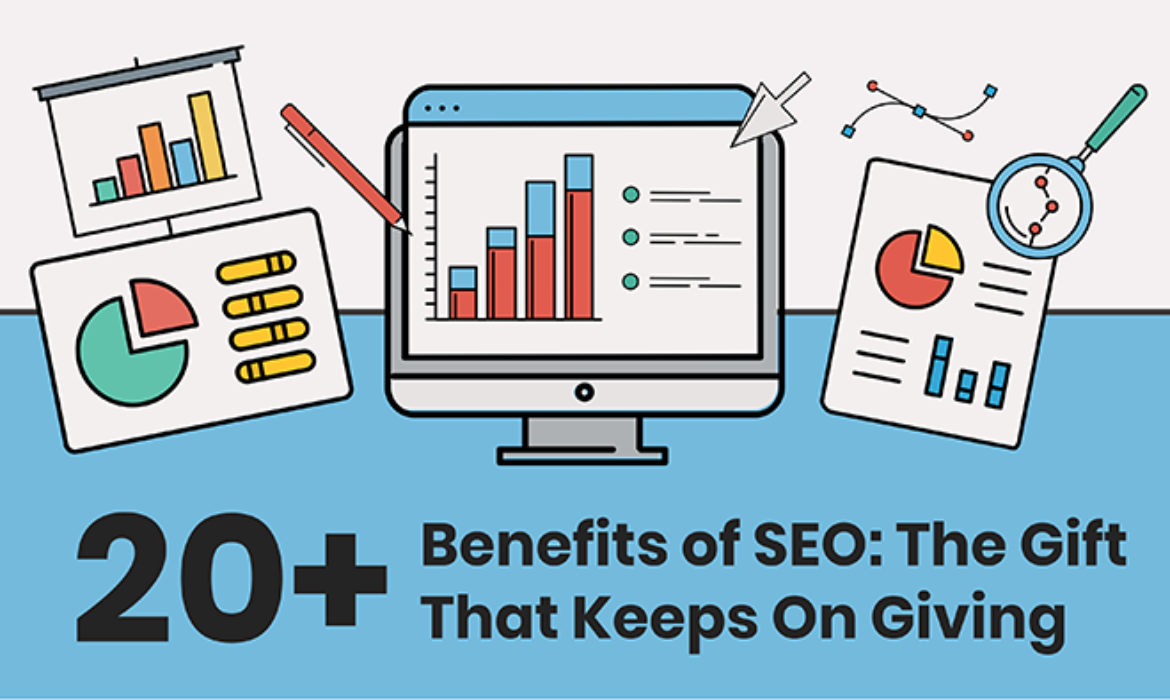 Search engine optimization is one of the top choices for business owners who are interested in the growth of their company. The benefits of SEO are quite numerous however the reality is that this online marketing strategy has become more of a necessity than a luxury.
The number of companies that actively invest in SEO is growing. In fact, 61% of businesses have stated that SEO will have a place in their budget in 2020 (up from 44% in 2018). With more companies investing in SEO, the leaders will keep leading and putting distance behind those who aren't following suit.
SEO isn't a quick process and with most SEO companies you have to pay before you play. At the end of the day, the benefits will far outweigh the cost as the process is essentially adding value to your website on a regular basis.
Here is an infographic on how the process works.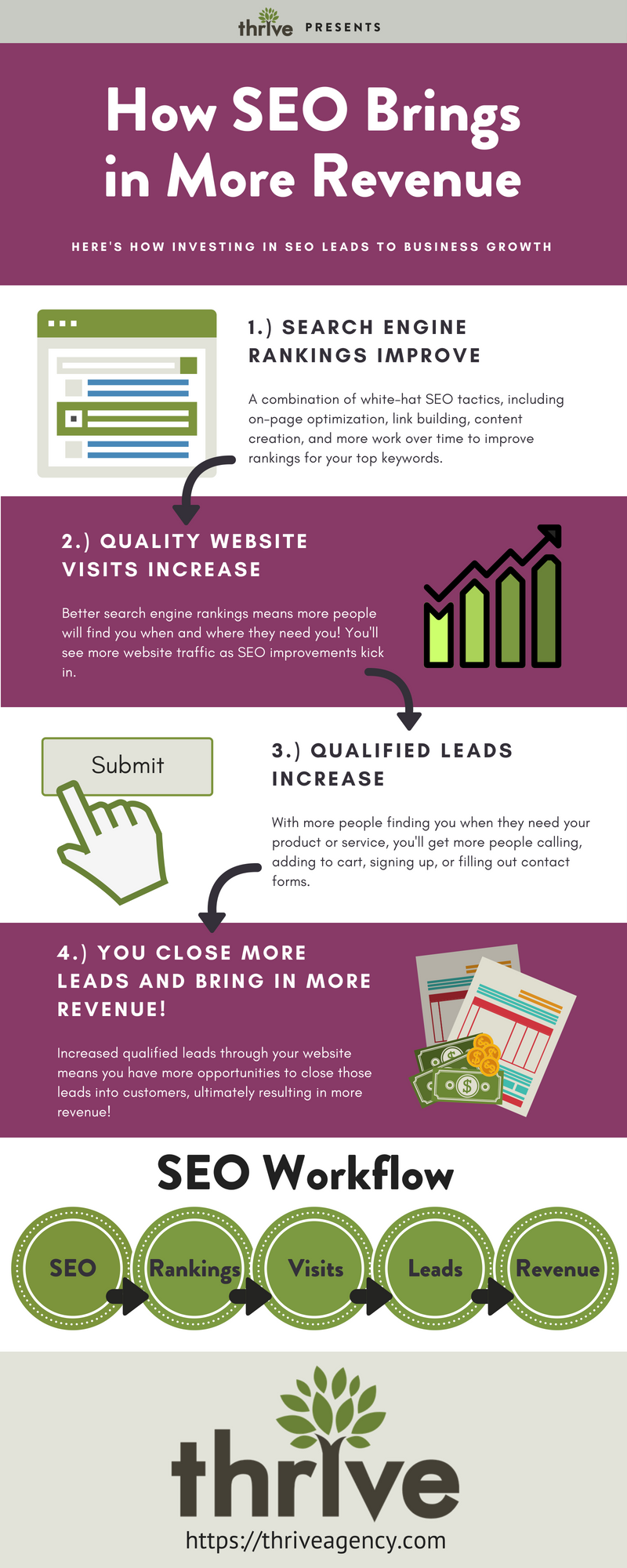 Here are a few benefits of SEO that will put your mind at ease when you make that inevitable decision to invest in the future of your company.
#1-Increased traffic to your website
In order to drive traffic to your website, your pages need to rank highly. It also helps to have a lot of relevant backlinks that can send your site traffic from relevant sources.
There should be no doubt anymore that search engine optimization is a necessary function for competing in the search results. Google recommends that website owners seek the help of an SEO professional to ensure the correct development of a website.
Implementing a custom SEO strategy will target your audience, optimize your content to get a higher ranking and drive more traffic.
#2-Increased development in your niche
A great deal of SEO is publishing content about the major topics and subtopics of your website or company. The process for publishing SEO optimized blog posts identifies areas in which users are showing interest. By addressing the most commonly searched problems by providing solutions, you develop your website to be a major resource in your niche.
As you build on the quality and quantity of content assets on your site it triggers more appearances in the search results for keyword related queries. This drives more relevant traffic that converts at a higher rate.
#3-Brand recognition
Most people prefer to buy from a brand they trust and recognize. Search engine optimization creates more keyword appearances for search terms that are related to your niche. The more a user comes across your website while doing their research, the more likely they are to trust your company.
#4-More new clients
The domino effect is in play when you increase rankings for important keywords to your business. The higher your page ranks, the more traffic is generated. Increase the number of visitors on your site and that results in more leads and new clients.
#5-Reach a targeted audience
One of the biggest aspects of creating SEO content is keyword research. A consultant goes through a series of routine checks to make sure a keyword will drive the right traffic. During the process, many related search terms and topics become apparent and thus become included in the strategy for optimizing a page for a keyword topic.
#6-Higher user engagement
If you've done your research correctly, your pages should contain all of the topics that a user is looking for when they search for your keyword. Competitive analysis of the ranking pages will identify what content or multimedia is working best to hold the audience's attention.
#7-More leads on a consistent basis
The primary reason to optimize your website is to drive more traffic that is interested in what you're offering. As you develop more content that is specifically for users on each stage of the buyer journey, your site becomes more capable of converting visitors along their journey. The results are more leads on a regular basis.
#8-Improves site structure
The structure of your website plays a role is the experience your users have-which, in turn, sends ranking signals to search engines. It's important to have a site that allows a user to navigate easily from wherever they are on your website.
When a site is organized by topic, it makes things easier for users to experience more depth within your topic. The organizational structure referred to as topic clusters contribute to higher rankings for a specific keyword topic.
#9-Blueprint for growth
An SEO campaign will target a specific keyword and develop a page or multiple pages around that topic. A great deal of research goes into identifying the best keywords to fit the website's strategy.
One of the greatest benefits of SEO is having a plan in place for driving traffic. When your company has an established blueprint for achieving specific goals, success can be measured, adjusted and accelerated.
#10-Increased revenue
New leads, new clients and increased revenue all fit into the same overarching goal. The whole point in investing money into your website is to make more money from the increased traffic.
One of the benefits of SEO is the fact it provides one of the best ROI's in the marketing industry. What could be better being found by users who are actually looking for what you offer?
Conversions are higher than those of paid advertising. However, unlike PPC campaigns, when you stop paying for SEO services, your site continues to drive traffic, leads and new clients to your business.
#11-Alternate stream of income
For companies whose sales have traditionally been in person, SEO can offer an alternate stream of income once they make products available for purchase on-site.
This additional revenue can overcome the inconvenience of distance for many potential clients. This can open up entirely new markets that would have otherwise been unattainable.
#12-Contactless service
Selling products online allows companies to continue making sales; even while regular store hours are closed. A website that ranks for transactional keywords can make money 24 hours a day, 7 days a week.
Ecommerce is a quarantine-proof business if your products are also quarantine-proof. Another one of the benefits of SEO is that it connects customers and vendors despite any types of restrictions or limitations placed on physical interactions.
#13-Reach a larger audience
Search engine optimization allows your business to expand your audience. There are no physical limits. As long as your products or services are consumable by a global audience, the world is at your fingertips.
#14-Improve your online presence
When your company, brand or any keyword related search is made, you want your website to come up in the search results. Improve your online presence for anything related to your niche through a variety of platforms and practices. Options include but are not limited to content marketing, guest posting on high authority sites, expanding your social network, starting a YouTube channel.
#15-Enhance your local presence
As a local business, you want your neighbourhood to know about your company and think of your business when they need something you offer. Local SEO is all about improving your search visibility for localized searches of your products and services.
At least half of all searches made on Google are to obtain information on a local business. Local SEO in Toronto contributes to as much as 80% of businesses total revenue. This is one aspect of SEO that can't be ignored by companies that offer local services.
#16-Explore a variety of traffic sources
Search engine optimization gives you the option to explore different sources of traffic. There are different search engines to optimize for, paid ads, local pack ranking, SERP features and social media marketing. YouTube, Amazon and even Facebook and other social sites are considered their own search engines, which gives companies more options for sources of traffic.
#17-Identify technical errors on site
Technical SEO can help your website by making pages accessible. Issues that affect your ranking are page speed, duplicate content and indexing issues. An SEO consultant will catch those problems and correct them before they snowball.
#18-Adapt to changes in the algorithm
Google is constantly updating its algorithm, which makes it impossible to stay at the top of a search result without proper maintenance. It is said the Google updates at least twice daily, with around four major updates a year.
An SEO professional can guide you in the right direction when major updates occur. If your ranking suddenly drops, you have someone to source the issue and get things back in order.
#19-Avoid/reverse search engine penalties
Many business owners will make mistakes that could cost them their website's entire search visibility. For example, unnatural link building can result in your site's removal from Google's index altogether.
Ethical SEO experts are able to navigate around the penalties and filters that Google has set forth that would impede ranking and search visibility. It's one of the benefits of SEO services provided by a professional. The steps to reverse a penalty are often more complicated than what an inexperienced person should undertake.
#20-Identify opportunities
The search results offer many different traffic opportunities that you can pick up on if you're looking for them. SEO is the combined effort of a lot of smaller moving parts. Capitalizing on opportunities as they come can result in the top ranking, increased search visibility and a bigger bottom line.