Establishing an effective, custom SEO strategy for your business is more important now than it ever has been. The global pandemic has created a strong awareness of the options that exist to people in a contactless environment.
Many people will continue to explore those options long after the pandemic is over. As online searches continue to surge, companies are experiencing a large increase in the demand for their products.
The benefits of SEO have never been greater. A top-ranking in the search results for important keywords can contribute to the largest source of leads and new clients your business acquires.
Many companies relying on the in-store experience have felt the impact, while those positioned at the top of the search results have experienced a boost in brand recognition and overall sales.
The bottom line is that your business needs to be prepared for more digital solutions in a contactless environment. A custom SEO strategy is one of your best solutions to ensuring long-term growth.
Why is SEO important in 2020?
Despite the inevitable end of a global pandemic, the behavioural patterns of the typical consumer has been changed forever. Online searches have surged creating massive traffic opportunities for companies to capitalize on to increase revenue.
So many have turned to online shopping for the first time. As people become more accustomed to researching and making purchases online the trend in online sales will continue to skyrocket.
Ecommerce is booming and will continue its rapid expansion of total sales. The numbers this year will break all records and extend past initial projections.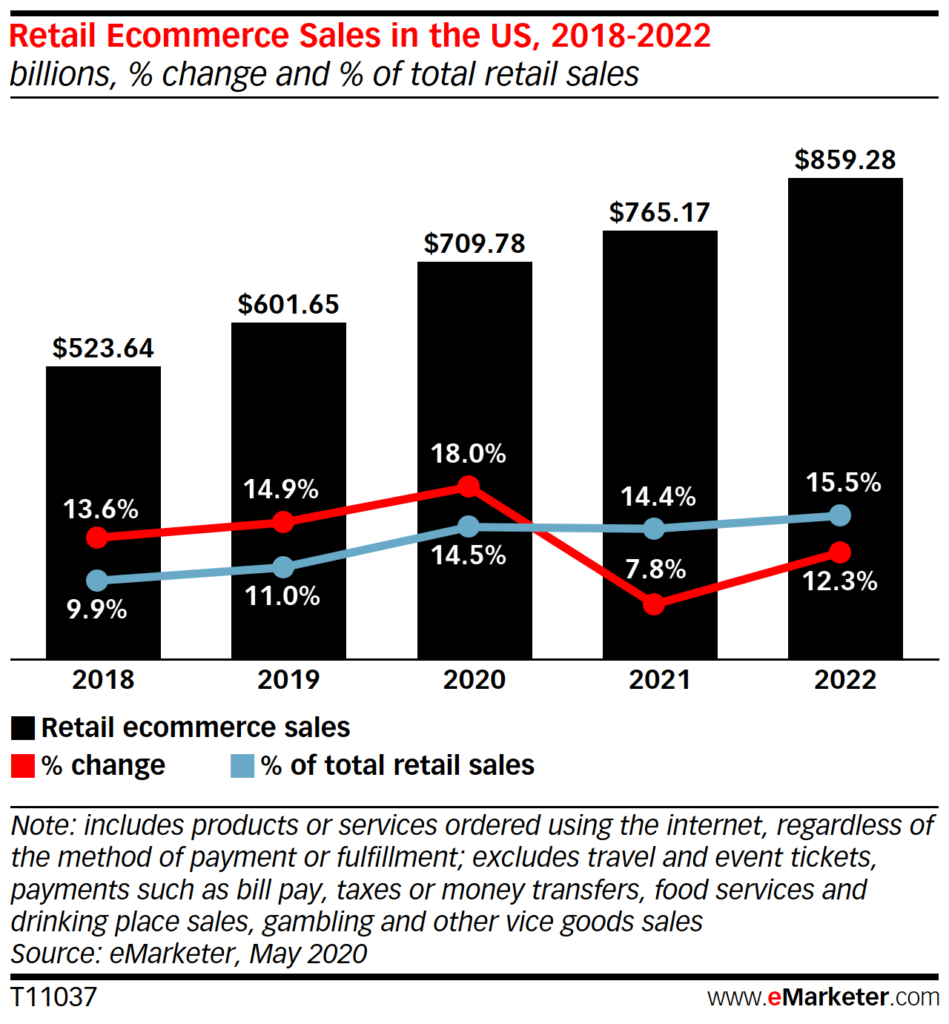 How can you position your company to benefit from the inevitable shift in the way we do business?
Position your website to receive increased search traffic to capture more leads and new clients. Execute a custom SEO campaign designed to drive traffic from keywords that are important to your business.
What is an SEO campaign?
An SEO campaign is a process that improves your website's search visibility through improved rankings in keyword searches. It results in attracting visitors who are a match to what your business offers in products and services.
An SEO campaign provides the blueprint for developing your site in the major keyword topics that surround the inner workings of your business. As you build content that answers questions and educates visitors, your site becomes increasingly relevant to keyword searches.
As a result, your website appears in keyword-related searches from users at different stages of the buyer journey.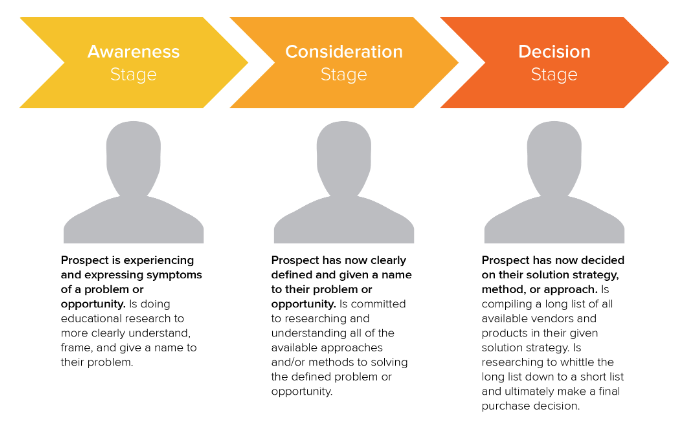 The goal is to create a website that has the ability to drive traffic, educate prospects and convert visitors to clients.
How to customize your SEO strategy and build an effective SEO campaign
The main focus of an SEO campaign is on the keywords you target and the content you publish. The largest ranking factor is being the best result to a search query. An SEO campaign builds the relevance of your page to the keyword topics and targets.
Understand your audience by researching your target keyword
Establishing search intent is crucial to understanding what it is that Google is using to rank pages highly in a search result. Keyword research is the first area that establishes the foundation of an effective SEO strategy.
What is the user truly expecting to find when they type in a search query?
Whenever you're considering a keyword to target, the first action is to use that keyword in a search. The SERP (search engine result page) contains a lot of information that will point to what is needed to rank for the search term.
Reverse engineer the way other pages have achieved a top ranking to provide clues on how your site will outperform your competition.
Perform a SERP analysis
For every keyword search you will find the following on the SERP:
The level of competition that competes for the first page
The type of content that is being used to rank
How pages are optimized to perform
How many links are pointing to the ranking pages
How Google displays the search result
The commercial value of the search term
Establish intent
The first assessment is whether this term is a perfect fit for your company. If the pages that rank are all competitors that are offering the same product or service it confirms the relevance of the keyword to your business.
If there is a mix of results, consider a more specific search term to avoid unwanted traffic that wouldn't be interested in your content.
Assess the competition
Using software and keyword tools becomes necessary in order to establish the authority competing pages have built. By identifying the number of links each page has pointing to it, where those links came from and whether they will benefit your site is the first indication of how realistic your keyword is to rank.
Build a list of alternative keywords
A search result can display many different features that are clues to what users are searching for when they search for your keyword. Establish commonly used phrases and keyword alternatives to build a better understanding of what the bigger picture is to the user's true intent.
Read more on how to choose the perfect keywords for your site
Prioritize your target keywords
Keyword research will result in a large list of keywords, keyword synonyms and related search phrases. Prioritize your list in order of importance. Group your keywords based on search intent.
The result should be a keyword strategy that addresses the most important aspects of your keyword topic. This is the initial blueprint of a keyword strategy that lays the foundation for your content strategy.
Develop your Content Strategy
The approach you take on building content should be to provide as much information about your business by building a resource of information. The content you publish should answer common questions, provide insight and educate based on satisfying the intent of the keywords you target.
As your site becomes more successful in ranking for these terms, it increases the trust search engines place on your website for keyword related searches.
Map your content to match your keyword strategy
A visual representation of a keyword strategy is known as a topic cluster. Google ranks pages based on topical relevance. Connecting the ideas and concepts of your main keyword topic builds more relevance to your site and to the pages that are interlinked.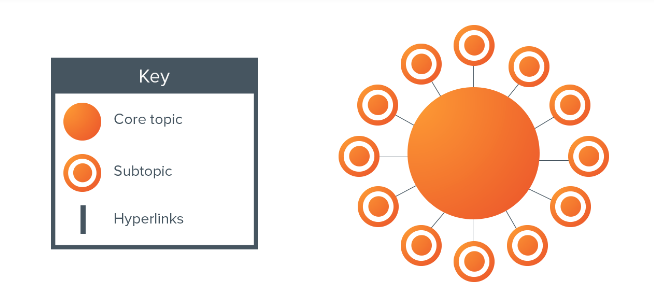 The pillar pages of your site will target the most important keywords. The clustered content will target more specific searches that serve connect visitors to your business by addressing the various details surrounding your keyword topic.
Read about how to implement pillar pages
Publish content that performs
The content you publish needs to serve the user's purpose. If there are massive guides that are published on the first page of results for your keyword, it indicates the level of detail that's required.
The Skyscraper method is a common approach to making sure your content is 10 times better than anything that ranks.
Using this approach ensures you cover the topics and subtopics necessary to address the intent of a search.
Read about how to write SEO content that ranks highly
As a local business, publishing local SEO content is a strategy that enhances your local search appearance.
Optimize for traffic opportunities
When your page ranks at the top of a result, it ranks for a number of different keywords. People use a number of different terms in a search-even though they are searching for the same content. Part of your content strategy includes optimizing for additional terms as well as traffic opportunities that exist in Google features.
Featured snippets and PAA boxes, for example, are considered and traffic opportunities because they are features that attract a percentage of clicks on the search engine result page.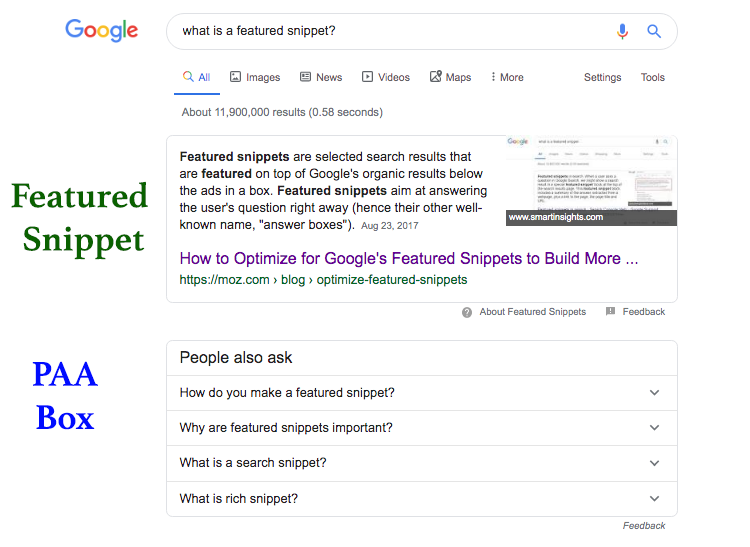 Optimize to appear in these features for additional traffic to the same page for multiple related search terms.
Link building strategy
Link building is necessary to get votes of confidence in the quality of your content. Well-placed links to your content build credibility and authority in your niche and industry.
There are a number of different link building methods you can employ, but regardless of what you choose the strategy should appear as natural as possible.
A common tactic employed is to assess your competitor's links. By identifying where their links come from, you can pick up on a few links for your site.
Not every link on a competing page will be good for your ranking. In fact, there may be links pointing to their site that don't help them and are hurting their ranking potential.
Choose to pursue links from websites that have traffic and whose visitors will be genuinely interested in your content. This approach helps to identify the sites that have a strong relation to yours and also get more people on your site that has a strong possibility to become clients.
Reach out to similar niche and authority sites
Most SEO campaigns require some level of outreach. In order to get links in the most natural way, it's common to reach out to website owners who publish similar content.
The success of your link building depends largely on the quality of your content. When you have good content worth sharing people won't mind linking to it.
Achieve goals and benchmark your success with your SEO strategy
Every SEO campaign should end with the goal of driving traffic to your site from keyword searches that serve a role in your overall keyword strategy.
Creating content that ranks is a primary function of traffic generation. With the right keyword strategy, your website will thrive from the flow of visitors that convert to clients.
Customize your SEO campaign to achieve keyword related goals and drive traffic that converts.