Backlinks are one of the three largest ranking factors, which makes high-quality link building strategies a top priority for marketers and business owners.
The truth is that acquiring high-authority backlinks is always related to writing top-notch content.
"Focusing on quality [backlinks] over quantity is what can help to protect your site as Google updates."— Adam Riemer,

SearchEngineJournal.com
If you're producing content that is shareable and has value, it will be much easier to get quality backlinks to your website.
Writing great content creates more opportunities for great links, top rankings, and increased revenue.
Learn how to use Cambridge SEO to increase the revenue your site generates.
What are the characteristics of a quality backlink?
A backlink is high-quality when it comes from a website in your niche and when the linking site has a good flow of traffic and search visibility. A website with high domain authority it's a great clue to being a quality link but it isn't always telling of how it will impact your site.
Relevance
Links from sites within the same niche and industry will have the most impact on your site because they are votes of confidence coming from relevant sources.
Think of them as referrals. If you're about to undergo surgery than a referral from an Iron Chef will not have the same impact as a referral from a reputable surgeon.
In fact, too many links from irrelevant websites will do more damage than good by associating your site with an irrelevant topic. Unrelated links could potentially be taken as an effort to manipulate ranking and trigger an algorithmic penalty.
High domain authority
Domain Authority (DA) is a way of measuring a domain's ability to rank in the search results. DA is a measurement out of 100 that is proprietary to Moz. It refers to the strength of a backlink profile. The value largely represents the quality and quantity of the linking domains in the profile.
A higher DA means more ability to rank for a specific term. Obtaining links from websites with a high DA will increase the level of trust and credibility of your site-providing the site hasn't been penalized and has good search visibility.
Traffic and search visibility
A website with a low DA can still provide you with a good link if they are healthy, generate traffic and have search visibility.
The best backlinks to acquire are links where the topical content on both pages is related. A link to another site should provide more related information in which the user would be interested in reading.
If a site is healthy with traffic it doesn't necessarily have to have great metrics to be a good link.
High-quality content is the key to high-quality link building strategies
Good content is linkable, shareable and makes link building strategies infinitely easier. No one willingly sends their visitors to a low-quality website with poorly written content. It devalues their visitor's experience. This being true, it will be hard to get websites to link to yours if you don't provide value in your content.
"Sadly, much of the content being published is simply not worth linking to. 75% of it is getting zero inbound links. So forget the 'more is better' approach to content if you want links. Go with quality instead. Your content will generate links only if it is truly exceptional—'remarkable,' as Seth Godin would say."

Brian Sutter, Forbes.com
If you are producing top-notch material in your blog posts it makes outreach campaigns much more successful when you have something of value to offer because people want to link to great content.
Link opportunities are created by building relationships with website owners, authors, bloggers, SEO consultants and influencers that will link back to your website. It's much easier to reach out to someone asking for a link when you have amazing content on your site.
Outreach campaigns start with a list of all the websites and authors that link out to content similar to yours.
By reading their blogs and published work you can find the pages that would benefit your site the most with a link.
A casual email is all that's needed telling them about what you've published, asking them to consider using your content as a future resource.
Broken links can are considered to take away from the user experience by leading the user to a dead end. Identifying and repairing broken links will improve your website's technical SEO. That means if you can find broken links on a link prospects site you're helping them with their SEO and providing your own URL as the solution to the problem.
Read through your link prospects published content scanning for broken links. Atomseo makes a plugin for Chrome called Broken Link Checker that will check the page your reading for links that need repairing.
Once a broken link is discovered, use The Wayback Machine to see what content previously existed on the page.
Publish a better version of the content to replace the page that no longer exists so you can present it as an option to your link candidate.
Let them know how much you enjoyed their article but you noticed that a few of their links were broken. You can offer a link to the page you've just published as a replacement.
If the owner cares about the performance of their website they will appreciate the message. Even if you don't get the link this time, you've made the connection and improved your chance for a future attempt.
Popular blog sites are excellent sources for backlinks because they typically have a good flow of traffic and you can choose a site that has a high domain authority and is specialized in your niche.
Perform a search on Google for websites that accept guest posts by using the command:
inurl: [your keyword] + "write for us"
This will search for SEO websites with the words "write for us" in the URL.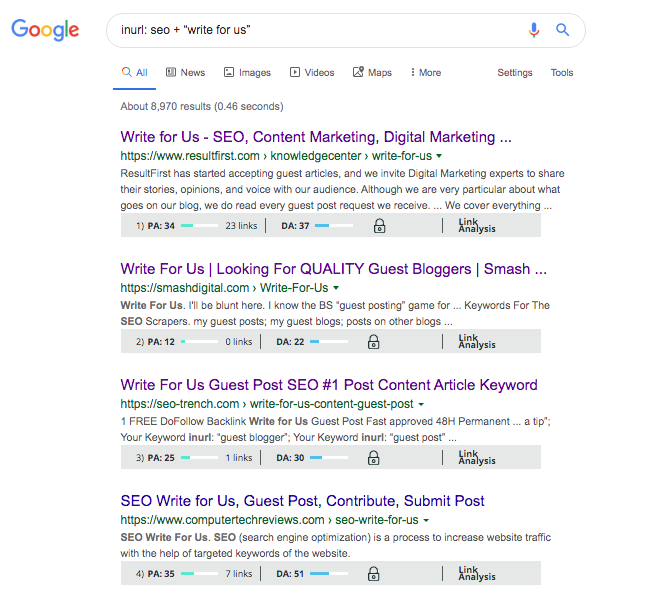 Choose sites that publish topics directly related to your content, preferably with a high domain authority to submit your articles. You can use the Chrome extension "Mozbar" to quickly scan for sites with a satisfactory domain authority to decide whether they are a good fit for your site.

Each site will have different submission guidelines. Read them carefully before submitting your article to save yourself time and aggravation in submitting to a site that doesn't help you.
For example, many sites will publish your article but only provide nofollow links-which don't pass on any link metrics. The goal is to obtain a quality link from your submission so make sure that the site in which you're submitting will give you the link you're expecting.
Stick to the submission guidelines to give your article the best chance of acceptance. Many sites are specific about the type of content they are looking to publish but it's also helpful to read a few articles to get the feel for the style the blog is publishing.
Other requirements include the minimum word count, minimum images and a minimum number of internal links to the blog site's own articles.
There are excellent opportunities for links by writing reviews and testimonials for products. If a site publishes reviews on a product that's related to your business write a detailed review and send it to them. Many sites will link back to yours for writing the review and you can pick up a great link with minimal effort.
Journalists and authors are looking for expert opinions on topics that they need to write about. Be the expert source by joining sites like Help A Report Out.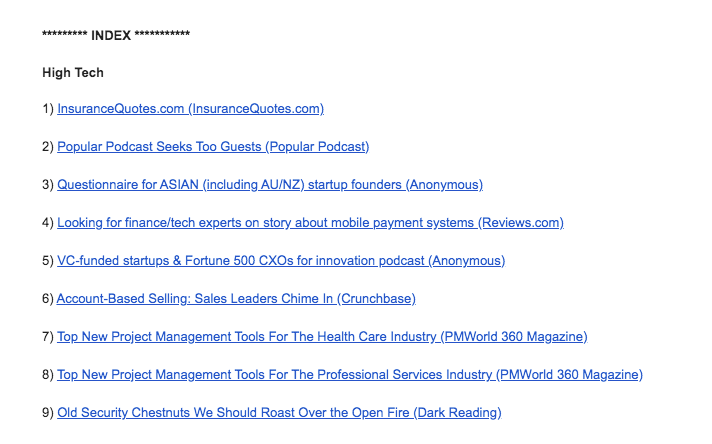 You will receive an email every day listing all the requests being made for information that is needed to complete an article. In most cases, responses require less than 300 words. A well-written response could result in acquiring a backlink from a high DA site that would otherwise be difficult to get published.
There are a lot of people that respond to these journalist requests so email your response in as early as possible. That being said, be persistent and ready to fire out a bunch of responses before one gets accepted for a backlink.
Conclusion
To put it plainly, links should provide a better experience for users by enhancing their experience through related content. Great writing and quality content are fundamental requirements for acquiring most types of backlinks.