Getting started
This guide to small business SEO consulting services is for small business owners who want to undertake some of their SEO efforts on themselves. This is also for those who want an intimate understanding of what an SEO consultant strives to accomplish in order to drive more traffic. Throughout this document, you will learn the basic formulas for what makes a website rank and how you can do it yourself.
Local SEO
One of the first things that should be done to maximize the amount of traffic your site receives is to optimize your site for local searches. Claim and verify your listing on Google My Business and get your website on the map for searches that originate close to your location.
Maximize the strength of your GMB listing
Optimize your listing to trigger as many appearances in the search results as possible. You can do this by including every bit of information that is available for you in the profile.
Enter your address (if you service a large area and do not have a brick and mortar address you should leave the address field blank)
Upload images.
Add your logo.
Post content on Google posts.
Answer questions on the knowledge panel.
Include the most appropriate categories.
All of these little details may seem trivial, but they all contribute to a stronger local profile.
Encourage reviews
Reviews are a ranking factor that will contribute to where your company is displayed in the local finder. The more five star reviews your company receives the more likely you are to appear in the local pack (top three sites listed on the first page of search results).
Detailed, keyword-rich reviews will go a much longer way than short reviews. Encourage your customers to talk about their experience with your company to get the most of reviews as a ranking signal.
Add relevant citations
When search engines assess your site in a local search, they will confirm your name address and phone number (NAP) with trusted websites that publicly display this information.
Use the top local sites to confirm your address and build credibility as a local presence. Use Bing, Yellow pages, Manta, Foursquare and other well-known sites to list your business information. It is extremely important to keep all of your NAP details identical across all websites in order to build your credibility.
Perform A Site Audit
Before beginning the process of ranking pages the foundation of your site needs to be like bedrock. Unshakable. You're going to be running an audit to check for any errors your site generates.
Perform a site audit to identify and correct the problems that currently exist so they don't haunt you in the future. It would be a shame to go through the entire process of ranking a page and you end up losing all your rankings to a pre-existing issue.
There are a lot of free tools available for running site audits so don't feel like you're limited to using the ones mentioned in this guide. Screaming Frog is among the most popular choices, which is what we'll run in this example.
Download your free version of Screaming Frog
Simply enter your URL and allow the software to crawl your site. The end result is a report that will indicate the technical status of your site.
Plan & execute effective keyword research
Start your keyword planning by making keyword buckets to group ideas and topics that are closely associated.
Start with the main keyword that represents your service. List all of the topics or subtopics that are involved in providing that service. For example here is a keyword bucket for SEO services:
Main keyword: SEO services
Bucket ideas: Link building, On-page optimization, keyword research, content creation, local SEO, site audit, technical SEO.
Each of these bucket ideas is part of what makes up providing SEO services. The content on the SEO services page will address each of these items but because it is a conversion page, it would be about the benefits of each of these individual services.
The details of each service would then need to be explained on a separate page in further detail to provide a clearer understanding of how they work.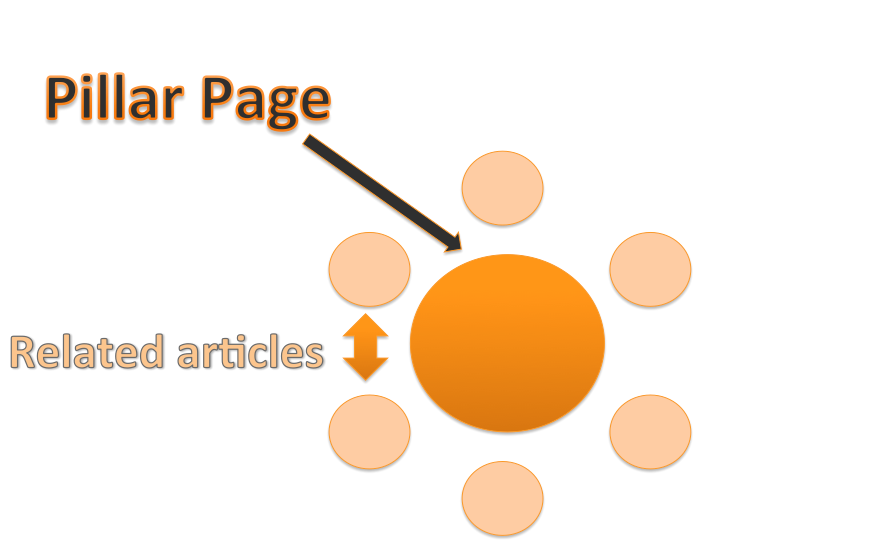 This basic concept of bucketing ideas creates the hub and spoke structure on your website. By listing as many different topics that go into your main services you are connecting all of the potential aspects of your service and providing the depth of the topic by publishing separate pages to fully explain how it works.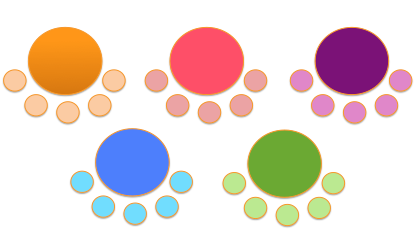 Assigning value
You will need to work from a spreadsheet and use a keyword tool to assign value and generate additional keyword ideas. When you're choosing the best keywords for your website you will want to account for relevancy as your top priority but target keywords that have volume, commercial value with lower competition.
Type your seed keyword in the keyword tool of your choice. Here is a list of the most popular tools:
Ahrefs
Moz
Google Keyword Planner
Export the results of your search into a spreadsheet. You are looking for the keywords with the most volume and commercial value that will add depth to your main keyword topic as well as be able to rank these pages with the least difficulty.
Make a list of the keywords to include in the content of the main page. You will also build separate pages on major subtopics as part of the hub and spoke structure.
Choose the most relevant keywords with the best balance between the lowest values for competition, cost per click, and volume.
Grouping by intent
The list you create will be extensive. Using keyword tools you should be able to come up with at least 100 keywords that you could potentially include in the content you're going to create. You will need to separate your list into groups that represent the different pages on your site based on search intent.
Long-tail keywords
Create a short term goal and a long term goal for every page that points to your pillar page by targeting long-tail keywords. Over 50% of all search terms are more than four words. By creating a longer search term you will reduce the competition that's optimized for the key phrase. Adding more descriptive terms to your keyword will drive more targeted traffic to your site.
Create long-tail keywords by forming a question using your seed keyword. This will set the stage to optimize for featured snippets, PAA boxes (People Also Ask) and voice search. Over 80% of Google home results are displayed from featured snippets.
Ask your question in every form of "who, what, where, when, why and how." You can make your own list or seek the assistance of Answer The Public. By typing in your keyword on the dashboard of this site it will return a list of questions using who, what, where, when, why and how.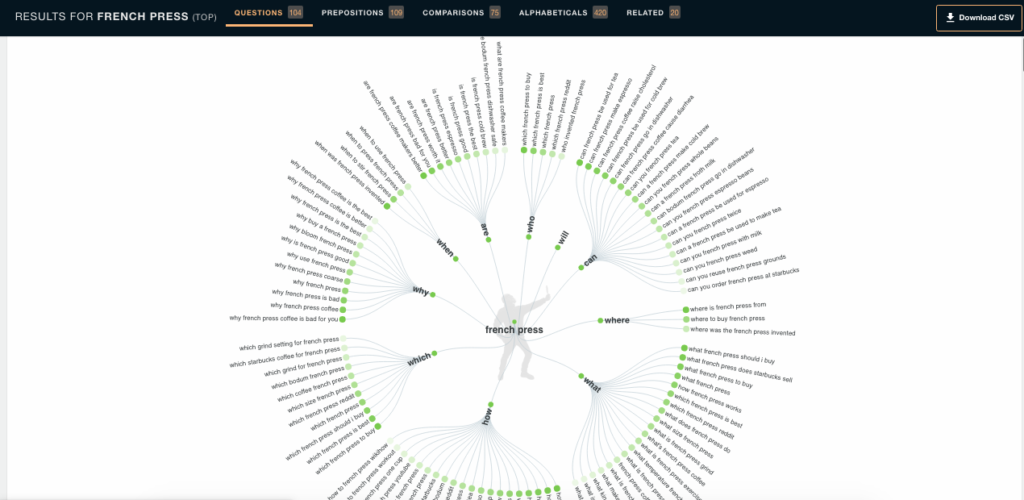 Additionally, Answer The Public will also produce reports on what words are most often combined with your keyword, what phrases are most typed and offers this info in as a visual display or in list format. You can export all of the results generated but keep in mind you have a daily limit for how many reports you can generate.
Another quick and easy way to find popular long-tail keywords is to use Google itself. The PAA boxes will list three questions to start based on your search. If these questions are in line with your content you can optimize to appear in the box for those very same questions.
By clicking on one answer, the box will expand and lead to more related questions in which you can add to your list of options.
Google autosuggest is the drop-down that suggests search terms when you start typing in the search box. Add those terms to your list and use them to produce different results in new searches. The "searches related to" box at the bottom of the page will also provide similar results that are worthwhile exploring.
Check for SERP Features
The existence of a SERP feature can influence what long-tail phrase you use as your title. As a supporting article to your main keyword page, you will want to optimize for the featured snippet and PAA boxes by using a question that matches the search intent of the existing feature. An exact match isn't necessary but the title must reflect the same search intent as the query.
Perform a competitive analysis
Most paid versions of keyword tools will give you an indication of the level of difficulty a keyword represents but you'll need a more in-depth analysis of your competition before finalizing your decision.
Domain authority and page authority
Domain authority refers to a website's ability to rank. The DA is based on the number of referring domains as well as the quality of the referring domains that link to the website.
Page authority refers to the ability a specific page has to rank. High authority sites will naturally have higher authority pages. If the page authority is not strong enough to rank on its own, backlinks are needed in order to increase the authority of a page and move the page up in rank.
The first assessment of difficulty can be made from a broad view by using the browser extension Mozbar. This tool allows you to see the page authority, domain authority, the number of backlinks and spam scores of domains when they're listed in a search result.
If searching your keyword produces a list of domains that are way above your domain authority you will need to consider an alternative keyword to use. Some search terms would simply take too long to rank and would not be worth the effort. Use the Mozbar to give you a brief overview of what it will take to rank your page for that keyword.
Side by side comparison
If your keyword produces a list of sites that are comparable in authority, start an in-depth analysis to identify how you will outperform the ranking page. You will aim to outperform the page in authority, content, on-page optimization and technical performance.
Competing with page authority
To get the complete picture of the authority of the ranking page, run a backlink analysis on the URL. Explore every linking domain to see whether these links are obtainable or whether substitutes can be found to match and exceed the quality.
There is no exact formula that will give you a magical number of how many links you will need, only common sense and persistence.
Export the backlink report to compare the DA of the linking domains.
If the ranking page has a few high authority links you will need to aim for more of the same types of high authority links to match credibility.
If they have medium DA sites linking, you may only need a few high authority links to beat them with a link strategy.
What counts the most in your link strategy is that the backlinks you acquire are an excellent match in relevance.
What type of links your competition has acquired? Are they from guest posting sites? You can acquire the same.
Are they on a site in an unrelated niche? You can use their mistake to your advantage by ONLY linking to related sites in your niche.
Keep in mind that a backlink report will not tell you which links are hurting their credibility-you will need to decide that for yourself.
Assess the depth of the topic
A complete analysis of the ranking page will give you an idea of the level of quality and the type of content that needs to be produced. This isn't an excuse to copy what they've done but if two out of the three top-ranked pages are "how-to" guides that count over 3000 words it's a sign you need to produce something comparable.
Word count is not a ranking factor, but it does provide a good benchmark for aiming to achieve a specific level of depth in your content. Aim to go beat the word count of the top-ranked pages by large margins. If they have 1000 words make your page 2000 words.
Identify alternate keywords
Are there any alternate keywords the page is ranking for? Ahrefs provides a tab to get an overview of the number of keywords a specific page is ranking for.
Identifying alternate keywords your competition is ranking for will indicate the related topics that should be included in your content. Your keyword research should have produced the related subtopics to your main page. Compare the keywords you're trying to rank for to see whether you've missed anything relevant that could contribute to satisfying search intent.
Match the media
Content is one of the largest ranking factors search engines use to display the top sites in a search. Part of producing quality content is including media such as images, video, charts tables, podcasts and anything that enhances the user experience.
Create better engagement by including more media in your content. If your competition has a video, make yours longer or possibly include two. The decision is ultimately yours to find a way to make your page outstanding. Originality goes a long way with your visitors. What's good for your visitors will equate to positive ranking signals for the search engines. Create the best experience imaginable by making better use of media to convey your message.
Compare on-page optimization
If a page is ranking in the top three spots for your keyword check to see if they are using the right optimization signals for search engines to place them at the top. You will need answers to the following questions:
Is the keyword in the title?
Is the keyword in the URL?
Is the keyword in the image alt tags?
What keywords are in the H2 tags?
What LSI keywords and keyword synonyms have they used throughout their content?
What pages do they link out to?
What internal links are relevant to the page?
What anchor text has been used in their inbound linking strategy?
Are there bolded keywords?
If your competition is missing any on-page elements of optimizing for your target keyphrase, you may have an opportunity to outperform them in this category.
Create content to satisfy user intent
One of the advantages of effective keyword research is that it sets the stage for your content creation. The keyword clusters you've created represent the basic foundation for the structure of your website.
Build a pillar page that represents your main keyword. This page will include every aspect of your keyword. This page will inform your readers about the benefits of your product and service.
Create content to represent every subtopic that can be broken into a narrower focus. Use the subtopic pages to explain the details of what your company provides.
You now have the basic requirements for what your website needs to explain your services using the keywords that are closely related. The depth of the topic is demonstrated by providing detailed posts on the subtopics that go into your main keyword.
From your competition analysis, you also know what type of content you will need to acquire backlinks. The pages you build will meet and exceed the standards of what is already ranking.
You will also have an idea of what articles you needed to build links from guest posting efforts.
Connecting with your readers
The quality of your content will contribute to higher rankings by providing true value to your readers. High-quality content goes beyond industry knowledge.
Know your audience to get to the issues in which your readers are most interested. Increase engagement and value by publishing original, insightful content that a reader can apply to their lives after reading.
Find relevant topics your prospective clients are interested in. Go to the places that they go when seeking answers to problems they are having in their lives.
Identify pain points and common questions people are asking related to your keyword topic by researching forums. Forums can produce large volumes of traffic in which you can find a gold mine of insight. You can type into Google "[your keyword] + forums to come up with a list of forums related to your topic.
Scan through the discussion boards for questions or topics that have a lot of responses and engagement. You can pick up on the issues that affect people the most by looking for questions that consistently come up. Take note of what they are saying and what is motivating them to seek out information on your keyword topic.
Another way to dig up issues that resonate with your readers is to research frequently asked questions on big brand sites. When a brand that has thousands of visitors going through their site on a daily basis publishes questions on their FAQ page, you can bet that it's because it's a question that everyone is asking and that the answer to that question will attract some interest from the visitors of your site.
Reddit has grown so much in popularity that you can find a subreddit on literally any topic. You can see what people are responding positively to by the up-votes that serve as an indication of popularity.
User-generated content is among the most valuable resources for identifying topics, pain points and worthwhile discussions. Being aware of the responses to specific issues or commonly asked questions will provide some of the best clues on how to create content that resonates with your readers.
Optimize your content
Your on-page optimization enhances the ranking signals for the keyword you're targeting. Search engines will gather the meaning of your page through semantic analysis to determine whether your content satisfies search intent for specific queries. Optimize your page for the words you want your page to rank highly for by placing your keyword in the expected places that summarize your content.
Optimize your title
Your title is one of the most important parts of the entire page because it provides the quickest most obvious summary of your content. This is the main selling feature and the first thing people see in a search result. Most people will make a decision on whether to read your content based on how enticing and how relevant your title is to their search.
Placing your target keyword in the first section of your title will insure the keyword doesn't get cut off when it's being displayed in a search result. When users see the keyword they are searching as the first thing in the title they are automatically drawn to your page. This fact alone will promote a higher click-through rate to your content, which is a positive ranking factor.
Optimize your URL
Include your keyword in the URL as part of a summary of the contents of the page. By default WordPress sites will show a number that makes no sense to humans or search engines following the domain name. Examples of a WordPress generated URL would look like this:
You can switch the default settings by going to the settings tab in your WordPress dashboard.
Choose permalinks and select "post name" from the available options.
Click save settings.
You now have the option to include a short summary of your page in three to five words following your domain name.
Optimize your images
Every image you load on your website requires an alternative image description for search engines to understand its meaning. Images and pictures are somewhat left to interpretation and in order for search engines to understand the meaning they will look at the name of the file, the title, the alternative description (alt image tag) and even the captions will contribute to a search engines understanding of the image.
The alt tags are used to tell search engines exactly what the image is about. Use your keyword within this description to optimize the image to your page.
Include a meta description
The inclusion of a meta description will count towards being an optimized page, however, Google doesn't count the keywords within the description. This doesn't mean you shouldn't include them-actually it's best practice to include your keyword at the beginning of your meta to improve your click-through rate.
In a search result, users will see your title first but the secondary selling point of your page is the description underneath. Using your keyword near the beginning will reinforce the relevance of your page and entice more users to click through to your site.
Optimize your H2 tags
The list you've created in your keyword research with all of your grouped keywords will serve as a guide for what words to use throughout your content. Use related keywords and keyword synonyms in your subtitles to enhance the optimization of your page by connecting ideas and related topics.
Use structured data mark-up
Whenever possible use structured data mark-up to improve how search engines read your page. It may not apply to all content but adding a mark-up to images and pertinent information will make your content stand out to search engines.
Optimize for featured snippets
If there's a featured snippet associated with your keyword you will need to optimize for it specifically. To be eligible for selection your page needs to rank in the top ten results on the first page.
Identify the type of snippet that exists on the first page to determine how you will optimize.
For a paragraph snippet, include a paragraph summary of approximately 50 words directly after the header that represents the snippet.
For a list snippet, there are two HTML formats you need to use to give yourself the best opportunity for selection. Use an ordered list following the headline that represents the snippet.
The second is to tag your subtitles (h2 or h3 tags are most common) and make sure that when in list form your subtitles provide an accurate solution to the query that the snippet represents.
Strategies for white hat link building
Once your content is optimized and you're done making changes, building links will get your page authority moving up as well as your ranking for your target keyword. Never risk the well being of your website with risky link building strategies such as paid links, PBN's (unless they're really, really well-disguised) and any unnatural linking patterns. Google only endorses natural links that enhance the user experience. The following are among the safest link building practices commonly used.
Outreach link building campaigns
Many of the tactics that will be discussed are similar in nature because they involve reaching out to people who are likely to link to your site. Each of these approaches requires you to have good content to link to, otherwise, your success rate will be very low.
For a typical outreach campaign make a list of the websites, authors and influencers who have linked out to similar content to yours.
Use the backlink report from your competition analysis as a list of potential candidates.
Craft a personalized email to each of the sites and use a format similar to this:
Hi [Use first name],
I just wanted to reach out to thank you for the inspiration you provided in your article [insert URL]. I was able to convey a much clearer message in some of my own articles, which has helped me become a better writer.
I noticed you linked out to [insert similar link] and I just wanted to let you know that I've published an updated, really informative article on [your topic].
If you wanted to check out the page and use it as a resource the URL is [insert URL].
Thanks again and keep up the great work,
[your name]
Keep in mind that you absolutely don't need to use my words verbatim. Keep the template similar by:
Letting them know about an article they wrote that inspired you (compliment them and set up the conversation about who they linked to)
Giving them the URL of the link they used to link out to related material
Giving them the URL of your page
Casually mentioning linking to your page
Thank them for their work (complete the compliment sandwich)
The strategy in this method is that you establish yourself as a supporter of their work and as a person who also has content to offer as a resource. You've also given them a link to a page that if they like-they can replace it with the link you previously mentioned.
Unlinked brand mentions
Quite possibly this strategy has the highest rate of success because you are contacting people who have already mentioned your brand but haven't linked to you.
You can find instances of where your brand was mentioned by using this Google search operative:
intext:digital ducats -digitalducats.com -twitter.com -facebook.com -pinterest.com -youtube.com
Simply replace "digital ducats" with your company name. This search operative tells Google not to include digitalductds.com, as well as the other social media sites since links from social media, don't count for much.
Send an email to the author asking them if they could add a link to your company name. Give them the URL and keep your request polite, simple and to the point.
Broken link method
The broken link method is a little more labour intensive because it requires you to find websites with broken links and match them to your content to replace those links.
Broken link opportunities exist with any of your link prospects. When you've generated a backlink report on your competition you can start with their best links and click on each one individually.
Take the URL of the domain and run enter it in the Ahrefs dashboard.
Click on the backlinks tab.
Click on the broken links tab.
A list of broken links will be generated showing you the page the broken link is on and the anchor text of the link that's been broken. There may be a problem finding out what type of content the link was pointing to because if it's broken, the page redirects to a 404-error message saying this page doesn't exist.
The workaround here is to use Wayback Machine. Type in the URL of the broken link and to see what the page looked like before it was deleted. If your link prospect is already linking to this broken page, the only thing that's needed is a page that replaces this content.
Send an email to the Webmaster along the same lines of this template:
Let them know about an article they wrote that inspired you (compliment them and let them know a link is broken on their page)
Give them the URL of the link they used to link out to related material
Give them the URL of your page that can replace the broken link
Thank them for their work (complete the compliment sandwich)
Link reclamation
Every business should be monitoring their backlink profile periodically. It's a healthy practice for maintaining the strength of your backlink profile. You want to remove bad links and also stay on top of any links that have been lost that were contributing to your ranking.
Using the tool of your choice search for links "discovered and lost" and enter a date range for how far back you want to look at your link profile. Export the links to a spreadsheet and filter out the links that are not worth pursuing.
You will need to go through the links that are left and determine why they were lost before you can contact the webmaster. They may have deleted their content, updated their content, found a better link, or just might have something against you.
There may be other reasons you don't see right away such as they've linked to you from another page. Don't be pushy when you contact the webmaster. Be courteous and ask if there was any reason they decided to unlink your website and if they would please add the link back to your site.
Guest posting
By publishing an article on a site within your niche you are able to get your content in front of a fresh audience as well as earn a backlink. Most sites don't allow you to republish any articles so you will need brand new articles to submit.
Search Google for popular blog sites within your niche by typing:
inurl: [your keyword] + "write for us"
The results will display all of the websites that have your keyword plus the words "write for us" in the URL.
The search result should bring you to a page that explains the guest post contribution guidelines. Most sites will have different requirements so it's definitely worth the read. You will need to know what topics they're publishing, any word count requirements, image requirements and so forth.
Choose your sites based on relevance and domain authority. Choose sites that are over 30 DA and never apply to sites that are outside your niche. Avoid sites that have high spam scores. You can screen for DA and spam scores within the search results pages using Mozbar.
Extend your reach through social media
There is no denying the power of networking through social media. The goal of your company is to get as many people on your website as possible. Post your content and be engaged in sharing people's content, and commenting as much as possible to continue building a following.
Choose one or two sites that you will be engaged in making your presence felt. This doesn't mean to limit the number of profiles you create- it helps you to be more consistent in commenting and responding to comments and questions.
Include as much video as possible when posting to your networks. Video gets the most shares and produces the highest levels of engagement. People prefer to watch a video than read a long block of text.
Share other people's posts to show support and encourage them to share your content as well. Leave a call to action on all of your posts as well as links to your website.
A large social network can create a surge in the traffic your site receives when you share high-quality content. The more people that are on your site create more opportunities for people to link to your site and improve your ranking. Entire businesses are made from the traffic social media provides so maintain a constant presence a continuous effort to build a network that becomes a valuable asset.
Rinse and repeat
To rank your website on Google be ready to play the long game. A first-page ranking will happen with the right mix of optimized content that answers search intent and with enough authority to be considered a credible website. This SEO process can be repeated for any small business website in any industry and will result in improved rankings and increased traffic to your website.