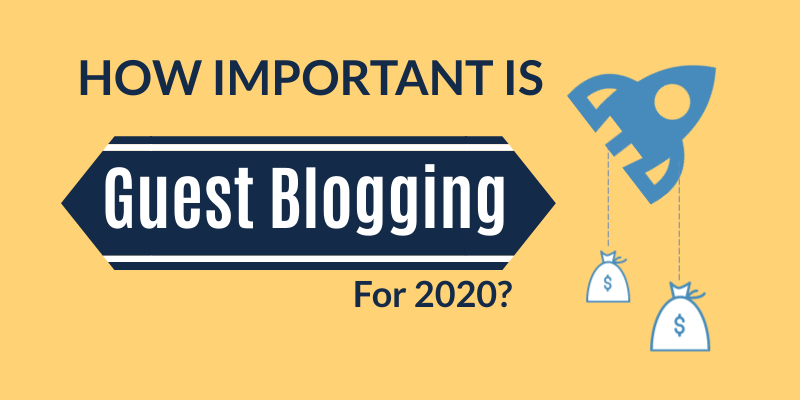 Guest blogging is a popular strategy for building backlinks that is considered safe and effective for branding, improving authority and building the strength of your backlink profile.
By definition, a guest post is an article published by an author representing another website or entity. Guest posts can be hosted by any website willing to publish articles from a third-party source and are ideal tactics to build links locally.
8 benefits of guest blogging
Guest posting is a way to land links from high authority websites. If you doubt the impact guest posting can have on your site, read Adam Enfroy's case study on guest posting.
His guest posting efforts resulted in creating over 200K monthly readers and increased his income to over 30k/month. The following are a few of the benefits that guest posting offers that can add to the success of your website.
#1-Increased referral traffic
As a guest author, you have the opportunity to publish an article on a website within your niche, with a link pointing back to your site.
A link on a popular blog site provides you with targeted referral traffic. These visitors are obviously interested in reading your content if they read your guest post and clicked on your link.
Keep in mind that the number of visitors that click through to your site largely depends on how much traffic the hosting site receives.
#2-Provides a targeted audience
Guest posting puts your content in front of readers who are interested in your niche. Aim to publish a guest post on a site that your potential clients visit. By limiting your guest posting prospects to highly relevant sites within your industry (or a direct parallel) you improve the impact your link building strategy has on your ranking.
This also improves the chances your guest posts will be read by visitors interested in the solutions your business offers.
#3-Promotes better branding
This form of link building is considered a branding opportunity because it allows you to demonstrate the expertise of your company. Problem-solving content can be a powerful way for people to learn about your business and compel readers to click through to your site.
A well-written guest post can communicate to people how your company is capable of solving problems related to their own. Successful guest posting strategies promote awareness of your brand and establish thought leadership within your industry.
#4-Increases visibility
As a guest author, you are allowed the opportunity to tap into a third party's traffic resources. Many blogs have a subscribership/email list that receives every new article that gets published.
Your article gets sent to that audience and you can get your site in front of a whole new network you wouldn't have normally had access to.
#5-Develops authority
A link from a guest posting opportunity specifically for link building will pass authority to your site. A major reason for posting on a blog site is to gain access to traffic that is a good match for your website. The relationship between your site and the guest posting site should be clearly identifiable, making a link from the site a quality link.
Acquiring links from sites within your niche will improve your site's credibility and ranking ability.
#6-Enhances optimization
Its best practice to link to the inner pages of your site with anchor text links.
In fact, you enhance the optimization of your pages by using your target keyword in a select number of your anchor text links.
This creates stronger relevance signals for keyword related searches.
Typically you want to use exact match anchor text sparingly to avoid any signs of rank manipulation.
Using a good blend of long-tail keywords, brand links and naked URLs is the best form of implementing a safe backlinking strategy.
#7-Improves ranking
The strength of a backlink profile plays a major contributing role in the ranking your page receives for your target keyword. Quality links will go a long way for moving the needle in the competitive placement of your page.
The more high-quality sites that link back to your page, the more authority and ranking ability your page accumulates.
High authority domains have more impact on your domain authority and ranking ability. The more popular the blog site, the more traffic and the more authority that is passed through to yours.
#8-Builds more entry points to your content
As a method of link building, this is among the most popular because it allows you to cover the basic three essentials of acquiring quality links.
Links are most beneficial when they are
Highly relevant to the content hosting the link. Since the article is being written on behalf of your company, it's obviously going to have strong relevance to the content in which you're linking.
The health of the site in which your link resides is another criteria of acquiring a quality link.
Choosing websites that have established traffic and strong readership is the third part of the criteria for acquiring quality backlinks.
How does guest blogging work?
Despite the simplicity of the concept, the process of getting an article published can be quite labour intensive. In order to improve ranking and build traffic, the site you publish your article needs to be targeted to your niche and have a strong readership to provide enough traffic to make an impact on your site.
Find a suitable guest blogging site
The first order of business is to find a site that matches the criteria for providing a quality link. The top sites in your niche should be the first place to look for getting an article published.
Make a list of the sites that are well known for generating content in your industry. Whether these sites publicly accept guest posts or not, they should be considered for submission. When it comes to publishing content most sites won't turn down a great piece of content that's worth sharing with their audience.
Apart from the sites that are your top prospects, find sites that are regularly accepting articles from guest authors. These sites can be found by using some search commands to narrow the results in a Google search.
The list of commands that can be used includes commands that instruct Google to look for specific keywords in the URL (inurl), or in the title (intitle). By alternating these commands with related keywords you can come up with a combination of possibilities to produce many different results for sites that accept guest posts.
Here are a few examples:
Inurl: [Your keyword] + "write for us"
Inurl: [Your keyword] + "guest posts"
Intitle: [Your keyword] + "submit a guest post"
Intitle: [Your keyword] + "become a contributor"
The keyword can be interchanged along with the search command and the exact match words to be found in the title or URL. Here is a search results for inurl: SEO + "write for us"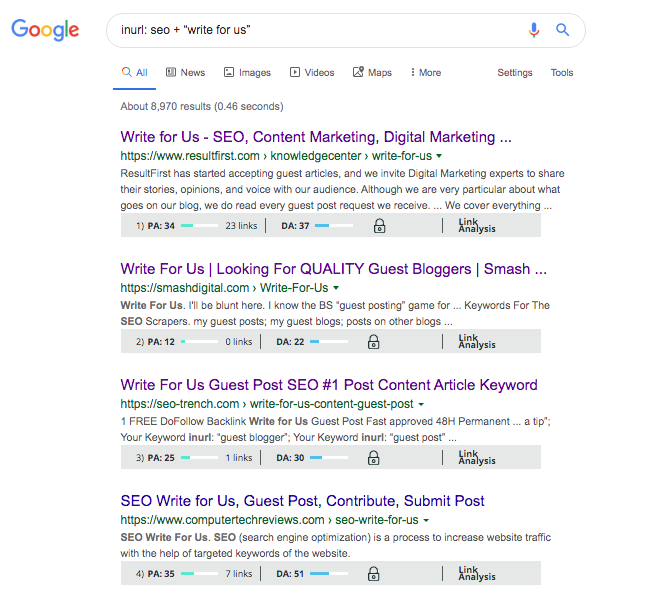 Pitch your article
There are literally thousands of sites that are looking to publish quality articles on their blog. The trick is to figure out what type of content they are looking to publish and create an outline that would benefit their readers.
The more detailed you are with your outline, the better understanding they have of what you're offering and how you will deliver it. Many sites will specifically detail what topics they are most likely to publish-which can be found in their "guest posting guidelines"
Write an article that will represent your business
Upon acceptance, write an article that will be an excellent representation of your business. Approach guest posting the same way you would write an SEO optimized blog post for your site.
It's not just about getting the link. The goal is to attract readers to click-through to your site. Whether you get a high volume of traffic from the article or not, the article itself is a form of advertising your company and teaching people what you offer as a business.
This is a form of branding for your company so treat it as a presentation to inform, enlighten and engage your readers.
Make the most of a linking opportunity
Although the linking criteria will differ from site to site, be sure to fully understand what the site is allowing in terms of providing a linking opportunity.
A contextual link is the most valuable type of link you can acquire because it provides a reference to related content. As far as search engines go, this is the sole purpose of linking. Links are made to share content that is deemed worthy of sharing.
If the editors allow you to link to your site within the body of your article, take advantage by linking to the inner pages of your site. Your links should be natural, meaning they are not forced and are referencing a relevant page on your site.
Try to incorporate as many relevant links to previous guest posts since you can build on their authority and boost the value of the links to your site.
Answer comments and responses
Respond to any comments or questions your article generates. User interaction provides good ranking signals that give your article more traction in the search results. Many webmasters will actually ask you to respond under penalty of having your links removed from your article!
6 Tips & Tactics For Guest Blogging
#1-Feature your article with your headline
Spend a lot of time creating a headline that's original and attention-grabbing. It's the most important feature of your article because it is typically what will determine whether a user reads it or not.
Studies that have proven how specific headline strategies increase the click-through rate of an article. For example, one of the most popular tips that can improve CTR by 20% is the use of numbers in your headline.
Use as many headline tactics as possible to capture the attention of the editor as well as your audience. Your headline can be the deciding factor for whether your article gets published or not.
#2-Summarize your article with subtitles
Use creative subtitles to separate your article into segments that give the reader an accurate summary of what your article is communicating. Many people (editors included) who read online tend to scan through content and if your subtitles can paint an attractive or interesting enough picture you can capture their attention to read further.
A good article will segment your thoughts and ideas into easier to digest blocks of text. The added ease of comprehension is an asset to any article and makes your article a more attractive possibility for publication.
#3-Use Grammarly to proof your article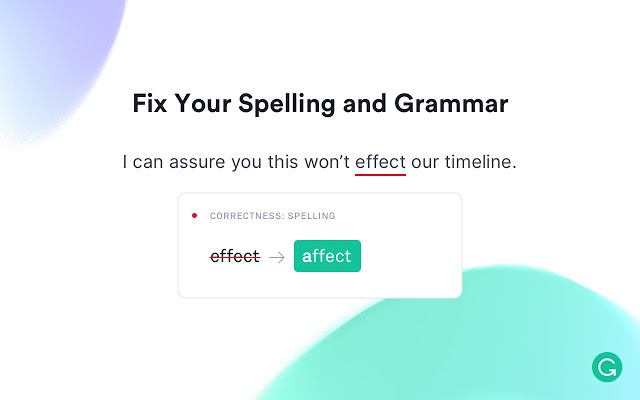 This app is extremely easy to use and highlights all of your spelling and grammatical errors. The corrections are as simple as hovering over the highlighted text and clicking on the option that is the most suitable correction.
This app is functional on an HTML editor or Google Docs, which makes it ideal for blogging. When submitting an article there is nothing more unprofessional than spelling mistakes and poor grammar when you have a tool like this available to eliminate those errors.
Even if you're an amazing writer, this tool will catch a lot of mistakes you might otherwise miss which makes your writing much more appealing to editors when submitting content for publication.
#4-Use images & media at every opportunity
It should go without saying how important images are to incorporate in your articles. People retain 60% more information when there is an image to associate with the text. Since some blogs will require images for your article and in most cases, they will add images to your article, you can save them time and include them yourself.
Make your article more enticing by posting some related images to prove points or illustrate examples. If you don't own the rights to the image be sure to credit the source of the image with a link or proper attribution.
If you own the images, use them as a link opportunity for the page on which they reside.
#5-Scan through previously published articles
Many blogs have a specific style that can be discerned by reading a few of their previously published blog posts. Get a feel for that style so you can incorporate it within your content.
Search Engine Journal has a very definitive style that always begins the same way in their introduction. Most articles will begin with a bunch of one-sentence statements that describe an issue that exists in a topic that leads to the first main subtitle.
Often when you read through a few titles you can get a feel for what that blog is predominantly interested in publishing. This can give you an idea of whether your topic is a good fit for the blog or how you need to set the tone in your headline.
#6-Read the guest posting guidelines for each submission
There is always valuable information that each site will offer in their guest posting guidelines-which is different for every blog site.
The linking policies are a major issue that should be understood before you pitch or submit an article to a site. If they are only offering nofollow links, you may need to look elsewhere to build your link profile.
Some sites will enforce strict protocols when accepting submissions. There are sites that won't consider your article if you've missed one of their requirements. An example of this could be including a minimum number of images or failing to include a closing paragraph marked "Conclusion". Editors will literally dismiss your article without notification.
For every site you consider, reading the submission guidelines should be a non-negotiable part of your routine. It will save you time and resources in the long run by having a clear idea of what you're getting as well as what you need to provide.
Conclusion
Guest posting is one of the most effective link building strategies that will remain a viable method for acquiring quality backlinks well into the foreseeable future.
Linking from healthy websites with streams of traffic targeted to your niche is good for branding and increasing traffic. Some of the best links your site acquires come from the efforts of a guest posting link building campaign.
As long as guest blogging continues to get great results within an SEO campaign it will remain one of the most popular methods of link building in 2020 and beyond.
Related reading: