Scholarship link building is a widely practiced link strategy to acquire .edu links from schools and universities by offering an outside scholarship to students.
The strategy became extremely popular because of the success that websites were experiencing ranking for competitive terms from the links they received from universities.
Although some of the criteria have changed offering scholarships to schools and universities can be an excellent way to brand your business and acquire powerful links to your website.
What makes a quality backlink?
The best backlinks are those that come from trusted sites from within your niche. That's it, bottom line. Preferably those sites will have high domain authority.
Domains that have a strong backlink profile will pass on more authority to your site than that which has a low domain authority.
Before search engines could determine the context of the content, a link from any high authority domain would improve the ranking of your site-no questions asked.
Today search engines are extremely efficient at establishing the relationship between pages that are linked making the relevance of your links a much stronger ranking signal.
Establish link relevance
To illustrate this further let's use two websites as an example. The first is the iron chef's blog with a DA of 83 and the second is a local web development company that has a new website with a DA of 23.
If you're a software developer, the link from the newer company within your niche will count for more than from a cooking blog-no matter how juicy its metrics are. The relevance of the link is the most important aspect of link building.
When a link has no relevance to the content it points to search engines will assign low value, ignore it completely, or devalue your websites domain authority if there is obvious evidence of link manipulation.
Are all links are created equal?
There has been a long-standing assumption that .edu links hold more inherent value than a regular link. This dates back to a time before search engines had the ability to determine context. A .edu link was considered an incredibly powerful link because they are from schools and universities and were typically hard to come by.
John Mueller made a statement that busted the myth that .edu links were better than other top-level domains.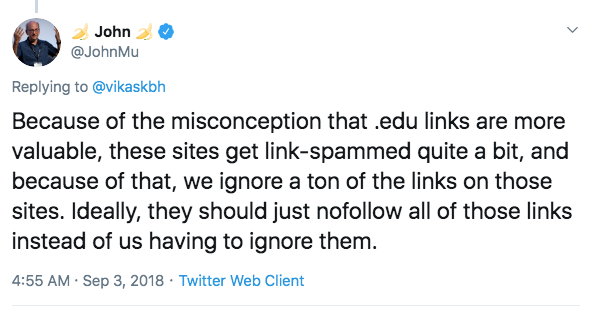 The underlying truth to this misconception of .edu links being higher quality wasn't just because they were ".edu" but because they were from trusted websites. A link from a .edu was associated with great metrics.
Universities tend to have thousands of links and are high authority domains. Although the domain extension is not the reason, there are massive amounts of high-quality links in the education industry that will provide a competitive advantage because of great metrics.
Use scholarship link building to acquire high-quality backlinks
The strategy is to offer scholarships to universities who in return post your offer on their website with a link to your site. This tactic emerged when companies were able to successfully acquire .edu links for a reasonably cheap price. This tactic is still working to provide a safe and competitive link building strategy when it is from a site that will benefit your own.
The concept is simple. Your company offers a $1000 scholarship to a student. The scholarship is awarded to the winner of a competition for who can write the best essay for a topic in your niche.
How to make a scholarship offer
For example, if you were in the software business, a page would be built on your site specifically detailing your scholarship offer. The offer would be sent to schools that offered tech-related courses to compliment your industry. The offer might read like this:
"Software Tech believes that the best solution to living a good life is through secondary education. We are awarding a $1000 dollar scholarship to the student who writes the best essay for how accounting software is changing the way we do business."
If a university accepts your offer, it will be listed on your site as an outside resource that provides financial assistance. You get a link from their page to your scholarship offer and your site receives a boost in ranking from a link related to your industry with great metrics.
Keep in mind that before you offer any school this offer, you will need to vet each website. The same rules apply to .edu sites just as they would to any other website that you would consider as a link opportunity.
For example, the number of outbound links that are on a page will affect the link quality. Pages that look like low-quality directories might be under fire and closely scrutinized by search engines so they would need to be avoided.
Scholarship link building is still an effective link building strategy
Finding quality school websites that will agree to a scholarship offer has become more difficult but there are still many link opportunities that exist that will add value to your backlink profile.
Scholarship link building can be used as a way to brand your business and create newsworthy information your company can use for press releases, which will provide additional links to your site.
When this strategy is executed according to the best practices, you acquire powerful backlinks that provide a competitive edge in the search results.
Related Reading: 9 Effective Backlinking Strategies FOr 2020