The benefit of winning featured snippets is an increase in the traffic your site receives by being featured in the top spot in the search results. This encourages a higher click-through rate and contributes to branding your company as an expert in your niche.
What is a featured snippet?
A featured snippet is a solution to a query that gets displayed ahead of the first position in a search result, which is also known as position zero. The snippet is extracted from the contents of a website that ranks in the top ten search results for the query. The snippet can be displayed as a paragraph, list, chart, table, image or video.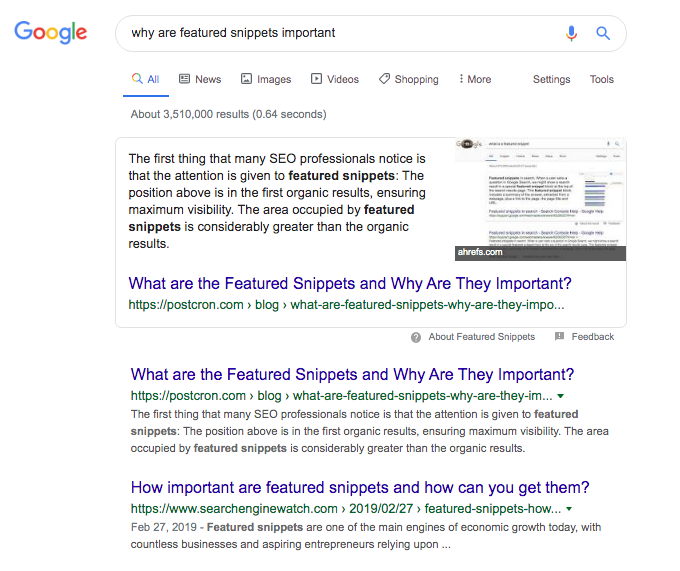 According to Ahref's the snippet actually steals traffic from the number one positioned website. Their study proved that at the number one spot without the presence of a snippet your website receives almost 26% of the total clicks on average.
However, the number one site will receive around 19% of the total clicks if the snippet is present and is held by any of the other websites ranked lower. This presents a traffic opportunity of 8% additional traffic on average to websites that are not in the first position of the SERP.
Websites that rank on the first page of results are eligible to win the snippet if they are optimized correctly. It's never too late to optimize your content to appear in a featured snippet. Hubspot was able to win 8-12% of featured snippets just by reformatting the HTML on their old blog posts. Identifying these traffic opportunities results in additional traffic to your website.
Winning the featured snippet
In order to win the featured snippet, you will need to reverse engineer why the current website is holding the position. Although paragraph and list snippets appear, they are not always published as a paragraph or list on the actual website. A closer look at the page is will indicate how the snippet was extracted and give you the clues to how you will be able to win the position.
Paragraph snippets
Most websites that hold a paragraph snippet have a short summary of 40-60 words directly following an optimized header. The header should match a question of similar search intent or be the answer to a question of similar search intent.
In some cases, Google will often create their own paragraph summary by extracting headers or text from a page. When you're optimizing your page to win a snippet, the headings of your article should summarize the solution to the query. This highlights the most important points so search engines have an answer readily available.
List snippets
You can optimize for a list snippet by using the HTML for an ordered list. This will clearly indicate the summary of your content and improve the likelihood of your website being listed in position zero if a list summary has been chosen as the best answer to satisfy search intent.
List snippets are also created quite frequently from the subtitles you create in your articles. Google will often use the h2 or h3 headlines as line items in a list they display within the snippet.
The relationship between featured snippets and voice search
Voice search and featured snippets are linked because the results from voice are often displayed from featured snippets.
In fact, 80% of Google home results are pulled directly from featured snippets. The way the snippets are optimized makes it easy for voice assistants to pull information and provide summary answers.
By tagging headlines and highlighting your answers with HTML, a search engine can access your content much faster which promotes the use of your content in the snippet.
There has been much discussion about the growing popularity of voice search and yet it hasn't quite lived up to the hype. Yet.
A popular statistic on voice search states that 50% of searches will be voice-activated by 2020. This stat is one that got marketers talking about making sure your site is optimized for voice search to capitalize on the new traffic opportunities.
Although there is truth to opportunity voice search presents, the current statistics are not indicative of this actually becoming a reality. Considering that as of 2018 total voice searches were somewhere around 12.75% of total searches, the chance that voice searches will reach 50% is far fetched.
This doesn't mean that voice search isn't an item to be considered. The hype about having a mobile website took years before it made a huge impact on ranking, however, it was an inevitability based on the growing trends.
If you were one of the first to be ready, your site benefitted with a competitive edge over those who hadn't adopted a responsive, mobile-friendly design with quick loading pages. The same will be true for voice search for those who are prepared early.
Moving forward…
There is no doubt that voice search will play an integral part in traffic generation moving forward. In the meantime, the featured snippet is an excellent way to prepare your site for voice search while driving additional traffic to your site. The position of your company in the top spot on the search result page will contribute to branding, a higher click-through rate and ultimately more leads and new clients.