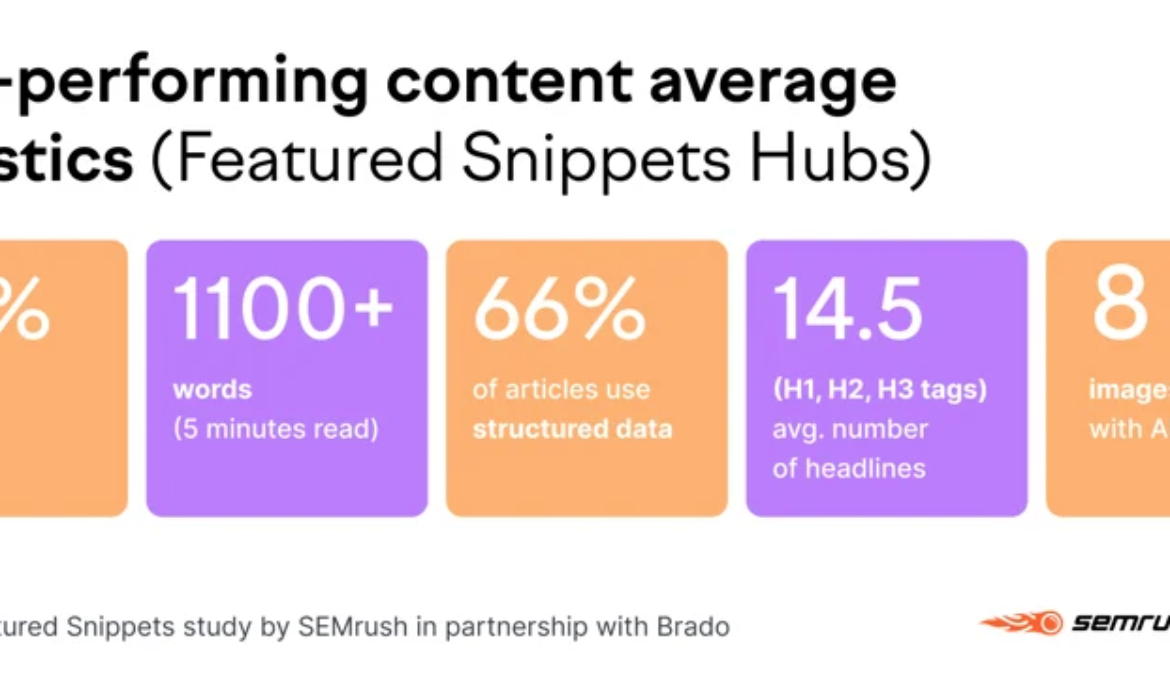 Oct 23, 2023 @ 7:27 am
Featured snippets are Google's way of delivering what it perceives to be the most accurate response to a search query. Most would consider the featured snippet an improvement in user experience because it directly answers a search query with highlighted information.
Some consider it a negative feature because it provides the information a user wants directly on the result page resulting in a lower click-through rate to your website.
While in any given circumstance, both beliefs are true, the majority of snippets have proven to increase traffic rather than keep it on the SERP.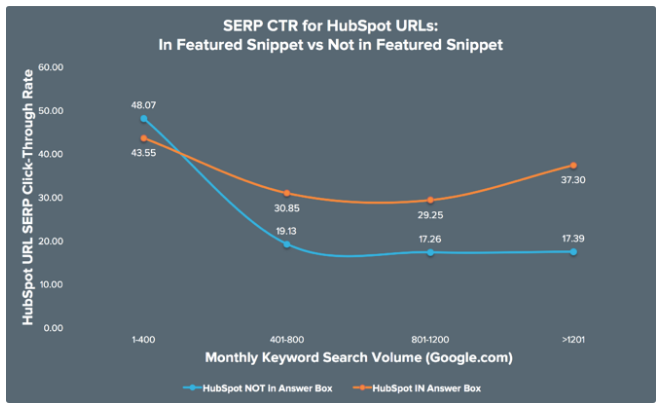 In 99% of all instances when the featured snippet is triggered in a search result, it appears at the top of the page. Since it appears ahead of the organic results, marketers often refer to the featured snippet as Position Zero.
Recently, Position Zero became the new number one organic listing on the SERP (although it is still referred to as position zero). The old version of snippets allowed a website to win position zero as well as have a position as a blue link in the organic results.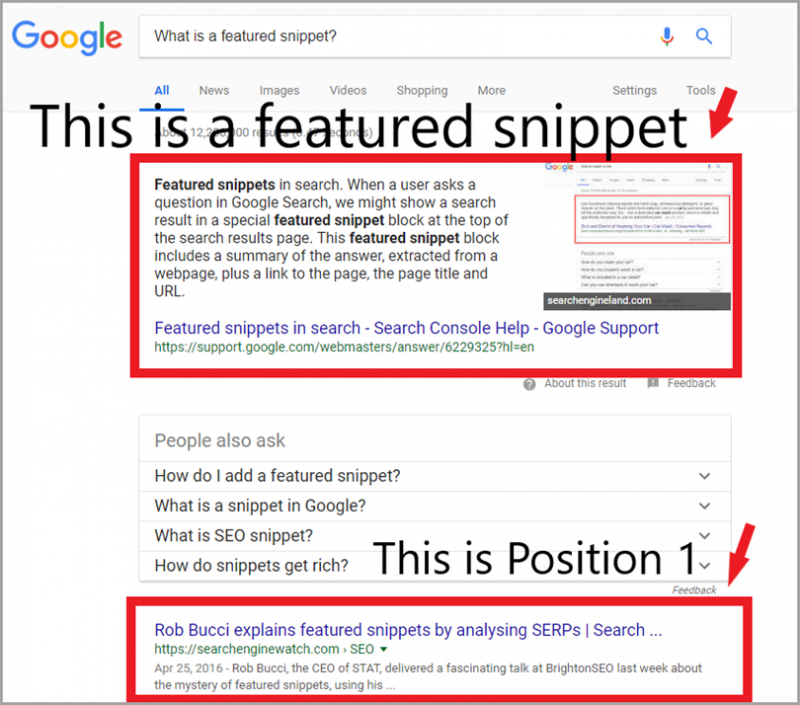 Now, the featured snippet repositions your website position from the organic results with traditional blue links to the top position as an enhanced search result (referred to as a rich result).
What are the advantages of a featured snippet?
Your listing holds the top SERP position
The featured snippet is a coveted position because of its prime location. Your website receives the highest click-through rate and therefore the most traffic from winning the position. This is especially dominant on mobile screens, where the feature takes up most of the screen.
Your search listing becomes and enticing, attractive rich result
What's more, your website is featured as a rich result. The added markup to displaying your page makes for a more attractive search engine listing. Look at how much more your attention this feature demands compared to the organic blue links.
The featured snippet is considered to brand your website as an expert since Google is featuring you as the top result. This is something that no other feature can do for you regardless if you pay or not.
Organic results are the most trusted in comparison to paid results and so acquiring this position is a major benefit to branding your company as an authority in your niche.
Increased likliehood of being selected for a voice search result
Voice search and featured snippets are linked because the results from voice are often displayed from featured snippets.
In fact, 80% of Google home results are pulled directly from featured snippets. Snippets are considered to be the best answer to a search query, so it makes sense that they would be the first choice in a voice search. The use of structured data also makes it easy for voice assistants to pull information quickly and provide quick and accurate answers.
The different types of snippets
There are four major types of featured snippets that have become regular features on the SERP.
The most common is the paragraph snippet that is seen in approximately 70% of all featured snippets.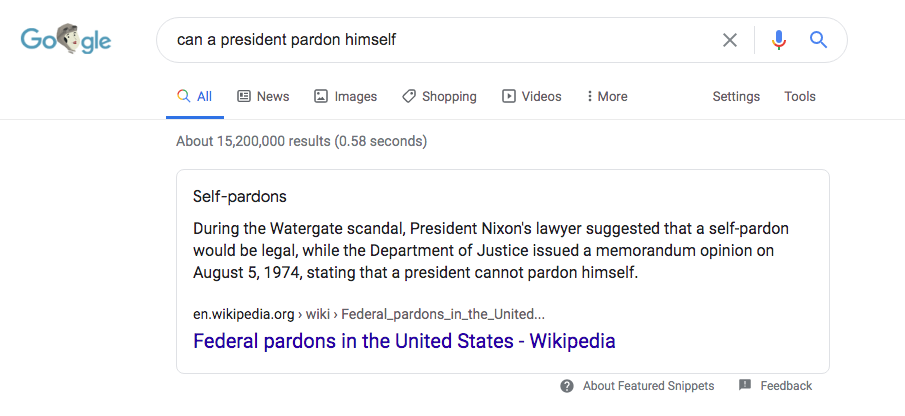 The list snippet is the second most common type and accounts for 19.1% of all snippets: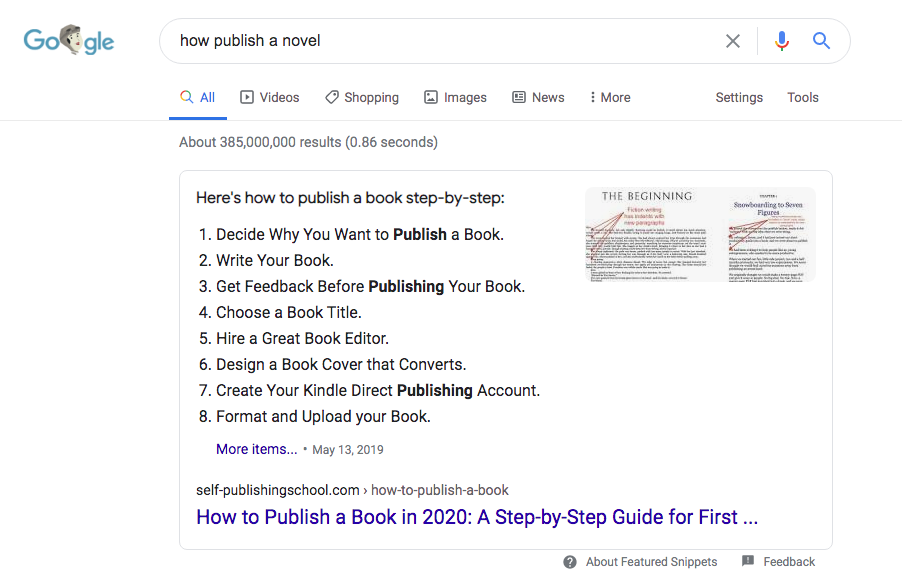 Table snippets account for roughly 6.3%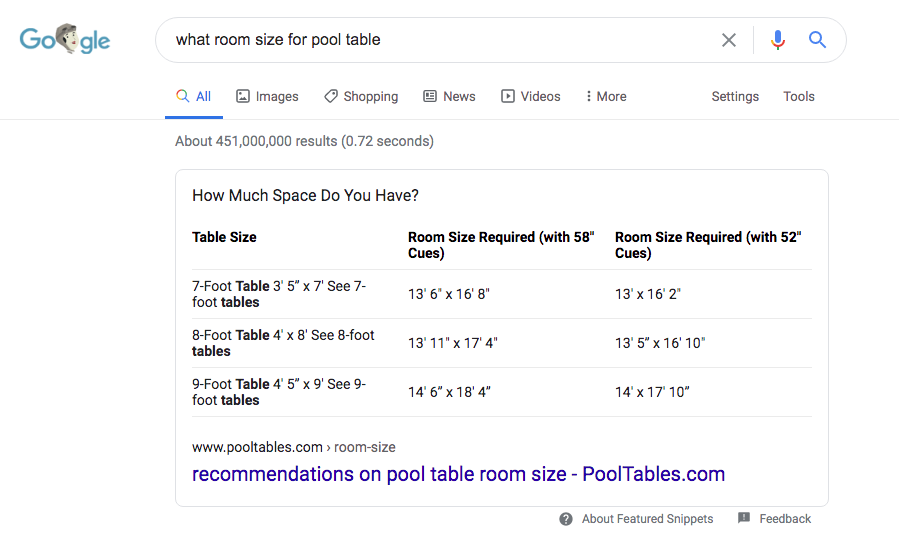 And videos have slowly been gaining ground, but are still only around 4.6% of all featured snippets.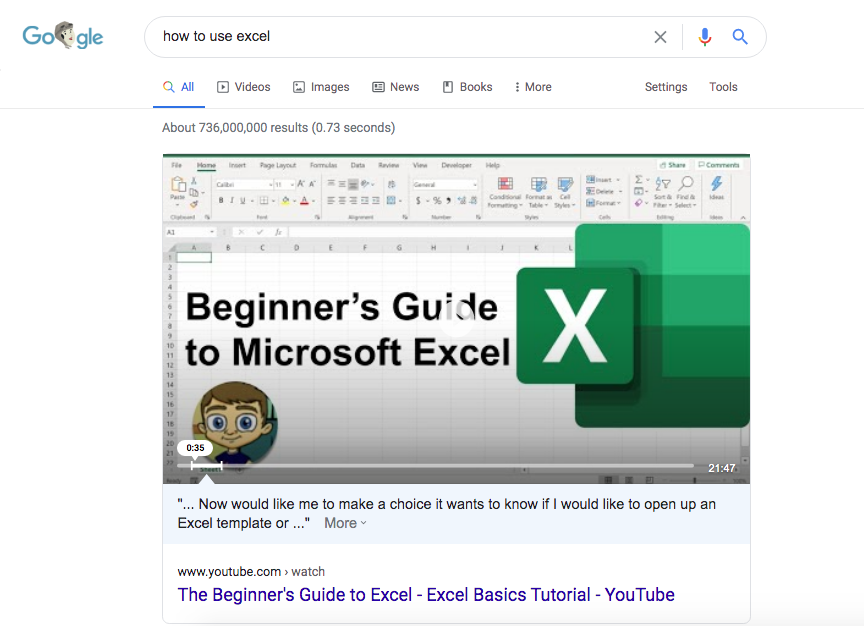 How do you win position zero?
A function of SEO content writing is to make content "snippable." It helps to know whether a snippet appears for the keywords you're targeting. The most common searches that trigger a snippet are searches that begin with can, how, what, who, when, why.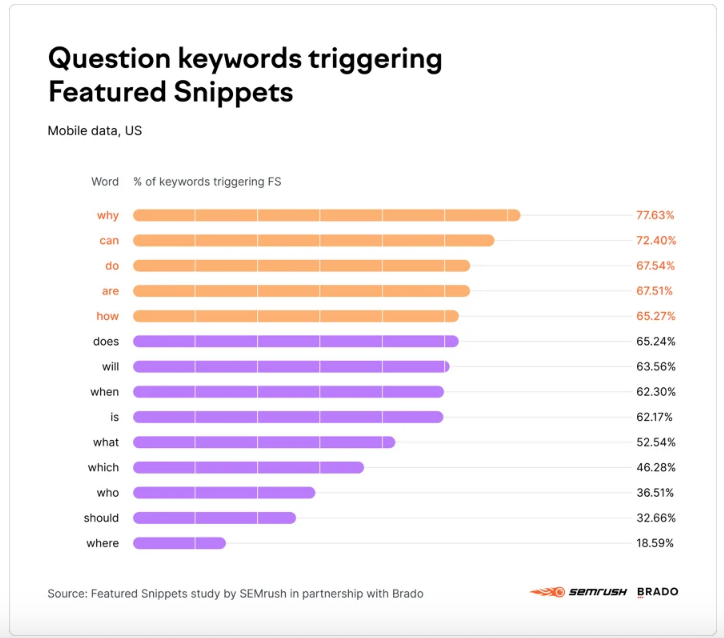 Rather than search manually for every possibility, it's best to use software to streamline your efforts when researching keywords. When you're assessing the potential of a keyword you can see what features appear on the SERP and make sure your content is optimized to appear for the question.
Another way to go about identifying opportunities is to search the keywords in which your website holds a position in the top 10 results. You can then toggle the filter to show which of those search terms display a featured snippet on the SERP.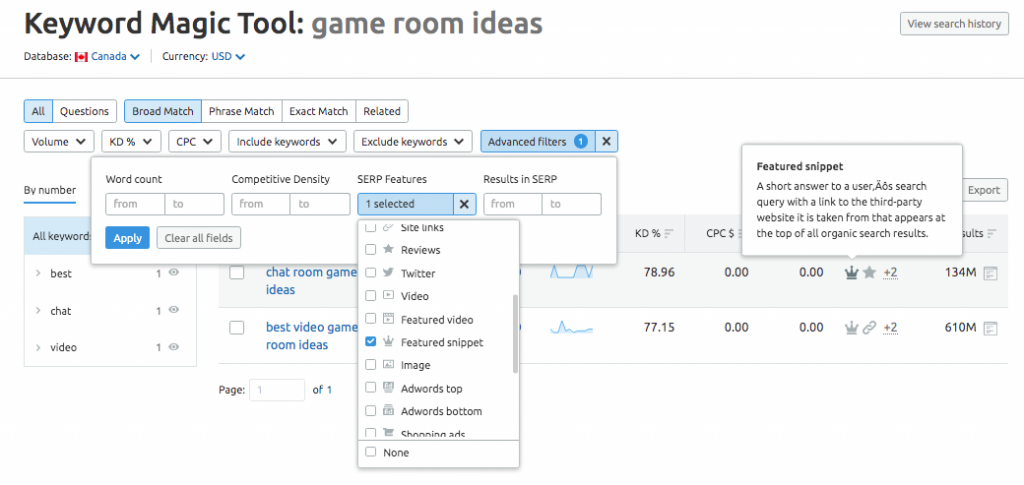 Analyze the current snippet holders content
Although no one has the exact recipe for how Google decides what website to place as the featured snippet, the best practice is to include the major characteristics common among snippet holders.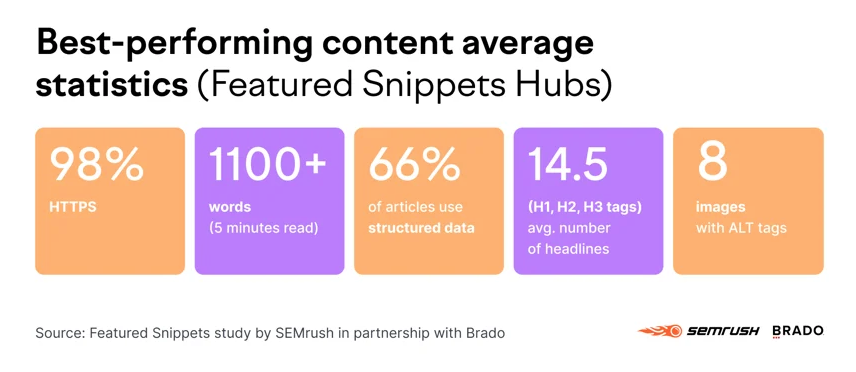 Secure Socket Layer
It should be a given that your website uses HTTPS. If you haven't got onboard yet, you're way behind. Google has made it clear that HTTPS offers a slight ranking advantage over HTTP. Regardless of search engines, consider the fact that users don't want to visit a website that is marked as "not secure."
Chrome labels domains not secure whenever the SSL certificate is missing. In order to get to the site, you need to click on the advanced setting, and then click proceed to the website. This definitely plays a role in how users perceive your website and will contribute to higher bounce rates and a decrease in traffic.
Depth of content
The content on your page should have some substance to it. The depth of your content should be adequate enough to pass as authoritative. If you have a flimsy page with 200 words there's no chance you could cover any topic in depth or detail. The average word count on pages with featured snippets are over 1100 words.
Title tags
Always use headings and subheadings to segment your content and highlight the most important aspects. This provides clarity to the content your page covers and is often used in snippets.
Tag your titles and subtitles in the proper hierarchy and if possible, provide a summary answer to your h1 title tag with the subsequent subheadings (h2-h6). The average number of headings on a page that has won the snippet is 14.
Images
The images that are featured in a snippet are not always taken from the page whose answer is being featured. Using images in your content gives your page context and enhances optimization. Let's face it, content with more images is considered to provide a better user experience and therefore considered higher quality.
The average snippet holder has 8 images on their page with the alt tags completed.
Duplicate the optimization being used to win the feature
To win the snippet, you'll need to understand what Google likes about the content that's already being featured. Here are a few major characteristics that are common among the different types of snippets.
Paragraph snippets
A featured snippet in paragraph form is most commonly found to have between 40-50 words explaining the snippet question.
Tag your snippet question and provide the most detailed, comprehensive summary of the answer immediately following the heading.
Keep in mind that Google will use subtitles to form a paragraph in a featured snippet.
List snippets
Always analyze the snippet holders' content to see the best way to optimize for the featured snippets. The list snippet can be won by using an ordered list but it can also be displayed as a collection of subtitles from your content.
The best practice is to create lists with 9 or more lines in order to increase the click-through rate to your website. There's less incentive for a user to click-through to your website if a full list is displayed that answers their intent for the search.
Table snippets
Give your table a title and make sure you phrase the heading using your keyword. Tag the title using h-tags to highlight the questions your table can answer.
Video snippets
Use your snippet question in the title of the video. All YouTube videos are already marked with structured data, however, you should include a transcript of your video in the description. This gives search engines the exact content in the video (which is more than most people provide) creating a competitive ranking advantage.
Increase your traffic with the featured snippet
Featured snippets have become extremely common for answering questions directly on the SERP. Aim to improve the traffic your website receives by winning position zero when your content ranks in the top 10 search results.
The effect of branding your company as an authority combined with the additional traffic will be worth its rewards in new clients and increased revenue.
Want to get your site featured in position zero? Speak to a consultant about including featured snippets in your SEO service package for additional traffic to your website.
Christian Carere