The difference between SEO and PPC is that search engine optimization is used to improve your position in the organic search results to receive unlimited free traffic, whereas PPC is paying Google for a designated spot on the first page and you pay for every click made to your website.
There are so many options to advertise your business online that knowing which way to go about it requires having clearly defined goals in order to develop the best strategy for your company. One major decision your company may be considering is whether to use paid advertisements or invest in search engine optimization.
On one hand, you have a paid version that puts you on the first page of Google immediately. On the other hand, you have a major portion of traffic that heads to the organic results. Which one is the right option for your company?
Related reading: 7 Tactics To Improve Your Pay Per Click Marketing Strategy
What are the organic search results?
The organic results are all of the websites listed as Google's top choices, which they base primarily on a website's ability to answer search intent. Websites compete with one another trying to earn the highest-ranked position in the organic results.
Investing in SEO improves the quality of your content, website optimization and increases backlinks to improve your website's ability to rank. The organic results are everything that's not a paid result or a Google SERP feature (local listings, featured snippet, knowledge panel, etc.)
What are the paid results?
The paid results are usually the first listings in a search result at the top of the page that is labelled "Ad" to the left of the URL. To be placed in this position companies will set up a PPC campaign (pay-per-click) and whenever a user clicks on the listing they pay a fee for a person to visit their site.
How much does PPC cost?
The CPC (cost-per-click) is determined through a bidding system. Your campaign is set up to pay within a certain range for every click made to your site. You determine the maximum amount you are willing to pay for each click.
If the keyword that you're bidding on is making people money, the CPC will be driven up higher because people are willing to pay more for keywords with high commercial value.
It's not uncommon to see CPC's of $80 per click in the bail bonds industry due to the nature of the business. For keywords like "fidget spinners," you could expect something less than a $1 per click.
PPC campaigns can be capped at a monthly limit of your choice. If your budget only allows $1000 a month then you will as many clicks as $1000 affords. If your keywords are $20/click you will only get 50 clicks to your website for the month.
How much does organic traffic cost?
Optimizing for organic search results represents a different approach to generating traffic. The initial cost per visitor starts higher because of the investment required to rank your site.
Let's assume the average cost of SEO is $1000/month for one keyword and the average time it takes to see results in 6 months.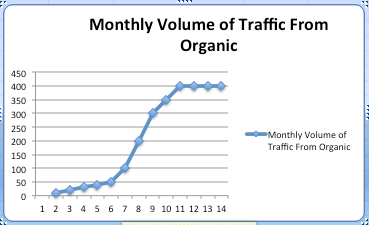 This means that by each month your cost per visitor start to declines as the volume of your site is increasing.
Advantages of organic traffic
On average, 1 out of 10 blog posts are compounding posts. That means that the older the post gets the more links, the more shares, the more traffic it builds over time. (~Hubspot)
The cost per visitor is constantly being reduced with the increase in traffic
Organic traffic accounts for 60% of desktop searches and 40% of mobile searches so there are more available clicks to your site
33% of people will recognize paid ads and purposely skip over the ads to the organic results.
Ranking your site organically increases your digital footprint within your industry and improves brand recognition
A strong organic presence will influence the frequency of appearances in localized searches.
Higher conversion rates from organic results
People research companies from the organic results
Traffic continues well after you stop SEO services
Advantages of PPC campaigns
Puts your site on the first page immediately
Places your listing at the top of search results
Immune to Google updates
Mobile search results have a growing click-through rate
Mobile has a growing percentage of conversions
Conclusion
There's no doubt that both strategies to drive traffic are able to increase the revenue your site produces.
If your strategy demands quick short-term results, a PPC campaign can provide that solution at a higher price than what you would pay for organic traffic.
If you're interested in making more money in the long term, organic SEO has the potential to drive higher volumes of traffic at a much lower price.
For long-lasting results and high volumes of traffic that continues flow to your site even after you stop paying, choose SEO. Invest in the development of your website to appear in the organic results to receive a higher return on your investment.