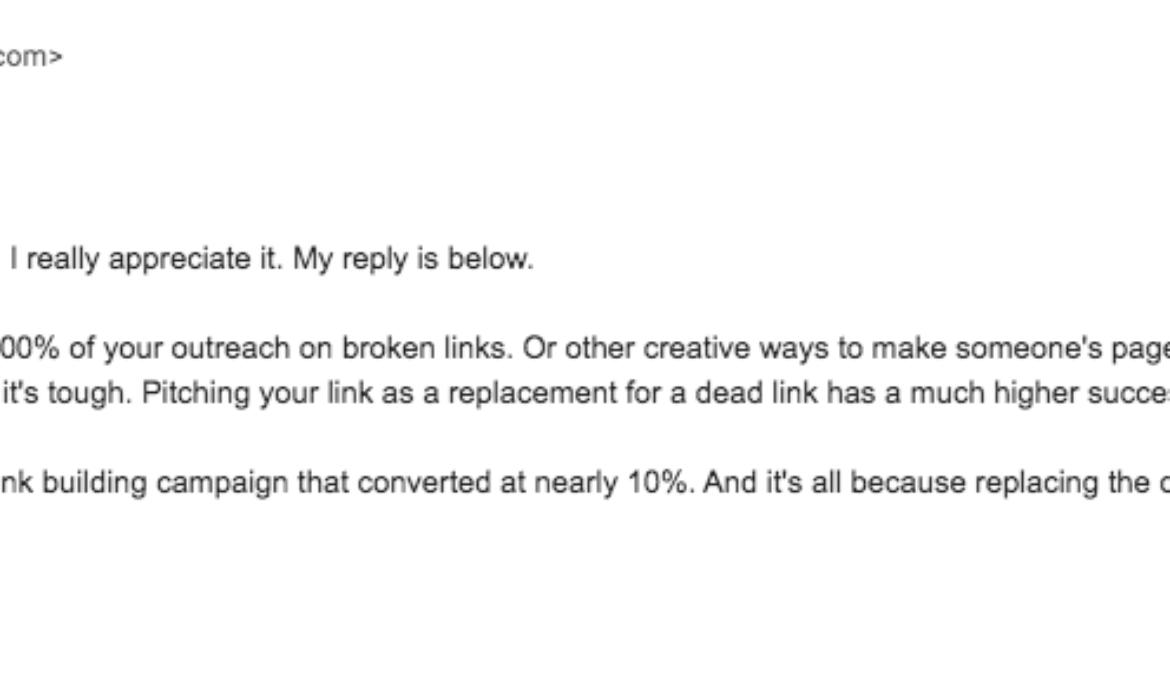 Broken link building is just one of many backlinking strategies used to acquire links to your website. The short summary of how to execute a broken link building campaign is:
Find a website that would be ideal to link from to your site,
Identify any links on the site which are broken (the target page no longer exists)
Create content to replace the link
Contact the site owner to have the link replaced with your own
In a recent outreach article, I asked Brian Dean what strategy he thought was the most effective link building strategies for 2020 and broken link building was his immediate response.

Brian, who is one of the industry's most well known SEO's, boasted a 10% conversion rate on his latest campaign. This is an important point because when you set out to accomplish your link building campaigns you should set some realistic expectations.
Most people do not welcome email that essentially is a request for a link. If you've ever run an outreach campaign, it can be frustrating at times with the response you receive. If a 10% conversion rate is an above-average result, you can expect to hear deafening silence from over 90% of the webmasters you contact.
This is what makes broken link building a more attractive method of acquiring backlinks. Your outreach email is based on providing value for all parties involved.
The website owner improves the UX and the SEO of their site
The users are not taken to an error page
You receive a juicy backlink
Automate broken link building with software
The best way to go about broken link building is to automate the process with software. Ahrefs seems to be the best option for identifying broken links because their software will scan an entire website and list every link that is broken.
The poor mans version of this process would involve a manual discovery whereby you would be required to go page by page and use an extension to highlight broken links. You can download an extension such as broken backlink checker (a bit out-dated) or check my links (recommended), both of which you can find in Chrome.
Build a list of prospects
The best option for the most success is to target sites that would have a lot of links pointing to their pages. You want to be able to find a broken link that not only one site owner will be happy to replace, but a number of site owners. If there is a missing page that 100 people have linked to, your chances of acquiring links go way up.
Make a list of the top sites in your industry. Shoot for the stars. Target domains with high authority and decent amount of traffic.
Plug your prospect site into Ahrefs and click on the inbound links. You can then click on the broken link tab to pull up a list of links that need replacing.
Choose topics to compliment your niche
When you're looking at links to replace you will need to choose content that best suits your specialty.
Find links to pages that you are able to write quality content unless you're outsourcing a freelancer to do your writing.
Although you are bringing a broken link to the attention of the site owner, you will still need to provide a good piece of content that will earn the link.
Hindsight is 20/20
If you've never used the Wayback Machine, get ready for journey back in time. This particular marvel of a site will show you what the page used to look like before it was deleted or moved. This is an important part of the process because you need to set the standard for the content your replacement page will need to cover.
Assemble the troops
Now that you have content that rivals your successor, you will need to get it in front of those who have linked to the page. Type in the URL of the broken link into Ahrefs and get a list of the sites that are linking to that page. You now have your list of sites to approach for link replacement.
Find the right email addresses
This part of the process can be automated with software like Hunter. Hunter offers a free option but if you want to find hundreds of email addresses in one fell swoop you can opt for the paid version and upload the list of websites.
You may want to rifle through your results in order to make sure you are sending your outreach to the right person. List your prospects on a spreadsheet in order to set yourself up for a template email approach.
Automate your outreach
Ninja Outreach can be your best friend for saving time in the outreach process. Your approach to contacting webmasters is already packed with value so make your email as simple as possible. Here is an example of what will get the best response.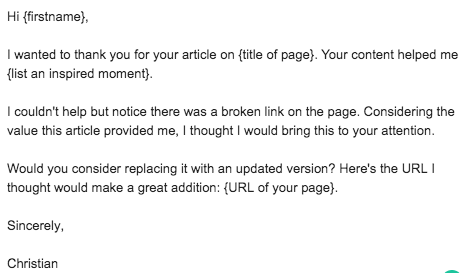 Pay it forward
One twist to this method that many SEO's overlooks is the potential to appease the fourth party. Everyone in the broken link building method seems to win-except one. The website who lost the link.
You can pay it forward and show appreciation for their loss by linking to their content. By giving the previous link holder a link from your content you really are creating a winning situation for all parties involved.
Conclusion
Consider the number of people who are spamming sites and asking for favours and this method of link building becomes more attractive by showing upfront value.
The truth is you can scale up your link building by using this strategy as opposed to the more time-consuming methods, such as guest posting.
As one of many tools you can use in your link building arsenal, broken link building tends to get a higher response rate than simply asking someone to link to your content.
Don't be discouraged by dismal response rates. Outreach, in general, is riddled with a lack of response. The average conversion on an outreach link building strategy is somewhere around 8%. If you can get to that number or above, you've outperformed the standard, cleaned up the internet and acquired some juicy backlinks for your site.
Related reading: How To Write SEO Optimized Blog Posts
Christian Carere