We are at the stage where most companies have websites and virtually every person with a heart beat has a cell phone. The way that we live our lives has become increasingly dependent on digital products in order to make things more efficient.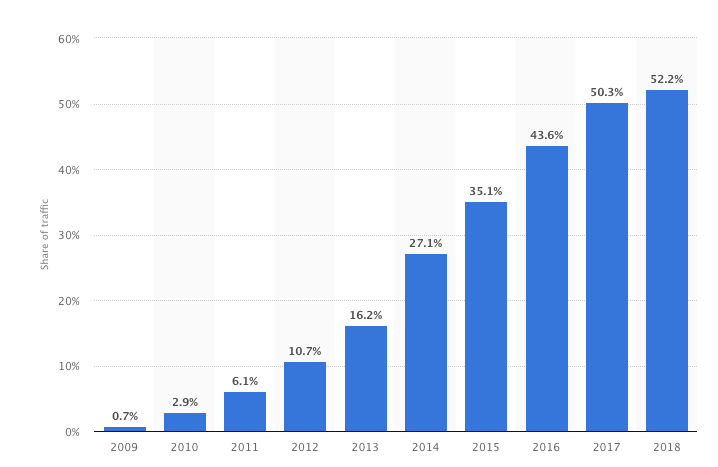 Our cell phones are now smartphones and the way we search for products and services are primarily done through internet searches. The benefits of internet marketing for businesses is to take advantage of where the majority of people are going to make purchases: The internet.
The trend has been mobile for some time now. It's no surprise that mobile searches outweigh desktop searches. People are using their phones more than ever to find everything they could possibly need. Think with Google illustrates the growth of searches that include "near me" has risen over 500% in the last few years.
More and more people from the youngest to the oldest demographic are accessing the internet from their smartphones. The majority of the market has shifted online and business is booming.
Companies have recognized this trend and for the first time in history digital ad spend surpassed that of any other type of advertising.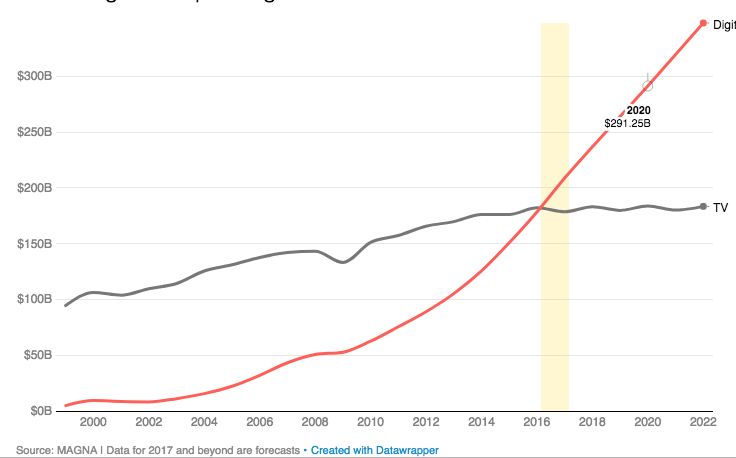 How much should I spend on internet marketing?
The answer is not a one size fits all solution. Different industries are forced to spend different amounts on their marketing budget. A 2017 CMO survey published by the American Marketing Association and Duke University showed that companies spend roughly 12% of total revenue on marketing. However if you compare the budgets of the most successful companies on the planet, they are spending more. The results varied industry to industry but the main emphasis was on how much marketing was contributing to growth.
What Are the Benefits Of Internet Marketing For Businesses?
Competing in a growing market with growing opportunities
Maximize sales through your website
Fuel the growth of your company through new client acquisition
A growing market with growing opportunities
The market is going digital. We are witnessing this happen before our eyes and the numbers are showing that this transition is accelerating. The way we operate on a daily basis has incorporated the use of smartphones for mobile searches. Companies need to focus on what people are doing leading up to making their purchases.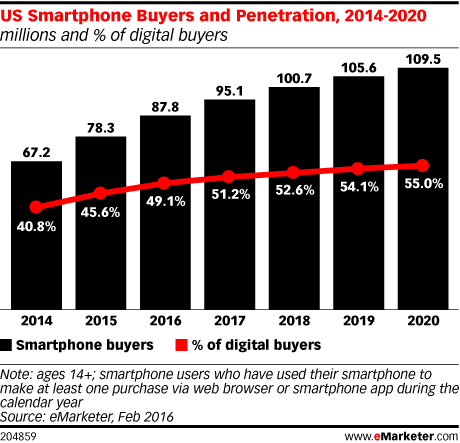 As you can see from the chart above, over half of smartphone owners are making purchases through their smartphone. This number is expected to increase according to emarketer retail analyst Yory Wurmser.
As mobile sites become better optimized and screen sizes grow, it's becoming easier for shoppers to complete the purchase on the smartphone, which will drive mcommerce numbers up for the next several years.

Yory Wurmser ~Emarketer Retail Analyst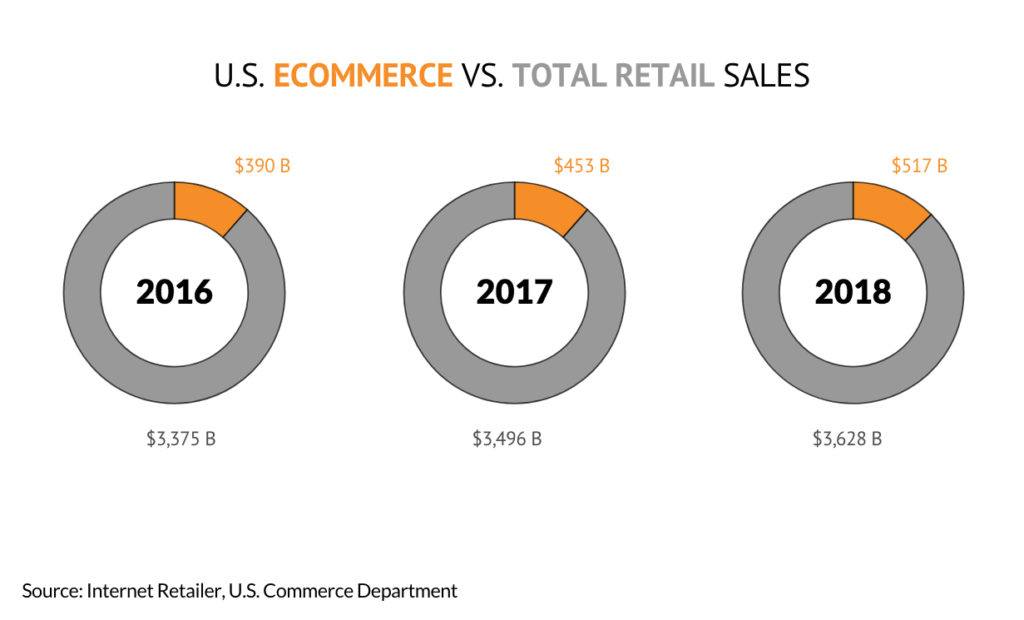 Maximizing sales through your website
US ecommerce sales grew 15% in 2018. That's total retail sales-not including the other types of spending that happen online such as airfare, food, restaurants etc. Your website is the ultimate marketing machine. It is your personal sales person that never sleeps or gets tired of introducing your business to people who need your company.
Position your website in front of the right search traffic and there is a constant stream of people lined up to read about your company and what it can do for them.
Fuel the growth of your company through the acquisition of new clients
New clients are what fuels businesses growth. SEO services target the right audience to generate traffic that produces visitors who are interested in what your company offers. Your website serves as the conduit for converting new visitors to new clients.
SEO is heavily content based marketing. Positioning a website to receive traffic for a particular search term involves the use of content to promote a company website.
Content marketing generates about 3 times as many leads and costs 62% less than traditional marketing

~Data Source
What is SEO and how does it work?
Search engine optimization (SEO) consists of a range of activities that are performed to communicate to search engines what your website is about. SEO signals to search engines the keywords and categories that are directly related to your content so your website will appear in related searches.
What is a search engine bot?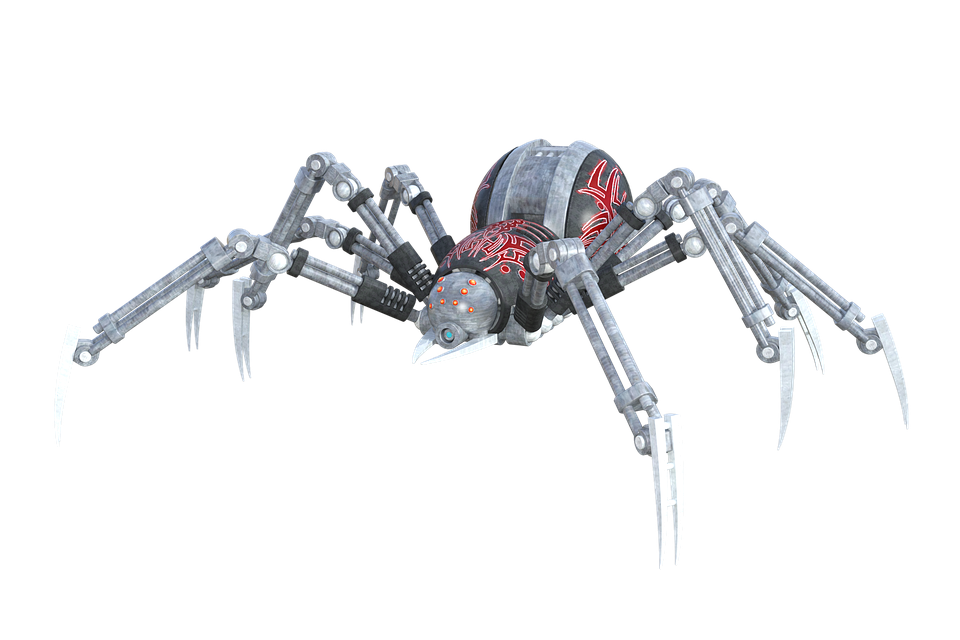 A search engine bot (also known as a search engine spider) is an entity that reads websites and stores information about the site. Search engines use these entities to categorize and index websites in order to accurately provide results in their search listings.
When a search engine bot crawls your website, you want the signals it receives to accurately describe your content, services and products. If you are optimized for specific keywords the bot will store the information from your website appropriately making it more likely your website will appear in searches whenever a person types your keyword.
What are the major elements of SEO planning?
Domain selection
Content Creation
Keyword Selection
Optimization
Development
1. Domain selection
Choosing a domain name should be as simple as making it the name of your company. This will be your brand. It should be noted that .com's are still the top choice for ranking purposes. A very important point to note is that if you include a keyword in your company name, it will have an affect on how you optimize your website.
EMD's are exact match domains. If you are ranking for a keyword that matches your domain you must be extremely careful not to over optimize your website. There are specific Google penalties that target EMD's (2012 Googles EMD penalty) so be aware of the keywords you use within your company name and domain.
2. Content Creation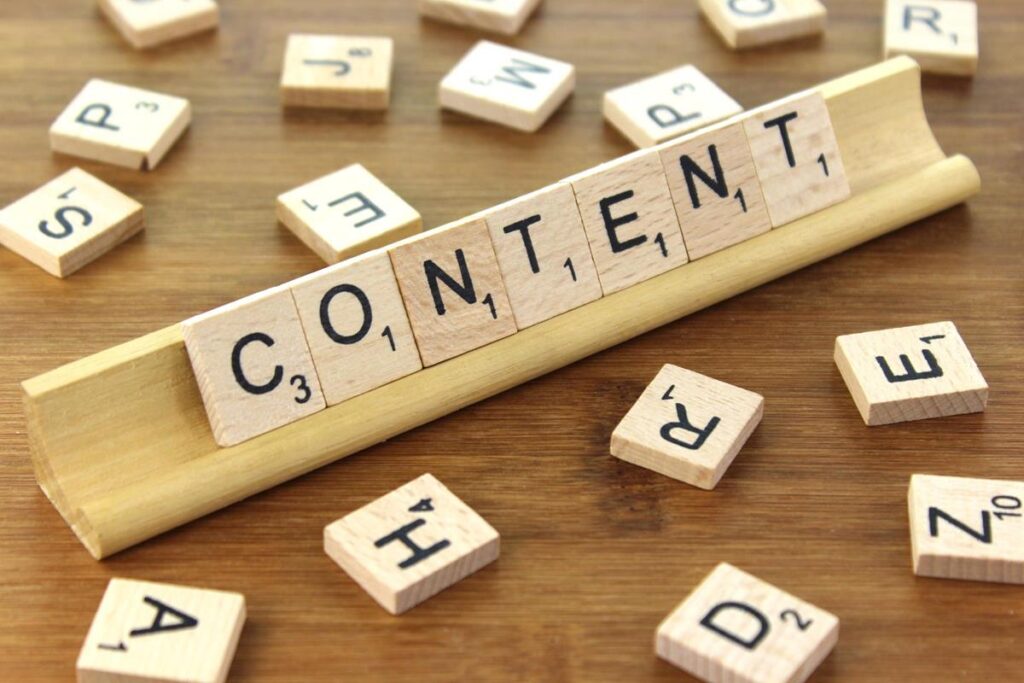 Marketers say creating relevant content is the most effective search engine optimization tactic they employ, according to a recent report from Ascend2.

Data source
Content is the main focus of every website. It is what your visitors will read and a major factor for how search engines will assess a ranking for your website. The focus of your website will be to provide as much content as possible that features the most important aspects of your business. It wouldn't make sense to have a paragraph describing the main service of your business while you have pages written about an add on service. The information you provide should be tiered in the levels of importance in accordance with what you want your website to rank for.
4.8% is the average conversion rate for websites using video, compared to 2.9% for those who don't.

~Data source
It is becoming increasingly important to engage visitors that land on your website. The use of images and video can make a massive difference in the way information is digested. Make use of all available sources to create an informative page that holds visitors attention for as long as possible.
3. Keyword selection
Keywords with more than two words are more accurately referred to as key phrases or long tail keywords. Typically businesses will go after long tail phrases to accurately target traffic that is searching specifically for their product or service they offer.
For example, rather than using general terms such as "buy a new car" you can take that two levels deeper. The next level would be "buy a new sports car" The next level would be to make the keyword product specific "buy a new BMW M4" And of course to really target the traffic a city or location can be added to match with the customers that are in the city looking for a specific model of car to buy.
Search terms are selected according to the best match for the business however there are multiple ways to rephrase a keyword. Choosing the best keywords involve comparing the options and balancing between three other major metrics: Monthly searches; Cost per click; Keyword difficulty.
Monthly searches
The total amount of traffic that is searching a specific keyword. The total traffic to the website in the number one position will receive roughly 35% of the total value o monthly traffic.
Cost per click (CPC)
The average price being paid to receive one visitor to a website for a specific keyword. The CPC refers to the amount companies bid on within a PPC (pay-per-click) campaign.
Keyword difficulty
The difficulty of ranking a keyword is determined by the competition that currently holds the positions one through ten on a first page result. There are instances where websites have been around for years developing their presence on keywords so it would take years to beat them. The airline industry is an example of a difficult keyword to rank for. Google "cheap flights" and every websites has thousands if not hundreds of thousands of links making the timeline to rank much longer than any normal keyword.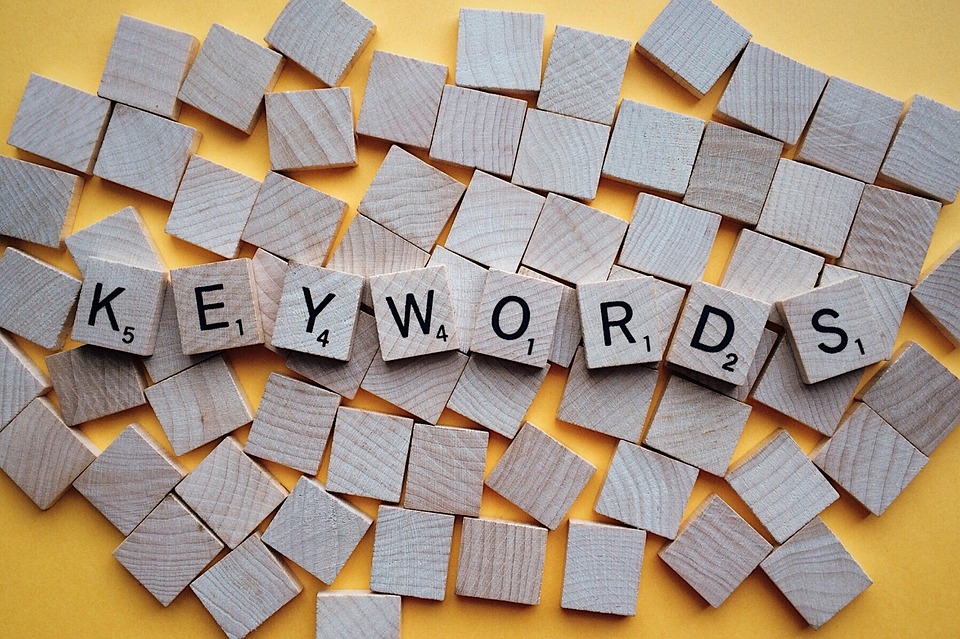 How do you choose keywords for your website?
Choose the most relevant terms to your business.
Rephrase, reword and brainstorm to list the best options.
Find a balance between the the highest volume with the lowest competition that represents commercial value to your business.
Optimization
Optimizing your website means getting a lot of different arrows pointing the same way. When a search bot crawls your site, they not only see your content but what lies underneath your content. A search bot will also assess the backlinks to your website. By addressing all of these aspects you line up the signals to indicate what search terms are most relevant to your business.
Your on page SEO should centre around a major theme, topic or keyword. The best way to optimize page content is to create the page with a specific focus for your audience. Back up your main idea with images, video and data in order to make the page useful and engaging. When you have finished creating the content for the page, review the page and sprinkle in LSI keywords to add intent and relevance to the main keyword you are optimizing the page for.
Optimizing with LSI keywords
LSI (latent semantic indexing) keywords are keywords that enhance your optimization by communicating the intent of your keywords. When a Google bot crawls your page, it reads the content and gathers information that helps to categorize your website.
If your main keyword was "cars" there could be multiple intentions for that keyword. It could mean Cars the movie, car sales or car repair. The LSI keywords that indicate the intent towards the movie would be names of actors in the movie cars, IMDB, release date and so forth. LSI keywords for car repair would be words like brake replacement, transmission repair and other terms that indicate repairing cars.
Development
Getting your on page SEO is essential in providing the signals that communicate what your website is about. Once that is in place it will be the offsite elements that complete and enhance your optimization.
When you first start development in a particular niche, get linked to niche specific websites. If your business is local, use local websites to confirm your presence in the local market. Use websites that are trusted and have authority in order to gain more trust and authority from search engines. Expertise, authority and trust go a long way with people who are searching for services within your locality.
Creating quality backlinks is vital to establishing your website as an authority site. The backlinks you create should reflect associations to websites that share similar content and exhibit expertise, authority and trust. By creating a network of connections to websites that demonstrate these properties your website begins to demonstrate these properties.
Every niche has different levels of competition but by adding value through authority links to your website you improve your ability to outrank your competitors. As your website gains recognition in it's industry, it ranks for more search terms associated with your business.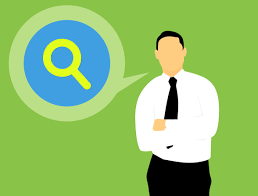 9 reasons an SEO consultant can help your business
Your site is developed to outrank your competitors
Manipulate traffic to increase conversion rates
Enhance your websites performance
Record and report statistics
Your business gains brand recognition
Local pack listing
Optimizing for Position zero
Optimizing for voice search
Your SEO consultant will handle everything
An SEO consultant performs a series of services that produce a return on your investment by developing your website appear in searches that attracts visitors with buyer intent. SEO services involve keyword research, on page and off page optimization and website development. An SEO consultant will provides the necessary services in communicating a websites core services to search engines. The website should provide the signals necessary to be included in search results made that include the key phrases its optimized for.
Your website is developed to appear in searches related to your business
Owning a website is simply not enough anymore. To be successful in generating more business online your website needs to appear in searches that where a direct relationship can be made to your website. AN SEO consultant will use the resources necessary to make the connections between the functions of your business and popular searches that could be related to it.
By developing your websites presence in a specific niche you increase the authority of your website. Authority is a metric that is evaluated by Google in the ranking process and will give your site a stronger competitive edge in outranking your competition. As your website increases the authority it has, it becomes easier to attain competitive positions for new keywords.
Manipulate traffic to increase conversion rates
An SEO service drives traffic from searches made by people with the intent to purchase services and products. If your company operates in a specific location you can optimize locally to target potential customers that are more likely to come into your business.
There are dozens of keywords that can positively affect a businesses bottom line by attracting new clients. Developing a keyword strategy and achieving a ranking for as many key search terms results in a stronger overall presence in your market.
When you are optimized for specific keywords the traffic you generate will bring in visitors that have made specific searches. When you are matched perfectly with a person specifically searching for what you offer, the conversion rates increase. Using long tail keywords, being brand specific or using any descriptive words in your optimization places your website in searches with higher converting visitors. An SEO consultant can provide the details necessary to strategize the best ways to generate traffic.
Enhance your websites performance
There have been major updates to Googles algorithm that have affected websites in major ways. Some of these updates wiped out entire businesses overnight. When your website is being developed by a consultant you're made aware of changes to search criteria that affect the flow of traffic to your site.
Last year Google updated their algorithm to mobile-first indexing. The results of mobile being placed as a priority have changed the importance of responsive sites and more importantly page speed. Small changes can have a large impact in the traffic your website receives and having the guidance to navigate through changes can save time and money.
Your progress is recorded and reported
You can monitor the progress of your site and have a general idea of the status of its status by having reports sent to your inbox. Reports will detail the most important metrics your website is producing. Items such include and are not limited to the monthly traffic to your website, keyword ranking, percentage of new visitors vs returning, the bounce rate, the amount of pages visited per session, the location of where your traffic was searching from, what pages the entered on, what pages they exited on, goal conversions, etc. An SEO consultant will send a monthly report to keep you in the loop regarding the status of your investment.
Your company develops brand recognition
The process of developing a site involves placing the name of your company and website in relevant places online. When searches are made for anything related to your business and your website makes a consistent appearance, your company becomes familiar. For someone who is researching where to invest their money for a purchase familiarity breeds trust. Trust inspires the confidence in selecting your company when it comes to deciding on a purchase.
Optimizing for position zero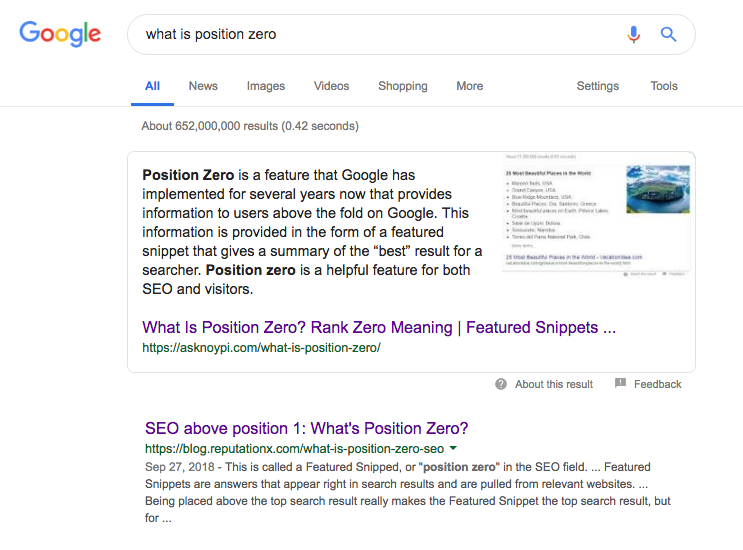 Position zero is the first space allocated before ads or local listings for featured snippets. A featured snippet is an answer to a question that is asked in a search. The reason featured snippets are getting a lot of attention is because they are the first thing anyone sees in a search result. This means a featured snippet is in a position to receive the most traffic out of all positions on a first page result.
The number one position in a search result used to be the spot that was most coveted. Now it's position zero because it adds traffic to whichever website is chosen to occupy that space. Featured snippets are only taken from websites in the top ten organic results so they are an added bonus for whichever website is lucky enough to be featured to answer the question posed in the search.
Optimizing your website to be featured in position zero is something another value added bonus a consultant can help you with. There are no guarantees or concrete formulas to insuring a website is listed as a featured snippet but there are definitely ways to increase the probability of being selected.
Optimizing for voice search
Featured snippets have been making more appearances on the results page since their introduction a few years ago. The increase in appearances have have jumped from 2%-11% of total searches performed. A contributing factor to the increase in featured snippets is the increase in voice search. Voice assistants have been on the rise and the way people are searching are by asking questions. This a big change that is still making its impact felt in the way we are optimizing websites.
Local pack listings
Google has reserved three spots on the first page results page for local listings. Being one of the top three local websites can add considerable traffic to your business since their position is located directly under the ads.
The local pack will be displayed whenever a search matches with content on a website that is within a close proximity to the searcher. Your website should be optimized to compete in the city or location to make it eligible to appear in these listings.
Your SEO consultant will handle everything
There is piece of mind in knowing that all ends are being accounted for when it comes to creating more visibility in the search engines. Search engine optimization requires specific skill sets to address every aspect of what goes into ranking a website. You can save time and make more money by ranking your website as quickly as possible to get to a level where your site is generating more new clients.
Knowing how to optimize for specific features that are now integrated on Googles first page of results is also an added benefit of having an SEO consultant in your corner.
The knowledge and skills that a consultant brings to your business will improve the quality of traffic to generate more leads for new clients. SEO is a major part of internet marketing that will add to the growth of your company.