We are at the stage where most companies have websites and virtually every person with a heartbeat has a cell phone. The way that we live our lives has become increasingly dependent on digital products in order to make things more efficient.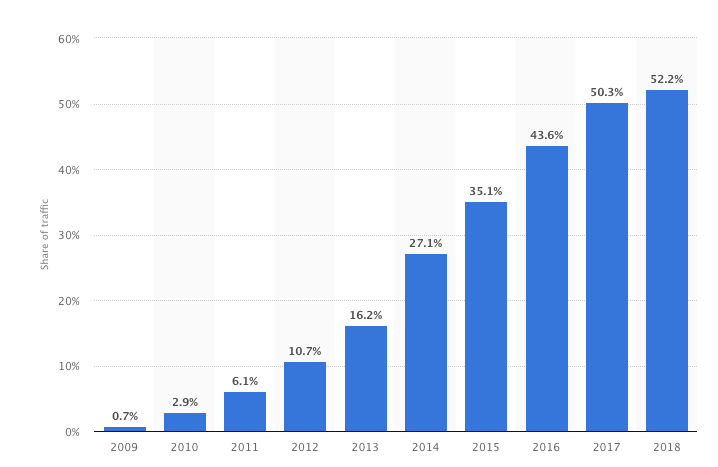 The trend has been mobile for some time now. It's no surprise that mobile searches outweigh desktop searches. People are using their phones more than ever to find everything they could possibly need. Think with Google illustrates the growth of searches that include "near me" has risen over 500% in the last few years.
More and more people from the youngest to the oldest demographic are accessing the internet from their smartphones. The majority of the market has shifted online and business is booming.
Companies have recognized this trend and for the first time in history, digital ad-spend surpassed that of any other type of advertising.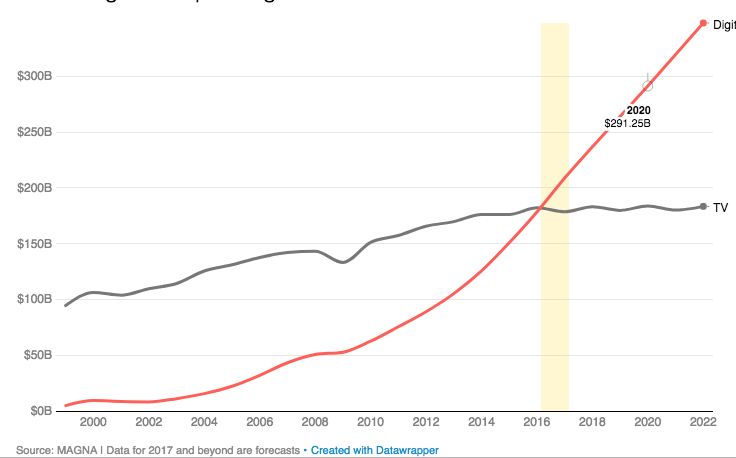 How much should I spend on internet marketing?
The answer is not a one size fits all solution. Different industries are forced to spend different amounts on their marketing budget. A 2017 CMO survey published by the American Marketing Association and Duke University showed that companies spend roughly 12% of total revenue on marketing. However, if you compare the budgets of the most successful companies on the planet, they are spending more. The results varied industry to industry but the main emphasis was on how much marketing was contributing to growth.
What Are the Benefits Of Internet Marketing For Businesses?
Competing in a growing market with growing opportunities
Maximize sales through your website
Fuel the growth of your company through new client acquisition
A growing market with growing opportunities
The market is going digital. We are witnessing this happen before our eyes and the numbers are showing that this transition is accelerating. The way we operate on a daily basis has incorporated the use of smartphones for mobile searches. Companies need to focus on what people are doing leading up to making their purchases.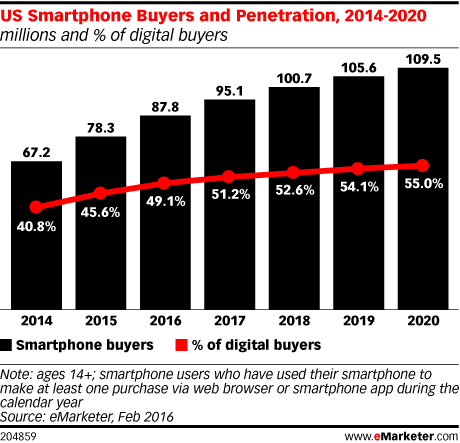 As you can see from the chart above, over half of the smartphone owners are making purchases through their smartphone. This number is expected to increase according to e-marketer retail analyst Yory Wurmser.
As mobile sites become better optimized and screen sizes grow, it's becoming easier for shoppers to complete the purchase on the smartphone, which will drive mcommerce numbers up for the next several years.

Yory Wurmser ~Emarketer Retail Analyst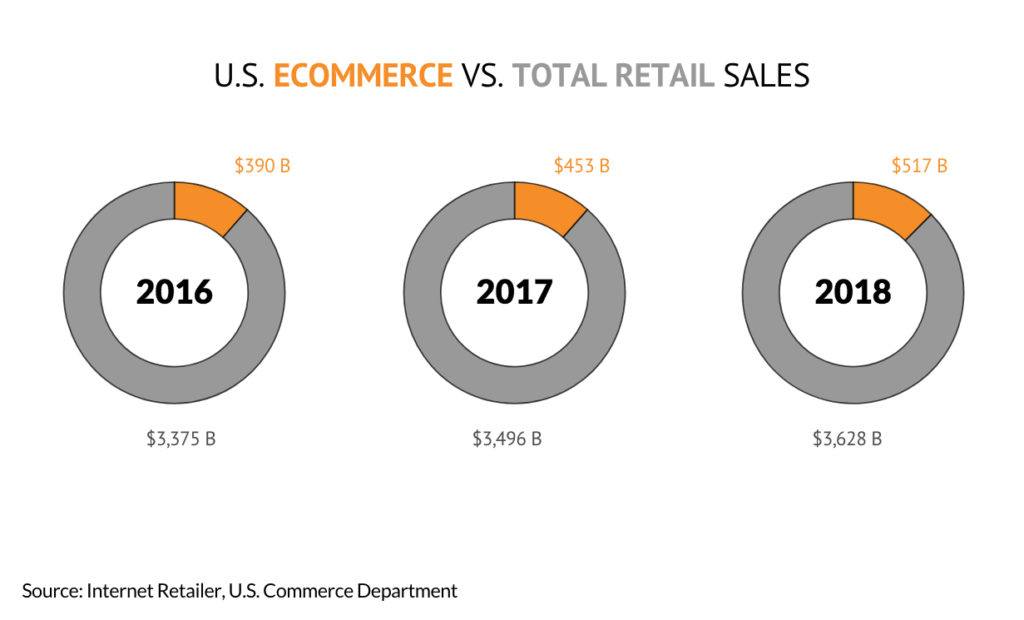 Maximizing sales through your website
US e-commerce sales grew by 15% in 2018. That's total retail sales-not including the other types of spending that happen online such as airfare, food, restaurants etc. Your website is the ultimate marketing machine. It is your personal salesperson that never sleeps or gets tired of introducing your business to people who need your company.
Position your website in front of the right search traffic and there is a constant stream of people lined up to read about your company and what it can do for them.
Fuel the growth of your company through the acquisition of new clients
New clients are what fuels the growth of a business. An SEO company will target the right audience to generate traffic that produces visitors who are interested in what your company offers. Your website serves as the conduit for converting new visitors to new clients.
SEO is content-based marketing. Positioning a website to receive traffic for a particular search term involves the use of content to promote a company website.
Content marketing generates about 3 times as many leads and costs 62% less than traditional marketing

~Data Source
What is SEO and how does it work?
Search engine optimization (SEO) consists of a range of activities that are performed to communicate to search engines what your website is about. SEO signals to search engines the keywords and categories that are directly related to your content so your website will appear in related searches.
What is a search engine bot?
A search engine bot (also known as a search engine spider) is an entity that reads websites and stores information about the site. Search engines crawl and categorize websites for their index in order to provide accurate search results.
When a search engine spider crawls your website, you want the information it receives to accurately describe your content, services and products. If you are optimized for specific keywords the spider categorizes your website appropriately making it more likely your website will appear in searches whenever a person types your keyword.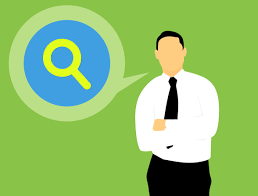 9 reasons an SEO consultant can help your business
Your site is optimized to appear in keyword-related searches
Manipulate traffic to increase conversion rates
Enhance the performance of your website
Record and report statistics
Your business gains brand recognition
Local pack listing
Optimizing for Position zero
Optimizing for voice search
Your SEO consultant will handle everything
An SEO consultant performs a series of services that produce a return on your investment by developing your website appear in searches that attracts visitors with buyer intent. SEO services involve keyword research, on-page and off-page optimization and website development. An SEO consultant will provide the necessary services in communicating a website's core services to search engines. The website should provide the signals necessary to be included in search results made that include the key phrases it's optimized for.
Your website is optimized to appear in keyword-related searches
Simply owning a website will not be enough to generate traffic. To be successful in attracting more business from your site it needs to appear in searches made by people looking for your business. A consultant makes connections between your website and potential clients.
The number of domains that link to your site increases your domain authority. An increase in domain authority (or domain rating) will give your site a stronger competitive edge for outranking your competition. As your website increases the authority it has, it becomes easier to attain competitive positions for new keywords.
Manipulate traffic to increase conversion rates
An SEO service drives traffic from searches made by people with the intent to purchase services and products. If your company operates in a specific location you can optimize locally to target local customers which are more likely to convert into clients.
An SEO expert will choose keywords that positively affect the bottom line of your company by attracting new clients. Through an established keyword strategy, your business can achieve a ranking for multiple key search terms. The frequency of appearances in the search results demonstrates a stronger overall presence in your market.
A professional will incorporate long-tail keywords, brand-specific keywords or any descriptive words to optimize your website. When your company is matched perfectly with a person specifically searching for what you offer your conversion rates increase.
Enhance the performance of your website
Typically a website audit is performed at the beginning of any campaign or project in order to correct any problems and build on a sturdy foundation. The audit reports errors in your site's performance that will influence ranking.
For example, mobile-first indexing has increased the importance of owning a responsive website. If your site is hard to read and has tiny text links when it's displayed on a mobile device it doesn't matter how good your content is-no one will want to use something so awkward and unenjoyable. A website audit will allow you to focus on the content your creating by eliminating other errors that would have an impact on the competitive placement of your site.
Your progress is recorded and reported
You can monitor the progress of your site and have a general idea of the status of its status by having reports sent to your inbox. Reports will detail the most important metrics your website is producing.
The metrics included in your report are the monthly traffic to your website, percentage of new visitors vs returning, the bounce rate, the number of pages visited per session, what pages your visitors landed on, what pages they exited on, goal conversions and more.
Your company develops brand recognition
The process of developing a site involves placing the name of your company and website in relevant places online. When searches are made for anything related to your business and your website makes a consistent appearance, your company becomes familiar. For someone who is researching where to invest their money for a purchase familiarity breeds trust. Trust inspires confidence in selecting your company when it comes to deciding on a purchase.
Optimizing for position zero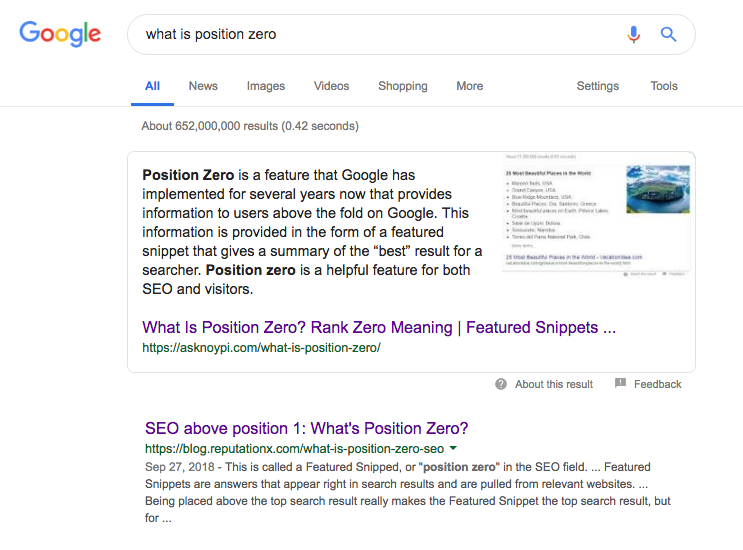 Position zero is the first space allocated before ads or local listings for featured snippets. A featured snippet is an answer to a question that is asked in a search. The information posted in featured snippets is extracted from websites that rank in the top ten organic results. Optimizing your website to be featured in position zero is something your SEO expert will aim for when optimizing content.
Optimizing for voice search
Featured snippets have increased the frequency of their appearances on the results page since their introduction in 2013. A contributing factor to the increase in featured snippets over the last two years (2017-2019) is the increase in the number of voice searches. Searches via voice assistants have been on the rise and since asking questions is a popular occurrence more content is being optimized with titles and subtitles as questions. This a big change that is still making its impact felt in the way we are optimizing websites.
Local pack listings
Google has reserved three spots on the first-page results page for local listings. Being one of the top three local websites can add considerable traffic to your business since their position is located directly under the ads.
The local pack will be displayed whenever a search matches the content on a website within close proximity to the user. Your website should be optimized to compete in your city to make it eligible to appear in local search results.
Your SEO consultant will handle everything
There is the peace of mind in knowing that all ends are being accounted for when it comes to creating more visibility in the search engines. Search engine optimization requires specific skill sets to address every aspect of what goes into ranking a website. You can save time and make more money by ranking your website as quickly as possible to get to a level where your site is generating more new clients.
Major updates to Google's algorithm can affect a website's ranking and result in drastic changes in traffic. It may come as no surprise that the Panda and Penguin update were severe enough to wipe out entire businesses overnight. When your website is being developed by a consultant you're made aware of changes to search criteria that affect the flow of traffic to your site.
Knowing how to optimize for specific features that are now integrated on Google's first page of results is also an added benefit of having an SEO consultant in your corner.
The knowledge and skills that a consultant brings to your business will improve the quality of traffic to generate more leads for new clients. SEO is an integral component of internet marketing that will continue to contribute to the growth of your company.
Please follow and like us: