If you travel back in time to the turn of the century, you would find that in the year 2000 marketing was a very different animal. Most marketing was dominated by radio, television and ad placement in magazines and billboards. Fast-forward 20 years and the bulk of the spray and pray tactics are now obsolete since data-driven marketing has proven to be the best way to increase leads and revenue.
There is a much higher demand for personalization from consumers and a world of data to pull from. In fact, if you're not appealing to specific desires from your target audience, you're losing them to other companies.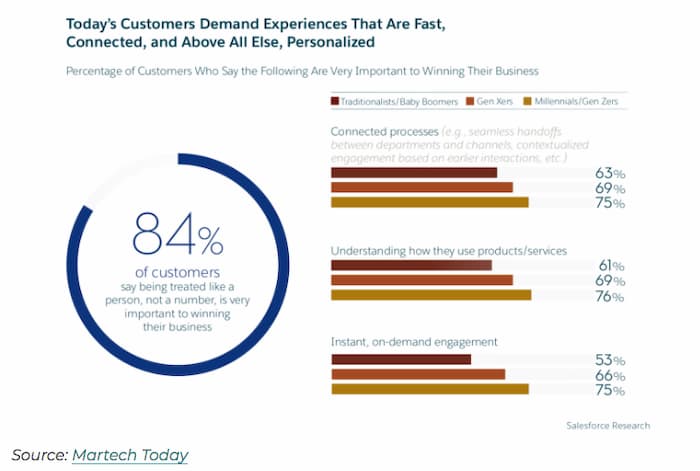 Today's consumers are naturally trained to glaze over advertisements. There are so many ads that are in our face every day that it's become a natural response to automatically close popover, pop-ups and generally skip paid ads to get to the organic results.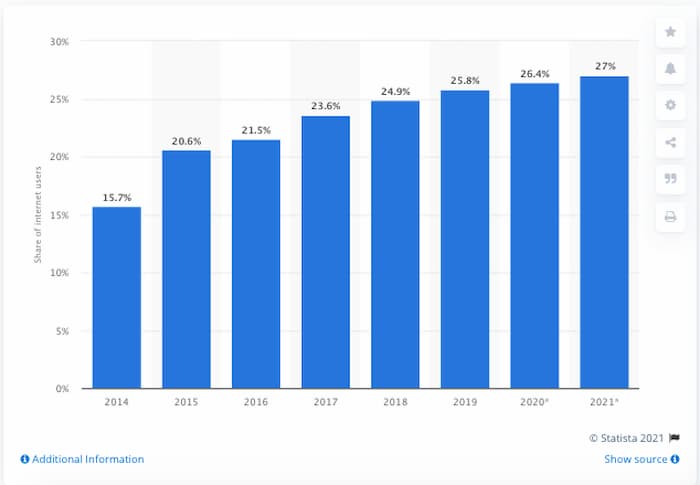 This behavioural pattern has given rise to the power of inbound marketing and the importance of becoming specialized in a specific area of expertise.
In order to cut through the noise and separate yourself from the masses, you need to apply data-driven marketing strategies to reach the audience that will engage with your brand the most.
By applying statistical facts to your marketing decisions you can outperform the old methods of operating on gut instinct. This is how companies are increasing profit and successfully expanding their audience.
What is data-driven marketing?
Data-driven marketing gives companies insight into the preferences and behaviour of their target audience based on big data and statistical facts. Companies then use this information to make more informed decisions on the marketing tactics and strategies they choose to employ for increased engagement.
Without measuring the impact of your efforts, it's difficult to optimize your campaigns to be more successful. When data is collected (preferably from a large sample size) it is then used to increase key performance indicators that will result in more leads and revenue.
Example of data driven marketing
Here's an example of a data-driven marketing campaign: Assume your company is running a PPC campaign where the target city is Toronto. After one month, you assess the results and notice that the majority of clicks are coming from similar postal codes.
You research the average household income for the areas in Toronto, and find that the majority of the clicks is coming from the postal codes where income is the highest.
Based on the results of your first campaign, your data would suggest that you need a different type of advertisement to get lower income areas to click on your ads.
You would need to cater to the lower income households by creating a more appealing-perhaps one that communicates more savings.
This approach would increase the number of clicks and conversions by simply changing your copy to something more personal and applicable to the demographic.
This is data-driven marketing in action.
Who uses data-driven marketing?
You would be hard-pressed to find an industry leader that isn't using data to help make informed marketing decisions. Here at Digital Ducats, we use Google Analytics to collect data on visitor behaviour and website performance daily. The more time and visitors that pass through a website, the more accurate the data becomes to make informed decisions.
The data we use tells us where visitors enter your website, how much time they spend on each page and where they leave. Analyzing the flow of visitors on your website allows us to identify the improvements they need to make to keep users on your site longer and guide them to pages that convert at the highest rate.
If there are pages that generate high bounce rates, we find the underlying cause why your website is losing traffic to the page. Through testing and making changes, your website becomes streamlined for conversions and leads visitors to purchase decisions or becoming a qualified lead.
Tools for automation
There are tools to automate everything when collecting data on your business. Depending on what your marketing goals are will depend on the tool you need to employ. Here is a list of tools that can generate useful data for making informed decisions on improving performance.
Google Analytics
The fact that the tool is free is a bonus being one of the most comprehensive solutions for tracking website data. Analytics tracks every major metric you will need to monitor your website's performance when it comes to user behaviour.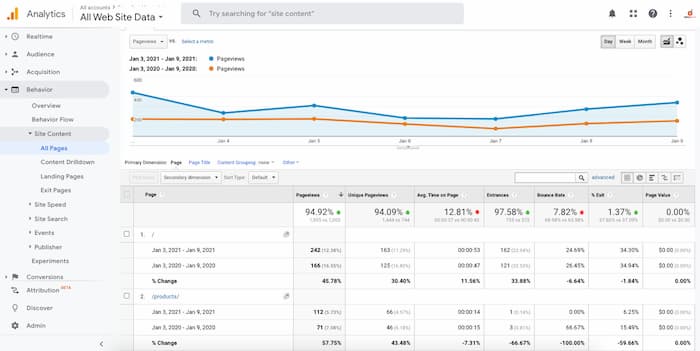 The most commonly tracked metrics are: monthly search volume, unique users, traffic acquisition channels, flow of visitors, average time on page, bounce rate, conversion tracking and more.
Google search console
This tool is the go-to source for everything that's happening with your website behind the scenes on Google. As an owner, you are entitled to a free account and can access website performance data such as impressions and clicks to every page.
Core web vitals will officially become a ranking factor in May of 2021 so there is the importance of being alerted to any changes, errors and improvements that need to be made in this department.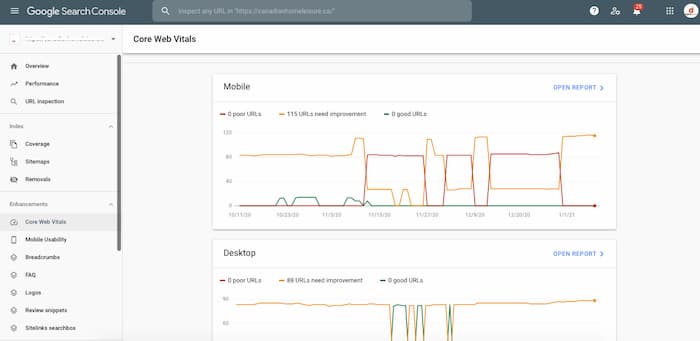 You can connect your search console and analytics account for more streamlined and accurate reporting.
Analytic keyword tools
Every SEO company will use a few different tools to provide the best scope and range of information when making decisions on keywords and competition. SEMRush, Moz and Ahrefs are among the top industry leaders for providing access to valuable keyword data and assessing the competition.
Not only do these tools provide keyword generation ideas, they generate loads of information that come with each suggestion to allow greater insight into the keyword.
Information about the level of competition, the average monthly searches, the cost per click, the level of competition, the organic click-through rate and the SERP features that the keyword triggers.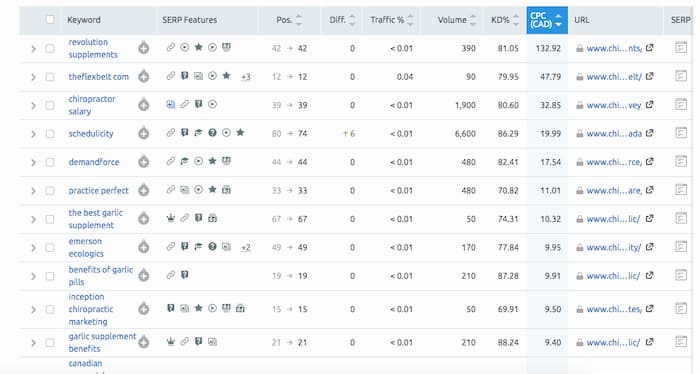 Most of these tools also provide intensive competition analysis allowing you to see what keywords your competition ranks for and the volume of traffic they generate. You can see whether they are paying for traffic as well as the backlinks that point to their web pages.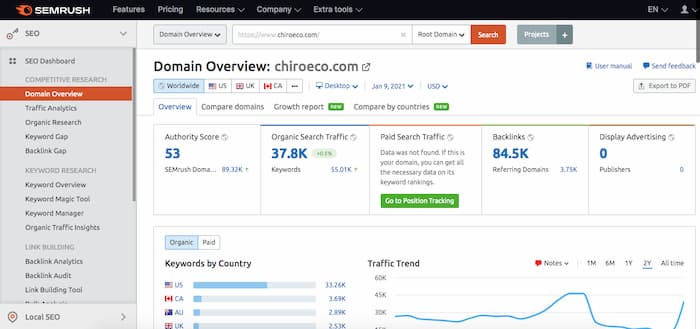 No SEO campaign would be successful without being able to formulate informed decisions based on the information provided by these types of software.
Google Ads
Running a PPC campaign generates an enormous amount of valuable data that can be used to create more successful marketing campaigns. The detailed creation of PPC campaigns coupled with the amount of data that comes back in the reporting can speak volumes about your target audience.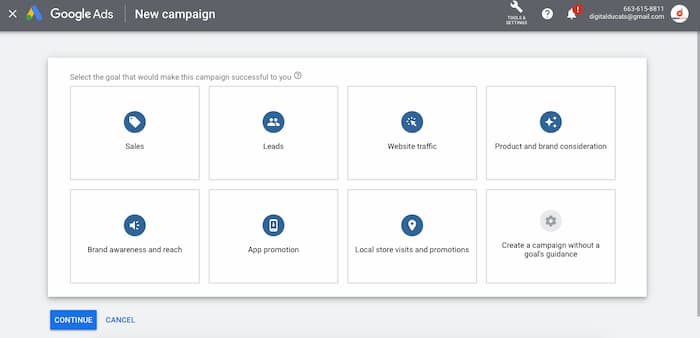 PPC campaigns provide volumes of data regarding the user behaviour and how they respond to your sales copy, landing pages and products.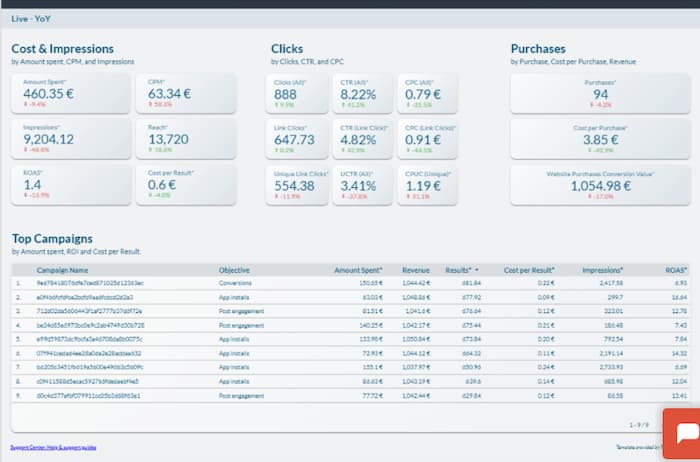 What's more, is the data that is returned can help you build more accurate buyer personas for more effective content and targeting.
Email marketing software
Email marketing software provides you statistics on the success of your email marketing campaigns. Use this data in conjunction with your Analytics to segment your lists and create more personalized content for your audience. You can use tools like Mailchimp, Aweber, Get Response, Campaign Monitor or any you deem worthy.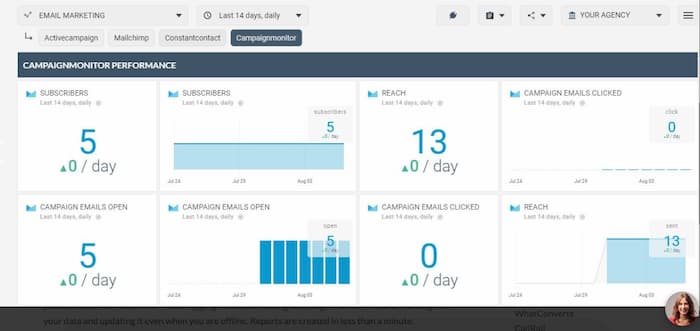 A simple metric like the open rate can provide you insight into the effectiveness of a subject line in an email. A high open rate would indicate your audience is responding to the topic and delivery of your subject line-which makes it ideal to use variations of it as a title or headline for a blog post or article.
A high click-through rate of an email would indicate the body of content is appealing enough to get users to read further. This gives you a proof of which topics to pursue and build more content around to maintain high levels of engagement.
Tips to create a data-driven marketing campaign
Here are a few tips for creating campaigns that continually become more effective in targeting your audience and more optimized for conversions.
Create a well defined goal
Define the goal that will create a competitive edge in your marketing. You need to have a major objective in your campaign with a clear set of values you can walk away with and use in your next campaign. A clearly defined goal will keep you on track and provide a specific benchmark that can be measured for effectiveness.
Select your tracking tools
Choose the tools that will give you the data you need to make better decisions in the marketing campaigns that follow. Make sure you're setting up your campaign with the tools that will give you the most accurate values for achieving your objective.
Setting up analytics means creating conversion goals and trackable links to see what's actually happening on the pages you're testing. Without using the proper tools your values can be skewed so make sure you're getting the most from your campaign by using tools that will provide the metrics you need.
Incorporate data from past campaigns
Always make use of previous data to make informed decisions. If you've already run a campaign that has presented a set of data, incorporate that data into your next campaign. This creates a more effective, optimized campaign.
Use data-driven decisions to increase your bottom line
Use as much information about your products and consumers as possible to create highly targeted marketing campaigns. The demand for personalization has been made clear and it's up to you to meet the demands of your ideal audience.
Applying data-driven marketing strategies are the norm for creating the means for more informed decisions on your marketing campaigns. Make use of statistical facts about your audience to see more engagement, leads and revenue on a regular basis.