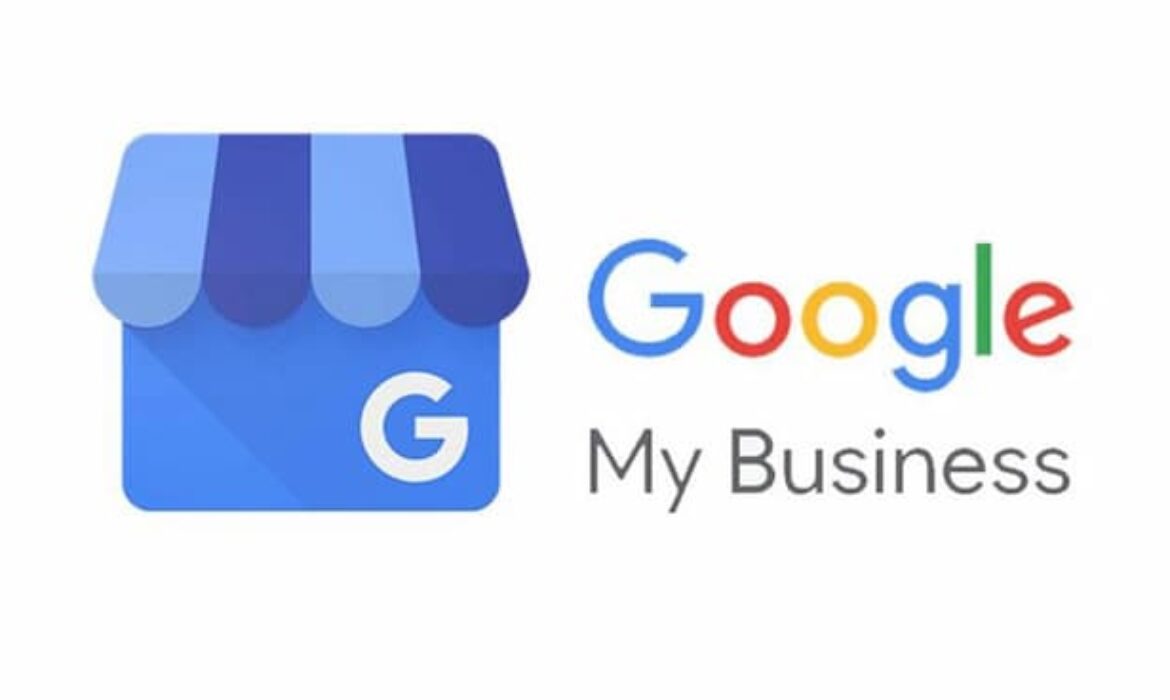 Everyone has a website these days, but not everyone is ranking on the first page. How do you send droves of traffic to your website when thousands of others are competing for the same keywords? Here are some well-known advanced SEO strategies that are proven to increase website traffic for more leads and new clients.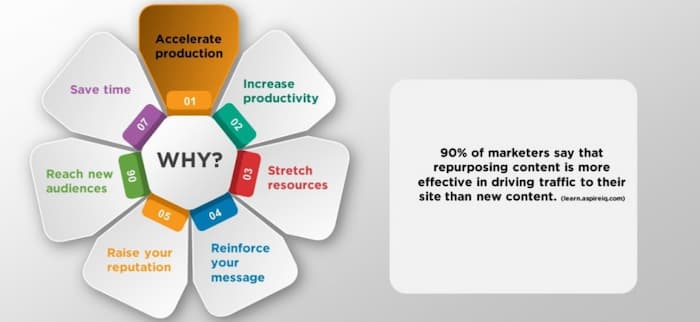 Repurpose content
Choose one of your top-performing pages and repurpose the content into another form to take advantage of existing interest and the traffic already flowing to the page.
What does this mean exactly?
Let's say you have a blog post on 7Advances SEO Strategies that get a high volume of search traffic. Use the content from that post and turn it into a video, podcast, infographic, slideshow or anything you believe will get a good response from your audience.
Why does repurposing content generate more traffic?
Using an alternative form of content gives you another way to deliver your content. Users all have different preferences on how they choose to consume content and so by providing multiple versions you open up new channels of interest.
Those that may have skipped through or skipped your blog post entirely may choose to watch a video or listen to an audio version.
The bonus of repurposing content that it's not as hard to do as producing content from scratch. A good deal of the work is already done since you have a finished product. The content is already there it's just a matter of putting it together in a way that users can consume.
Repurpose your blog post into a new infographic
Turning a blog post into an infographic is a popular method of repurposing content. Visualized data has a much higher retention rate for people because it is a combination of images and facts. Images help visitors retain the most important points of a blog post.
Step one: The first step is to determine your key data points.
What do you want readers to remember when they see your blog post? This will form the skeleton of your infographic.
Step two: Organize your infographic with sections and headers.
The key to a good looking infographic is to make it look extremely organized. If everything is balanced and aesthetical it will make more sense to users when they read through the content.
Step three: Keep your text brief and to the point.
The idea behind making the infographic is to give your audience the most important data points. Don't try to transpose the entire blog post onto your image. Otherwise, they could just read the blog post.
Step four: Include notes for the designers.
Be as descriptive as possible when making notes for the designers. You want your ideas to materialize as close to your vision as possible. Tell designers exactly what to do when it comes to branding, colours and images.
Here is an infographic from Venngage that walks you through these exact steps: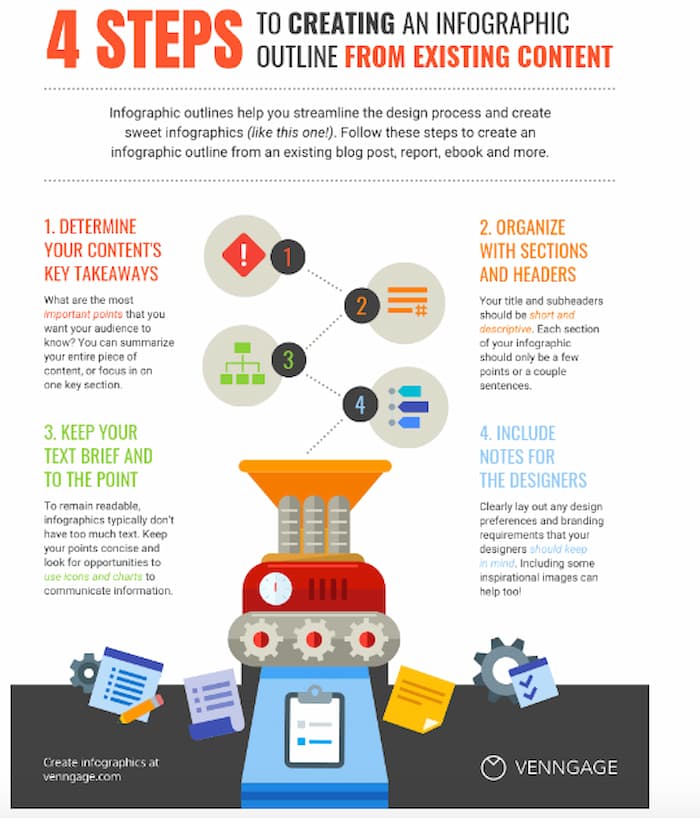 Publish a video
Hey, have you heard about that new website called YouTube?! It should be obvious by now that if you're going to publish a video, you'll want to do it on YouTube. Not only is it the second-largest search engine in the world, but also, videos rank on Google all the time for high volume keywords.
(Click here to learn about video trends in 2021)
Add YouTube traffic to your monthly search volume
Drive traffic from both Google and YouTube by publishing a video optimized for an important keyword that will drive traffic. YouTube is not as competitive as Google when it comes to ranking for keywords, which is something, you can capitalize on.
If you're shy about being on camera, use the images from your infographic to make a video/infographic. You'll need to be the narrator and be super engaging if you're not going to show your face on the video.
Tips for optimizing your video
Make sure your main keyword is in the title, filename and tags. Take your video optimization to the next level by including a keyword-rich video transcript in the description. Add Chapters within your description to break up your video into segments. Take note of the top ranking videos and duplicate the tags they use since it also plays a big role in how YouTube sees your video.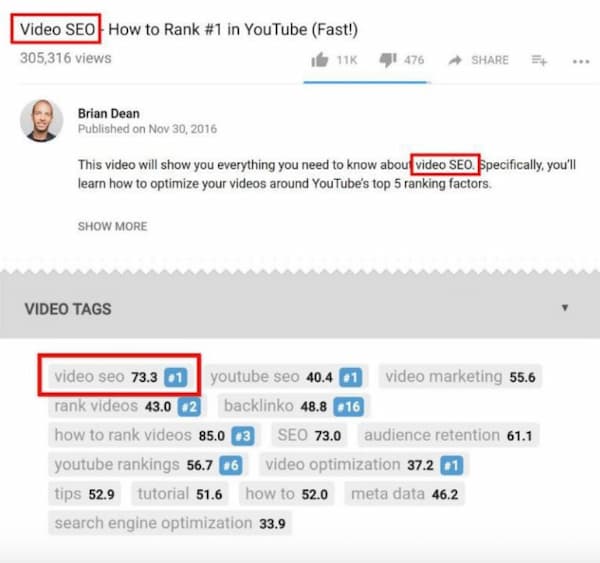 Keep in mind that if people get bored and leave your video before it finishes, it will sink your YouTube ranking. Make sure there are no flat and boring segments. If you can't help but be super boring then make your videos into short clips. Engagement is the key here.
Publish a slideshow
If you're going to go as far as publishing a video, you can easily import it to Slideshare to publish a slideshow. That's not the only option for creating a slideshow. PowerPoint presentations convert perfectly and you can always make a slideshow from scratch.
Slideshows allow you to separate your content from the masses by providing a form of multimedia that isn't as common as infographics and videos. They require user interaction which entices visitors to stay on your page longer and boosts engagement statistics.
Slideshare also has an average of about 80 million unique visitors a month with approximately 38 million registered users. This option can serve as an excellent source of traffic for B2B marketing.
Create bite-sized information for social media marketing
Divide your blog post into the most important points and post pieces of it on your social media one piece at a time. This can give your posts a longer lifespan for capturing interest and driving traffic to the blog post on your website. Oberlo does this really well with its infographics like this stat that was cut from their social media marketing infographic.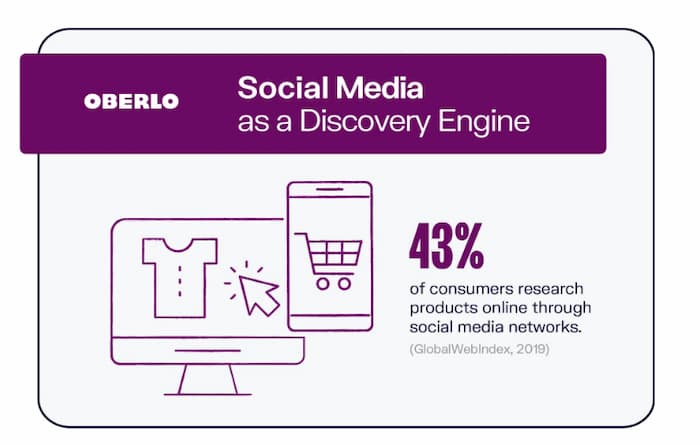 Rather than one post of your entire blog article, you can use multiple posts that are more like teasers to get people to visit your page to read the whole thing. Not to sound like a broken record, but infographics are perfect for this type of social media marketing.
If you've turned your blog post into an infographic already you can use each segment as a social media post. Each post will be one of the main data points you've chosen for your infographic. With this already done you already have images and the most important messages ready to post.
Save time, resources and boost traffic with repurposed content
If you're producing content regularly, repurposing content should be a regular part of your routine. It's not easy to go through years of producing content regularly without experiencing overlap in topic and ideation.
Why not improve the quality of existing content and expand the reach it has by using multiple sources of traffic?
Re-evaluate your keyword strategy
There's a common misconception that your keyword strategy is a "one and done" type of task. This couldn't be further from the truth. Your keyword strategy should be re-evaluated periodically to expand on areas that are working to improve your bottom line.
Re-optimize for keyword variations
If there are keywords that are bringing in high converting visitors, you'll need to pay closer attention to those phrases to build more content surrounding those issues and topics.
Why settle for one high-converting keyword when you can optimize for four or five similar phrases that work to produce the same results? There are many cases where you can get the same page to rank for more keyword variations by making small adjustments to optimize the page. To capitalize on those opportunities, you have to be aware of the keywords that are working to boost your business.
Publish relevant content
The content you publish is heavily influenced by the topics that are important to your audience as well as weighing in the business value the target keywords represent to your company. What you decided were the most popular keywords 5 years ago, heck, even one year ago may have changed in priority and almost most definitely in volume.
It's important to stay updated on what is being searched the most to continue producing relevant content for your audience. Refreshing your keyword strategy is a way to ensure you're up to date and delivering fresh and relevant content that drives traffic.
Steal ideas from your competition
An effective keyword strategy is not complete without doing a competitive analysis. Just as you may review popular terms being searched by your audience, you also want to check in on your competition to what terms they're driving traffic from as well.
You can get ideas by running a competing URL through analytic software to see the both paid and organic traffic that is flowing through their site.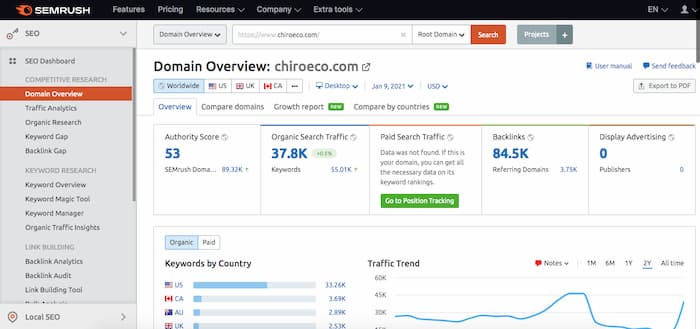 If they're executing an optimized PPC campaign, then paid traffic can speak volumes about what terms are making money for their company. Why else would they be paying for traffic if they weren't making money from it?
The organic traffic that's being driven is an indication of the content that's being produced. If there are keywords they rank for that you don't, take a closer look at the pages that rank to analyze the content and see if it's a good fit for your audience.
If there's business value in the search terms, you have new keywords and fresh content ideas to add to your keyword/content strategy.
A keyword strategy is a living entity
Think of your keyword strategy as something that is constantly evolving. Just as your rose bush needs priming and pruning, your keyword is also in need of fine-tuning to get the best results. Don't stop adding keywords that work and taking some away those that don't from your overall strategy. As your website develops over the years, re-evaluating your keyword strategy maintains relevant content and boosts traffic.
Build high-quality links
There's no doubt that one of the advanced SEO strategies, high-quality backlinks increases the traffic to your website. Consider what makes a high-quality link and it's a guaranteed fact that if you're acquiring high-quality backlinks, you're increasing search visibility.
If the link is on a highly relevant website that receives a lot of traffic, you'll receive referral traffic with highly engaged visitors.
If the website has massive domain authority then that domain authority is transferred to your website, thereby raising your ranking ability. With improved rankings, the click-through rate from the SERP skyrockets.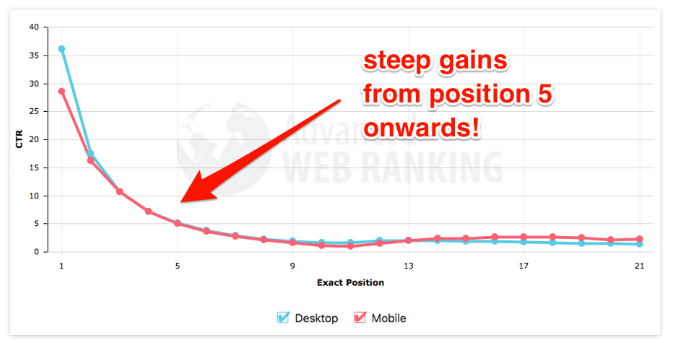 To be in the top 5 (top 3 positions are the bulk of the traffic) you need backlinks. The argument of what comes first, the chicken or the egg can be applied to this situation. Some debate that being in the top 3 ranked position leads to more backlinks, whereas others might say you need to acquire the backlinks to get to the top 3 positions.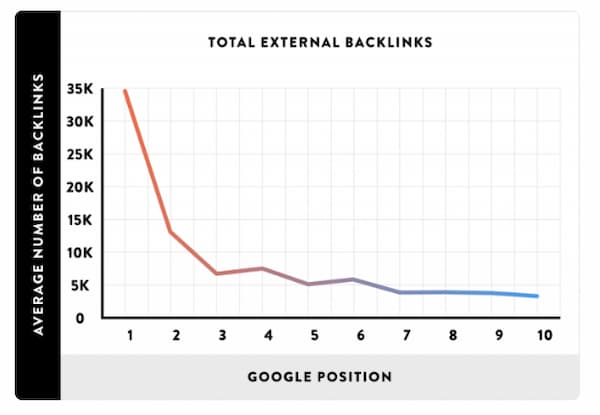 Regardless of how you see it, it's important to make high-quality link building a part of your routine for developing websites that rank at the top of the search results.
What's the best way to build high-quality backlinks?
In an ideal world, the content on your website would naturally attract high-quality backlinks. Producing good content is a non-negotiable requirement to compete in the top 3 spots, but it's not enough to acquire backlinks in a reasonable amount of time.
For a page to accumulate a high number of backlinks naturally, people have to know about it. It needs to be promoted through the proper channels and (ironically) have links built to it to get traffic flowing. Here are a few ways to build links to your pages to get your content in front of the right audience.
Outreach campaigns
This is one of the few methods reproducing natural link building at an accelerated rate. The concept of natural link building is people find your page, they like it so much that they link to it from their web properties.
In its simplest form, outreach campaigns are you reaching out to other website owners and telling them about your content and hope they like it enough to link to it. The major problem with this tactic is that it gets an abysmal conversion rate. Most simple outreach campaigns average an 8% conversion rate.
Here are a few themed outreach campaigns that boost your conversion rates to result in more links built to your page.
Broken link building
Broken link building is identifying broken links on your prospects page, contacting them to inform them of it and offering your link as a substitute for that link.
This tends to get a higher conversion rate because website owners care about the user experience of their pages. If there is a link that leads a user to a deleted page then it's considered the link is contributing to a bad user experience.
By offering a page with content that is similar to what used to be there, you have more leverage by offering more value in linking to your website.
Read more on how to execute a broken link building campaign here.
Unlinked mentions
This form of outreach is themed to contacting website owners or authors who have mentioned your brand without linking to it. This receives a higher conversion rate on average because if your brand was worth mentioning, to begin with, most website owners won't have a problem linking to your website.
Read more on how to execute an Unlinked Mentions link building campaign here.
Link reclamation
This type of campaign targets website owners that have linked to your website, but for some reason, your link was deleted. Links are deleted all the time, whether it by mistake, through updates or moved pages-it happens.
You can save a high percentage of lost links by simply reaching out to owners and asking them to replace your link.
Guest posting
This form of link building is probably among one of the top choices for business owners and SEO companies because it allows the opportunity for branding. Publishing an article on a popular website allows a company to demonstrate their expertise to an outside audience as well as a link back to their website.
Guest posting can land some high-quality backlinks when the websites you link from are highly relevant and have high domain authority.
Editorial links are also considered the crème de la crème of all the types of links you can get.
Read more on how to Guest Post here.
Update, merge, delete old blog posts
As a way to keep your blog content fresh, relevant and ranking highly, it's important to update, merge and delete underperforming content. This is one of the advanced SEO strategies to add to a periodic routine for improved search visibility and high volumes of traffic.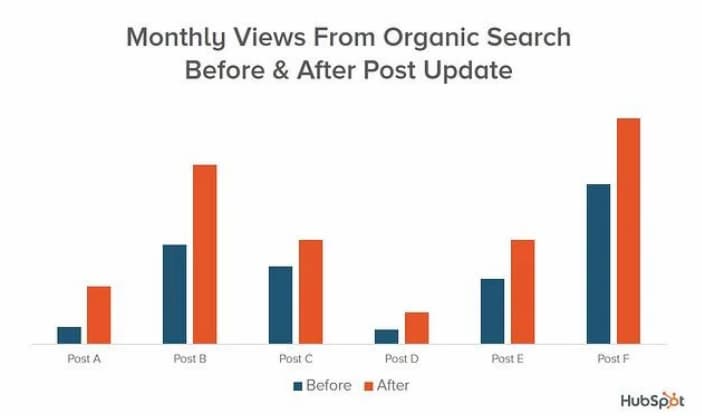 First off, Google prefers fresh content to stale content. There are some niches where fresh content is a ranking factor because of the continuous changes that can occur in the niche.
SEO is a prime example of a niche where things can change dramatically over a year. In many cases, there's content that becomes irrelevant and out-dated making it completely obsolete.
Update old blog posts
Look for opportunities to update older blog posts that have slowly lost the traffic it once generated. The chances are that newer posts have been published that cover more information, cover new information, are more updated or just have more multimedia and value-added features.
Merge underwhelming blog posts
There are often situations where you've published blog posts that target similar keywords and answer similar search intent. If these blog posts are not ranking in the top 5 spots on the first page, you merge the two to create a monster blog post with more capability of ranking highly.
Combine the content of both pages to make your article a more comprehensive version. You will need to choose which page to keep and which one to delete based on the keywords within the URL and the backlinks that point to each page. It's necessary to use a 301 redirect to tell search engines that content has moved from the deleted page to the merged page.
Google has made 301 redirects very clean in terms of transferring power from one URL to another, however, err on the cautious side and consider keeping the page that has more backlinks pointing to it. You can also use the volume of traffic and the keywords in the URL as part of choosing which page to delete.
Delete old posts with no traffic
It's been proven that deleting pages that do not receive traffic can help increase your overall website rankings. Find pages that don't rank well, or don't drive traffic and delete the ones that aren't contributing to your business.
The reasons to delete pages from your blog should match the following criteria:
The page has not received traffic within 90 days.
No backlinks are pointing to the page.
It's a low-quality blog post.
There's no business value associated with the post.
Use a 301 direct redirect to send users to new pages in case external links are pointing to those pages. You also want to save the link juice and send it to a similar page on your website.
Invest in video marketing
Video marketing boasts a slew of statistics that are pretty hard to ignore. One reason that stands out is that videos increase conversions by 80% when you add them to a landing page. This is backed by the fact that almost 90% of marketers are using video marketing in their digital marketing strategy.
Capitalize on social media traffic
Videos have been the preferred form of content for some time now by over 70% of people. The beauty of publishing a video is that once it's on YouTube not only can you benefit from YouTube traffic but you can use it across multiple social media websites as well.
Facebook reports that video is the most shared form of content. Facebook stories, Insta stories are proving to be some of the most popular ways to get users' attention.
Incorporate "Stories" for high engagement rates
The FOMO effect (Fear Of Missing Out) seems to be strong with most social media users. The idea of losing out on the opportunity to view a video (as such is the case with Stories) has proven effective for generating higher engagement rates.
Increase ranking on Google search
There's evidence to support that incorporating video on your ranking pages can help push your ranking higher. Higher engagement statistics create a positive ranking signal and if you're already ranking on the first page, it could be the added boost that pushes your website towards the first position.

Rankbrain factors in the user engagement statistics of a page to help determine what page satisfies search intent at the highest level. The most noticeable engagement statistic that increases is the average time spent on a page after adding a video. With more users spending more time on your page, the message is being sent that they are enjoying the content you've created, making your page more popular.
Increase traffic from Google SERP features
Your video can also appear in video carousels, the video tab on Google search, featured snippets, and the PAA box. As long as you have a link from your video to your web page, your video provides additional traffic to your website.
Optimize, optimize, optimize…
There's always room to enhance optimization and get your page to generate more traffic. Optimization can occur in a few different areas both on-page content and building off-page.
Target featured snippets
Featured snippets are continuously appearing more frequently on Google, which is creating more opportunities for traffic and branding. Optimizing your content to appear in this feature is an absolute must when it receives the highest CTR. The fact that Google displays your website as the featured result contributes to the excellent branding of your company as industry leaders.
To learn more about optimizing for featured snippets click here.
Target PAA boxes
People Also Ask Boxes can also add a substantial number of visitors to your monthly volume of search traffic. If you rank for one of the questions in the PAA box, there's a good chance you rank for several variations of that question.
You can optimize for the PAA box by answering popular questions that appear in the box. Tag your question using an h2 or h3 tag and use short, succinctly summarized answers directly after the question.
Optimize for search intent
Optimizing for search intent is a continual process. Make sure your content adequately covers the same topics as any of the competing pages in the top 10 results.
You can create a better page by expanding your topic coverage or improving your multimedia.
Optimize using anchor text links
The number of optimized anchor text links pointing to a page affects the page's optimization. You can enhance the overall optimization of a page for a specific keyword by concentrating or diluting the anchor text ratio of the keyword you're targeting.
(Read more on anchor text optimization here.)
Optimize for local traffic
Capitalize on high converting local traffic by optimizing your website with a local SEO strategy. Whether you have a brick and mortar business or not, it makes sense to pick up on searches being made within your area that can land you some extra business.
Creating a Google My Business profile is non-negotiable. It's one of the easiest things to do-although optimizing your profile can be a little more involved.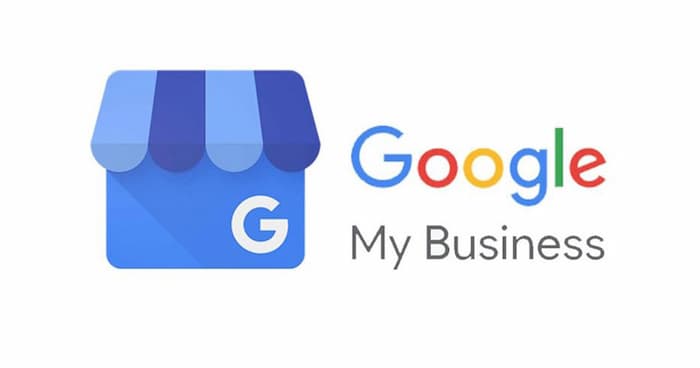 How to optimize your GMB profile
The first order of business is to fill out the basic information about your business. Make sure you enter data on every single field that's available. The more information you provide to Google, the more searches your listing can appear for.
Small details count
Some businesses fail to enter their store hours. Let's say that your store is open late yet if someone searches "X type of stores open late" you won't appear because you didn't enter store hours. Make the effort to include the small and simple details since they can land you more traffic.
Categories
Choose the categories that most applicable to your business. Search for important keywords you want your website to rank on the first page. Double-check what categories the companies listed in the local pack have declared. The difference between being a men's tailor and a men's clothing store can have an impact on how high your listing is ranked for specific keywords.
Add citations
To rank as a local business you need to have links from local websites and local directories. List your business in the top directories that are well known, such as Bing. You can transfer your GMB profile directly to a Bing account.
Use other websites like Yelp, Yellow Pages, Foursquare to get local traction in the search results. See more on the local link building here.
Increase traffic systematically using expert SEO tactics
The traffic generation ideas mentioned above are considered advanced SEO strategies and can be used to increase the volume of traffic your website receives regularly.
If you don't have time to implement these SEO strategies yourself, feel free to send us a message for professional assistance. We'll give you a full site analysis free of charge and let you know which of these tactics will help you generate the most traffic to your website.
Christian Carere