With the world going crazy with COVID-19 there have been many restrictions that have affected the way we live dramatically. Many businesses have been hit hard, while some are thriving because they're positioned correctly for online sales and/or sell popular products people are buying curbside. No matter what industry your business competes in, here are five SEO tactics to implement during this economic quarantine.
Sharpen up your local SEO strategy
Whether you're a small business or not, local SEO is a pretty big factor for increasing revenue during the quarantine. Many people are working remotely from home and are more inclined to be looking for solutions that are closer to them.
State any changes in policy & daily operations
Update your Google My Business profile to reflect any new policies you might have on how your business is running. There's a section specifically for COVID-19 updates you can find within your dashboard under posts.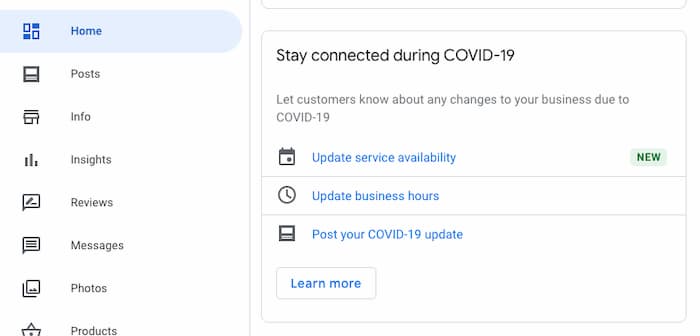 Many people are concerned about their safety and the safety of their families. Publish a message that directly addresses what your business is doing to ensure the safety of your customers is being taken seriously.
Update your hours
It sounds simple, but many businesses forget to keep their hours updated to reflect the changes they've made since COVID-19 became a serious threat. There's nothing more frustrating than showing up to a business that said it was open online but is closed when you get there.
It's bad branding for your business to have inaccurate information posted online. It's fairly simple to change from your dashboard, so make sure you've taken the time to let people know what hours you're operating.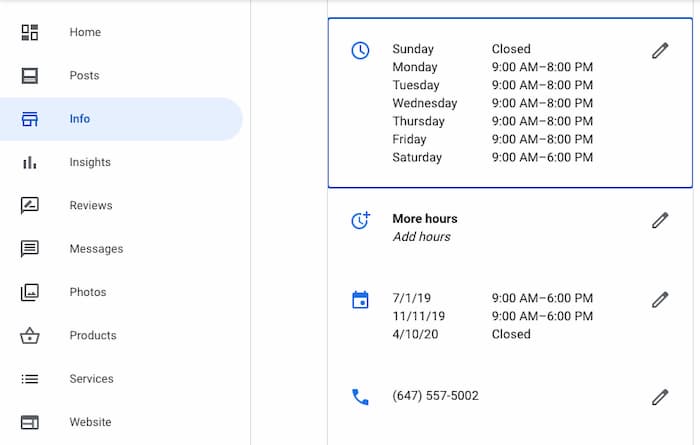 Make use of the Q & A section
Are people asking many of the same questions about your business? You don't need to wait for someone to post a question on your profile, you can take the initiative and do it yourself.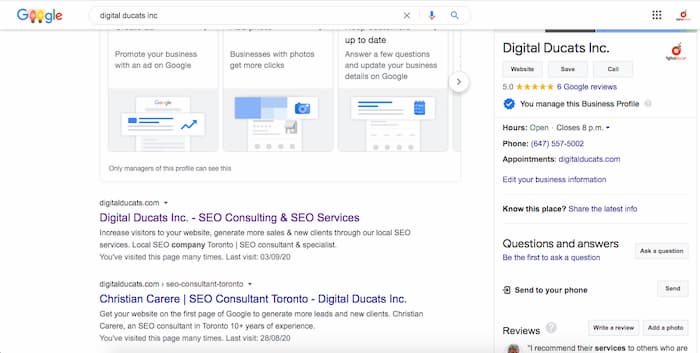 After you ask the question you can write the response directly following which will appear on the knowledge card whenever your business is searched on Google.
Make use of this feature to make more information more accessible as well as promote user engagement. When people see questions being answered it encourages them to ask questions as well.
Although it's not a major ranking factor, it's still a positive signal that search engines take into account.
Target new streams of website visitors
When things are slow it's the perfect time to target new keywords. You may need to completely revamp the way you attract new clients, or perhaps you can just add another stream of traffic to your monthly search volume.
After the first wave of COVID-19 many businesses in the service industry had to quickly rethink their strategy. In-person meetings were no longer an option, which meant finding a way to continue online.
Gyms, for example, began offering online fitness classes in order to maintain a percentage of their clients.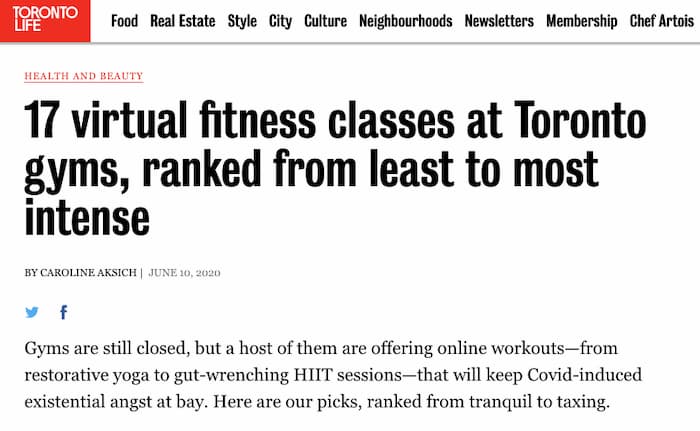 Coaches and tutors have been forced to shift to online classes as well.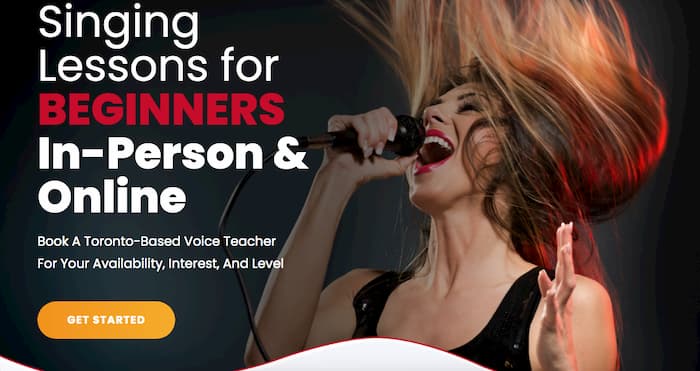 The movement is now shifting to a virtual environment. Make sure your keyword strategy reflects the shift in demand. Whether it's online services or contactless delivery, your website needs to be optimized to reflect the changes that have become essential for survival.
Publish more content, more frequently
There are more people searching for Google during the pandemic than ever before. People have more time on their hands plus they're being forced to find online solutions to minimize the risk of being exposed to COVID-19.
Publish more content to support the depth of your keyword topics. More information that you can provide on your products, services and the topics that surround them, the more expertise your website builds in your niche.
Plan your content topically
If you haven't already, break down your main keyword topic into smaller subtopics. Make sure these subtopics are something that people would want to read or are solutions to commonly asked questions.
Provide detailed solutions to demonstrate more ability to answer any question a user may have on a keyword related topic.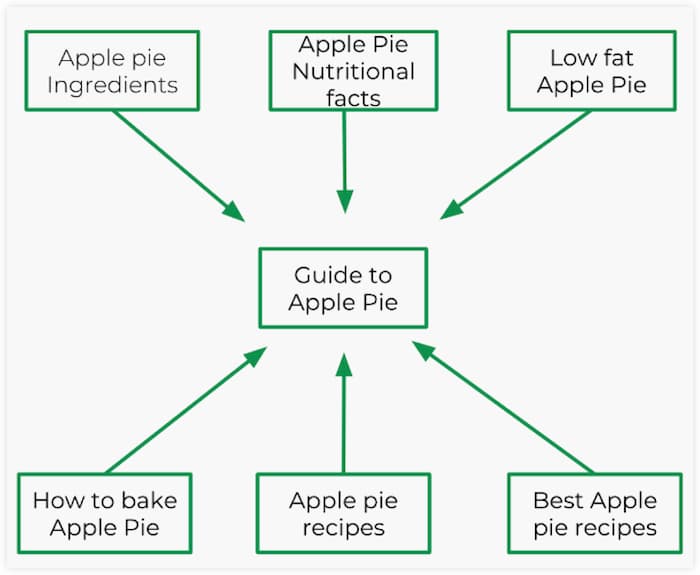 The more content your build around important keyword topics the more your website can be considered an expert resource in your niche.
This builds authority and ranking ability around the major core topic from which your business benefits the most.
Form clustered content
The subtopics that are related to each other should be interlinked as much as possible. An internal link from one article to another allows users to navigate through your content and learn more about the topic they're interested in.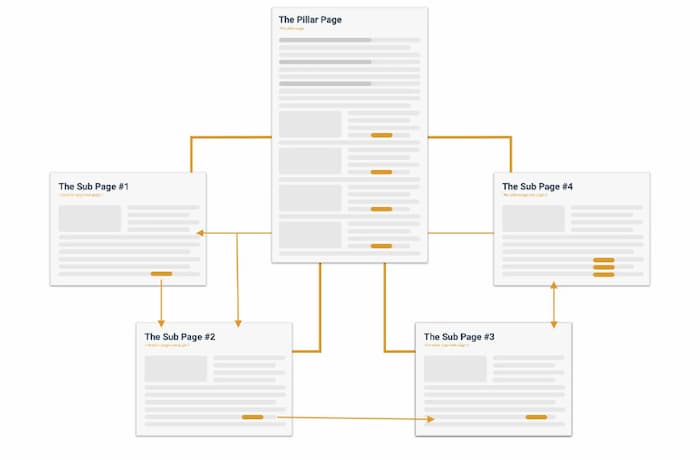 When each article within the clustered content links to the core topic, it forms a pillar page for your main keyword theme. A large number of internal links highlight the importance of the keyword theme to your site and raises the ranking ability of every page within your topic cluster.
Publish for the freshness factor
Google loves fresh content. When there's new content being published on your site you create positive ranking signals.
In a time when people are online now more than ever, create as much content around your main keyword themes as possible to give people more reason to visit your website.
Address technical website errors
Improve the functionality of your website piece by piece by tackling some of the technical errors that inevitably crop up throughout its lifetime. Even if you're not super tech-savvy you can still get rid of some of the major errors like broken links or even work on improving page speed.
Start by checking Google Search Console for errors that are appearing on your pages by clicking on the Core Web Vitals tab.

Anything that needs attention will be reported in more detail by clicking "open report" and then clicking on the detail line with the type of error.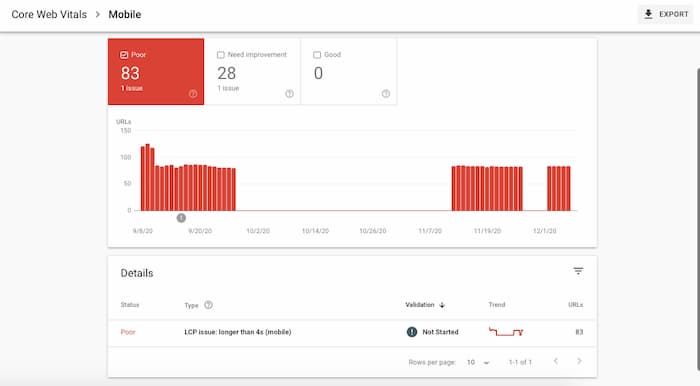 If you're error-free, go over to page speed insights and enter your URL.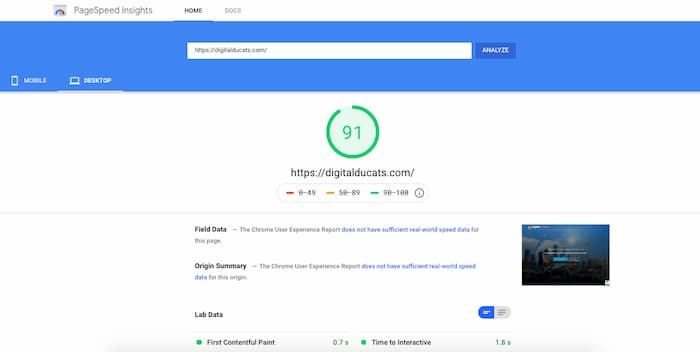 Page speed is a constant maintenance issue so you'll need to check periodically how your pages are doing with load time (major page speed issues will be reported in the search console).
The faster your page loads, the more visitors you keep on your website and it's not a one and done type of deal. Constant vigilance needs to be maintained in order for your pages to get under the recommended speed of two seconds.
Work on compressing images on your site before you upload them to your content. If your page is slow on specific pages that have images, consider replacing the images for smaller, compressed versions.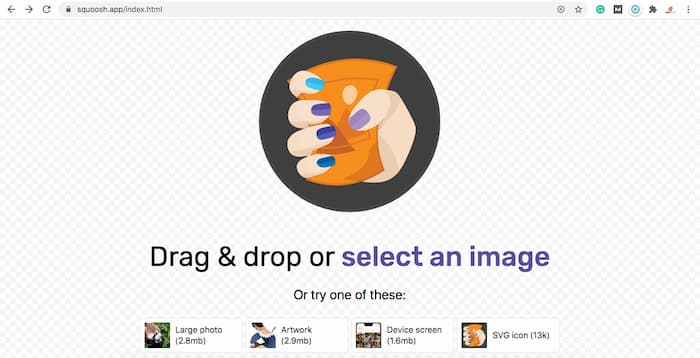 Use Google's free online tool called Squoosh to compress images to sizes up to 99% smaller than the original.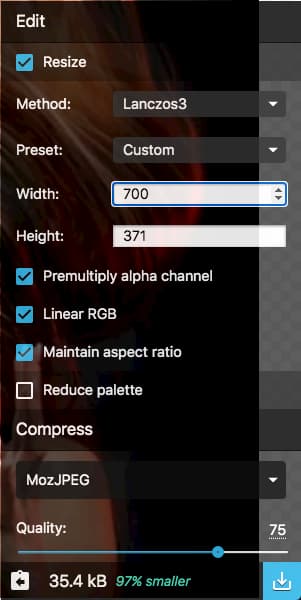 This tool also resizes images to your specifications which is perfect for reducing server response time if your images are not scaled to fit in the space you need them for.
Guest author on a popular website
Promote your company and get more people to your website by applying to be a guest author on a popular website. There are dozens of high traffic blogs in your niche guaranteed to help you improve the traffic you receive on our website.
As a guest author, you're able to brand your business and generate more awareness of your company. Your article should be an example of the expertise you have in your field and inspire interested readers to click through to your website.
Use the triple P process for guest posting: prospect, pitch & publish. There are important aspects you need to be aware of within each of these steps in order to make the most of being a guest author.
Prospect
Guest posting sites can easily be found with a quick Google search. You can type in "[your keyword] guest posting websites" to get pages with lists of candidates.
You need to find websites with a minimum authority of 30 DA to qualify as decent prospects to publish content. Higher domain authority will have a greater impact on improving the domain authority of your website.
You can use the Mozbar extension for your browser to filter out websites that are lower than 30 DA.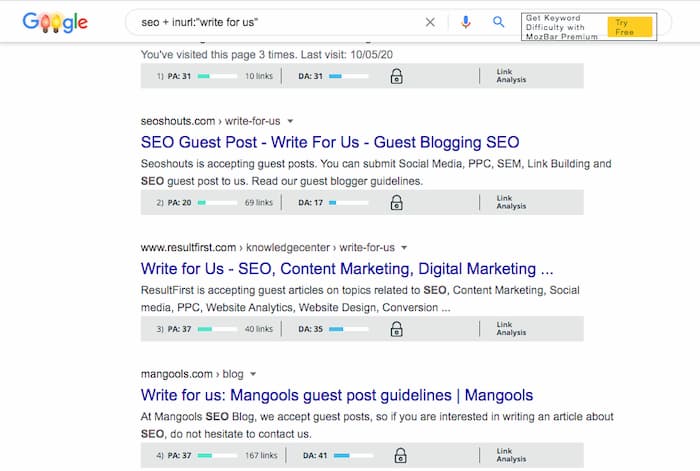 Make sure you're going to be able to link to your content within the body of the article. If they only allow nofollow links then make sure the website gets enough traffic to be worth it.
Enter the URL on SEMRush to see the keywords that drive organic traffic for the website.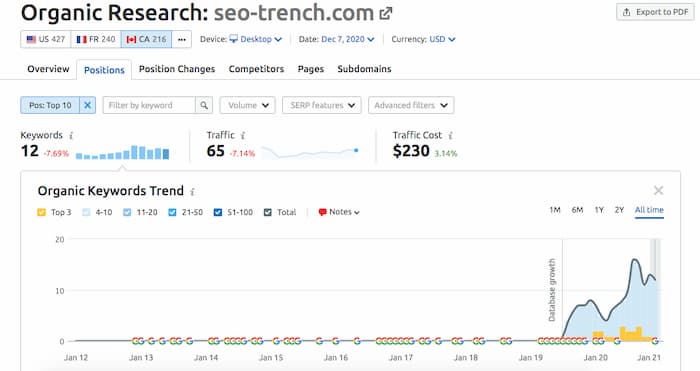 You can find details on the writing requirements by reading the Contributor Guidelines. Be sure to read this before writing your article to avoid any surprises in what's required, allowed and disallowed.
Many websites are different so it's important to read this for every website you're writing an article for. This will save you time from making a mistake or writing an article for nothing because it gets rejected for not following the guidelines.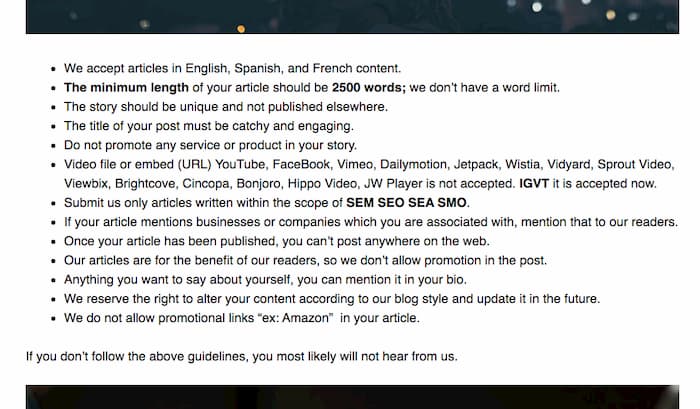 Pitch
When you approach a website with a pitch you want to do all of the following:
Introduce yourself
Pitch a catchy title idea for an article
Provide a short outline
Supply a few links to other content you've published
List a few additional title options
Publish
When you publish your article on another website make sure it's at the level of quality where you can say you're putting your best foot forward. You're representing your company and brand so make your content the highest quality possible.
Link to relevant content on your site where it makes sense. Send readers to content assets on your site that will engage visitors and encourage them to click-through to more pages on your site.
SEO strategies take time
Stay consistent with your efforts. Remember that SEO is a strategy that's most effective in the long run. Follow these five SEO tactics for some quick wins and long term gains.
Most content you publish today doesn't provide a return for a few months. It takes time to be indexed and gain momentum with ranking and traffic. With more and more people staying indoors, take advantage of the additional search volume.
Capitalize on the opportunities here and strengthen your online presence in a time when it counts the most. For more information read about Toronto SEO services that enhance your online presence.