There are a number of different strategies within the digital marketing spectrum. Most of which are their own unique and distinct entities that can easily be differentiated between one another. SEO and content marketing are unique in that sense.
A PPC campaign is different from a website design. Social media marketing is completely different from email marketing. When it comes to SEO and content marketing, however, the lines are more blurred because they work together pefectly.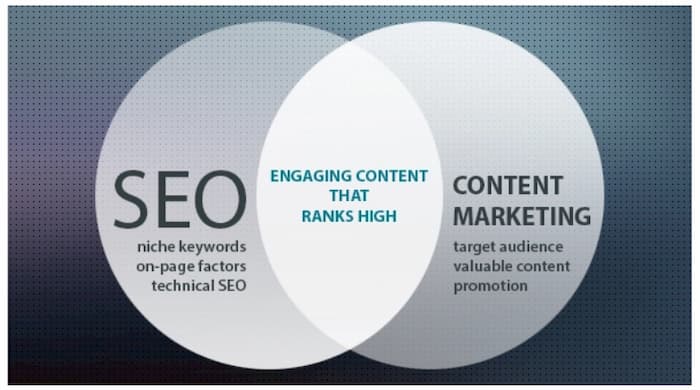 People get confused about the two strategies since quite a large part of each strategy overlaps with the other. This article should straighten out any misconceptions you may have about the two and give you a better understanding of how they are used together to maximize results.
What is SEO?
Search engine optimization services incorporate a variety of tactics to improve the likelihood of content being found by users and search engines. SEO uses keyword research, keyword targeting, keyword mapping, on-page optimization, off-page optimization, content creation and technical SEO elements to improve the overall optimization of a page or piece of content.
SEO has a narrow focus
SEO has a more specific focus because it is primarily keyword-based. It's true; search engines have evolved from ranking web pages solely by keywords, however, keyword targeting is necessary to make sure your page gets in front of the right audience. The result is that an optimized page will not only rank for one keyword, but a series of keyword variations as well.
Search engine optimization is an analytical process for not only identifying the audience, but for finding out what they type to search for topics and what is required to appear at the top of the search results.
SEO is technical
SEO involves incremental changes and additions that continuously move your page closer to the top of the searches. SEO goes beyond the content to improve on technical aspects of performance that search engines credit as positive ranking signals.
Technical issues that affect indexing are a major component to SEO. Improving page speed is also a factor that affects the ranking and engagement statistics of a web page. Maintaining longer dwell times, higher click-through rates and increasing the average number of pages per session are all calculated efforts to improve the quality of content on a website.
So how does this tie in to content marketing? First let's define what content marketing means to a business.
What is content marketing?
Content marketing means identifying an audience and creating content to educate and/or entertain based on their interests. Content is typically created for a broader audience that appeals to all stages of the buyer journey.
Content marketing can be for social media, increasing conversions on a website or creating awareness by appearing on popular websites. Content marketing can come in the form of research, storytelling, articles, images, videos, slide shows and literally any form of multimedia.
What's the difference between SEO and content marketing?
The difference between SEO and content marketing lies in the scope of which each has in terms of an audience. SEO has a narrower focus that is keyword based. SEO focuses on the intent of the audience and identifies the technical requirements to reach that audience.
Content marketing has a broad focus that can apply to an audience with multiple intents. There are no technical requirements to create the content necessary to serve its purpose.
How content marketing and SEO overlap
Combining SEO and content marketing is where we see powerful results.
First of all, SEO can't exist without content.
SEO optimizes content to be found by a specific group of searchers. Without any content to optimize, there is no SEO.
Content marketing becomes a powerful method of marketing when it's optimized to appear in front of a specific audience. By identifying what people are looking for in searches, you can create content that satisfies their intent.
Good content brings brand recognition, brand loyalty and more confidence in making a purchase from your company.
By identifying the major keywords being used to search for your products and the problems and solutions related to using your product or service you can reach a specific group that is more likely to convert from visitors to new clients.
SEO establishes the parameters for what content is needed to generate more traffic to your website. Content marketing supplies those requirements.
Create content that's in high demand
At the end of the day, you want to create content that people are actively looking for on Google. The process that's proven to be the most effective for driving targeted traffic is simple:
Establish the true intent of keywords that represent high business value.
Create content that satisfies the intent of the search.
Optimize content to appear for your keyword topic.
Improve ranking and increase traffic to your pages by building links and promoting on social media and other content distribution channels.
This four-step process works to create new streams of high converting traffic. This system requires targeted SEO content writing with consistent production to create long-lasting results in the search engines. The result is increased revenue from more traffic and new clients.
Speak to a professional today and learn how to drive traffic with an SEO content strategy custom-fit to your website. For more details visit our SEO services page.