Choosing an SEO company for your business is not a decision to be taken lightly. When you work with an SEO expert, you're usually in for the long haul, so you want to be sure that they're not just a good SEO agency but that they're the right SEO firm for you. Learn how to pick a good SEO company to maximize your results in developing your website.
The SEO industry has grown dramatically in the last few years. Companies are realizing how much money there is to be made from being in a position to be found by people searching on Google for the products and services they offer. The industry is estimated to have grown to almost 80 billion in spending.
This has translated to floods of people becoming "SEO professionals" in an attempt to get a piece of that 80 billion dollar pie. This wouldn't be an issue if every SEO agency and SEO expert were able to do a great job for your business.
The problem faced is not just knowing how to pick a good SEO company, but how to choose an SEO company that's right for your business.
Here are a few ways to get you on the right track for choosing from the SEO providers you're considering hiring.
Find a business like yours that can refer you
Most SEO companies acquire new clients because the clients were referred. This accounts for about 45% of the new business an SEO company generates.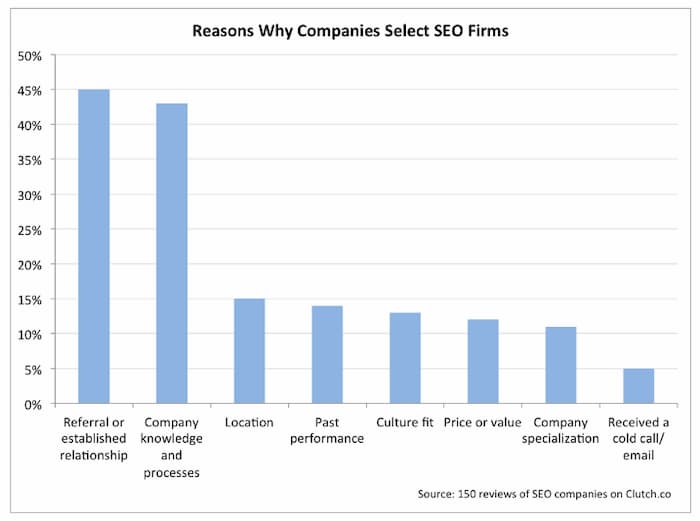 Considering the number of self-proclaimed "SEO professionals" in the business, it puts your mind at ease by having someone vouch for a company that you're about to invest a considerable amount of money in.
Referrals from family and friends of the company or employees of the company will need further investigation. Don't just blindly jump into an SEO company because your buddy's friend works there.
It's a good start, but you need to dig deeper into the company before making any decisions.
Getting a referral from an existing client of the company would be the best-case situation. You can hear from them first hand what the SEO Company has done for their business and get an idea of what to expect.
Read the reviews on your prospective SEO agency
The service industry is littered with companies that don't treat their customers right and those that provide the best customer experience. Reading through the reviews of a prospective SEO company is a start for getting some insight into the credibility of the business.

Most people will immediately read any reviews that suggest a terrible experience. This is probably the best place to start because you may want to move on if there are too many of these.
Read the five-star reviews as well to get a sense of what the company is about and whether customers are talking about similar situations you want to find yourself in. There may be a lot of dentists that have reviewed a company that suggests they specialize in that niche.
If you're a dentist, it's probably a great fit for you. It's probably a great fit if you're a physiotherapist or any type of doctor since the company has experience working with businesses like yours.
Scan objective lists and recommendations on credible websites
Find objective opinions by reading the reviews on different platforms. The first obvious reviews are those on Google. Rather than solely rely on Google reviews, visit Clutch.co to see more reviews on SEO companies from legitimate businesses.
Clutch is a directory for digital marketing companies that conducts interviews with the clients of these companies. The reviews you read on Clutch.io have been written by the Clutch employees based on the interview they have with the clients.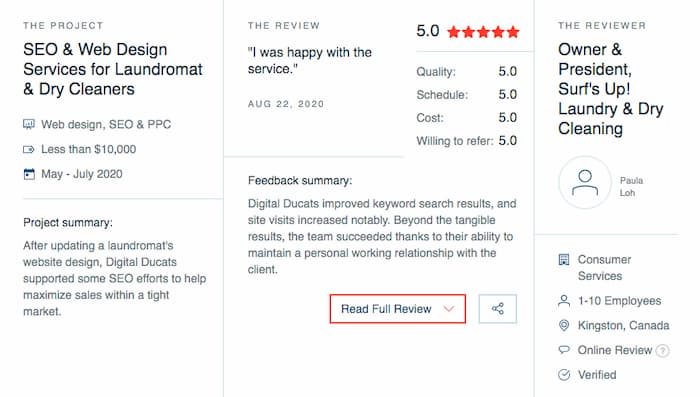 Other sources of reliable lists can be on websites that don't accept payment to be on the lists. The source is only credible when they aren't being paid to tell people that the SEO firms on their list do a good job with their clients.
Interview your top choices
After searching for an SEO service provider, you should easily be able to come up with a list of three to five prospective companies. You won't know exactly what each company has to offer without speaking to them first.
Of course, some have their programs and pricing listed on their website, but the truth is every website has a unique set of needs and may not require the same type of service.
To be sure you're getting someone who understands your business and knows how to generate more income from your website, you need to speak to an SEO consultant.
Make sure the lines of communication are open
Even if you're not familiar with SEO terminology, you should be able to understand what your SEO company is proposing for your business. If the SEO expert you're talking to is worth their salt, they should be able to explain the answers to your questions in a way that makes sense.
It may not be important to every business owner, but for those who like to be kept up to speed, your SEO consultant will need to report to you and communicate what's happening with your site. If there are some communication issues or it's a cultural mismatch you may want to reconsider going into business with this person since SEO is all about the long game.
If you feel frustrated after talking to an SEO it's a bad sign that you're not getting the answers you're looking to hear. Make sure you're able to communicate freely and you're comfortable with entering a business arrangement that will most likely be a minimum of 6-9 months (if not as an on-going service).
Questions to ask your SEO consultant
You can qualify your SEO agent by asking questions that show whether they're on the right track with their business and whether they can help yours. Here are a few suggestions to ask your SEO expert during your consultation meetings.
What KPIs would you use to benchmark performance?
Ask your SEO which key performance indicators they'll use to benchmark your progress. The answer they provide should include the values that will make a difference in the revenue your website generates.
Does your business rely on more subscriptions? Then you need to know whether your SEO is going to increase the number of unique visitors and track goal conversions.
Do you use your website to generate more leads from phone calls? Your SEO should be talking about installing a call tracker or setting up conversion goals on your site that count how many visitors press the click to call button.
Rankings and traffic on their own are not an indication of success. True success is being able to get your content in front of the right audience and inspiring them to complete the desired action that results in increased revenue.
Ultimately, increased revenue is every business's goal. Find out how your SEO can benchmark performance and measure the progress of your SEO campaigns.
What is your process and how will it help my business?
Any upstanding SEO company will not have a problem explaining to you how they intend to develop your website. The process for implementing SEO tactics is not proprietary or a heavily guarded secret.
Search engine optimization is a combination of many different tactics and strategies to increase the search visibility of your business. Most strategies are well-known across every legitimate SEO company and it should be an easy conversation that follows the question.
The proposal that your consultant provides should make sense to you and match your business goals. If the search engine optimization professional you're talking to you can't disclose a method for how they intend to make you more money, time to move on.
Ask about the areas they excel in with their clients
Most SEO companies are capable of performing most aspects of SEO but you want to find out whether your prospect is a specialist in a specific area of SEO. The perfect match for your company is one that specializes in the exact services you need.
Some companies are extremely good at SEM and PPC campaigns.
Some companies don't offer that service at all.
If paid ads are a big part of your strategy, you're going to want a company that can fine-tune your campaigns to get the highest conversion rates at the lowest price per click.
Alternatively, may find a company that specializes heavily in content and can effectively target and generate organic traffic. The content writers in this SEO firm may produce better results with content than any other firm.
If your company needs more branding and exposure across a large audience, finding a company that specializes in SEO content creation and marketing is your best bet.
Finding the right fit for your business means more money for your company in the long run.
What's your method for reporting?
Ask your SEO how they intend to report the progress of your SEO services. Are they using tools that will provide you with clear data as evidence of the status of your website? Do they set aside the time to explain any questions you have about the data you're being presented with every month?
The SEO consultant you hire can be considered an extension of your in-house team. Make sure that you're able to agree on seamless integration of how data is reported that fits into your decision-making process.
Can I speak to one of your clients as a reference?
If you're dealing with a successful SEO company that's capable of helping your business, they should have no problem referring you to a happy client. If a consultant says no they may have something to hide and you're going to want to move on to the next option.
Common mistakes when choosing an SEO company
It's easy to make the mistake of trusting the wrong information when deciding on an SEO company. The following are a few common mistakes that you can avoid to make more informed decisions.
Avoid "best SEO lists"
There are a lot of companies that build directory sites specifically for selling SEO companies a spot as the "best SEO company in [city]" Avoid making decisions based on these types of sites.
The motivation for these websites is not to help you find "the best SEO company" but to make money from the SEO companies who need more clients.
It's not to say the SEO firms listed won't be credible, but you should still go through your due diligence in qualifying the SEO company for your business.
Avoid mass email marketing
Be skeptical of the "SEO professional" that's cold emailing you to tell you about your website. These emails are sent out to thousands of people and businesses and are not sent by credible companies.
In many cases, these emails are sent by lead generation businesses who sell your contact information to companies that are looking for new clients.
If you want to get a good SEO company to work on your site, do your homework.
If it's too good to be true it probably isn't true
Anyone offering SEO services for a few hundred bucks a month is not going to do the same type of work as real, qualified SEO. The average costs for SEO services range between $750-$2000/month.
Anyone who offers to do your SEO for anything less than $500 is more than likely very risky services and can end up doing more harm than good to your website. Google penalizes websites with unnatural linking patterns, over-optimized content and anchors text backlinks-and that's just the beginning of the things that can go wrong.
If you let someone who doesn't know what they're doing you may end up paying more to recover your site by a real SEO, or need to start over if your website sustains too much damage.
Location
The location of your SEO company shouldn't be the only deciding factor that you're using to make your decision. Although you may like the idea of an SEO company being local, it's not a requirement to get the best service for your website.
If one of your competitors is hiring a talented SEO agency in another city to handle their website, why would you settle for a company just because they're closer? At the end of the day, you want someone who understands your business and can deliver on their services.
You can circumvent problems with distance by holding virtual meetings, phone conferences and the occasional in-person visit. It's not necessary to meet every month anyway so if your SEO firm happens to be close to your business it's a bonus.
Ranking alone doesn't tell you the whole story
Just because a website ranks number 1 or doesn't rank at all isn't an indication of the quality of work they do as SEO providers.
You can look at it from both ends of the scope. If a company doesn't have any clients, they spend all of their efforts on their ranking on Google. It's not that it doesn't count for some credibility but it doesn't necessarily make them the best choice for your company.
Many of the best SEO companies constantly have clients referred to them. They don't need to invest time in ranking their website for "best SEO Toronto" because they have long-standing relationships with their clients, a high retention rate and are more than likely struggling with an overloaded schedule.
Choose the best SEO firm that's right for you
It's not easy to know exactly which SEO agency will be the best fit for your business but you can increase the odds of success by following the advice in this article. Learn how to choose a good SEO company and get on the right track for dominating your competition in the search results.