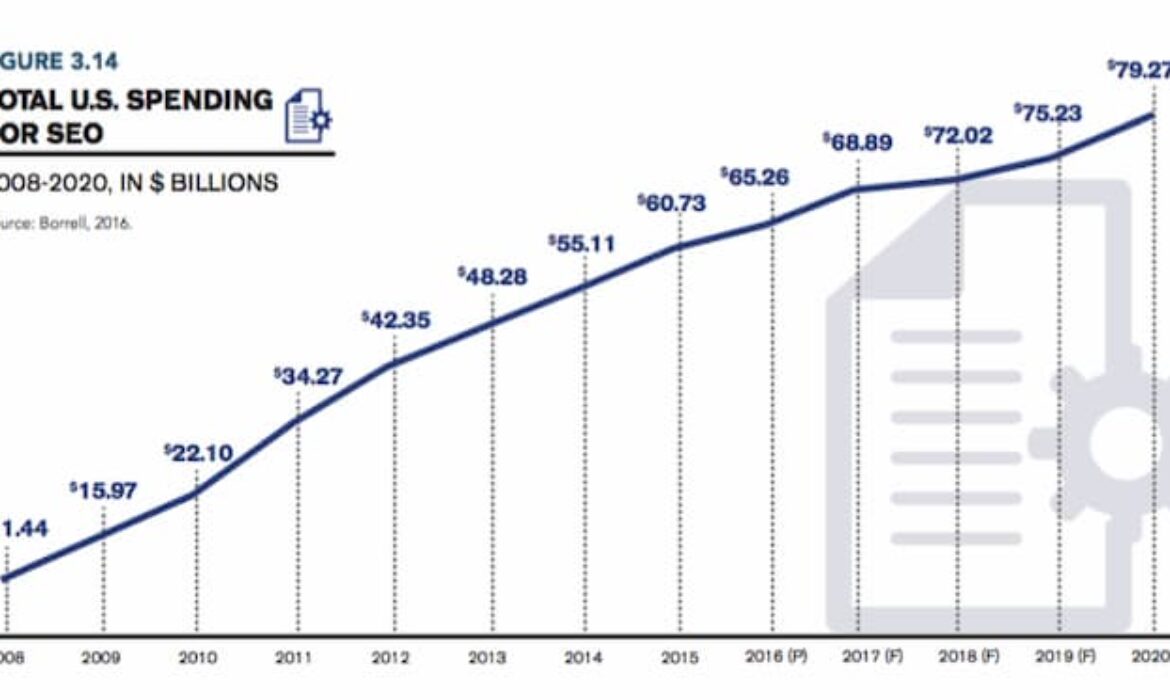 While it may seem a ridiculous question to some, there are some aspects of SEO that have died. For those who practice out-dated tactics, SEO is dead. If your skillset is limited to SEO strategies that are short-lived and ineffective, then it would make sense why someone might think SEO is a dying practice. However, for those who implement white hat tactics, it's a ridiculous question. For a reliable SEO company, SEO is still very much alive and more important now than ever.
Why do people ask "Is SEO dead?!" It could be because a widespread SEO tactic was exposed by Google and has become ineffective after an update. Many of the Google updates literally turned the SEO world upside down. So when a popular tactic stops working people start sounding the alarms and making all kinds of noise.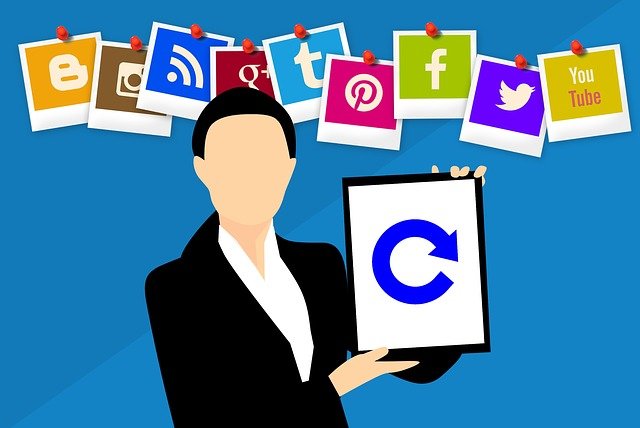 The reality is that Google has vigilantly made an effort to eliminate any type of tactics that could be used to manipulate ranking. Updates to the algorithm aren't just an attack on SEOs but an attempt to produce the best search results for users.
And so far it's working.
The search engines have steadily reduced the amount of low-quality pages that surface near the top of the search results. Even if they do manage to make it to the first page, their stay is short-lived if it's apparent that users are not engaging with the content.
SEO is not dead.
It remains an important catalyst for growth. Millions of businesses depend on website traffic to survive and grow. Ranking for keywords without strategy or optimization is like trying to win a race blindfolded. You need to know the direction you're headed, what you're up against and what strategies and tactics that will get you there.
Here are a few major changes to the algorithm that most likely account for the bee in the bonnet of those who claim SEO is dead.
Keyword stuffing
One of the most common practices that were put to rest was the art of keyword stuffing. The truth is there was no real art to it at all. The trick was to repeat your keyword throughout your content as an attempt to trick search engines into ranking your page highly for that keyword.
That meant that no matter how bad your text read and regardless of whether it even made sense, you could get away with a ranking if you had your keyword repeated enough times.
This practice evolved into attempting to manage specific ratios of your target keyword. Over-optimization became a thing and many SEO's maintained a 1-3% keyword density to maximize on-page optimization.
Finally, this practice has also become obsolete since search engines no longer rank solely on keywords but rather by keyword topics. If you repeat your keyword an unnatural amount of times you may be priming yourself for an algorithmic filter penalty. Over-optimization will cost your website search visibility.
Link building tactics
The links that point to your page make up one of the largest ranking factors that search engines take into account when they display a website in the search results. They provide ranking ability, credibility and authority. As a result, there have been multiple link building practices that became popular, only to become obsolete after Google became wise to the tactic.
(Related reading: 17 Effective Backlinking Strategies)
As stated in the Google best practices for web development, it is against the rules to manipulate links for ranking.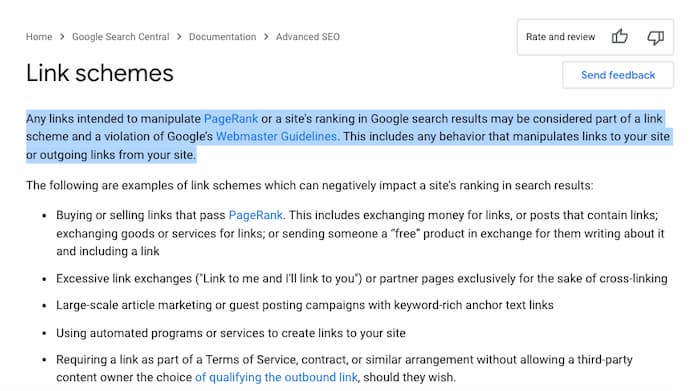 Every link building method you implement, should look as natural as possible and be from websites related to your business. The filters Google has put into place are designed to identify and penalize websites that are engaging in the following practices.
PBN link building
A PBN link is a link from a website that has been created solely to pass on PageRank (authority metrics or more loosely known as "link juice"). There were two major types of PBN links that have been exposed and devalued.
The first to go down in flames was the big networks of websites that were built to sell links. The digital footprint was easy to trace. Google was able to identify websites that were involved and penalize every website that was linked to the network.
Many companies who had built hundreds of websites and sold links were deindexed overnight. Websites who had acquired a lot of their backlinks from PBN sites were also penalized and forced to rebuild their backlink profile, or start a new website from scratch (if the damage was too heavy).
PBNs part Deux
This update spawned a new generation of PBN sites where SEOs were much careful at covering the digital footprint. Rather than linking PBN sites together, you could build a single website and send your website a money link from the home page.
The process involved buying an expired domain that already had backlinks and good authority metrics.
Domains were registered under different names, email addresses and built on different servers and hosting accounts.
The content was in many cases considered "thin content" and Google had another field day targeting websites that had one or a few pages of content with links from the homepage. It doesn't take much to spot a PBN website and once again, many people suffered the consequences of a link manipulation penalty.
PBNs are still used today, but the number of resources that go into hiding them makes them much less effective to produce at scale. You have to build and develop a legitimate website to avoid being penalized and when it's all said and done, you still risk a penalty.
PBNs are considered a black hat SEO tactic.
Guest comment link building
Another popular method of link building that has been devalued was linking from the guest comments section on blogs and articles. Several companies developed automated software that allowed the user to target thousands of websites and leave spun content messages with a link back to their site.
Google devalued this form of link building and what's more, penalizes any form of link building that looks unnatural. When your website acquires 10k links overnight it's enough to raise a red flag and put your site on Google's radar.
Link building in mass quantity
Before the algorithm filters and more advanced systems for identifying quality backlinks, the general rule was that the more links you built, the higher you ranked. If you had the most links, no matter where they came from, you could rank on the first page of Google.
Search engines can determine context and put more emphasis on quality backlinks over the number of backlinks.
If the links pointing to your website are not from relevant and contextually related websites, they are ignored. Too many unrelated links may also work against your search visibility.
Welcome to an evolved way of search engine optimization
Today, quality websites that have top-notch content are what's moving the needle the most. Search engines are assessing websites using hundreds of factors that affect how to display their top results.
It's fair to say that over the years, the quality of content that appears in the search results has gone in the right direction and improved dramatically. Having said that, this also proves how much search engine optimization plays a role in driving traffic, leads and revenue.
The number of users and total searches performed daily are higher than they've ever been. And the trend seems to continue.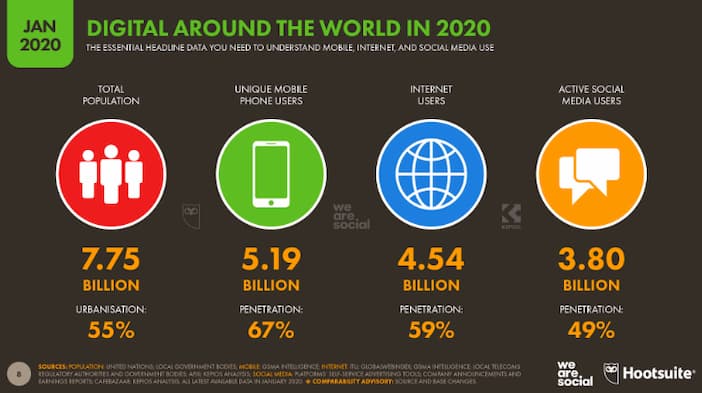 To capitalize on the growing dependency on search engines like Google, you have to make your website easy to find for keywords that affect your business. Here are a few reasons why SEO is NOT dead and what tactics are working to drive real results.
Targeting keyword themes
A major shift in the way search engines rank was when they stopped ranking based on keywords alone and started ranking according to keyword topics.
This has been an evolution that includes many different updates that allow search engines to understand more about what users want and how to answer that intent.
Topic clusters have emerged as a way to establish a website's ability to cover an entire topic with authority. The emergence of topic clusters has contributed not only to top rankings for a keyword topic but also hundreds of other keywords that come with creating a strong presence in a specific topic.
A topic cluster is a collection of related articles and blog posts that are linked together internally. The internal links provide the user with a way to navigate to additional content that provides more information on the topic of interest.
This structure not only provides a better user experience (as seen in the rise in user engagement statistics) but also raises the level of expertise a website demonstrates in a specific topic.
The most infamous implementation of a topic cluster is the use of a pillar page model that incorporates clustered content. The pillar page provides broad sweeping coverage of an entire topic.
Rather than going too deep into detail on any particular subtopic, the pillar page will link out to blog posts and articles that provide more in-depth coverage.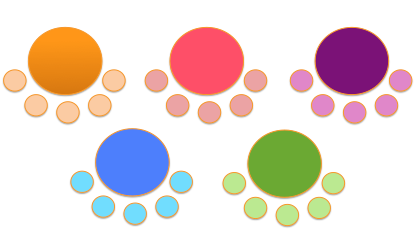 Every page in the cluster links to the pillar page as well as the content within its cluster.
This internal linking strategy raises the profile of your pillar page within your website and communicates the major keyword topics to search engines and users. Whether a user lands on a pillar page or one of the cluster content articles, they can navigate throughout the topic learning more about it as they go.
This is extremely helpful to users at all stages of the buyer journey.
And what's good for users is good for search engines.
Topic clusters can make your website known for a specific keyword topic so that pages in your cluster appear for keyword related searches. The internal linking strategy and strategic content lead to higher click-through rates, longer dwell time and reduced bounce rates.
These are all major indications of popular websites that users are enjoying. And what's good for users, is good for search engines.
Optimize for search intent
Underlying every first-page ranking is the ability to satisfy search intent. Your content needs to match the true intent a user has when they type in a specific keyword. If visitors land on your page and then immediately back out, it's obvious they aren't liking what they're finding.
The assumption would then be that you're not providing them with everything they need and as a result, your ranking will suffer.
Search intent has been a concept from the beginning of the internet. After all, the idea is to supply what searchers are asking for by matching the right content to the keyword.
Since there are fewer ways to game the algorithm and more ways to measure user engagement, it has made the issue of user intent/search intent vastly more important. If you're truly looking to achieve long-lasting results by staying on the first page, you have to provide the exact solution to the true intent of the search.
So much of Google's efforts are to provide the most accurate information in the easiest way possible. We've seen this through the variety of SERP features that have developed over the years.
Giving users exactly what they need to satisfy their search ensures your website stays on the first page of search results.
SERP marketing
The features that appear on the first page of results have become numerous and frequent in appearance. You no longer see a few ads and a list of 10 blue links on the first page of results. Here is what it used to look like: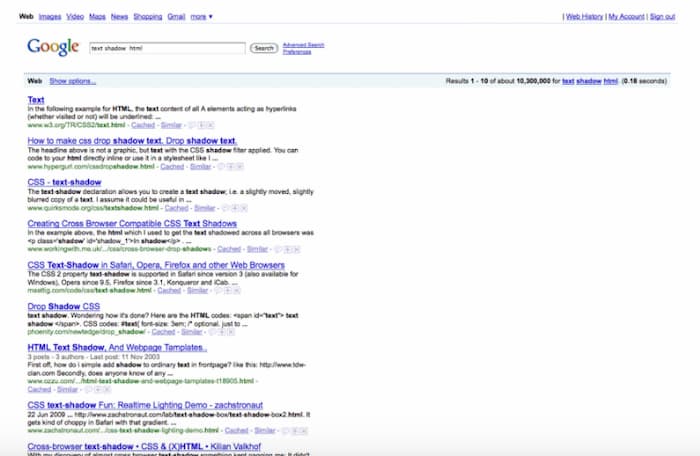 Today we can expect to see featured snippets, PAA boxes, local packs, images and videos in addition to the organic search listings. Here is the SERP for the keyword french press: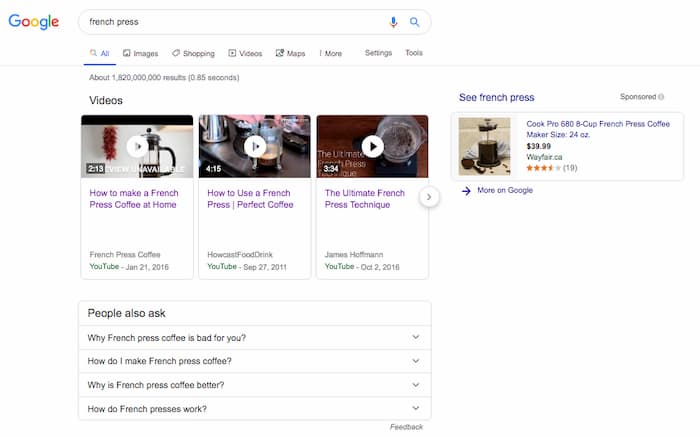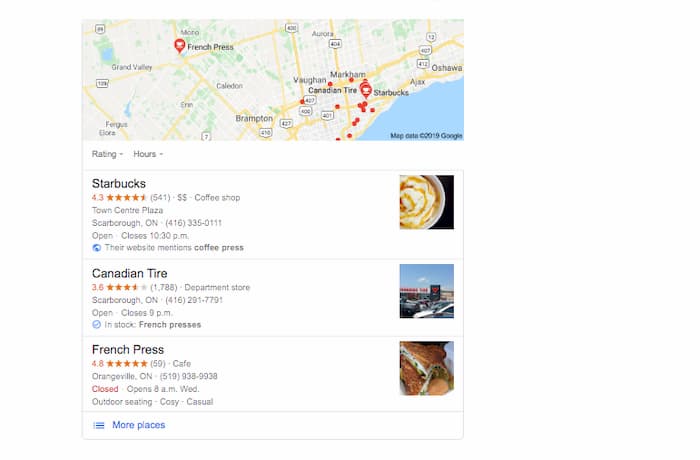 It's important to optimize for SERP features whenever the opportunity presents itself. For the first time, less than 50% of the total clicks made on Google are going to websites. 
Google has developed ways of answering intent that has eliminated the need to click on websites and therefore resulted in zero-click searches.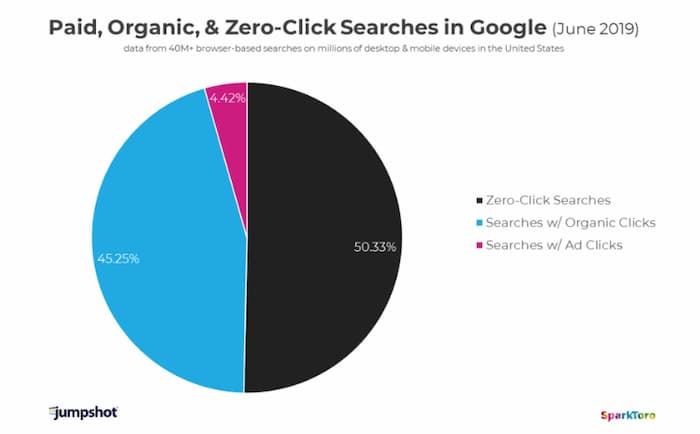 There are many searches where you don't see an organic search result without scrolling way down the page. Although this translates to less organic click-through rates, it also means you need to adapt to the trend and optimize the features that appear.
Position zero
The number one position used to be the goal, but today the real prize has become position zero. The featured snippet is an enhanced search result that is most often positioned as the first feature on a search engine result page.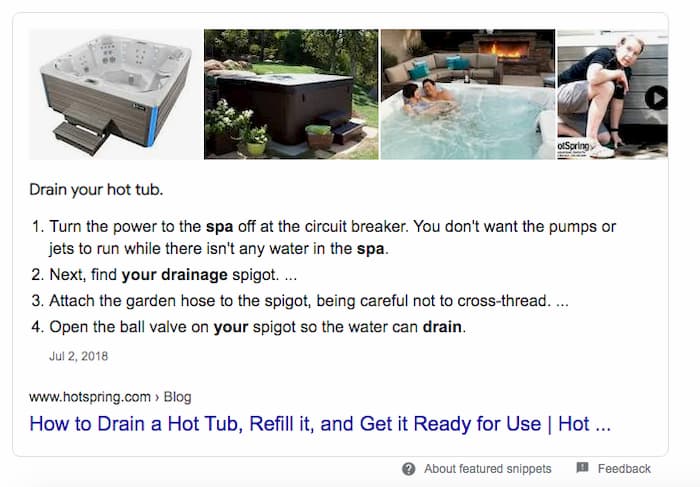 Being featured in this box is an excellent source of traffic, branding and increased click-through rates. Winning position zero makes your website look like an expert in your field and attracts the most attention as it is used to directly answer search intent.
Related questions
The related questions box (or People Also Ask box) is another way to drive more traffic to your website from a different position on the SERP. Adding questions that people commonly ask to your content is a way of creating more relevance to your keywords as well.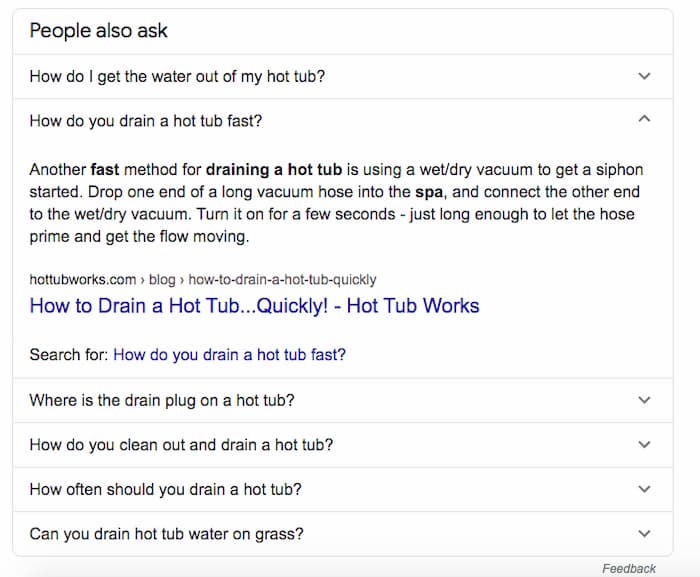 When your website appears for one question, it also appears for several variations of that question. Similarly to how pages rank, Google will display your website as the solution to questions with the same intent.
Local pack
The local pack is another Google feature that needs to be considered if it appears when searches are made for your keywords. The advantage of appearing in the local pack is that you can attract more local clients who convert at a higher rate.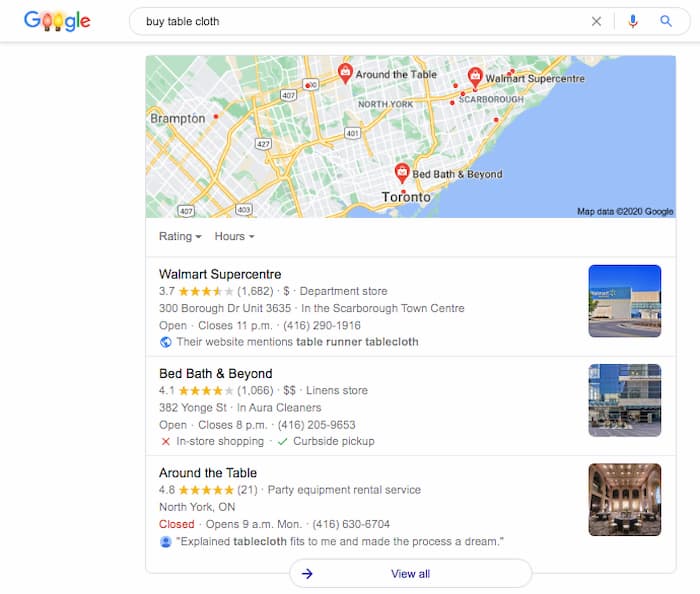 The local pack is another Google feature that needs to be considered if it appears when searches are made for your keywords. The advantage of appearing in the local pack is that you can attract more local clients who convert at a higher rate.
The local pack means you're in the top three positions of the local finder. Many users will use this feature when they need to buy something relatively soon.
If you offer products and services to local traffic, develop a local SEO strategy to appear at the top of the local finder, and therefore the first page of Google.
Many companies depend on local businesses to survive which makes this feature crucial for maximizing growth and new client acquisition.
Video is on the rise
As a form of content, video is on the rise in popularity and should be incorporated into your digital marketing strategy. So many people will search YouTube itself to find answers, which creates an additional stream of traffic. Many of these videos will show up in a Google search as well because they are the best answer to search intent.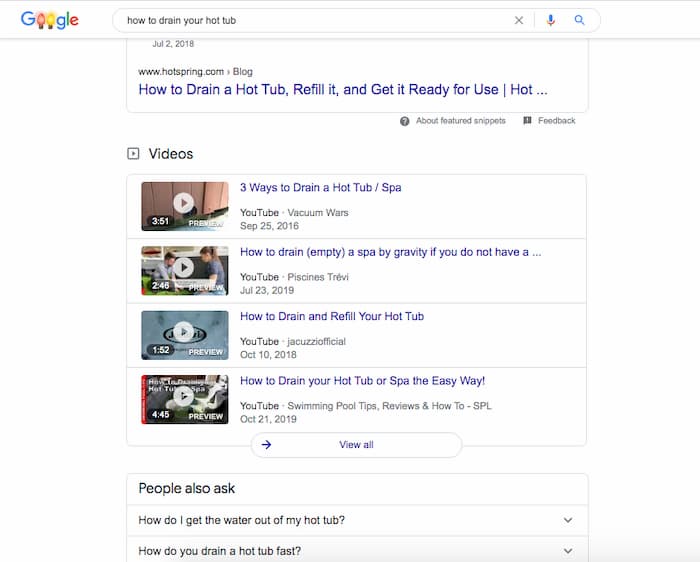 If you're seeing videos show up in the SERP, it's an indication that people are clicking on them for answers, which will generate more traffic to your site. The advantage of publishing a video is that they are generally less competitive to rank than a webpage since they are much fewer videos than websites.
Rich results
The first page of results is getting crowded. With more features to contend with, getting your organic listing to stand out as a rich result can mean the difference in winning the click.
Rich results are much more attractive search result listings because there are additional features added to make them stand out. Different types of content qualify for different types of markup.
One of the more recent types to be released was the FAQ markup that allows websites to display a series of frequently asked questions underneath their search results listing.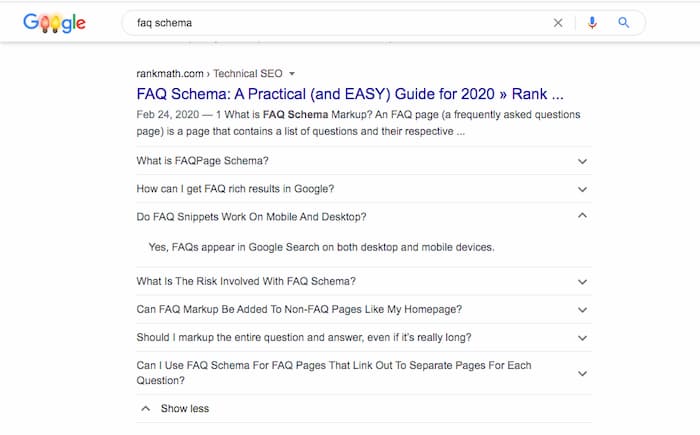 One of the more recent types to be released was the FAQ markup that allows websites to display a series of frequently asked questions underneath their search results listing.
This feature improves the click-through rate of your website by attracting more attention as well as pushing your competitors further down the page. You can even add links to pages within your answers to promote more pages directly from the SERP.
More popular forms of rich results include recipe and review snippets.

This SEO tactic is an advanced method of improving the traffic to your site by creating a more competitive, more attractive search result.
The importance of user engagement
Search engines have always rewarded user-centric websites. Publish your content with users in mind since it's the only way to ensure your pages appear on the first page of search results. There are so many ways to enhance the optimization of your page and improve the user experience and ranking at the same time.
There are multiple metrics for measuring the level of user engagement a web page demonstrates. Google's Rankbrain is an AI program that is specifically designed to measure the user engagement statistics that websites generate.
For example, each position in the top ten results has an expected percentage of clicks it should receive. If your website receives more than the expected amount of clicks it produces a positive ranking signal and maybe moved ahead of a website that's receiving lower than the expected amount of clicks.

Search engines will also monitor the length of time a visitor stays on a website compared to the other sites ranking for the same keyword. If users love the content on a website, they tend to spend more time and click through to more pages.
On the flip side, it would only make sense that a user who doesn't enjoy the content on a website will be quick to back out and spend less time and view fewer pages.
Monitoring, maintaining and improving these statistics are becoming a larger factor in the position your website holds on the SERP.
SEO will never die
The SEO industry is growing at a rapid pace. The industry has grown to 70 billion in just a short period.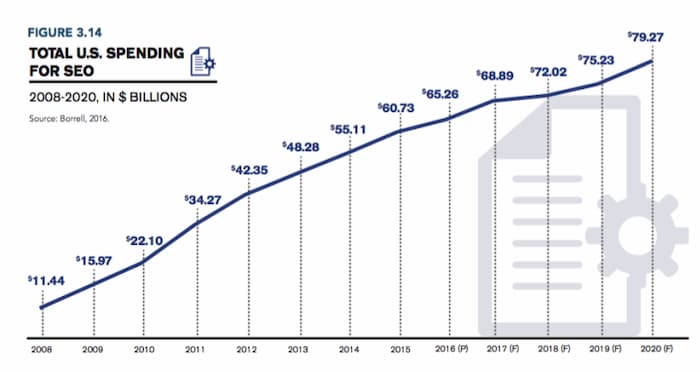 Companies are investing a significantly larger portion of their marketing budgets into search engine optimization because it produces one of the best returns on investment.
If your competitors are ranking ahead of you with inferior content or products, they're stealing new client opportunities. SEO gives your business the competitive edge that's needed to generate more traffic, leads, new clients and revenue.
That's just not going to change anytime soon.
Long live SEO.
Christian Carere