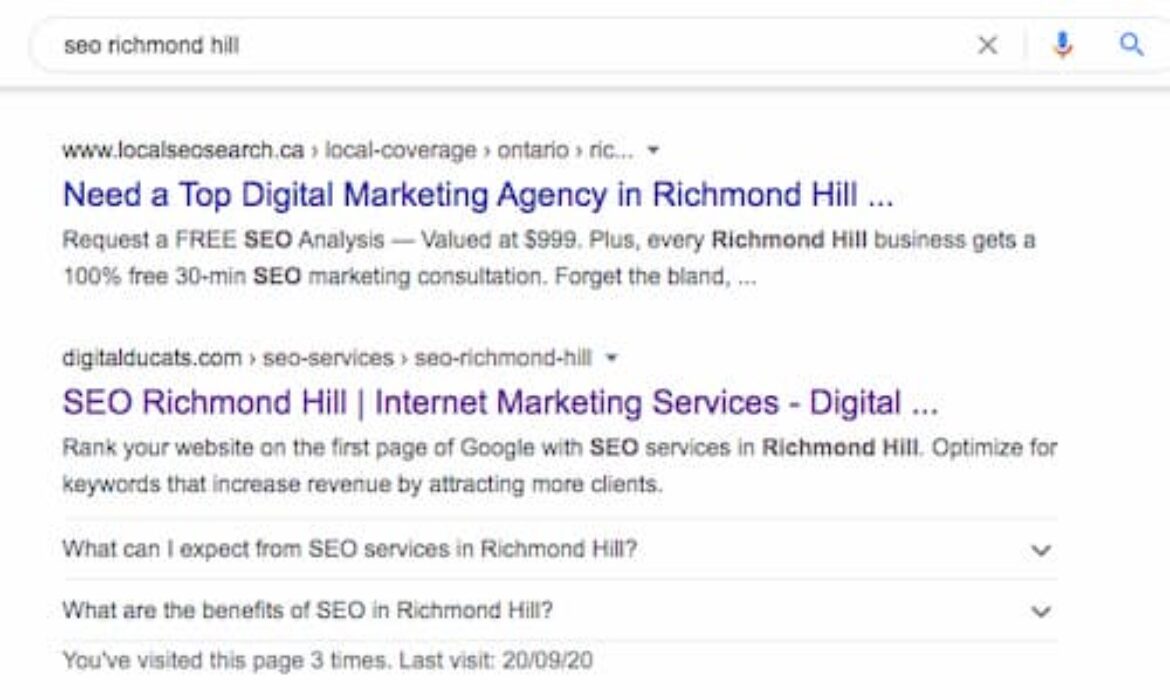 Although many of the main ranking factors will remain important, the industry forecast suggests we should expect a few important changes to SEO in 2021. There's not a lot that you haven't heard before, but change takes time and in 2021 there are a few changes that will officially have landed and will change the way we optimize websites. This article will give you insight into what changes to expect with SEO in 2021.
Core Web Vitals
It should come as no surprise that Google is moving towards more accurate ways of measuring user experience and user engagement. One of the key metrics that are going to play a big part in this movement is Google's Core Web Vitals.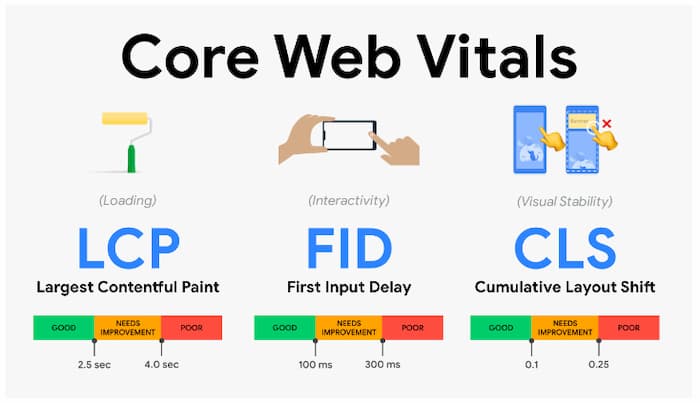 Core Web Vitals were added to Google Search Console in May 2020 as a way to give publishers more insight into what pages need attention. Core Web Vitals gives you the means for identifying:
1) Largest Contentful Paint
2) First input delay
3) Cumulatie Layour Shift
It's every search engine's mission to display websites that provide the best solutions to search intent as well as the best experience for users. A big part of the user experience is the time in which it takes a page to load. Search console provides users with the necessary information and alerts to maintain the speed performance of your website.
Although you may have a fantastic score for desktop page speed,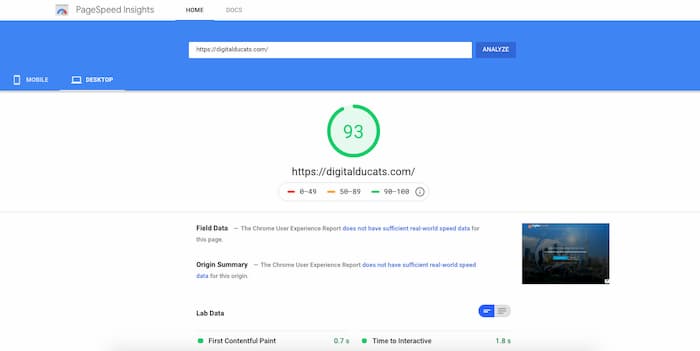 Pay attention to the mobile version of your page speed since this is the version that Google indexes first.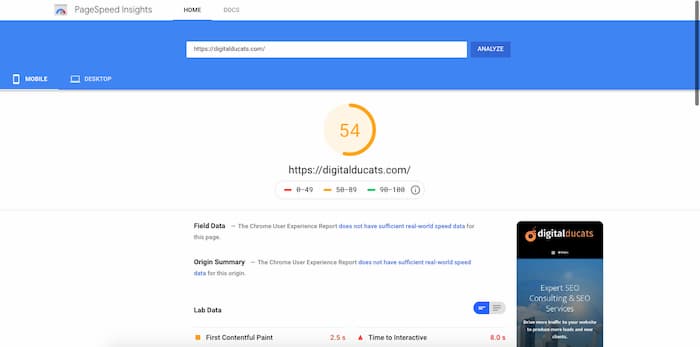 Don't be alarmed if your score seems atrociously low. It can be common for a lot of websites that have long-form content with a lot of images. The point is 2021 will require you to continuously work towards increasing your site speed. It should be a regular part of your maintenance routine.
Keep in mind that just because your site loads faster than anyone else's, won't mean you're going to rank in the number one position. The popular opinion is that Google won't be rewarding the fastest pages as much as penalizing extremely slow pages.
Click here for tips on how to improve your page speed.
Ranking passages
Google has already begun to rank passages, that is, a few sentences from articles that directly answer a search query. You may have already seen a bit of this happening when you click on a featured snippet that takes you to the page with the answer highlighted in yellow.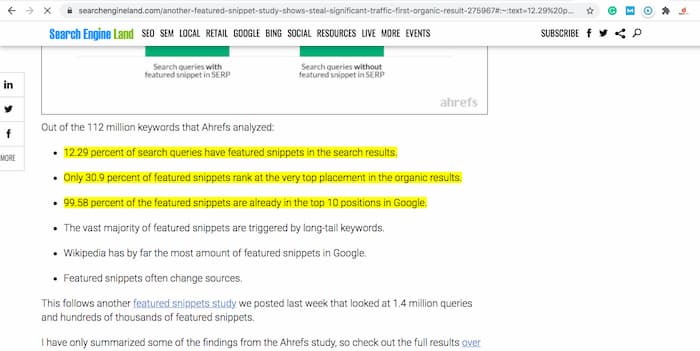 This is a pretty big deal because it means that you can drive more traffic without being ranked on the first page.
The way to optimize for passages is to make sure your content is sectioned off in distinct segments. Use the appropriate h-tags to create subtitles that clearly indicate what your content is about. This makes it easier for search engines to find and categorize the information on your website.
This doesn't change the way Google will be ranking pages-that will remain the same, however, this is a new addition to the way search engines will be displaying search results that should be taken into consideration when writing SEO content.
Establishing domain authority
If you thought link building was hard already-well, it's getting harder! Domain authority is becoming a more difficult task to improve without getting links from the experts within your field. Google wants to display websites that can be relied on for quality information.
This will put a bigger emphasis on earned media, visual content and original research. This is the kind of content that will put your website on the map and land you some high-authority links.
Expertise Authority and Trust
If you're website states facts that are incorrect according to an authority site in your industry, your credibility is shot and Google will choose to display another site over yours.
What will move the needle the most for young developing websites is to acquire links from the biggest site in their niche. You need links from the experts to validate your expertise. When you can get links from the authority sites within your niche, you become an authority in your own rights.
E.A.T. has already become a major aspect of the YMYL industries. Any type of medical publication needs to be written by a doctor or professional in the field. For it to rank, that professional should have the proper credentials to validate their work as well.
As we venture forth further into 2021, we're going to see more of the EAT principle in effect.
The second wave of featured snippets
The featured snippet is increasingly appearing in search results. It's becoming apparent that it absorbs a significant number of clicks for a search and is a valuable position to add for branding. Good SEO in 2021 will involve going after more featured snippets for increased search visibility.
To maximize the possibility to appear in a featured snippet, you need to make your content "snippable." For example, publish definitions and keep your answers between 40-60 words. Paragraph snippets are the most popular form of snippet-which accounts for roughly 80% of all featured snippets.
Remember you need to rank on the first page of search results to be eligible to win a feature. Work on creating more opportunities for traffic through feature snippet campaigns.
Local SEO
Local SEO has always been important but because of the global pandemic, it will pay off double time to maintain a local SEO strategy. Keep publishing local content and feed your Google My Business profile content to maximize the search visibility of your website in your city/area.
People are going out less and purchasing from businesses that are close to home. Make sure your GMB profile is up to date in every aspect and you're actively engaged in adding local content to your site and profile as well as answering questions that may appear on your profile.
CTR is increasingly becoming more important
The organic click-through rate is steadily dwindling due to Google SERP features absorbing all of the clicks.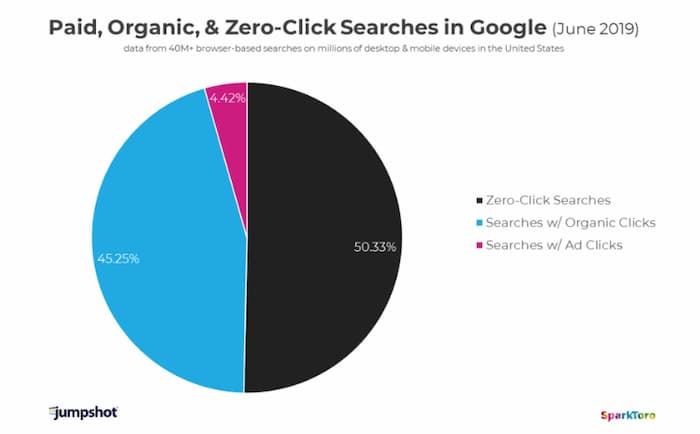 In 2021 it will be increasingly important to improve the click-through rate of your pages directly on the SERP to maximize the traffic a first page appearance drives.
Structured data markup is one of the additions you can make to your pages to encourage rich results. Make your search listing more attractive in the search results to attract more attention and take up more space in the SERP.
The FAQ rich result is a perfect example of a rich result that demands more attention from the larger area the search listing takes up.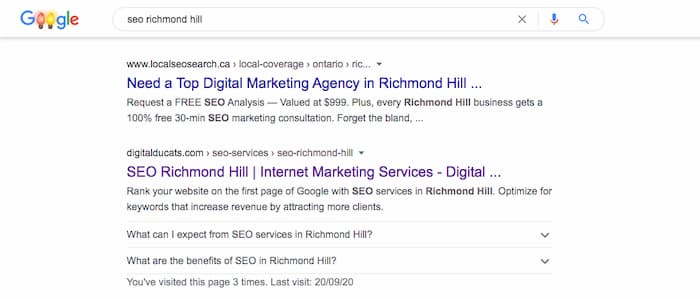 Additionally you can improve things like your headlines and meta descriptions. If there are older pages that are currently ranking, sometimes an update can make the difference in attracting more visitors to your page.
Search intent shifts and what you thought might be enticing a year ago, maybe a little out-dated and can use a facelift to drum up more clicks.
Search intent
It will be necessary to become a search intent ninja in 2021 to make sure your keywords and content are a perfect match to what users expect to see. Search engines are becoming more and more accurate at identifying exactly what users want when they type in a search and if you're going against the grain your pages will be left in the dust.
Make sure you're doing your homework when you're establishing the true intent of a keyword. The more accurate you are in pinpointing intent, the more likely you are to rank in a top position.
Prepare for a new era of search engine optimization
Although claiming "a new era" is a little melodramatic, next year will bring about a few different changes in the way we optimize websites. Search engines are always updating and adjusting to make things a little easier for users. Change isn't always bad and like every new update, we experience new opportunities lie ahead.
Ask us about custom search engine optimization services to find out how what we can do for your business.
Christian Carere