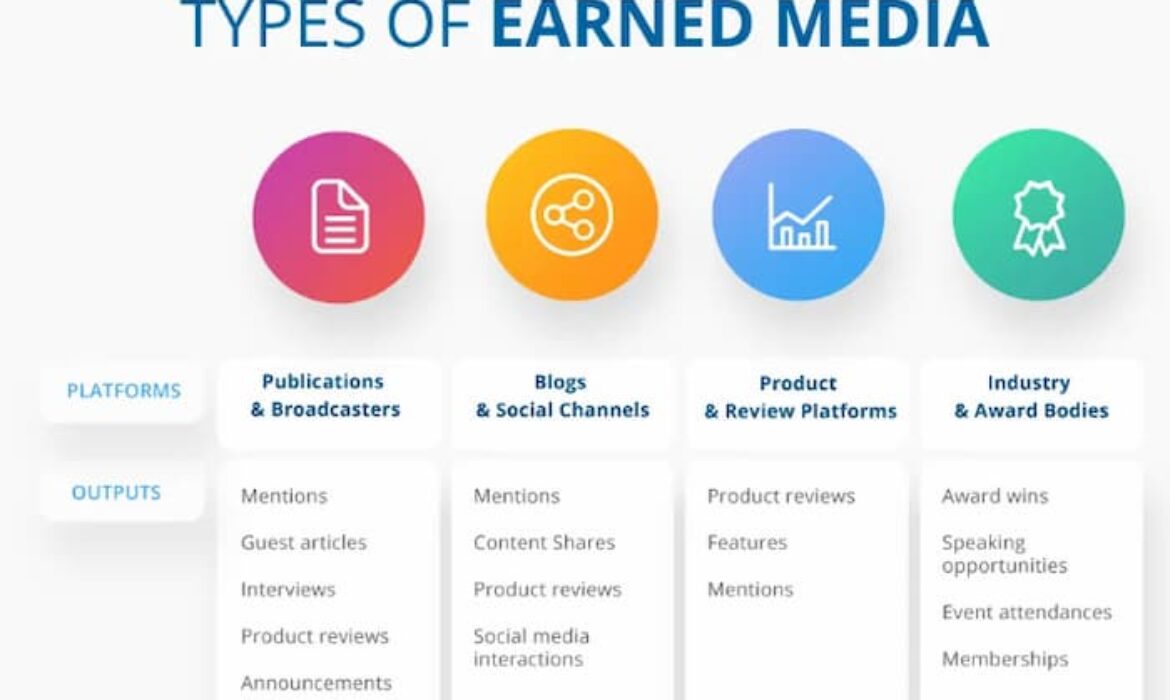 There are always exceptions to the rule but for the most part, it takes more than one visit to a website before a visitor makes a purchase. Learn how to create a marketing funnel for an e-commerce website to drive more targeted traffic and convert more visitors into repeat customers.
The sales cycle that your typical customer experiences from start to finish can be categorized into four distinct stages; awareness, consideration, decision and advocacy.
Consider the possibility that every visitor to your website is at a different stage in the cycle and it only makes sense to publish SEO content that accounts for the various stages within the sales cycle.
What is a marketing funnel?
The marketing funnel refers to content that can meet a potential buyer where they are in their understanding and move them closer to making a purchase. The marketing funnel addresses a series of stages that a buyer experiences which is commonly referred to as the buyer journey.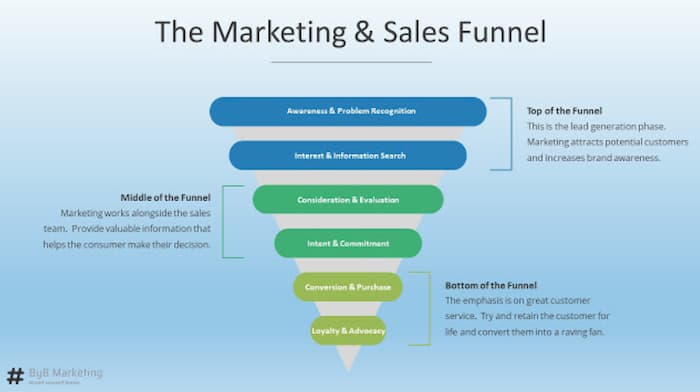 The content at each level of the funnel caters to the visitors on your site by meeting them at whatever stage of the journey they're in with the goal of moving them deeper into your funnel.
Imagine a doctor approaching a man with testicular cancer and going to straight to the point about the need for surgery. No explanations, just"This is what has to be done…."
It's needless to say that the need for testicular surgery would not be well received by any man who doesn't understand what's happening.
There needs to be a sit down about cancer, what it is, how it works and what will happen without surgery and of course, how the surgery will solve the problem.
Similarly, there are multiple stages a person goes through before making a purchase that is represented by a marketing funnel.
To get a visitor to the point they're ready to buy, there needs to be a basic level of understanding of what they're buying and why your company is a good choice. The concept of the buyer journey is used to gauge how well your content meets your visitors at the different levels of their understanding.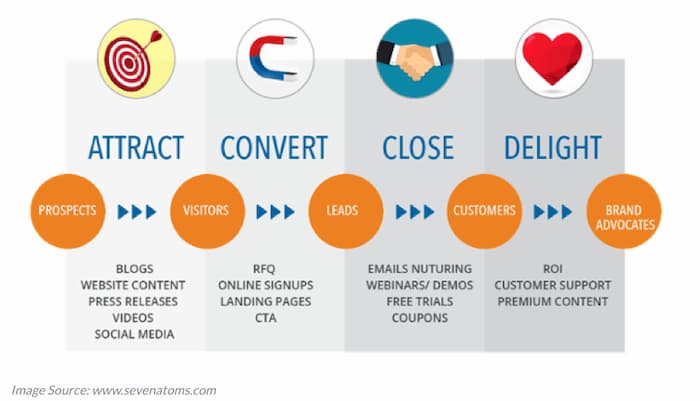 Creating content for every possible stage allows you to move visitors along the funnel, to become closer to making a purchase and become loyal brand advocates.
Awareness stage
At this stage, the buyer isn't aware of the specifics of the problem they have. They know they have an issue they need to be resolved but they're not sure about what it is and how to resolve it.
An example of this could be extremely dry skin. A person may have psoriasis or eczema, but may not have ever heard of either. If your website sold skincare products to combat eczema or psoriasis, creating content that describes the symptoms would be considered content at the awareness level.
Here's an article from the Huffington post that ranks for dry skin on elbows. There's no doubt that the companies in this article needed to pay for placement in return for the thousands of clicks to their website.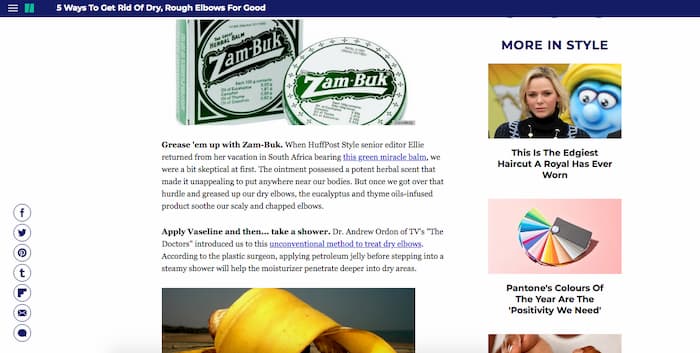 Content at the awareness level educates your audience about the basic details of their problem and how your product is used to overcome it. At the awareness level, your content would be optimized for symptoms that your product solves like dry skin for a skincare company.
The volume of searches for keywords at the awareness level is the highest of all stages in the buyer journey. These types of keywords are considered top-of-the-funnel keywords that build awareness of your product and brand but aren't typically "high converting" search terms. The more people you can reach with your content, the more potential clients you drive to your website.
Consideration stage
At this phase of the buyer journey, visitors are aware of their problem and may also be aware of how to fix it, however, they are not ready to buy. At this stage, they are still in research mode and will be looking to compare options to find the best possible solution at the best price.
At the consideration stage, you would publish content that shows your visitors why your product is effective and superior to other options. This moves buyers forward to the final stage in the funnel by convincing them that you're trustworthy enough to make a purchase.
Content at the consideration stage includes case studies, visual content, comparative analysis, original research and statistics, etc.
Content that arms your audience with the information needed to make an educated purchase decision builds trust in your brand. Rather than being too "salesy" or "pushy" about how great your product is, it's considered best practice to create content that educates and demonstrates your expertise in your field.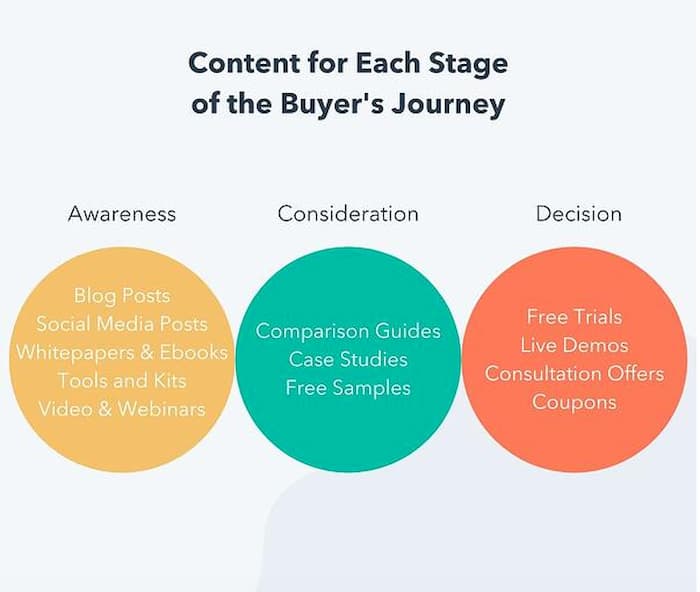 Case studies
There's nothing more convincing than a real live case study of the success you've had with existing clients. This type of content allows visitors to relate to someone with similar problems and see how your company resolved those issues with your business solutions.
Case studies can also be a form of storytelling, which is a powerful method of branding. People tend to remember stories more than statistics and numbers. Create relatable stories infused with real statistics and results to instill confidence and trust in purchasing with your company.
Original research
This is one of the best forms of advertising when it comes to creating an online presence and moving visitors deeper into your marketing funnel. Original research in your industry sets your company apart from the masses. It gives you the edge for creating new content with statistics and facts that no other company can compete with since they're statistics that are generated from your research.
A lot of good things happen when you're able to use original research to your advantage. The first is that original statistics attract backlinks. When you have statistics that no other company has, writers and publishers, tend to link to the source of that stats-and that happens to be your website. This pushes your website up in rank and authority.
In addition to being cited as a resource by those in your industry, you also are eligible for what is called earned media. That is, giving journalists and reporters something to write about that gets your company into some of the bigger publications and ultimately in front of thousands of readers.
Earned media is a powerful way to create brand awareness and assert your company as an authority and industry leader.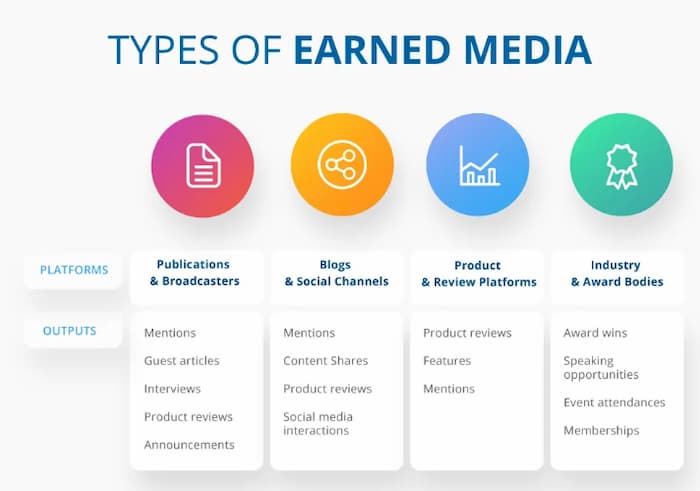 Decision stage
The decision stage is where your buyer is ready to make a purchase. They have established what they need and who the top choices are and need only the final push to make the purchase. Publishing content at this stage involves offering discounts, coupons and promotions to entice your visitors to make a decision.
Your product pages and services pages are where the conversions from visitors to clients are made. It's necessary to have a page that inspires confidence in your product or service and that's easy to navigate, making the purchase as easy as possible.
Loyalty and advocacy stage
This stage of the buyer journey can be the most valuable to your business. Consider the amount of time and resources to educate, convince and convert just one new client. Who better to market to than existing clients who have already purchased with you?! These are your most valuable assets to your business.
If they've already purchased with your company, there's a very good chance they will purchase from you again since you've already gained their trust.
Apart from future sales, you want to keep your clients extremely happy, so that they're able to turn around and tell other people how great your company is. Referrals are the highest form of marketing, and what better way to grow than to have happy clients tell other people how you've helped them.
Content at the advocacy stage includes sending coupons, VIP promotions, personalized offers and anything that expresses your gratitude for their loyalty.
Increase the lifetime buyer value for each of your clients by giving them the best customer service possible. The more you give, the more you get back.
Conversion rate optimization
To get the most out of your product and service pages, you need to measure and track the behaviour of your visitors to see what they do on your page. If there are specific patterns that are leading your visitor exit without converting, you will need to change those aspects of your page that are influencing that action.
Improving the conversion rate on your pages can be done using many different tools, however, Google Analytics can provide the user engagement statistics you need to improve the conversions on your page.
Track metrics such as bounce rate, time spent on pages, average pages per session, exit page and the user flow to determine the weaker points of your website and where you can improve.
Bounce rate
The bounce rate is the total number of users that back out of a page without interacting with anything else. This statistic can be useful for determining whether the content on your page is a match to intent, whether the content is engaging or whether you have a technical deficiency that's causing visitors to leave.
For example, if your page speed is too slow to hold the attention of users, this results in high bounce rates. Lightning-quick pages that load under 2 seconds keep more visitors on your page and lead to higher user engagement.
Keep in mind that the bounce rate can be misleading if users are going to a page and getting exactly what they need from your website. For instance, if people are going to your site to get the address or phone number, they may bounce right off as soon as they get what they need.
Identify the cause of a high bounce rate to determine whether you need to improve the quality of your page. In many cases, improving the bounce rate will lead to more time spent on your site, higher click-through rates, more user engagement and ultimately higher conversion rates.
The improvement in user engagement statistics is considered positive ranking signals-especially on the first page of results, which can lead to higher SERP positions.
Click-through rates
The click-through rate is an important metric to analyze in your content at the awareness and consideration stages of the buyer journey. You want to make sure you're moving people along the marketing funnel and that they are engaging in your content by clicking through to related articles.
If users are not clicking further through your website, it's important to understand what they're doing and what your content is lacking to create low CTRs.
Adding internal links to related content is the simplest solution to moving users along to more pages within your website.
A more difficult task is to re-evaluate the content that visitors are bouncing from to improve the copy, change the topic or remove the page altogether if it's not able to achieve its purpose.
Time spent on-site
The average time spent on a website is an indication of how many visitors are interacting with your content. People must be getting through the content you've published to know whether they're reading it through or bailing on it after a few paragraphs.
If there's a 3000-word article that people are landing on, and they're leaving after 45 seconds-it's an indication that this piece of content is not doing its job. It would take at least 5 minutes to get through long-form content so look closer at where the disconnect is between you're your content and your audience.
If people are not spending enough time, adding videos, images or more multimedia are alternative options to increase dwell time.
Conversion rates
To track goals, you need to set them up in Google Analytics. Every page on your site should have the desired action you want your visitors to take. Create goals on your website to effectively track where you're losing visitors and where you're succeeding in moving them along the buyer's journey.
Create conversion goals at the awareness and consideration stages
If you're creating content at the awareness level, the goal is to click through the links on your page that take them through to content at the next stages. Create tracking links that indicate whether the visitors clicked on the internal links you've provided.
If you're not getting the click you can test whether it's the content, by providing different options or if it's the placement, by presenting the option to click on internal pages a different way.
Conversion goals at this stage of the marketing funnel will help to identify the content that people are most engaged in. This can serve as a way to build more content around the successful topic ideas that are getting the most clicks.
Conversions at the decision stage
Improving your conversions at the decision stage has a direct impact on your revenue. Make sure you're taking advantage of all the potential ways to track what your visitors are doing on your page.
There are heat maps and split testing software that can help with the details.
With heat maps, you can see how far down the user scrolled on your pages as well as what buttons were clicked the most.
Split testing software can help you get into the finer details of things like the colour of your buttons. For example, choosing different colours of buttons can lead to small increases in conversion rates.
Track every option that's available to track within your content to create the most understanding of what your visitors are doing and most importantly, what they like and don't like. The data you generate gives you the means to improve the user experience your website offers and positively influence the actions visitors take on your website.
Map out the sales funnel to your e-commerce website
One of the most important aspects of developing your website is planning the site structure ahead of time and documenting how you intend to drive traffic. This means incorporating SEO at the earliest stages of your website's development.
Whether you're just starting or your website has been up for years, go through your content starting at the conversion pages first. Work your way up by layering your content from the bottom of the marketing funnel to the top. This strategy provides a way to convert the traffic you're already getting and slowly increase the volume as you go.
Establish a basic marketing funnel and track your results. As your website continues to generate data, you'll be able to make the changes necessary to constantly improve your traffic and conversions which leads to more sales, revenue and a long list of happy clients.
DIgital Ducats Inc. specializes in optimizing websites for increased conversions and sales. Learn more about our custom-fit SEO services and how we can optimize your website to generate more revenue for your business.
Christian Carere