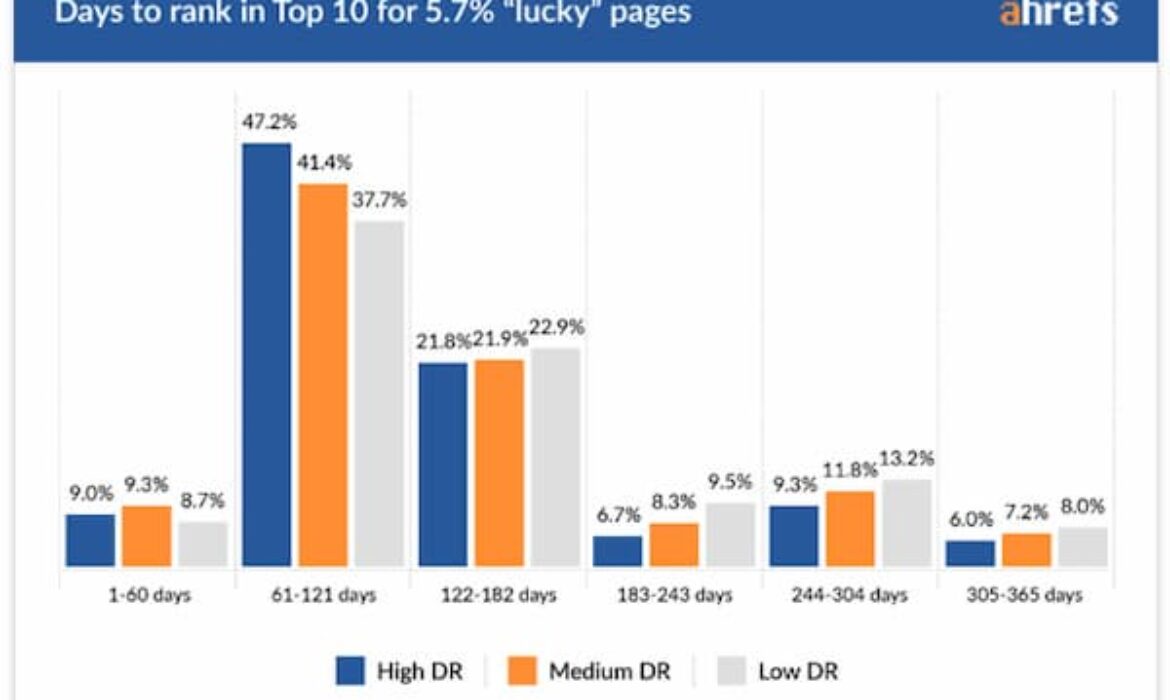 It's impossible to claim whether one form of traffic generation is better than the other. Like so many things in SEO, the truth is, it depends. To debate over organic SEO vs PPC and which is better, you're going to need to consider a few important factors that go into making the decision on which avenue to pursue.
What is organic traffic generation?
The organic search results are the portion of the search engine result page that is generated based on the websites that have the best answer to a search query. This segment cannot be bought by anyone as the results are generated by the algorithm search engines use to display the best results to a search query.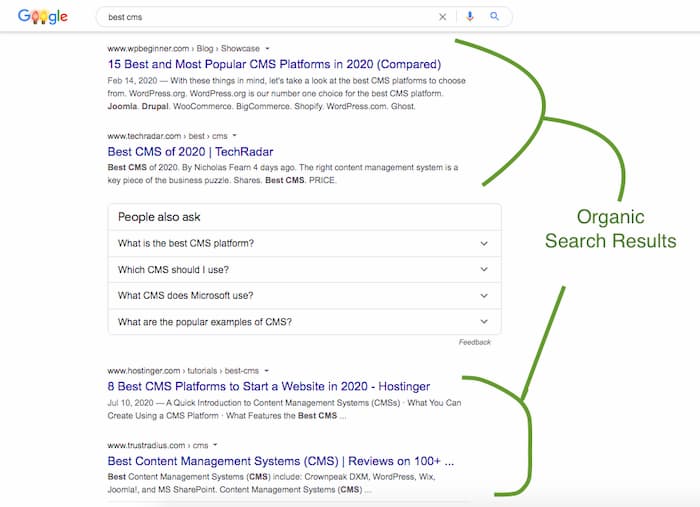 For this reason, the organic results tend to instill the most confidence in users and attract the most clicks.
What is paid traffic (PPC campaigns) generation?
The top of Google's search engine result page is typically reserved for 4 four paid results that are marked with the word "Ad" to indicate they are paid placements. Google Ads uses a Pay Per Click model that has been adopted by social media websites and of course, is used by the other search engines as well.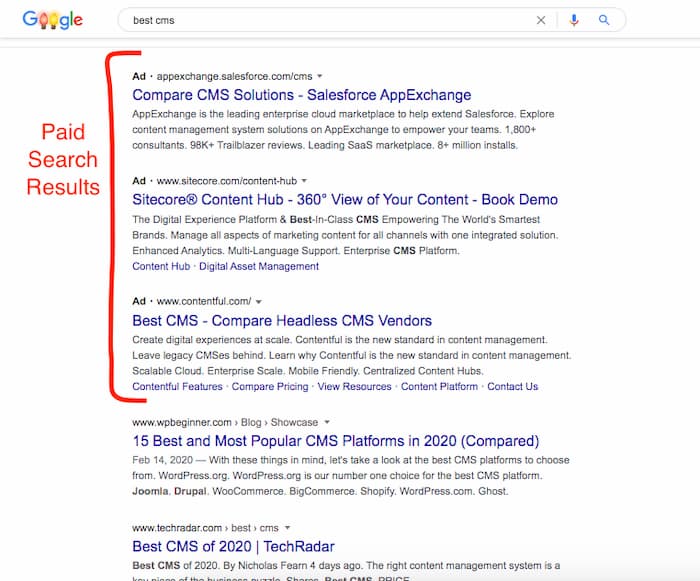 The concept requires you to pay for every click that a user makes to your website when you're in a paid position on the SERP. This is your cost per click (CPC).
Advantages of organic search engine optimization
More traffic
Lower cost
Continuous
Adds value
Drive more traffic from organic search results
On average, the organic search results take up 40% of the click on mobile and 60% of the clicks on desktop. It is undoubtedly the largest source of traffic that is available.
People tend to avert advertisements, and will naturally skip over them and click on an organic result because it's the most unbiased result. Of course, it depends on the type of keyword but for the most part, the organic results win the lion's share of available clicks.
Lower cost alternative
Although there is still a cost to driving organic traffic, it becomes a fraction of the cost of what you would pay Google for the same traffic in the long run. This is because once you have a page that drives traffic, clicks to your site are free.
The major burden is the cost it takes to rank a page into the top 10 positions. With more traffic flowing abundantly to your website, your cost per acquisition lowers over time.
Provides continuous traffic
Organic traffic is continuous in regards to the fact that once you rank on the first page, you can stay there indefinitely. Even if another website happens to outperform your page, a drop in position does not stop the traffic to your website.
Holding a position on the SERP means driving organic even after you've stopped paying for SEO services, whereas with PPC your traffic stops when you stop paying.
Adds depth and value
Organic traffic generation involves publishing content that is being searched and found by users. As your site continues to target and rank for keywords that are important to your business, your website develops authority and depth. This never disappears.
Top keyword rankings for content that people are looking for is a valuable commodity. Your site becomes a resource the more SEO content that you publish for your audience. Therefore, the process for developing organic traffic raises the value of your website by adding depth to the niche-oriented content you publish.
Disadvantages of organic SEO
Takes longer to generate traffic
Mostly informational searches
Longer incubation time
There is typically an incubation period for being able to drive organic traffic with new content. The process for keyword research, content creation, optimization and link building can take months before a page begins to drive traffic from the organic results. In a study by Ahrefs of over 2 million websites, they found that the average time for a page to rank in the top 10 positions is over a year.
Only 5.8% of the websites they studied were able to rank on the first page in less than a year, and even so-they average over 2-6 months.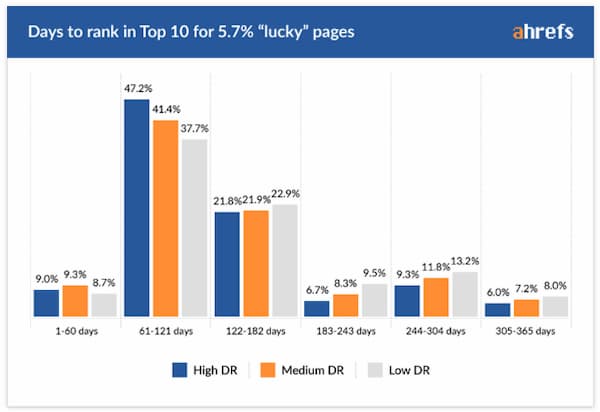 Bottom line is that driving traffic using organic SEO takes time.
Mostly informational searches
Since 80% of the searches made are informational, many of the keywords that are targeted to drive organic traffic typically attract visitors that are not yet ready to buy. This means there is more educating and nurturing the visitor before they can become a qualified lead and new client.
This means that there is more strategy involved for developing a marketing funnel and addressing the various stages of the buyer journey in order to convert visitors to clients.
When should you opt for organic traffic generation?
If you're building an authority website, you'll need to build your organic traffic. The content on your website will need to reflect what users are searching for and be the best solution to search intent.
If you're a local business, you'll want to build your organic traffic. Optimize to be found in local searches and the local finder.
When you're invested in your business for the long run, organic traffic generation is the solution. As the highest source of targeted traffic, it will lead to the most revenue at the lowest cost.
Advantages of PPC
Instant traffic
Control over audience
More insight into converting keywords
Search visibility for competitive keywords
Receive instant traffic
Once you've created a PPC campaign you receive instant traffic. It's not always going to make you money immediately as there is some time required to optimize your campaign. But as soon as you activate your campaign you will be getting clicks to your website from instant search visibility.
Control over your audience
You have the option to select the demographics of your ad campaign. You can literally choose who sees your ads by choosing preferred age, city, times, gender and a whole myriad of options to personalize the audience your ad appears in front of.
Insight into converting keywords
PPC campaigns are an excellent way to conclude what keywords are the best-converting terms for your business. You have access to the behavioural patterns of the users that click on your ad for every keyword within your campaign. This allows you to double down on the search terms that work and get rid of the keywords that don't convert.
Search visibility on competitive terms
PPC allows your business a fair shot at appearing for search terms that would otherwise be difficult to rank for organically. When the first page of search results is littered with titans like eBay and Walmart, you can bid on those terms to get your product on the first page as well.
Disadvantages
Higher CPA
Traffic stops when you stop paying
Less traffic
No long term benefits
Higher cost per acquisition
One of the biggest downsides to PPC is it's considerably more expensive than organic traffic generation. The average cost per acquisition will generally be the same throughout the life of your campaign as opposed to organic traffic which declines over time.
In fact, the CPA could rise should more competition for your keyword decide to join in bidding for the top position.
PPC is not a cheap solution and in many cases it takes money to make money. There is a learning curve to optimizing your campaigns to reduce the cost and increase the revenue you're making.
Traffic stops when you stop paying
Unlike organic traffic generation, PPC is a pay to play type of format. You have to pay for your position on Google and when you stop paying, so does your lead generation, sales and new clients.
This presents a problem for businesses if the only way to generate leads is through paid traffic. If the price goes up in their niche, this could spell disaster for a company that solely relies on PPC for sales.
No long term benefits
Unlike SEO, PPC does not provide any long-term benefits to a website. With SEO, intrinsic value is constantly being added to the website through researched SEO content. Over time, a website can develop a strong reputation as an expert and authority within its niche.
PPC does not add value to content or alter your website in any way. It is simply a paid position in the search results to get visitors to your website.
When should you invest in pay per click (PPC)?
PPC is good for short-term or one time promotions. When you need traffic fast, PPC is the way to go. PPC can deliver you the traffic immediately from the audience you select.
This makes PPC a good option for companies that are just starting out and need new clients to get the ball rolling.
A new website will need time to develop content and strengthen their search visibility. PPC campaigns can supply the traffic required in the meantime to supplement the lack of search visibility.
Organic SEO used in conjunction with PPC
The best-case scenario is to use organic SEO in conjunction with targeted PPC campaigns. As an aggressive marketing strategy, the two working together should be synergistic in the sense that the data obtained from each PPC campaign can be fed into the SEO strategy.
Having more search visibility is never a bad thing. Even if you're making less money on PPC than organic SEO, using the two together is simply working to increase your total revenue.
When to debate SEO vs. PPC
The choice between SEO and PPC is not one that you can make without exploring options, assessing your current website development in relation to the competitive landscape.
For example, if you're in a local market or extremely small niche, you may be able to achieve search visibility with simple DIY SEO tactics within a short amount of time.
In a non-competitive environment, it would make more sense to focus your time and resources on developing your website with targeted SEO content.
However in a more competitive environment, having your website appear in the paid results as well as the organic results could be the right balance that pushes your website to new heights in search traffic and record-breaking revenue.
For more information on how to develop your online strategy, give us a call and we'll give you our best advice on how to make your business more profitable.
Christian Carere