Generate sales and new clients within your city with local SEO for small businesses. We live in an age where digital marketing is a massive source for driving new business. More than 90% of people will use their phones to research and make a purchase. Capitalize on the power of local SEO for small businesses and dominate the search engine results in your city.
Local SEO for small businesses is not just about ranking on Google. Although Google controls most of the search engine market, there are still many other ways people search for local businesses such as Yelp, Bing, Yahoo!, etc. For this reason, this article will mainly focus on ranking on Google, but also on using alternative ways to supplement your streams of traffic.
This guide will take you on a step-by-step tutorial on how to get your business up to speed as well as how to compete and outperform your competition in the localized search results.
Google My Business Setup
Setting up your GMB account is fairly straightforward. You'll need a Google My Business account so head over to Google My Business to get the process started.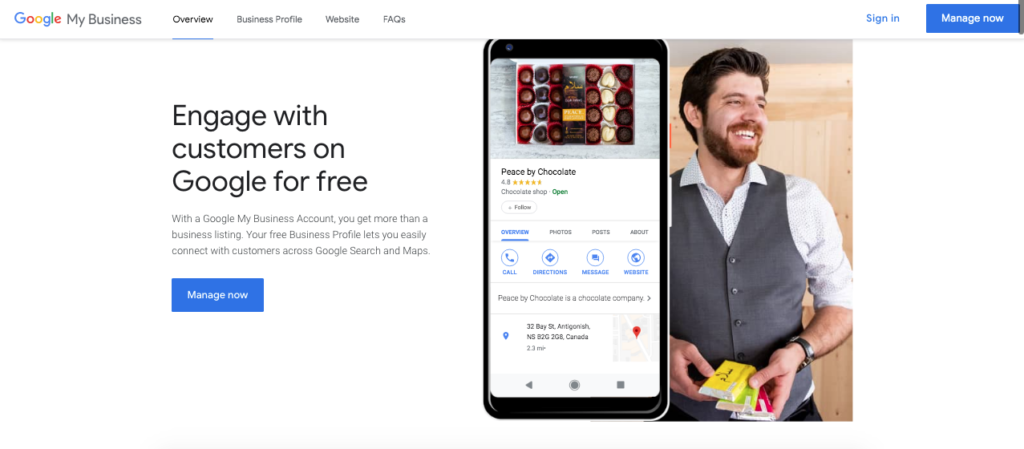 You'll be walked through a series of steps to create your profile with all of your business information. Although you can always switch the primary category you initially select, you should know that choosing the most appropriate category can greatly affect your search visibility. If you choose the wrong category, Google may not associate your business with relevant keyword searches.
You can confirm you're in the correct category by searching Google for your keywords and then scanning the competing GMB listings to see what category they've selected. If you see a lot of your competitors with the same category, it's a safe bet that's the same one you should be choosing.
For example, if you're a landscaping company, you have a few options to choose from such as Landscaper, Landscaping design and Landscaping architect. Make sure the category you choose puts you in competition with companies that offer similar services.

In order to make any changes or additions to your profile, you'll need to verify your listing which is done via phone call or postcard.
When entering the address for your business make sure you submit the actual business address of your company. You may need to move the marker on the map if Google got it worng-so double check just to be sure.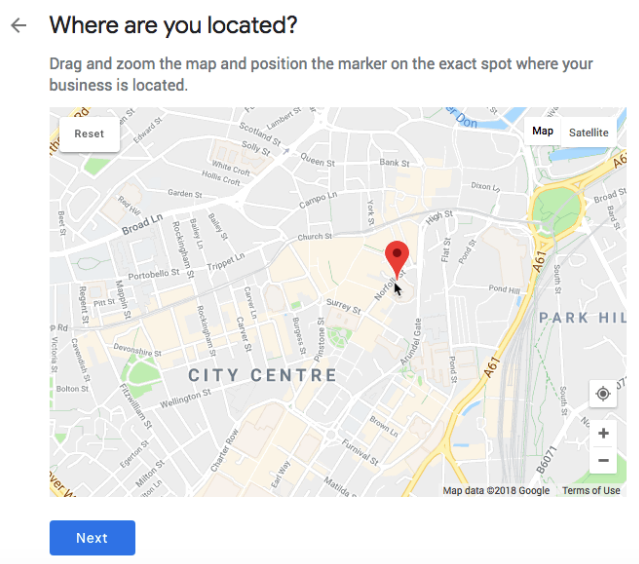 If you're a service area business, you can use your home address. Just select the option that indicates you deliver to your customers.

If you don't offer services at your home and therefore don't want your home address displayed, there is a button you can select that will hide your address and display your service areas.

If you happen to have partners in your business or have multiple physical addresses, choose the one that's closest to the centre of your target city. This will promote more appearances by being centred in a more densely populated area-even if you're selecting a service area business.
Optimize your account
Optimizing your account is as simple as filling in every field that you can possibly provide information. When a search is made on Google, the information from your GMB profile is pulled to associate your company with keyword related searches.
Make the effort to include as much information as possible to give your website the most opportunities to appear in localized search results.
Upload photos to GMB
This may seem like an unimportant aspect of building your profile, yet it's one of the most viewed components when customers are researching your company. Include as many images of the interior and exterior of your place of business.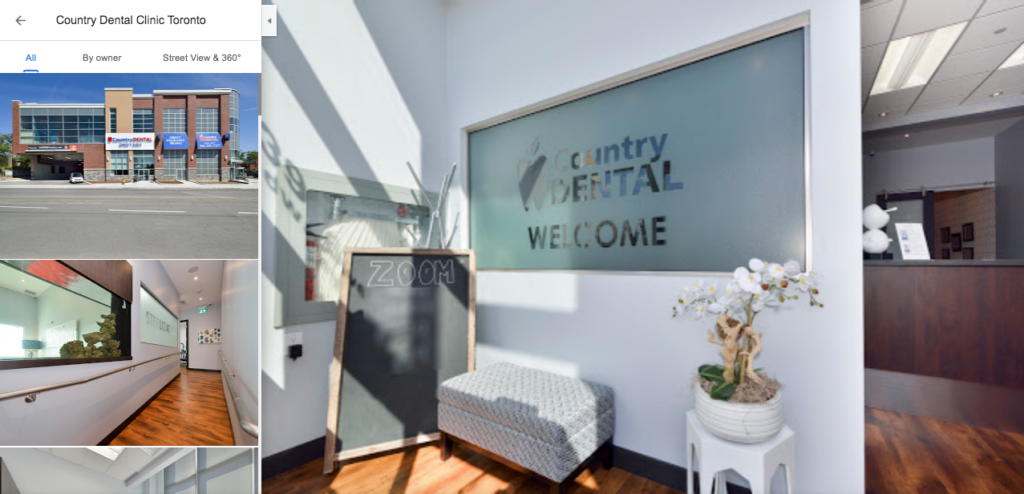 Upload product images or examples of work you've performed to give your potential clients a sneak peek at what your company offers.
Publish microposts
There is a small correlation between staying active on Google posts and driving more traffic. Although posting regularly may not improve your actual ranking in the local finder, it does help to take up more real estate in the search results.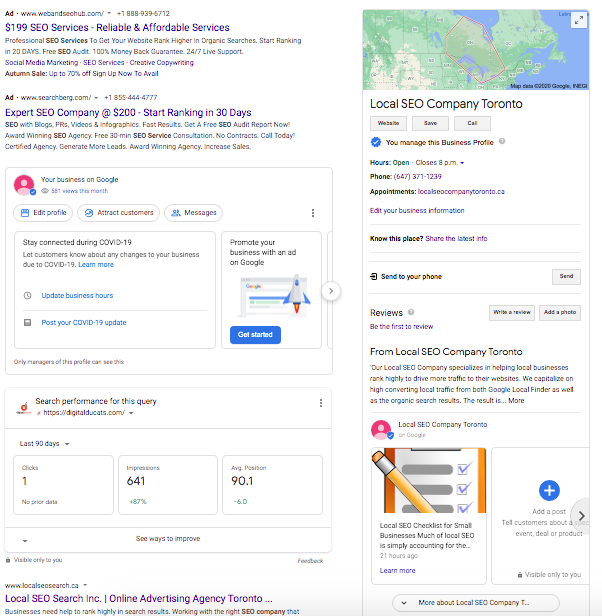 Increase the click-through rate to your website by publishing microposts to your profile on a weekly basis. A high res image and catchy title will help to improve your CTR.
Bing Places For Business
When you've verified your profile on Google, claim your business on Bing places for business. Bing's search engine only accounts for less than 10% of all local searches in Canada, but why not welcome the additional traffic to your website?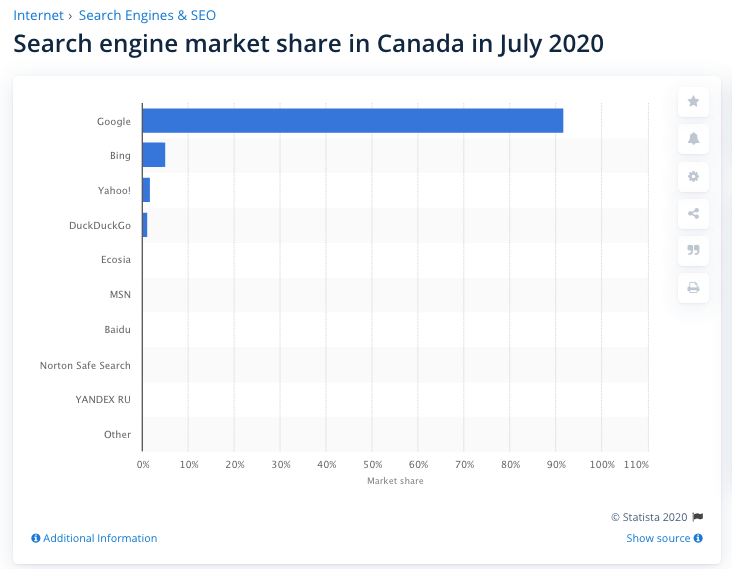 Once you've begun the process of claiming your business, Bing will search for your business to see if a listing already exists. If you don't see your business listing you can go ahead with creating a new profile.
You'll be given the option to import data from GMB. This will save you time in creating your profile and ensure your profile information remains consistent (no typos). Choose the option to have your data imported and sync your accounts.
Apple Maps
Think about how many iPhones are in circulation. Apple sold over 40 million iPhones in Q1 of 2020. Although most people may prefer to use Google Maps, Apple Mpas is the default system for providing directions whenever you ask Siri. There should be no doubt about it, listing your business in Apple Maps will result in additional traffic to your website.
There are millions of searches that are being made through the Apple Map platform, so why not capitalize on the searches that are being made in your city? You'll need an Apple ID to register your business.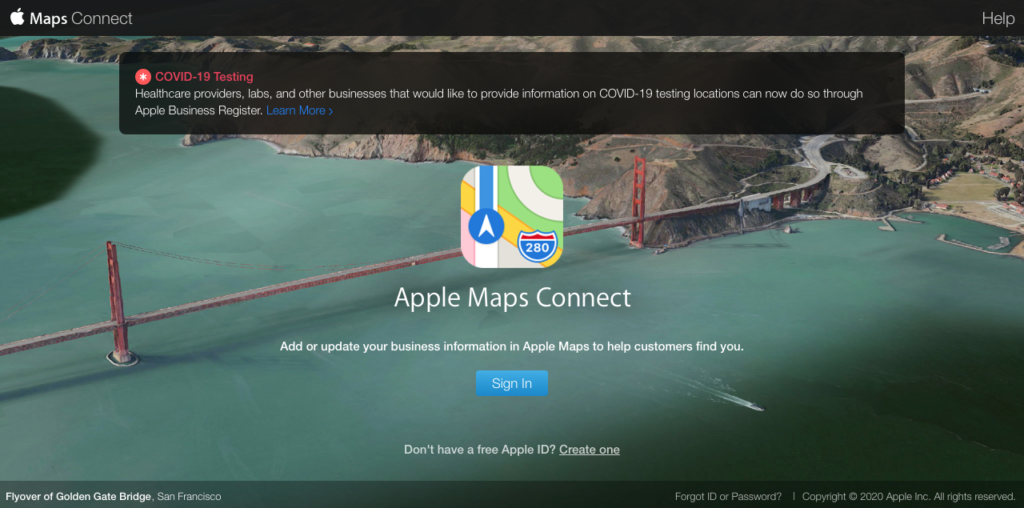 Structured citations
A structured citation is an instance of your business details being posted to a website. It is considered structured if there are specified fields to enter your name address and phone number (and website). Directory listings, profile links, review websites are examples of where you can find structured citations.
Listing your business in directories has a twofold effect on your website:
Structured citations strengthen your position on Google's Local Pack/Finder.
Directories provide relevant local referral traffic.
Structured citations confirm your NAP details (name address and phone number). Google verifies the validity of your NAP details with credible citations, and as a result, your search presence in the Local Finder/Local Pack improves.
Choose major citation websites as well as niche-specific and location-specific to create a positive ranking signal for your website in city-specific searches.
Major citation websites
Major citations for your industry and country can be found on Whitespark.ca You don't need to add them all at once. In fact, it may be better to limit yourself to adding 10-15 a month.
Niche-specific citations
Identify a minimum of 3 niche-specific directories to enlist your business as a start. You can use a simple Google search to find the most relevant directories. A popular search would be:
[your keyword] + business directories
The results may not be within your location, however, the search should uncover some of the larger niche directories in your industry. Choose three to start and perform your next search for local directories.
Location-specific directories
Search for the most popular city-specific directories with a simple Google search:
[your city] + business directories
PRO TIP: Download the Mozbar browser extension to filter out the low-quality websites along with those that are heavily spammed. The Mozbar will indicate the domain authority (DA) which you should keep at a minimum of 15 DA at the lowest. Spam scores are naturally high for directories so you may need to concede in this area.
Here's a search for Toronto business directories in which the result are displayed with the Mozbar:
At a glance, you can see that only the first and third results would qualify as citation prospects. The second search result shows a DA of only 14 (The PA is the page authority).
Some directories you will need to pay to join. These are probably good directories for your website but you don't need to pay to get what you need from structured citations. Avoid it if you're on a tight budget.
The second qualifying metric you want to double-check is the amount of organic traffic that flows through the directory. If a directory gets little to no organic traffic, it's a red flag. You don't want your website to link from graveyards or heavily spammed sites and organic traffic can tell you whether you'll get some referral traffic on top of the citation.
There are many analytic tools you can use, but SEMRush offers a free version that gives you the numbers you need. Plug in the URL of the website and the overview will display the approximate organic traffic the website receives.
This value indicates whether the website ranks organically for keywords and does in fact drive traffic that can be beneficial to your website FYI, the above directory would be a terrible directory to list your Toronto business.
On-page optimization
The optimization of your pages is crucial to appearing for city-specific searches. Create a strong competitive advantage by making sure your keyword is included in your metadata as well as within your content.
Local SEO keyword strategy isn't extremely complicated as it's basically [your product or service] + [your city], and similar variations. If someone needs a plumber in Toronto, they're going to type "plumber Toronto" or "plumber in Toronto" or "Toronto plumber."
If your business services one city, optimize your homepage to appear for your product/service plus your city.
How to optimize your homepage
Make sure the most important pages are a click away for users landing on your homepage. Include a navigation bar that hosts the service and product pages that you want people to easily find. Highlight your most important products with blog posts that feature related content (preferably geared towards converting visitors to clients)
Include the NAP details (Name address and phone number) in the footer so the company address is present on every page of the website. Embed a Google map so users are able to click on the map for directions to your storefront.
If you operate a service area business then you may want to create location pages to give your website the most competitive advantage in appearing for each of the cities you service.
Location pages
Your company should have a separate page for every city you provide service in-especially if you have multiple physical locations. Each location page should be published with unique content. Never duplicate the same pages while only changing the city.
A good location page will reference the city with landmarks or any unique identifying content that can be associated with that area. Include the address, phone number and a map of each location to create more local relevance and a stronger position in the search results.
A location page gives you the opportunity to include the keywords in the most important places such as the URL, title and meta description. This enhances on-page optimization which is a large factor for ranking local websites in localized search results.
Local content
Location pages are considered local content, but apart from your location page, you should be publishing regular content about your business and city. Here are a few examples of the types of content you can produce that positively impact your local search visibility.
Client surveys
You can survey your clients on just about anything related to your product or service. One of the major benefits of surveying your clients is identifying their personal preferences, like dislikes or even just getting their opinions about a particular issue.
Knowing the preferences of your clients are a huge asset to providing an exceptionally high level of customer service. You can cater to the needs of your more closely and discover areas that may be hurting your business.
Additionally, a survey will contribute to creating high quality content based on the results. You clients would be absolutely interested in the experience of fellow clients using your product or service.
Expert roundup
An expert roundup is another way to bring more attention to your company while building local alliances. If you're strategic with your content you can get a lot of companies that aren't direct competitors, but operate within your field of expertise to participate in a roundup.
This could be an expert opinion that you collect from each of a number of businesses on a trending topic. An on-site example of this can be seen in the infographic we designed titled, "12 Web Design Trends For 2020 By Toronto Experts".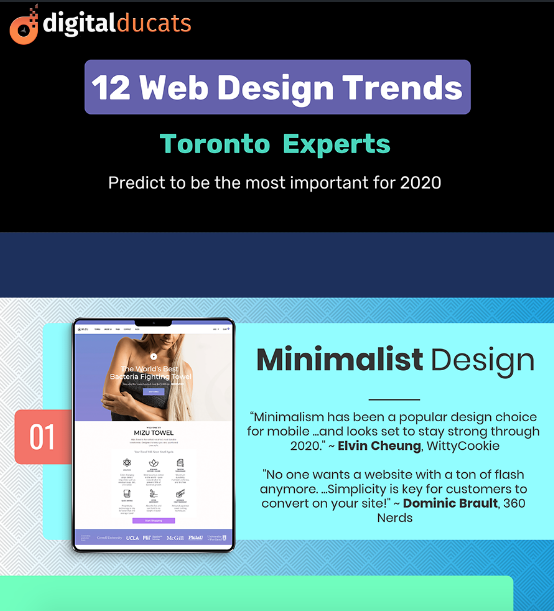 As an all SEO company in Toronto, we are closely aligned with web design companies, however, we don't offer the same services. In this expert roundup, we gathered the opinions of 18 different web design companies on what each expert was the most important web design trend in 2020. We then designed an infographic with an answer from every expert.
The infographic was not only shared by many of the experts who participated but attracted a large number of backlinks.
Local events
Whenever there's a local event worth mentioning, post it on your blog. The publication of local activities in your city creates strong ties to your locality. Be sure to include the relevant NAP details and link out to the local sites that are involved in the event.
Host a local event
If your company is hosting the event be sure to post the details on social media, local event websites and community bulletins. Get the word out to as many local people as possible to promote your business and create a few more backlinks to your website.
Post details on Eventbrite.ca if it's large enough. You can also use Meetup.com if or a similar site if you're holding regular meetings. Keep in mind that meetings don't have to be in person. Virtual events are also fair game and equally worth writing about.
Sponsor a local event
You don't need to hold an even all on your own. You can also look for events that are related to your area of expertise and apply to sponsor the event. Again, Meetup.com is a great site to use for finding events to sponsor, but you're not limited to Meetp.com as there are a bunch of similar sites to choose from.
To find what events are looking for sponsors type in this search operator into Google:
site:meetup.com + inurl:sponsor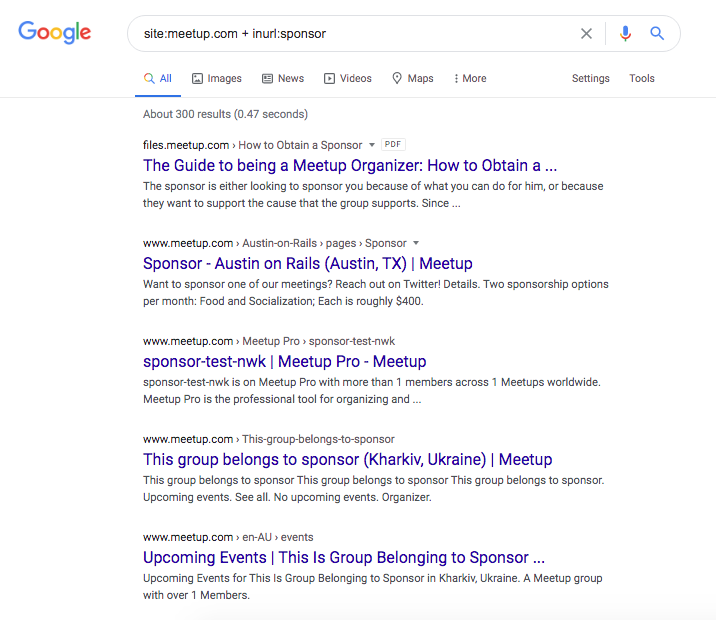 The search results should be a list of pages that have the word sponsor in the URL. Here is an example of a sponsor page for a Toronto group: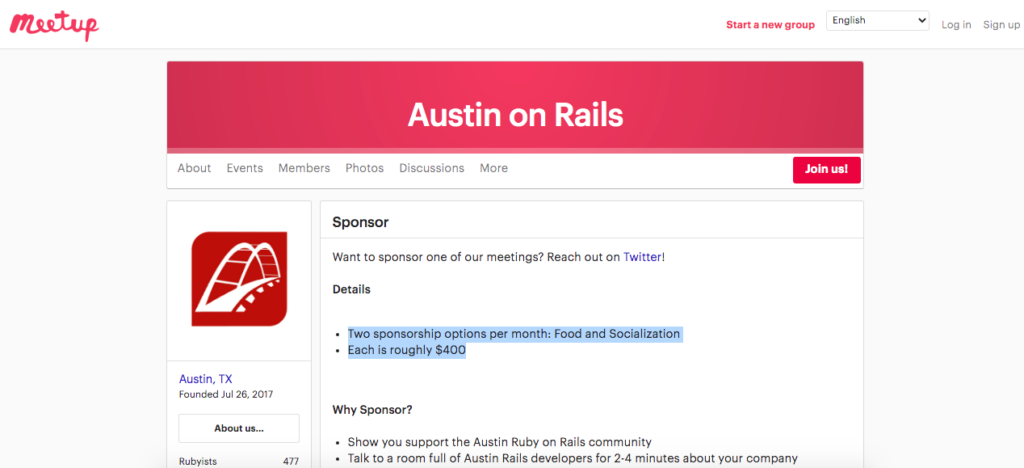 Choose events that are worth talking about on your blog. Although the bonus to sponsoring an event is you get a backlink to your site you still want there to be a strong relationship between the content of the meeting and your business..
Unstructured citations
When your website's NAP details appear on a website that isn't formatted specifically for listing company info, it's considered an unstructured citation. This can be any one of the NAP details as seen here in the Kingstonist magazine for the Integrated Care Hub. This particular citation includes the name and address.
This does provide value however, obtaining a link from an unstructured citation is the most valuable of local backlinks.
Unstructured citations are found in local news websites, local business websites and local blog sites. These links are considered la crème de la crème of backlinks and will have the greatest positive impact on search visibility as far as quality backlinks go.
Publish local content to attract unstructured citations
Publishing local content will contribute to obtaining unstructured citations. For example, in your expert roundup you may be able to get a few businesses to link to your site within their content.
Asking for a link is a much easier discussion with a website owner when the link you're asking for points to an article that they're featured in on your site.
Gain citations from local news sites
If your business is involved in activities that give back to the community, it might qualify as newsworthy content. For any charitable activities your company might be involved in, you can send a few local reporters a news tip on what your business is doing and see if there are any bites.
Local journalists will typically write about any community news as long as it's not overly promotional and there's something worth telling the community about.
Local blog site citations
There is a ton of people blogging in your area-unless of course you live in the North Pole. Find bloggers interested in talking about products, services or topic-worthy issues associated with your business.
If your business is in garden maintenance, find which blogs would publish a few amazing tips that no one heard of before. Many bloggers/influencers accept products in exchange for a review, mention or a link back to your website. Contact influencers and bloggers whose audience is the right fit for your business and they have a substantial following.
Maximize revenue with a local SEO strategy
There are a lot of moving parts to create an effective local SEO strategy, but the rewards are well worth the investment.
Remember that although Google may account for the bulk of the local traffic you receive, there are many other ways to add valuable streams of visitors to your website. Make use of all the options available to create high volumes of relevant local traffic to your site.