There's nothing like good, hard evidence of how SEO provides a return on your investment. The following is an SEO case study on a local home goods supplier in which we achieved an increase in traffic of over 200% in just four months' time.

A brief history of the clients' website
The company sells patio furniture, hot tubs, barbeques, billiard tables and more. The client began services with Digital Ducats after working with an SEO Toronto company for almost 5 years.
Their website had a number of backlinks and they had published content on their blog continuously during the last four years.
After a website assessment, it was determined that although they were ranking for some keywords, many of their pages were lacking on-page optimization. Most of their blog content was low-quality and not good enough to rank on the first page of Google.
The Google My Business profile was loosely put together and was lacking optimization wihch was resulting in low search visibilty in Google's Local Finder.
The main objective
The ultimate goal for this SEO case study was to push the websites ranking up to the first page of search results. We wanted to create a stronger search presence for the keywords that would drive the most potential clients.
The objective was to increase revenue using a content-driven strategy. The goal was to build awareness and drive traffic using keywords to rank for content that satisfied users at the informational/research stage as well as the buyer stage.
The SEO strategy explained
A competitive analysis was performed on the top ranking websites in the niche. In order to create a more competitive website, we needed to establish how the competition had achieved its top ranking in terms of content, site structure, link building strategy and optimization.
The results of our keyword research provided the basis for the content that needed to be published to drive traffic with buyer potential. A content audit was performed to identify the pages that could be enhanced to rank higher.
The SEO campaign included:
On-page optimization
Meta tag optimization
Titles
URL structural analysis
Internal link strategy
Topical organization
H tags
Canonical references
Outbound links
Schema
Structured data markup
HTML code cleanup
SERP feature optimization
Page speed optimization
Mobile optimization
301 redirections
404 Error corrections
Robots.txt review
Sitemap creation and submission
Install Google analytics
Set up Google Search Console
Google My Business Optimization
Backlink strategy
When we first began work for the client, the backlink strategy was already mainly composed of directory links and citations. We started with:
Toxic link removal
Niche and local citations
Links from niche blog sites
High authority links from appropriately themed websites
SEO Case Study results
In between the third and fourth months, the traffic for our client had nearly doubled in multiple categories when compared to the same months from the previous year.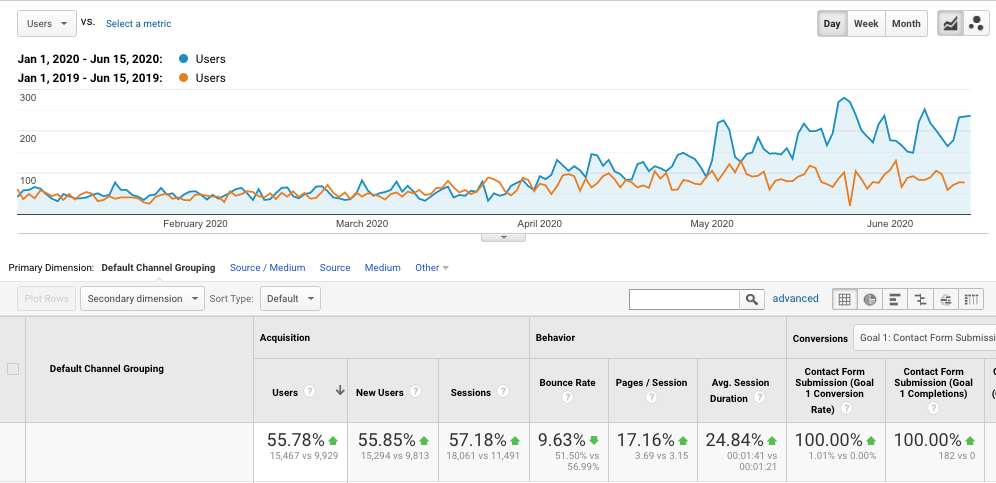 The number of keywords that our client ranked for went from 300 to 700 and we improved our client's position on the first page for multiple search terms.
Organic traffic was literally doubled when compared to the same time period the previous year. The website had received 7744 visitors in the previous period which has increased to 13,521 visitors

Although the results for this client only took 4 months, it should be noted that the expected time to see the full results lies somewhere between the six to nine months range.
Digital Ducats Inc. is one of the best choices you can make for your business when it comes to investing in a marketing strategy that produces results.