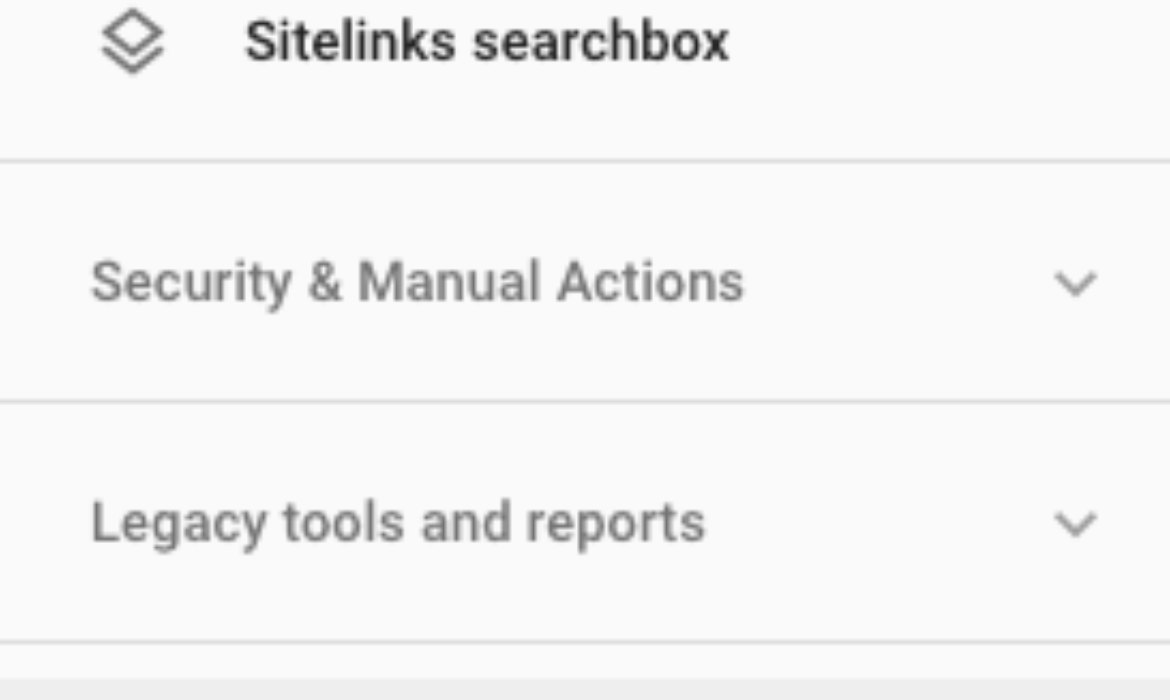 One of the first steps to improving the traffic your website generates is running an SEO site analysis. We're not talking about an SEO audit that takes a few days where your analyst is digging up the body of Jimmy Hoffa, which is called a forensic SEO audit. The SEO site analysis you need will report the overall health status of your website in terms of performance, keywords, content and backlinks.
This is an important step in the process of ranking your website since a Google SEO audit can uncover issues that may affect future efforts to improve search visibility.
Can you imagine going through months of work on your keyword research and then publishing content and building links to find out that it all could have been avoided? If your pages are taking 30 seconds to load, it doesn't matter how good your keywords, content or backlinks are-the page will never rank in a top position because it's super slow.
There are often underlying issues on a website that drag down a website's overall performance. By eliminating those issues before starting a campaign, you get a more accurate glimpse into your website's current status.
Cleansing your site of these technical issues also gives you a better idea of the impact your efforts will have on developing your website.
If you're wondering how to audit a website, the following is a collection of procedures we use here at Digital Ducats in order to get a clear picture of a client's website status. Most of these tools you can use to check your SEO yourself as they all offer a free trial or version.
Check for indexing issues
A major function of SEO is making sure that the pages of a website are actually listed on Google. If your pages are not being indexed it means you have absolutely no chance to appear for keywords because none of your pages are even being shown on Google's index.
One of the simplest ways to see if your pages are indexed properly is to check in Google Search Console. If you haven't registered your website in Google Search Console, you should stop reading and do this now.
I'll wait.
The reason this is so important is that the information about your website that's found in the search console is equivalent to looking under the hood of a car. You can get loads of information about how your website is functioning and find important data-like in this case, how many pages are properly indexed.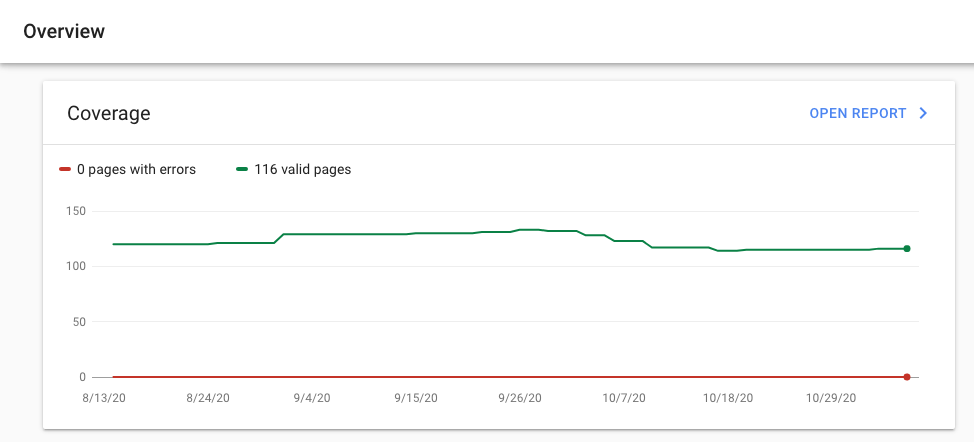 If your website were to receive a manual action (Google penalty) your pages would be removed from Google's index. You would receive the notification of a manual action here in the search console.

You can also check on your pages to make sure there are no errors being generated, but we'll touch on that subject later in this article. The focus now is confirming you have indexed pages. There is also a quick way to do this with a Google "site search."
Type in the following: site:[yourdomain.com] to see how many results are produced in the search results. The number of results indicates how many pages of your site are indexed. This should match what you found in the search console.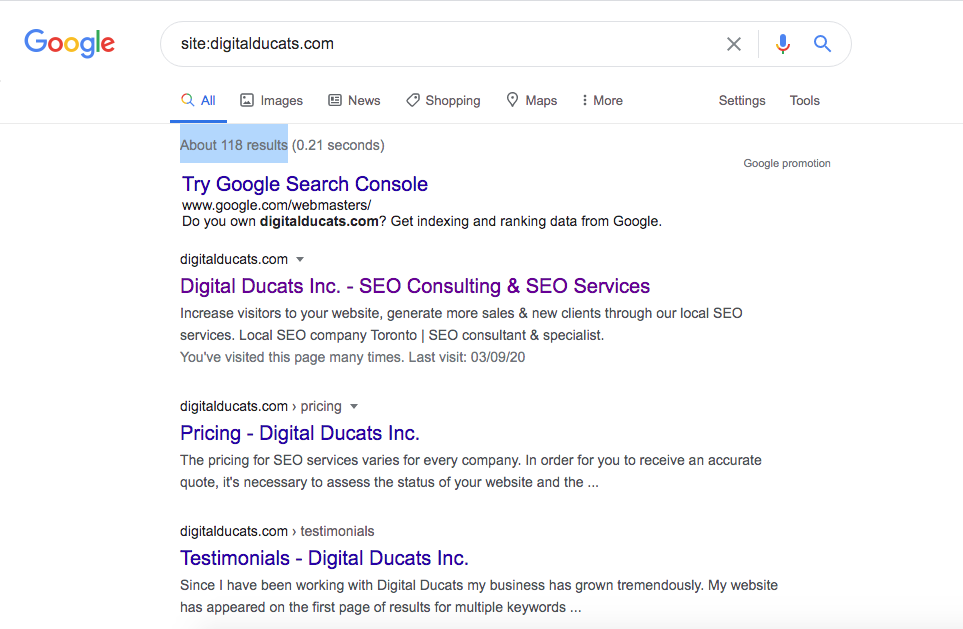 If for any reason (after performing a site search for your domain)you don't see your pages showing up that would indicate an indexing issue. This would mean you're not anywhere on Google and you would need to dig deeper into finding out why.
In this case, everything looks good but we're going to crawl the site to make sure that Google's data matches up with a third-party crawler. Use SEMRush, Moz or Ahrefs to get a full site analysis and report on your website's overall health.
Website health check with third party crawler
The bonus to using software like SEMRush is that you have a lot of information available at your fingertips. Running a simple audit will report the issues that need repairing and report the number of pages that were crawled. Additionally, the report generates a list of sitewide status code errors (broken links, unavailable pages, etc) so you can easily find and fix each issue.
As it turns out, there are 16 more pages on Google that SEMRush didn't find. If we look deeper into that we can probably chalk it up to pages that were deleted and redirected as well as blog and category archives.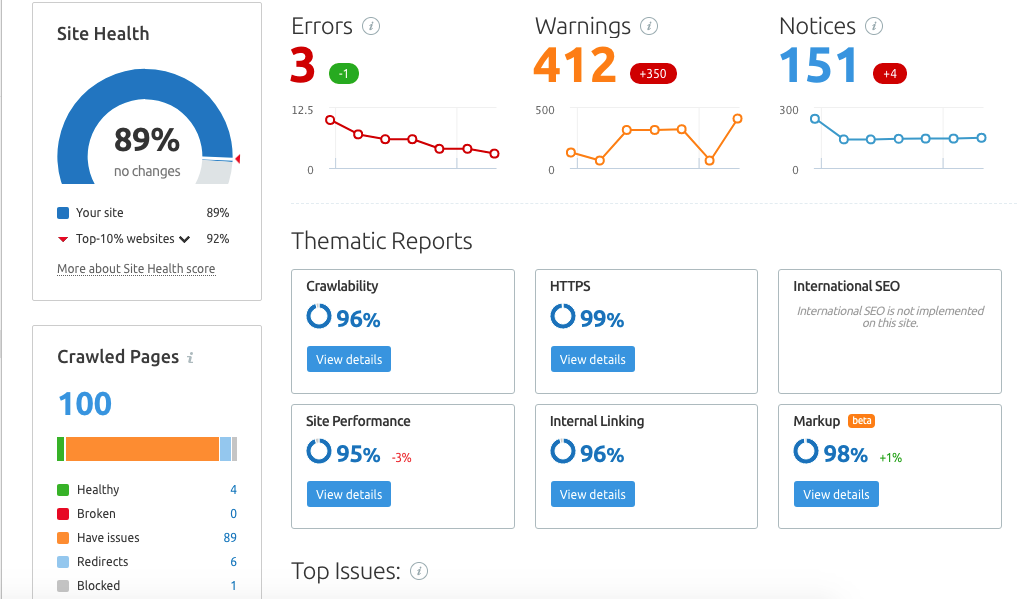 We can finally conclude there are no indexing issues.
Check my website SEO
The report will also list whether there are other site errors that may or may not affect ranking. A large number of 404 (broken links) would be a problem that needs attention.
A broken link presents a problem because when a user clicks on a link and is taken to an error page, it's considered to provide a poor user experience.
So many ranking factors are based on the idea of promoting a more enjoyable user experience. Therefore, a bunch of broken links will drag down the overall quality of your user experience.
This can affect how search engines view your site and result in a drop in search visibility.
Other insights gained from the site audit include reporting problems with your structured data markup, internal linking, HTTPS status which results in a score for your overall site performance.
Test page speed
The time it takes your pages to load can impact the search visibility of your website. Let's revisit that issue about user experience for a minute. Search engines want to display the BEST websites on their first page of search results. If users have to wait 30 seconds for your pages to load there are most certainly better options than yours.
In fact, the goal for every website should be to load the first contentful paint in 2 seconds or faster.
XXX
Any additional time your pages are taking to load will in fact cost you a big percentage of the visitors that land on your page. Here are the actual stats for the percentage of people that leave your site when it takes too long to load ( measured as the bounce rate).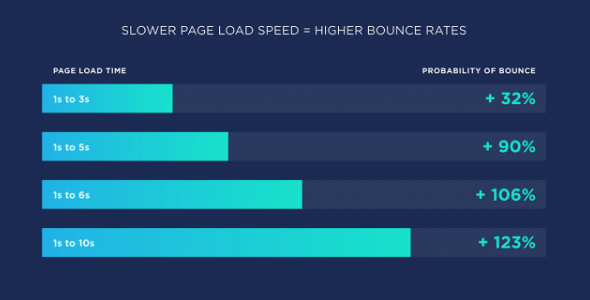 Despite the fact that search engines will drop your site if it's excessively slow, you have to consider the actual number of people you're losing to user experience. Page speed is an SEO issue that should constantly be tested and maintained.
You can check the page speed of your website by using any of the following tools:
Google PageSpeed Insights
GT Metrix
Pingdom
Every issue that's slowing down your pages is listed in the report that's generated once you run an URL through these tools. Unfortunately, the free tools often require you to run one page at a time. If you're using a paid version you can get a report on the speed of each individual page in one shot.
Keyword rankings/Organic traffic generation
If you want to improve the quality of traffic your site generates, you need to know what keywords are generating its current organic traffic. An organic keywords report will show you the pages that currently hold positions in the top 100 search results.
Identifying the keywords that are ranking will give you an idea of how to focus your optimization efforts. If your site ranks in the top 5 for a high volume keyword, every spot you move up towards the top position means a massive increase in traffic.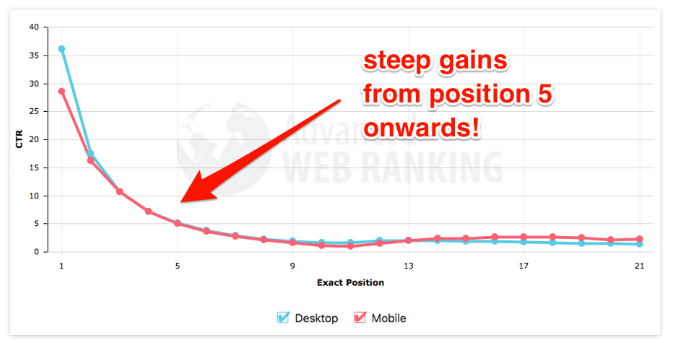 By identifying the current rankings you can prioritize efforts on the keywords that will make the most impact for both short-term wins and long-term goals.
Compare keywords with competing websites
In order to get a more accurate glimpse into the niche in which you compete, use the URLs of the top ranking websites in your industry. You can either search for your top keyword and use the URLs of the website that appear in the top 5 positions.
By discovering unique keywords your competition ranks for in which your website does not, you can get an idea of any gaps in content your site has compared to theirs. The logic behind this analysis is that if your competition is ranking for keywords that are also important to your business, there is either content or backlinks that are getting them that keyword ranking.
Many tools offer a content gap analysis function to make it easy to highlight the unique keywords your competition ranks for, rather than slugging it out in an excel spreadsheet.
Review general on-page optimization factors
Sometimes the simplest answers are the most effective. You can check for simple on-page optimization errors to see whether there are some quick wins available that would change the keyword target for each page.
Screaming Frog reports any missing or duplicate metadata so you can have a quick list of items to go in and fix.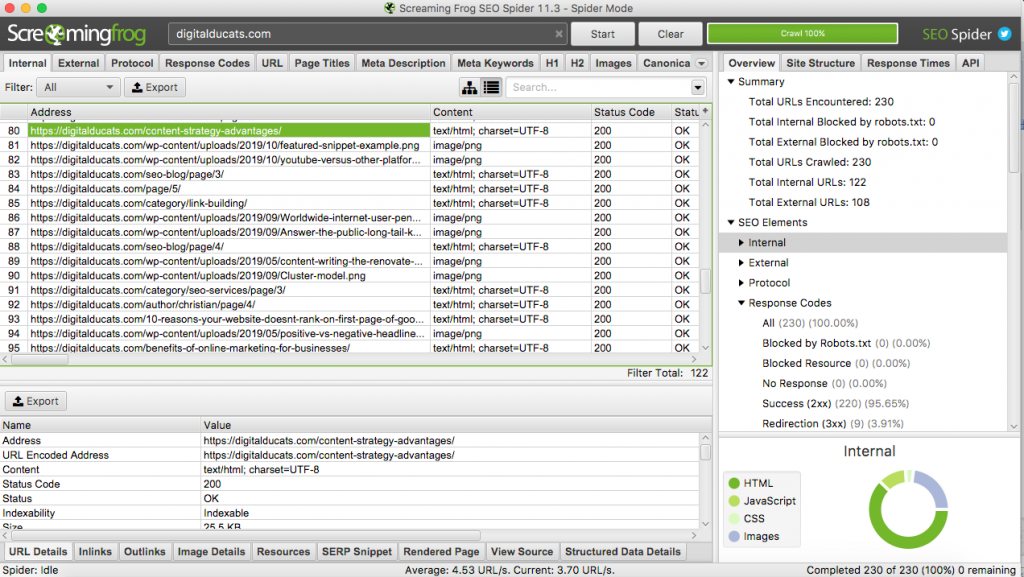 You can also get this information from SEMRush and similar software.
Topical organization
The topical organization of a website can be an asset/strategy for improving your search visibility. By structuring your website in an easy to understand format, you can highlight the most important categories, services and products on your website.
Sitebulb is software that generates a visual image of your website's topical organization. This can be extremely beneficial for understanding where there are any inconsistencies, orphaned pages or lack of organization.

Using the radial view makes it easier to see whether the pages on your site are within 4 clicks of the homepage.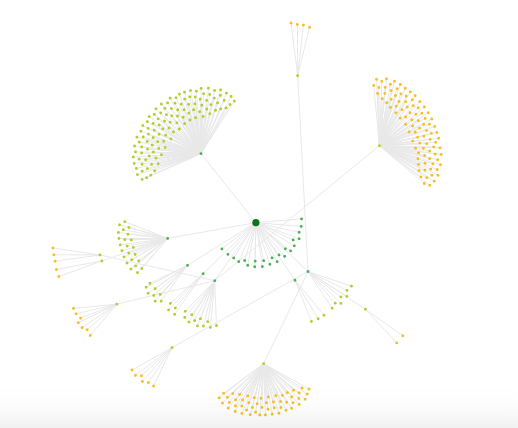 The topical organization of your site will often reflect the quality of your internal links. It's best practice to link related content to cluster your topics. Pillar pages are those that are most linked to and serve as a hub of information between clustered content.
Pillar pages also end up ranking for competitive phrases and a larger number of keywords because they cover a wide range of subtopics within a keyword theme. The topical organization of your site can change the depth and level of expertise that is assigned to a website, creating more ranking ability from increased authority.
Backlink audit
Link building has seen quite a few drastic changes over the course of time. There have been so many link manipulation filters baked into the search algorithm that auditing your backlinks are a necessary part of identifying any causes that would decrease search visibility.
Running a backlink report will list all of the links that are attached to your domain both the homepage and inner pages. Here's a report from SEMRush that lists the link toxicity of a domain.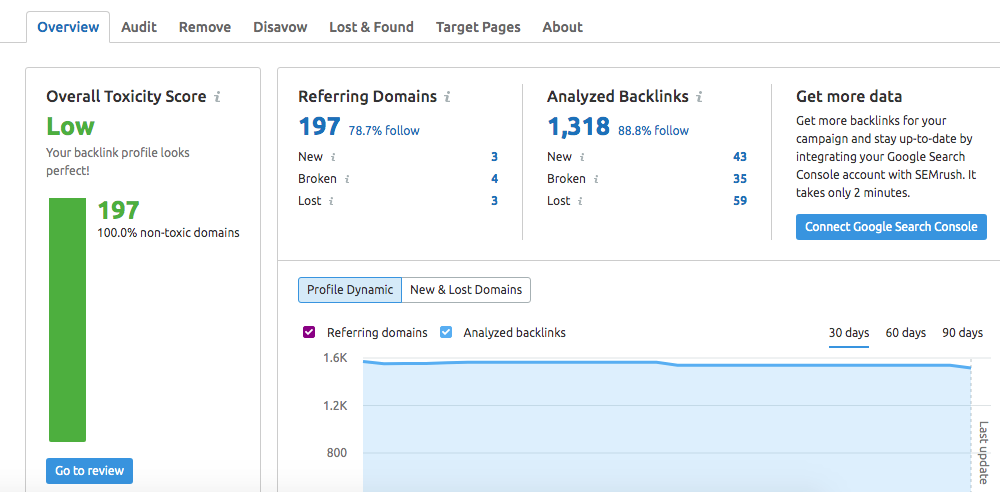 You can also pull up your links on Google search console, however, they report that they only list a sample of links. You may not see every backlink listed on their report.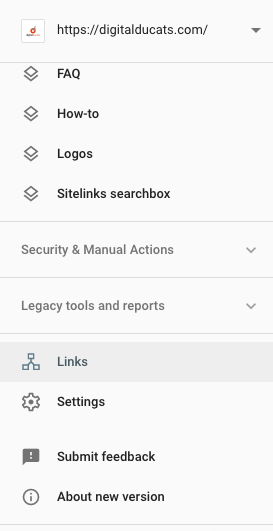 Ahrefs seems to be the best at detecting backlinks. Their crawl rate is higher than any other software so they seem to have the freshest and most accurate reports on backlinks.
A backlink audit is simply looking for any low-quality links that would adversely affect ranking. The typical characteristics of a low-quality backlink the following:
Low domain authority
Little to no backlinks
Unrelated to your content
Unrelated to the theme of your website
Advertises paid options
Toxic links will affect your search visibility but you have to also factor in poor link building practices. Google's stance on link building is essential that it should not be manipulated for the purpose of improving ranking.
This covers a wide range of practices that can be used to influence the optimization and authority of a website. Evidence of poor link building that can result in a loss of search visibility are:
Excessively repeated anchor text
Excessive linking from one website
The primary source of links come from one method of link building
Lack of variation in anchors
Lack of variety of link type
Anything that looks fabricated or automated
If your website has been exposed for participating in what Google has deemed a "link scheme" or your website has too many low-quality links, your website will most likely be suffering an algorithmic filter penalty.
Google has historically come out with many different updates that specifically target the different forms of content and link manipulation. If the algorithm detects any type of suspicious links or link building your site is automatically pushed down in the search results. When you reverse what you've done, your rankings will return to where it was previously.
For this reason, a backlink audit becomes absolutely necessary before starting any type of SEO campaign or strategy. Many sites have been able to improve traffic exponentially by lifting an algorithmic penalty that was imposed due to poor link building.
Perform an SEO website audit periodically
It's best practice to periodically check on the health of your website. Changes happen all the time as links are lost and added and content is published and deleted. It's important to know what your site's status is at all times to prevent any losses in search visibility.
Start every SEO campaign with an SEO audit to ensure your efforts are accurate and don't end up in vain. The more information you have about the inner workings of your website, the more impact you have on increasing traffic and lead generation.
Christian Carere