Consider what ranking number one on the first page of Google will do for your business. There are people looking for what your company offers every day. What can SEO in Richmond Hill do for your company?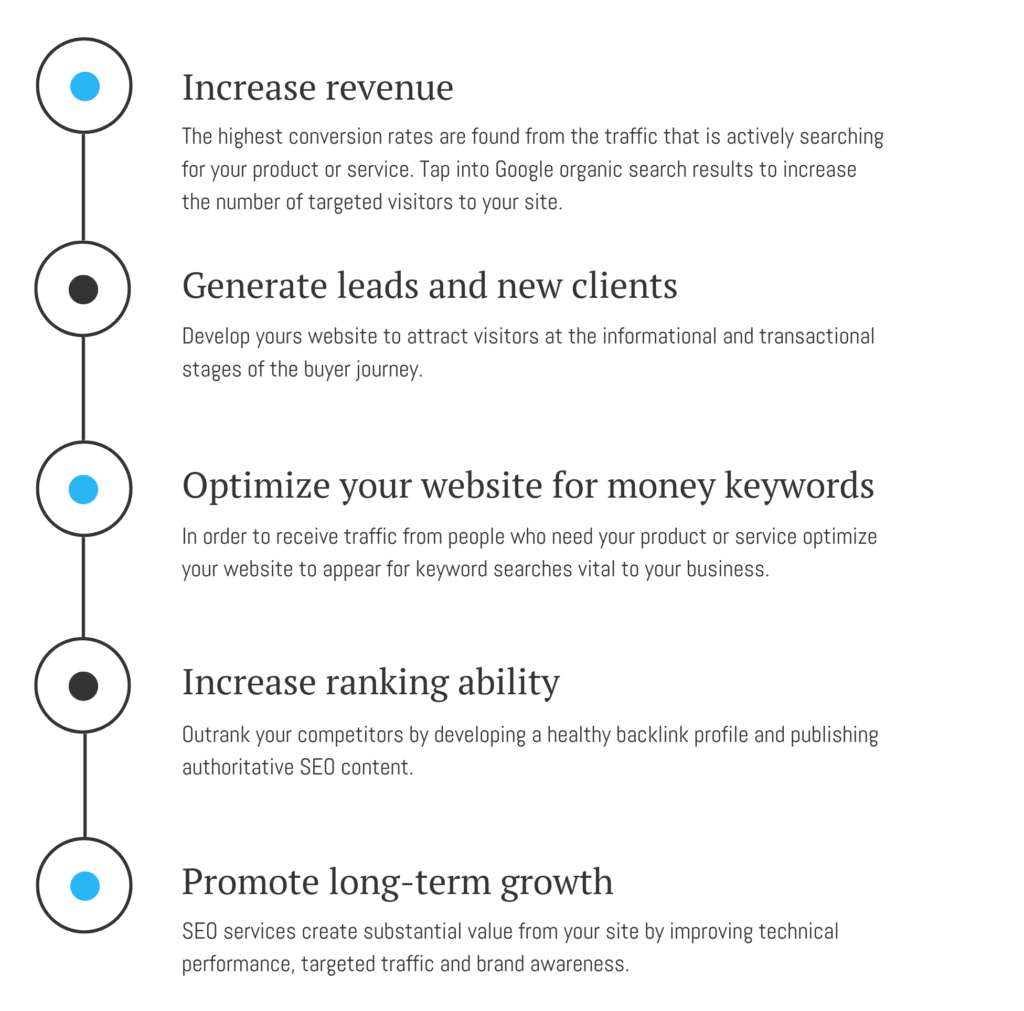 Secure the future of your business with Richmond Hill SEO Services
There's no doubt that the way we do business has shifted and the growth of your company can be secured with a solid online presence. When you have a website that generates a steady stream of leads, the future of your business is secure with the growth of new clients and increased revenue.
Richmond Hill SEO is a digital marketing strategy that produces one of the highest ROI's in the digital marketing spectrum of services. The investment to improve the SEO of your website results in creating an optimized, income-producing asset for your business.
Create additional streams of revenue for every keyword your websites rank for on the first page of Google. Every keyword represents different searches from different people looking for your product.
How does SEO in Richmond Hill work?
How do I get started with SEO in Richmond Hill?
The simplest way is to arrange a consultation to hear what we can do for your business. You will get an idea of what improvements your website needs and what your options are to make more money. Your consultation will identify the strengths and weaknesses of your site as well as the opportunities that are available.
SEO has long-lasting effects and should be implemented as early on in the development of your website as possible. If you had invested in SEO a year ago, you would already be making more money from the top rankings your site had secured.
Make the decision to be a top performer for the keywords that make a difference to your business.
Call or leave a message in the contact form and we'll get back to you with options and strategies on how you can increase the revenue your website produces.
Phone #: (647) 557-5002
Monday 9 am – 8 pm
Tuesday 9 am – 8 pm
Wednesday 9 am – 8 pm
Thursday 9 am – 8 pm
Friday 9 am – 8 pm
Saturday 9 am – 6 pm
Frequently Asked Questions
What can I expect from SEO services in Richmond Hill?
SEO services result in more visibility in the search results. Every month of service increases the ranking potential your site has for keyword related searches. You can expect your business to grow with more leads and new clients that generate more revenue.
In order to get to the point where you experience more leads, there are a number of ranking signals that need to be accounted for in order to reach a top position in the search results. Your strategy depends on the current optimization and authority your site has in your industry.
How do I know if SEO is working?
Most companies send a monthly traffic report in order for you to monitor the traffic your site is receiving. Look for an increase in traffic from target keywords. You should see more users landing on the pages you've optimized for those target keywords.
SEO brings more potential customers to your website by improving your optimization for relevant keywords. If you're seeing an increase in traffic but not experiencing more leads, you could be targeting the wrong keyword or need to improve the page your potential clients are landing on.
What are the benefits of SEO in Richmond Hill?
There's no point in having a website if it isn't being found by potential clients. Search engine optimization breaks down communication barriers between your site and search engines. Your site not only becomes known for your services and products, but increases its ranking ability to outperform your competition.
The benefits of SEO are increased traffic, new clients, revenue, brand awareness, and growth. Your website becomes more developed to perform in niche related searches. You broaden your reach in attracting more business while at the same time become a top performer in your local market.
How can I check my SEO ranking?
You can check for specific keywords you rank for searching for the terms yourself. Use a "private window" or "Incognito" on chrome. The reason you want to do this is to get an objective search result since Google will tailor your search results based on past searches and location.
Type in your keyword and look for your website. You may need to scan a few pages back (I would stop after 10!)
An alternative is to use software like SEMRush, Moz, or Ahrefs. You can enter the URL of your website and each of these tools will have a section that says how many keywords in which your site is ranking. Click on the number and you'll see the keywords your site ranks for in the top 50 search results.
A second alternative is to log in to Google's Search Console. If you haven't set this up already, you should. You can click on the "performance" tab to see a lot of information about your site including the average position your site has held for search queries.
How long does it take for SEO to work?
The truth is SEO works immediately. Whenever a client begins search engine optimization, there is a list of items that need to be addressed in order to get your site to the first page. Some sites have a longer list than others. There are businesses that get results in the first month of SEO, and there are websites that take 6-9 months to get the same results.
The reason there is such a difference in the length of time is that there are so many variables to account for to achieve a top ranking. Each industry is different, each website is different.
Google uses over 200 ranking signals to determine their top websites for a search result. If your site has zero of those ranking signals, it will take a longer time to get results than a site that already has a good deal of those signals in place.
It depends on the level of competition that you're facing to rank for a keyword. The lawyer niche is a far more difficult industry to rank for than auto repair. It could take up to a year for the keyword "DUI lawyer" and it may only take two months for "dent repair".
When you set up a consultation, we assess how your site is currently optimized and what it will take to get you on the first page of Google. The length of time can be estimated based on past experience and a thorough analysis of your site.