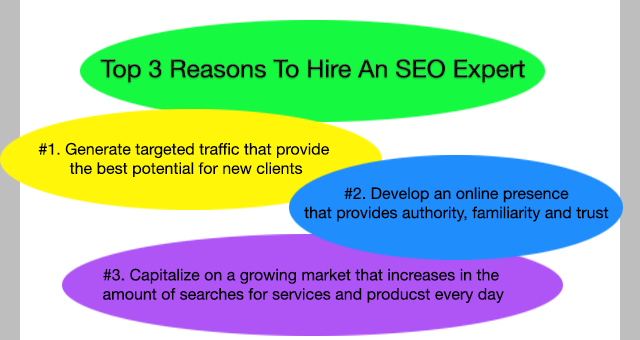 #1. Generate targeted traffic with the most potential for new clients.
Hire an SEO consultant to optimize your website to reflect your services and products. SEO services consist of a range of activities that add to the effectiveness of how your website generates traffic from specific audiences. Optimizing your website includes identifying the range of search terms that represent potential buyers for your service and product. Your content should communicate your services at an effective level to clients and search engines in order to enhance your visibility in the search results.
A search engine optimization expert will optimize your website to answer questions your prospective clients are asking. When the answers to their problems are solved by a service you offer or information you post on your site, you gain the trust and confidence of your visitors and improve your chance to convert them to clients.
#2. Develop your online presence.
Being an expert in your field is a huge asset when a business is offering a service. An expert SEO will develop websites to provide the depth necessary for the online presence of a company to show authority in its competitive niche. When a potential customer sees the same company website in related searches, they become familiar with the name-which builds trust in the company. The likelihood of a visitor becoming a potential client is increased when they have already seen your company in previous searches, popular review sites or local directories.
#3. Capitalize on a growing market.
Since the integration of smartphones, the mobile trend has accelerated, resulting in a growing market and therefore a growth opportunity for local businesses. Statistics indicate that searches for local businesses and products have skyrocketed in their share of total searches made. In 2018, Google announced its mobile-first update which made it clear for all website owners that web design should be prioritized for displaying information mobile devices.
The update that Google released indicated the trend was real but for local business owners the most important realization is that the market is still growing. Local businesses need to be in a position to receive traffic from people searching for their services in order to capitalize on the current trend. Local SEO is becoming necessary for companies who want to be at the top of the search results. The majority of cases require an SEO expert Toronto approves of for a website to make the first-page appearance.
Please follow and like us: