keyword report
Industry research
Competition Analysis
Describing your products and services
Building a blog
Publishing informative content
Meta Tags
Homepage optimization
Keyword ratios
LSI content
Structured Data Markup
Publishing authoritative content
Linking Strategies
Reputation management
Directories
Social Media
Analyzing performance
Search engine optimization is a multi dimensional service that implements the necessary criteria for a website to be displayed in search results for specific phrases typed into web browsers. The process starts by targeting keywords that will drive targeted traffic to a website.
Keyword research and selection
Keywords are search phrases that are used to find information, a service or a product. The most effective keywords represent the visitors that are a perfect match to a website.
The performance of a keyword is mainly attributed to its relevance and the monthly search volume of traffic it provides to the site. An effective keyword strategy will bring in the most visitors that are looking for the services and products offered by the website.
To assist in keyword selection a report is typically generated to display as many keywords as possible on a specific topic. This provides options and allows experts to assess the different ways to pick up the most relevant search phrases that provide the most volume in monthly traffic.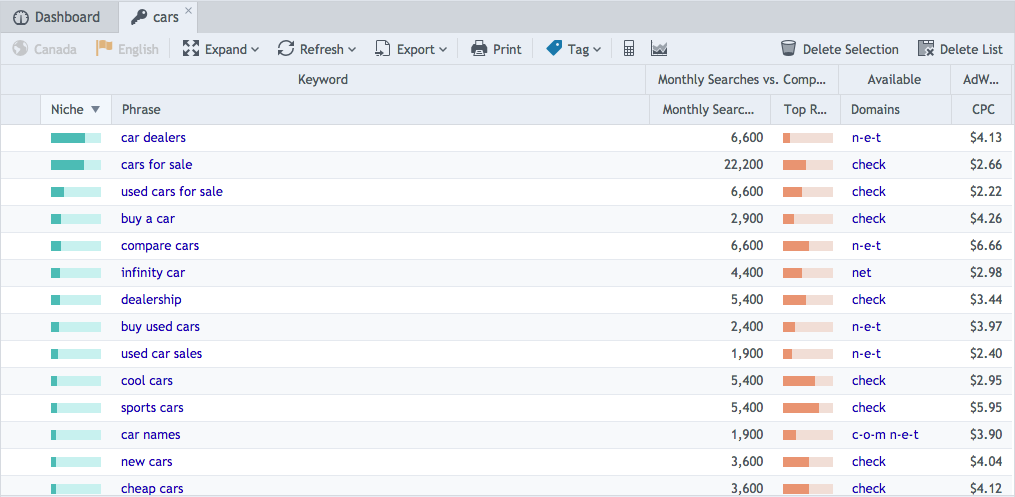 Reading keyword reports
The monthly volume of traffic is the total amount of times a specific keyword is typed into Google. An important detail to note is that the volume of traffic a website receives in the first position is roughly 30% of the monthly search volume. The rest of the traffic is divided up among the different positions on the page of results.
Cost per click refers to paid traffic in a Google Ads campaign. It's a measure of what it would cost to pay Google for every click to your website. The cost per click can be used to compare keywords because it represents what is being paid for every click in the traffic from this specific keyword, which is an indication of its commercial value. If there is a high CPC, it means there are people paying money for this keyword because they are making money from this keyword.
Many reports will indicate the strength of the competition as a value that indicates the difficulty in attaining a first page position. The best search terms are the most competitive. This metric influences whether alternative options should be used in a keyword strategy if there is a large gap in the difficulty between two keywords that are similar in relevance.
Keyword reports list groups of related search terms together for analysis in order to make more accurate decisions on the selected keywords for a website.
Industry Research
Researching the niche of a website provides some insight on which keywords will generate ideal visitors. Identifying the top performing websites that appear in the first ten positions in the search results will provide a good base for a competitive analysis.
Competition Analysis
The backlinks from other companies are analyzed for opportunities to gain similar backlinks to match and surpass the competition. The trends tend to vary from niche to niche regarding content and backlinking strategies making competitive analysis useful insight as to how the best websites are ranking competitively.
Content Creation
The content of a website should fulfill the need of a visitor. Content includes all forms of media: images, video, audio as well as text. The most effective content will incorporate some form of media to go along with text to provide a better user experience.
An optimized website will have content that is themed specifically about a service, product or information. When building content, focus on explaining the service or product in the most descriptive ways. In depth explanations allow an author to communicate a point more thoroughly. Often it will include multiple ways of saying the same thing which will results in positive signals that contribute to improved search results.
Building A Blog
A blog provides supporting content to the products and services offered. The content should provide additional details and any related content that will improve a visitors understanding of what the website offers.
Blogs can be used to optimize a website. The keyword ratios can be manipulated through the blog and it is common for the internal pages to rank when optimized correctly. This brings in more traffic to the site and holds visitors attention for longer periods of engagement.
Optimization
Search engines will associate a website with keywords in a search based on its optimization. The onsite optimization will include keyword to text ratios and themed content throughout the site. A search engine will evaluate the total content of a site and factor in the metadata (which users do not see) in order to categorize and assign relevance to any related search terms.
Metadata
Metadata is the data that is written "behind the scenes." It includes everything from HTML to Javascript. One of the most widely associated forms of metadata to SEO are the meta tags.
Meta tags
Meta tags are code that is written to define specific elements of a websites content. It defines the titles, describes articles and images. It will indicate the keywords of a web page and provide search engines a more efficient way of categorizing the website.
Homepage
The homepage is the main page of a website that acts as the hub to the inner content of the site. Most backlinks will point to a websites homepage although it isn't uncommon for inner pages to rank well when they are optimized correctly, creating links to the inner pages of a website.
Keyword Ratios
Keyword ratios refer to the amount of times a keyword is found in a specific volume of text. Word count is measured for all articles and the amount of times the keyword is found is divided by the word count to establish a percentage. Excessive keyword to text ratios are have the potential to trigger penalties from Google (pending the Panda update)
LSI Content
Latent semantic indexing is the practice of incorporating content that helps to define the target keyword. Using the keyword "cars" for example could mean either a) the movie "Cars" or refer to car repair or car sales. By using LSI content throughout the body of text, it defines the intended meaning of the keyword when a search engine crawls the site. An example of LSI content within the text would be technical terms like fuel injectors, pistons etc. that would indicate the keyword is not only referring to cars, but building and repairing cars. If a search engine crawled the site and found terms like "celebrity voices" and "opening night" or "trailer" it would associate the keyword with the movie "Cars".
Structured data markup
Structured data markup encompasses different forms of computer languages intended to organize, emphasize and summarize web pages more efficiently. JSON-LD, Microdata and RDFa are the different forms used for inputting the markup on webpages.
Web development
Every link, article, post and share leaves a digital footprint that is assessed by search engines. An overall web presence can be traced by these footprints creating a profile for search engines to assess. Developing a website creates a stronger web presence by establishing a network of connections that promote authority and trust.
Publishing content
The content you publish should reflect expertise in your field. Write and publish content on related websites that have high authority in your niche. Your website should have content that is informative and engaging and provides readers with useful information about your services and products.
Linking strategies
Backlinks are large influencing factors for creating movement when ranking websites. Poor strategies, poor linking will have adverse affects on a sites search engine visibility. The practice has become more precise in terms of how to link to websites and what websites link back so caution is required.
The backlink strategy employed is heavily influenced by the niche they compete in as well as the current status of the website as an authority in its respective niche.
Reputation management
The reviews a business receives should be monitored to maintain credibility and an upstanding reputation. There are popular review sites that people frequent to gain third party perspectives on the quality of service a company offers. Positive reviews provide positive signals that are picked up by the search engines. Negative reviews should be addressed by the business immediately.
Most review sites will allow the business owner to respond to a review left by a client. Whether positive or negative, a response will help show readers that the owner takes an interest in the level of service provided to their clients.
Directories
Local directories can enhance the local presence of a business by providing more appearances in related searches. When a company name or website is spotted on more than one search, it influences trust through familiarity.
Social Media
Social media is a medium for engaging potential clients. Posting relevant information can increase subscribers to create a following and generate interest in your the services or products offered. Every niche is influenced differently by different social platforms. Leverage your online presence with the most appropriate platforms that will have the greatest impact on your business.
Analyzing performance
Performance is often tracked through analytic software that monitors the visitors to the site. By maintaining and improving the metrics that affect converting visitors to new clients, your websites performance can be enhanced creating growth and new opportunity.