The technical performance of your website is one of the many moving parts that play a role in search engine optimization. An error-free website that functions on a high level is a strong characteristic shared among top-ranking websites. At some point in time, every website will show a page not found 404-error code. This article will show you how to find and fix 404 error codes. 
What is a 404 error code?
Whenever a link points to a URL whose page does not exist, a 404 error code is generated. The result is usually a page that tells the user that the content no longer exists or cannot be found.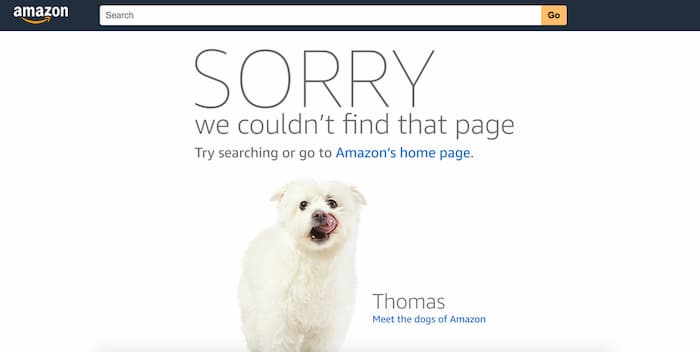 404s are generated from one of three reasons:
The page was deleted
The page was updated or moved to a new URL
The page does not exist
What is the significance of a broken link/missing page on your website?
Like most things in search engine optimization, the main underlying issues are related to user experience and authority.
Reduced user experience
Developing a website that is user friendly and provides an enjoyable user experience should be a priority for publishers and site owners to ensure your site demonstrates higher user engagement.
User engagement statistics include the bounce rate, length of time spent on your website and the click-through rate (if you're reading an Analytics report it would be average pages per session).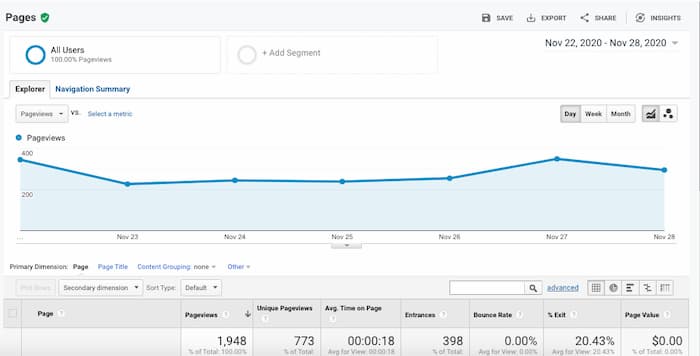 Missing pages are considered to contribute to a poor user experience because of the impact it has on these statistics.
When a visitor lands on a page that informs them the content is missing it contributes to higher bounce rates. Users will leave a website when they can't find the information they're looking for. This eliminates any possibility of clicking further within the website and reduces the average time spent on the website.
These statistics are measured by search engines and contribute to the position a website holds on the search engine results page.
Reduced domain authority
One of the three most important ranking factors in SEO is the authority a website builds from the backlinks it acquires. If an external website is linking to a missing page on your website, you're losing the opportunity to improve your ranking ability.
Every backlink acts as a vote of credibility to your content. If an external link points to a page that does not exist, there is no authority and improved ranking ability transferred to your website.
Tools to Identify broken links and missing pages
Finding broken links is a relatively straightforward process that can be accomplished with a variety of tools. You can use one or all of the following to identify what pages are missing, as well as where the requests for those pages are coming from (broken links).
Search console
Google's search console is an absolute necessity when it comes to managing the health of your website. If you haven't submitted your domain to gain access to this data you should do so immediately to identify any type of errors being generated on your website.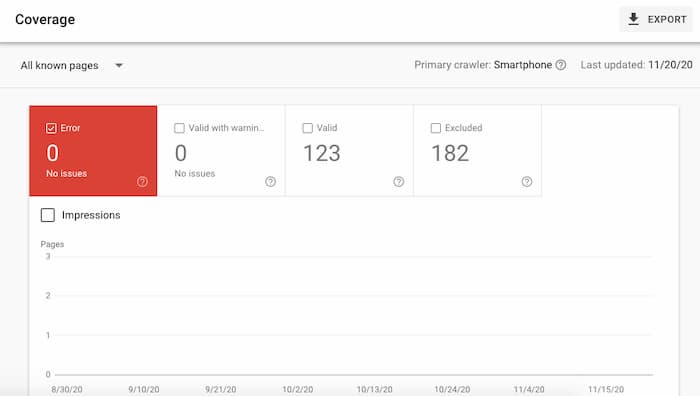 Go to search console. Click on converge to see the pages that are generating errors. If your website is generating 404s you will see the pages being listed in the report.
SEMRush
Using a third-party tool can streamline your efforts because they are designed to specifically help you find and replace 404 error codes.
Run a site audit. The report that's generated will look like this: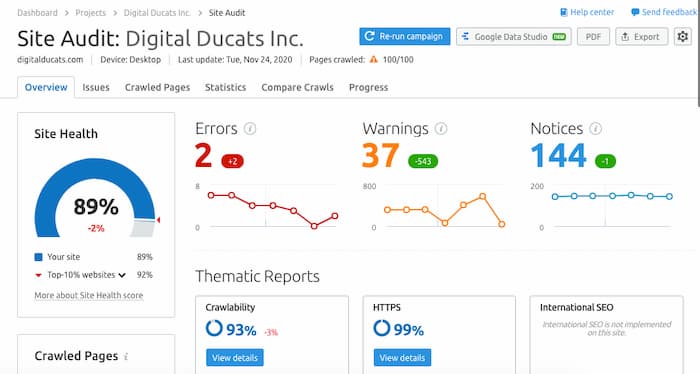 Click on the errors link to get a summary of errors on your site. The broken links will appear at the top of the list if your website does in fact have broken links.

The beauty of this report is that it shows you the internal pages linking to missing content as well as the target URL that's actually missing.

Solutions for repairing 404 errors
There are three possible solutions to eliminate 404 error codes from your website:
Delete the link pointing to the page
Create new content in the URL that's missing
Redirect the old URL to a new URL
Delete the broken link
An error code is only generated when a request for a page is being made. It's important to understand that if you delete a page it doesn't constitute a 404 if there are no further requests to load the page. Therefore if you delete any internal (or external) links that are pointing to the page, there won't be any further requests.
Create new content
The possibility exists that the page may have been deleted by accident. In the event that the URL does in fact present value to your website, you can publish a page with the same URL.
This is a solution that many SEOs use as a link building strategy when they find broken links on a website that represents value as a link prospect.
Redirect the old URL to a new URL
This solution is ideal when the old URL has external links pointing to it, but you've updated content to a new URL. A 301 or 302 redirect is a code written into your .htaccess files that tells your website to skip loading the old URL and load the target URL instead.
Redirecting a page to a new page allows link authority to transfer to the new target. This makes using a 301 ideal when external sites are linking to a missing page. If you can't get the external websites to change the links, this is a solution to preserve the authority the old URL is generating.
If you're using WordPress, a simple solution is to install a plugin. Redirection allows you the convenience of entering the old and new URLs on one interface.

Create user-friendly 404 pages to improve the user experience
It's only natural for people to land on missing content. If a user mistypes a URL, it will generate a 404 error code. This type of situation is unavoidable, however, you can improve your user engagement by creating creative and helpful 404 pages.
Create a page that's in line with your brand. For example, some websites make light of landing on missing pages and can add some humour to the situation. If you're familiar with Lionel Richie's music, you might find this 404 page entertaining: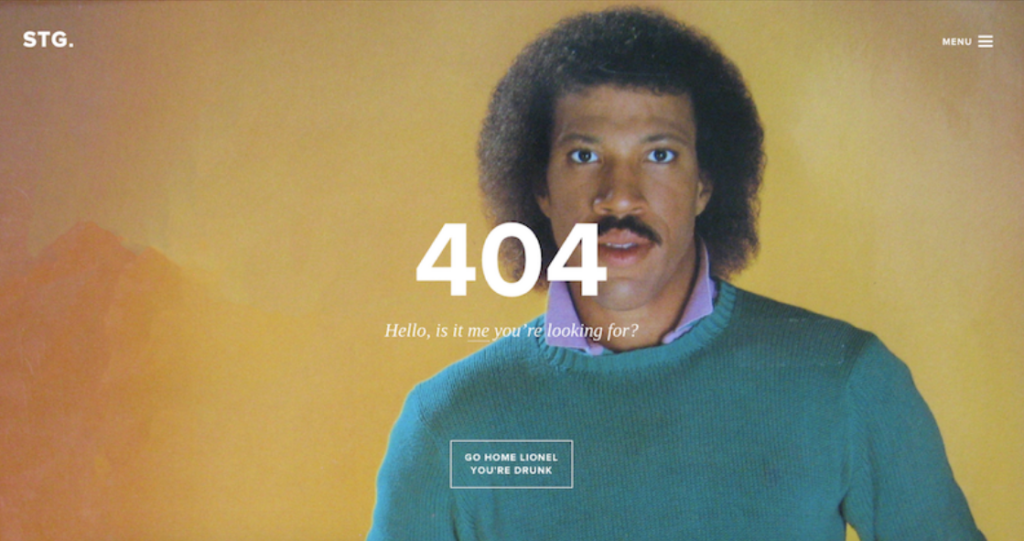 Create a page that at the very least has a search bar so users can type in exactly what they were looking for. If you want to guide them even further, offer additional links that they are most likely to click on, such as the homepage, your blog page, product or service pages.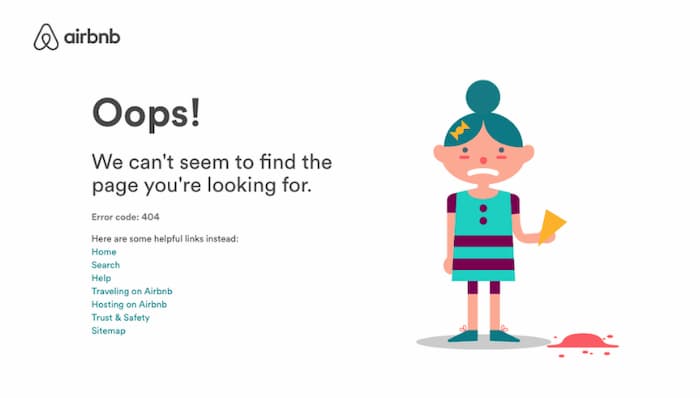 Improve user experience by fixing 404 error codes
Generating 404s is not something you need to be overly worried about if there aren't many instances of them.
If your website is accumulating a high number of 404s you need to investigate to make sure there aren't serious issues that are causing them such as indexing problems or pages being deleted.
Find and repair 404 error codes to create a more enjoyable user experience. Fixing errors that exist contribute to higher user engagement statistics and better performance in the SERPs.